Nha Trang, a city in Khanh Hoa Province, Vietnam, has been a tourist attraction for many years. Mostly because of its turquoise beach, sunny weather, and pleasant gusts of wind that'll blow all your troubles away. However, the local cuisine is still a hidden gem desperately waiting to be discovered. With an abundant supply of seafood, juicy fruits, and a sprinkle of imagination, there's no shortage of delightful treats to indulge in.
Bún sứa (jellyfish noodle soup)
Jellyfish can be a slimy nuisance when they're floating in the ocean, threatening to sting innocent bystanders. Here in Nha Trang, the only crime they've committed is stealing hearts in the form of a bowl of noodle soup. The locals use a small type of jellyfish, roughly the size of a thumb, for this dish. They're caught far off shore and cooked in the same day to retain its natural freshness and flavour.
Don't worry about the sliminess. When cooked in broth, the texture of the jellyfish becomes firm, almost resembling Jell-O. You can sink your teeth into the jellyfish strips and feel a crunch. The broth itself is fresh and light, with a hint of ocean saltiness, while the thin noodles quickly absorb its flavour.
When it's dinner time and wifey isn't up to whipping up her magic, families will happily visit a noodle soup kiosk and indulge in this delicious dish. To enjoy the best bowl of jellyfish noodle soup Nha Trang has to offer, head straight to Quán Bún Cá Sứa (87, Yersin Street). The price is VND30,000 (approximately USD1.30).
Chả cá (fish cake)
Most Vietnamese seaside districts have their versions of fish cake, but I dare say that nowhere has a more delectable fish cake than Nha Trang. It's firm yet tenderly chewy. Add this to the sweetness of freshly-caught fish and a spicy bite from coarse black pepper, and you've got a winner.
For praise-worthy fish cake, the quality of the fish used is essential, with the most expensive ones made from codfish. The fish flesh is blended into a paste, lightly seasoned, and formed into round patties. Finally, they're either steamed or deep-fried.
Fish cake can be eaten straight from the pan or used as a topping on various noodle soups. A Vietnamese baguette filled with fish cake also makes for a delicious and hearty breakfast. The sky's the limit on how you can enjoy this local delicacy. Fish cake patties are available at almost all noodle kiosks in Nha Trang.
Bánh canh cá (fish noodle soup)
You've likely figured out by now that Nha Trang's locals are obsessed with fish; and you're not wrong. Fish noodle soup, therefore, is a staple dish — whether for breakfast, lunch, or dinner.
The broth of this dish is simmered with only the flesh and bones of a fish, and the key is not to use any other kind of meat or artificial sweetener. This is to ensure a pure, unadulterated seafood flavour and clear appearance. The noodles themselves are made from either rice, wheat, or tapioca flour. Then comes the protein. The bowl is topped with plenty of fish flakes and a few slices of fish cake.
Remember, to elevate this relatively simple broth, there are four important toppings: a handful of chopped spring onions, a sprinkle of deep-fried shallots, a squeeze of lime juice, and finally, a tablespoon of chili fish sauce. This combo adds depth to the dish, complimenting the broth without overshadowing it.
There are a number of restaurants that specialise in this dish that locals frequent. Some of them are Udon Noodle Soup Bá Thừa (55, Yersin Street), Bánh Canh Phúc (53, Van Don Street), and Bánh canh Cô Hà (14, Phan Chu Trinh Street).
Cơm gà (chicken rice)
If there's one dish that can potentially rival fish noodle soup in popularity, it's chicken rice. Breaking away from a basic recipe of cooking plain rice in chicken stock and serving it with a side of chicken, Nha Trang's version is on a whole new level.
First, the rice is sautéed with garlic and shallots to maximise the aroma, then cooked in chicken stock and chicken fat. The rice absorbs the complex flavours to produce a bright yellow colour. When the rice is done nicely, it's served with torn boiled chicken pieces.
Don't underestimate the chicken just yet. It may sound unimpressive, but when it comes to chicken, Vietnamese people rely less on the cooking method and more on the ingredient itself. Here, the chickens are free-range, so the meat is firmer and juicier. For a final touch, a spoonful of homemade mayonnaise makes for a perfect topping. It looks buttery, shiny, and lends an extra velvety creaminess which marries perfectly with the rice.
Needless to say, the Nha Trang people are winning at the comfort food game. Two famous places to enjoy this unique chicken rice are Trqam Anh Chicken Rice (10, Ba Trieu Street) and Cơm Gà Hà Ngô Gia Tự (75, Ngo Gia Tu Street).
Bánh xèo mực (crispy squid pancake)
Pancake is a common theme throughout Vietnam, and each region puts their own twist on it. In Nha Trang, it's with tiny squid! The secret to a crispy pancake is drizzling a little vegetable oil onto a hot iron skillet. After the batter, small squids, and tiny shrimps go on, and then it's finally topped with bean sprouts.
To enjoy crispy pancake the Nha Trang way, you have to make your own dipping sauce. Just take a few tablespoons of the diluted fish sauce and then combine it with a teaspoon of chili paste (more if you like a good, spicy kick).
Finally, it's time to test your chopsticks skills: pick up a piece of pancake and dip the whole thing into your sauce. It's so good, you won't even care about the extra oil.
Head to these places for some of the city's best crispy pancakes: Bánh Xèo Chảo (85, To Hien Thanh Street), Bánh xèo Cô Tám (6, Thap Ba Street), and Bánh Xèo Chảo Mực Tôm (97, Hoang Dieu Street).
Bánh tráng xoài (mango rice paper)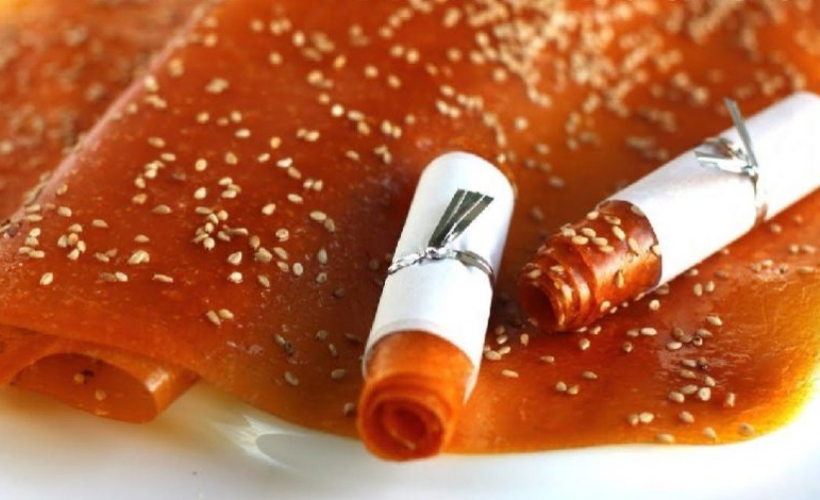 Despite the name, there is no rice in the recipe. Just juicy, sumptuous, golden mangoes imported from the nearby Cam Ranh District. Ripe mangoes in Vietnam are either eaten fresh or used in pudding-like desserts. However, in Nha Trang, it's the main and only ingredient in making mango rice paper.
The mangoes are blended into a dense smoothie-like mix and spread out to form a thin, flat, round shape (almost like super-thin crust pizza) with sesame seeds sprinkled generously all over it. When the rice paper is dry, it becomes firm, and is ready to be savoured.
Personally, I am very fond of this tasty treat. It slowly melts on your tongue with a hint of tanginess. Although simple, the flavour will dazzle you. For me, this snack's the perfect embodiment of the word 'sunny'.
Mango rice paper is available along with other Nha Trang sweet treats in souvenir stores, traditional markets, and supermarkets.
Whether you are a budget explorer or luxury traveller looking for a treat, Nha Trang will charm and amaze any foodie with countless exploding flavours in its food. Here, the feasting never ends.
Get all the latest travel stories from Zafigo. Follow us on Facebook, Twitter, and Instagram.