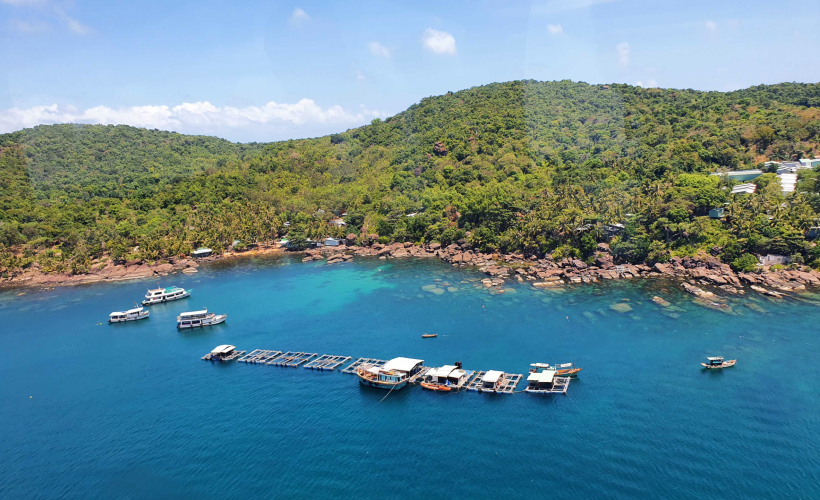 Just like the rest of the world, we are not travelling during this COVID-19 pandemic, but we hope you turn to Zafigo as a source of inspiration for your future travels. Please stay safe and adhere to any quarantine and movement control orders that have been imposed in your country.
Okay, we know what you're thinking. Who in their right mind would travel all the way to Phu Quoc, Vietnam only to ditch the beach? Of course, you can still enjoy the beautiful island's white sands and crystal waters, but we would just like to show you that there's so much more on offer on Vietnam's largest island.
So, once you've had your fill of the sea and surf, give the things below a go. This list may come in handy particularly for those travelling in groups (so there's something for everyone) or for those travelling to Vietnam with little ones in tow – at least then they won't get bored of only lounging on the beach.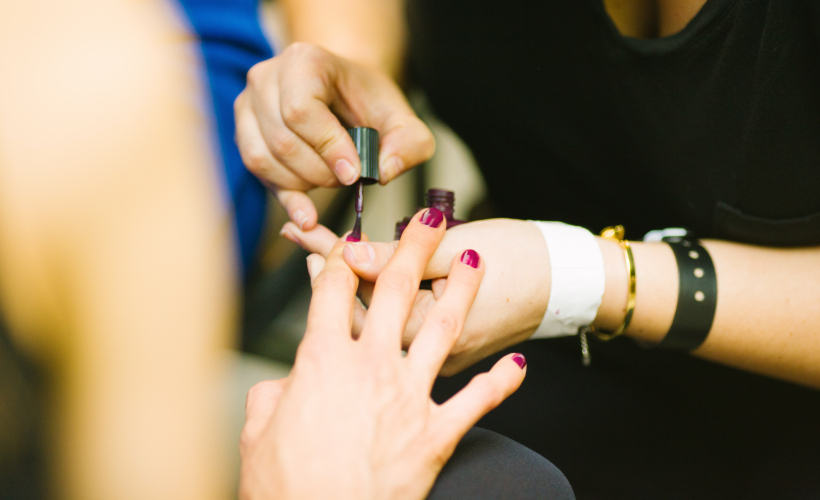 1. Get your nails done
If there's one thing most of us do before an island vacay, it's get groomed. Whether it's getting threaded, waxing, putting on lash extensions, or all of the above, you can be sure a lady gets prepped and primed for her holiday photos. Getting a manicure and/or pedicure also ranks pretty high on the list of grooming priorities, but we suggest leaving that off your list until you actually get to Phu Quoc.
Once you reach the sunny island, you'll notice that along the streets of its main tourist areas like Duong Dong are many (countless, really) spas and salons offering massages and nail services. Opt for the latter. They do a fairly good job and for cheap too. Prices for gel colours can go as low as VND150,000 (approximately USD6.40) with prices averaging at about VND250,000 (approximately USD11). Add on about VND70,000 (approximately USD3) and they'll give you a manicure or pedicure too. The most affordable of the spas that we found while there is a franchise called She Spa & Beauty.
2. Explore the night market
This is an absolute must when you're in town! It's definitely the best place to shop for knick-knacks, souvenirs, and gifts – popular picks include pearl jewellery and beachwear. Vietnam is also a street-food paradise, and this island is no different. When at the Phu Quoc Street Market, indulge in the fresh seafood street eats like cooked sea urchin and grilled oysters topped with quail eggs. You'll be able to find some local favourites such as banh mi (mini baguette with filling) too, but keep in mind that food in Phu Quoc is pretty different from the rest of the country.
Among our favourite things to shop for include the Chou Chou snacks – flavoured peanuts that are unique to Phu Quoc. Some of the combinations may seem rather odd (mint chocolate nuts, anyone?) but all really delicious. Best-selling flavours include cheese, garlic and chilli, and coconut.
Don't forget the local chocolate too – Vietnam grows what's probably the region's best cocoa. Also popular, of course, is the coffee. You'll be able to find some shops just outside the market that sell various kinds (luwak coffee included). Besides these, also be on the lookout for local peppers. There are myriad varieties from fresh to flavoured, and you'll definitely be spoiled for choice.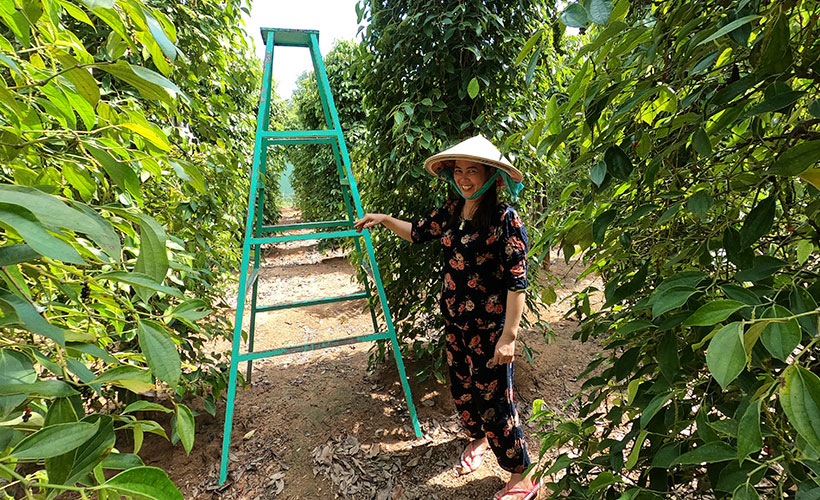 3. Head over to a pepper farm for lunch
Speaking of peppers, there are quite a number of pepper farms, well, peppered around the island and they're worth a quick pit-stop. Depending on which part of Phu Quoc you're staying at, when you're visiting an attraction that's far-flung like Vinpearl or the cable car at An Thoi, ask your driver to take you to one. The one that we visited on the way back to Duong Dong from Vinpearl is called Phu Quoc Countryside. Here, they grow peppers, fruits and vegetables, and some herbs such as basil.
There's also a small restaurant on the organic farm where you can feast on what's been grown right there. We enjoyed the smoothies, beef, banh xeo (Vietnamese pancakes), and the array of in-house pepper sauces we got to taste test. You can buy them straight from here too to bring home. Because the peppers are so fresh, you'll notice that local peppers are packed with flavour and heat, so treat them with respect.
4. Tipple on the local brews
It's a good thing that between the two of us on this trip, one of us was able to take one for the team and indulge in the local booze. When you're exploring the Phu Quoc Night Market there's a craft beer bar worth checking out called the Beer Fridge. It's a literal giant walk-in fridge brimming with local and foreign artisanal brews. If you're not a fan of the cold, fret not, as they have a few heavy-duty winter coats on standby.
We also got to visit a lovely rustic joint called Coco Bar. Popular among backpackers, the homemade rum here comes highly recommended. The most popular choice – their coconut rum. For the teetotallers, there's a list of mocktails to choose from and you can dine here too.
Finally, there's the Sim Wine Factory. Sim is an indigenous tree with pretty pink-purple blooms. From the buds, locals produce liquors of varying alcohol levels called sim wine. But more than that, the sim is used to create many other things – jams, jellies, sweets, honey, syrup, and so on; all of which you can purchase right here at the factory. Taste-wise, the sim's flavour is sweet and reminiscent of blackcurrants.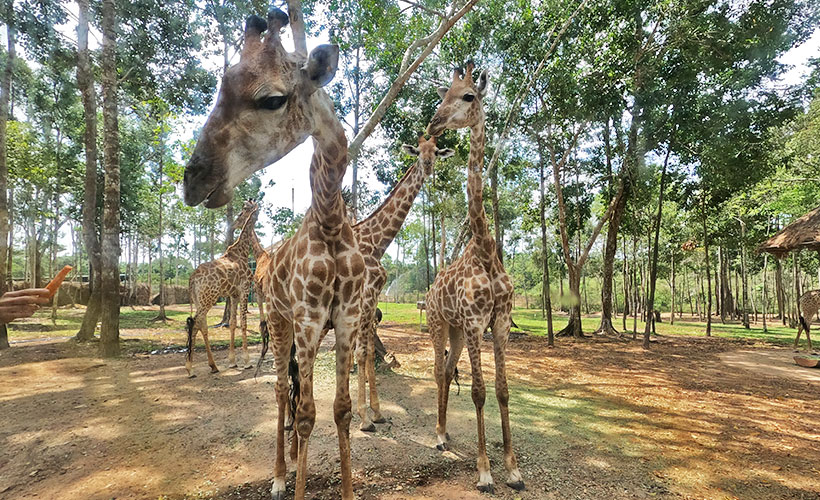 5. Go on safari
Safari? On a tropical island? Venture over to Vinpearl Safari on the north-western end of Phu Quoc for one of the highlights of our trip. Working in two parts, Vinpearl Safari's a conservation park that features over 150 species of animals from various biogeographic regions like South Africa, Asia, and Australia in its open zoo. One thing you'll certainly notice is its 'open' concept of large (and extremely clean) enclosures and harmonious habitats (different species thriving within the same enclosure).
The next part is its wildlife park. Modelled after the African safari model, this section of the park sees visitors going on a 40-minute ride along a 30-kilometre trail in specialised vehicles. Here, humans are caged, rather than the animals. It's great to see that plenty of effort has been put into ensuring the residents of Vinpearl Safari are happy and healthy.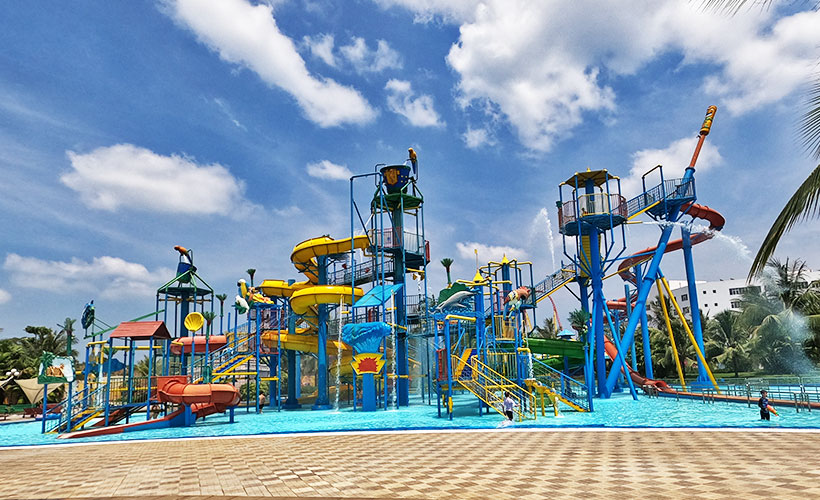 6. Drop by an amusement park
Part of the Vinpearl experience is swinging by Vinpearl Land that's just a 10-minute ride away from Vinpearl Safari. This amusement park will have something for both the big kids and the little kids as it has a water park, thrill rides, outdoor and indoor arcades, shows at the amphitheatre, an amazing aquarium, and then some! Suffice to say, you can easily spend the first half of your day at the safari and then head on over here for the rest of the day for some thrills and spills up until well past dinnertime.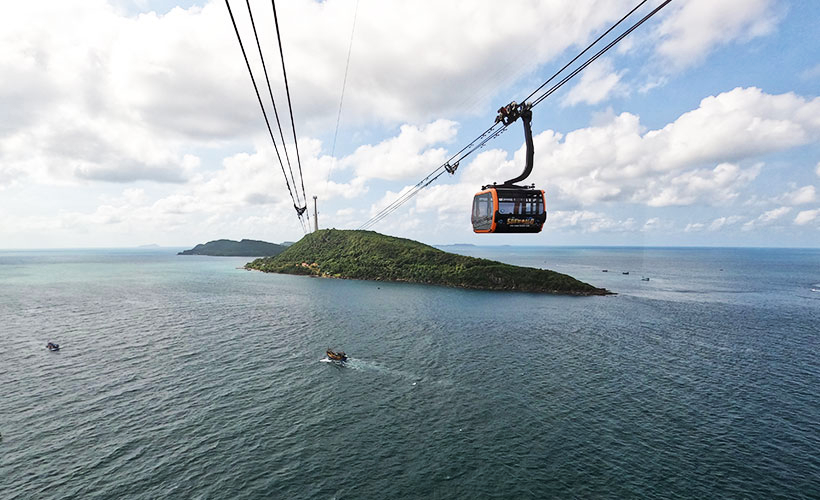 7. Island-hop by air
Here's another way to appreciate nature – with a cable car ride! Sometimes called the Pineapple Island Cable Car, this ride leaves from An Thoi town at the southern tip of Phu Quoc and takes you to another one of the island's nature parks, Hon Thom Island. The 15-minute cable car ride will reward you with some spectacular and incredible views – you'll soar over crystalline azure waters, fishing villages, coral reefs, and the smaller islands just off Phu Quoc.
If you're afraid of heights, we can promise you that this ride is a pleasant one, although very high (peaking at 174 metres). It's smooth, with some gentle rises and falls, and if the car starts to sway, you can rest assured that it's safe thanks to its 3S gondola technology. We have to say, it's easily the most picturesque cable car ride we've ever been on, and we've been on a fair share of them. This over-the-sea cable car ride also happens to be the longest non-stop cable car in the world at eight kilometres.
Once you reach Hon Thom, there's plenty to do! The island is bustling with people and buzzing with activities. Properly known as Sun World Hon Thom Nature Park, the biggest highlight here is the Aquatopia Water Park that has over 30 attractions; over 20 of them being water slides. There's also a Polynesian village you can visit, many restaurants, and if you really can't stay away from the sea, take the complimentary shuttle over to the island's orange-shored beach. There's a floating island the little kids and kids-at-heart can have fun on.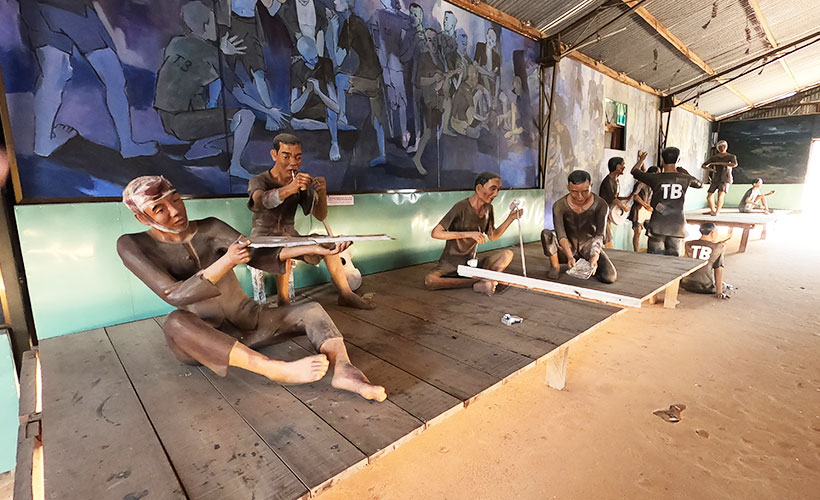 8. Do some jail time
On a more sobering note, it's also important to remember the past to ensure a better tomorrow. Often referred to as Coconut Tree Prison, Phu Quoc Prison now stands in remembrance of Vietnamese soldiers martyred in the 1960s and 1970s. Recognised as a historical monument in 1993, the prison's main building gives you a brief look into Phu Quoc's history during this dark time, while the outdoor compound has numbered sections where you can learn about the poor living conditions and suffering of the revolutionists imprisoned here.
9. Pop by a temple by the sea
This is another one for those who're really finding it hard to stay away from the ocean. Or for those who simply want to squeeze in a dose of culture on their beach trip. Smack bang in Duong Dong, along Long Beach, is the Dinh Cau Temple. Overlooking the Gulf of Thailand and perched atop a unique rock formation, this shrine is dedicated to Thien Hau, the Goddess of the Sea, who's worshipped throughout Asia. Also located just by a fishing port, the locals who offer their prayers here are said to be fishermen who hope for a calm sea on their journeys.
Other temples and pagodas on the island worth visiting are Ho Quoc Temple (a large property that also houses a Zen monastery), Sung Hung Pagoda (a combination of two shrines built in the 10th century), and Su Muon Pagoda (the oldest Buddhist shrine on the island).
10. Join a cooking class
Yup. Cooking classes are pretty popular on the island. We had the pleasure of joining one at Troc's Kitchen and Cooking Class in the Duong Dong area. Led by trained chef Troc, we got to learn how to prepare four scrumptious Vietnamese dishes done the local way.
Classes begin with a crash course on how to correctly prepare Vietnamese coffee, before going into one of four dishes. We learned how to make Vietnamese spring rolls, banh xeo, sour soup, and a lovely caramelised black pepper fish. One thing that you'll notice about Vietnamese food is how 'clean' it is. Very little oil is used, and the ingredients are always fresh and heavy on the vegetables. By learning how to prepare these dishes, you also learn about the country, as Troc gives you bite-sized morsels of culinary history. But still, the best part of the class was probably being able to gorge on all this delicious food as we made them from scratch.
Just reminiscing all the little details as we write this for you makes us want to go back. Is there something you enjoyed doing in Phu Quoc besides hitting the beach that we didn't mention? Let us know.
AirAsia flies from Kuala Lumpur to Phu Quoc 7 times a week. Visit www.airasia.com to plan your trip!
[zf_post_boxes widget_hide_desc="true" num_post="3″ post_id="22625, 20693, 30149″]
Get all the latest travel stories from Zafigo. Follow us on Facebook, Twitter, and Instagram.