While Penang is most commonly known for its incredible food choices and beachside stays, there is more to the island. Rich in culture and traditions, Penang still has a couple of vanishing trades worth learning about. These traditional craftsmanships have been around for decades, but with no one to pass down the skills and knowledge to, the trades face possible extinction with the artisans retiring.
So, if learning about these vanishing trades has your interests piqued, drop by and check them out the next time you're in Penang. We recommend calling before planning your visit to avoid any disappointment.
1. Rattan Weaving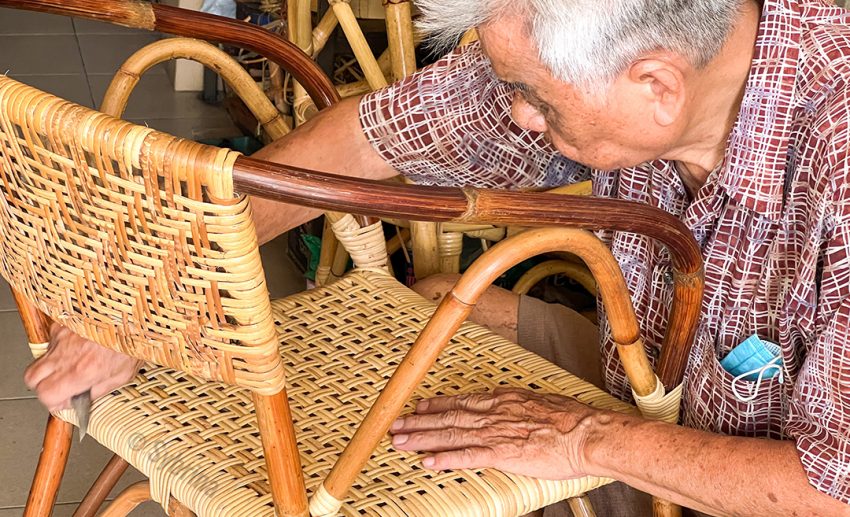 Do you recall weaving friendship bracelets in school, and boy, what a task? Well, imagine weaving an entire piece of furniture with rattan nonetheless. The craftsmen at Seng Lee Rattan Furniture have been around for decades, doing this for a living, and can weave just about anything that comes to your mind – from chairs and shelves to baskets and hats.
These carefully handmade items are also incredibly durable, and they make the perfect gift for loved ones. While there are plenty of options to choose from, you can also customise something that's to your liking.
Address: 122-G, Jalan Hutton, 10050 George Town
Contact: +6016 488 3037
Operating hours: Monday to Saturday, 10am to 6pm; Closed on Sunday
2. Flower Garland
Flower garland is an integral part of Indian culture. It was first introduced to Penang by Indian immigrants. As you walk along Jalan Masjid Kapitan Keling, you can't help but notice the fragrance of various flowers being used for garland making. The flowers are also specially picked from Penang Hill and Cameron Highlands, making them even more unique.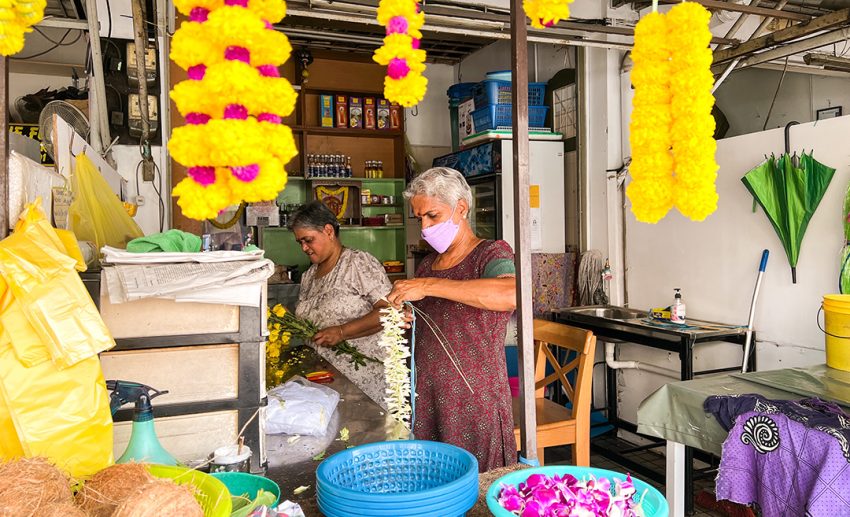 The process of making the garland is based on the flowers' scent, which mainly consists of marigolds, jasmine, roses, and dahlias. Flower garlands are often used for various occasions such as weddings, baby showers, funerals, and offerings to Gods in the temples or shrines.
Address: Jalan Masjid Kapitan Keling (next to the Goddess of Mercy Temple), 10200 George Town, Penang
Operating hours: Daily, 9am to 9pm
3. Songkok Making
Kedai Songkok OSM Mohd Shariff specialises in making traditional headwear that can be seen worn by predominantly Malay men during special occasions such as Hari Raya, weddings, funerals, and weekly visits to the mosque for prayers.
Having been in the business for over 50 years, Haja Mohideen has been working hard to keep this tradition alive. His fond relationship with songkok began at a young age when he used to help his father after school. Now, his songkok Melayu is one of the most sought-after around.
According to Haja Mohideen, making one songkok can take up to two hours, and it's an intricate process. Besides songkok, he also makes Karzi, a Northern Indian headwear, and fezs. If you're looking to get traditional custom-made headwear done, his shop is worth visiting.
Address: 157 Lebuh King, 10200 George Town
Contact: +6016 431 0940
Operating hours: Monday to Saturday, 10:30am to 9:30pm; Closed on Sunday
4. Chinese Seal Cutter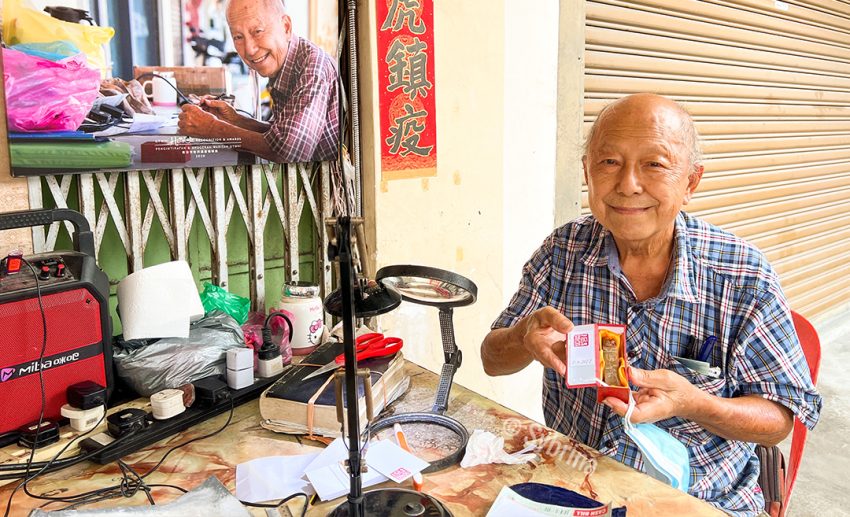 The Chinese stone seal is known to be used for official documents and artworks as signatures by traders, calligraphers, and people in business. Ng Chai Tiam, who is over 80 years old, has been a seal cutter for 54 years and has mastered this craft in Hong Kong.
A Chinese stone seal requires hand-and-eye precision and can take more than two hours to make. While cutting the seal and listening to Chinese opera, Mr Ng explains that every Chinese seal has to have a rounded corner and no sharp edges.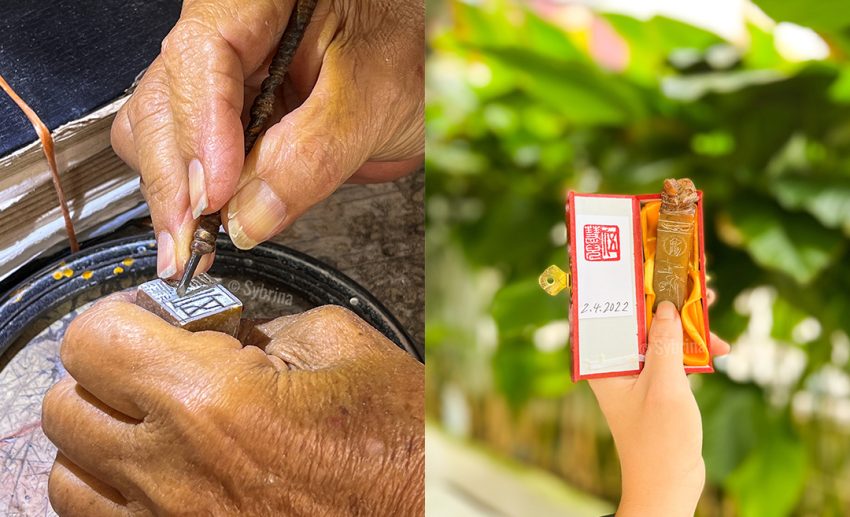 The passion and patience can be seen as he carefully cuts each seal to perfection, ensuring that each Chinese character's strokes are precise when stamped on a piece of paper.
If you're looking to get your very own Chinese seal, Tian Hua Arts & Antique will be the right place. Besides Chinese characters, Mr Ng can also make the seal with non-Chinese characters.
Address: 85 Lebuh Carnarvon, 10100 George Town
Contact: +6017 478 2878
Operating hours: Daily, 10am to 5pm
5. Joss Stick Making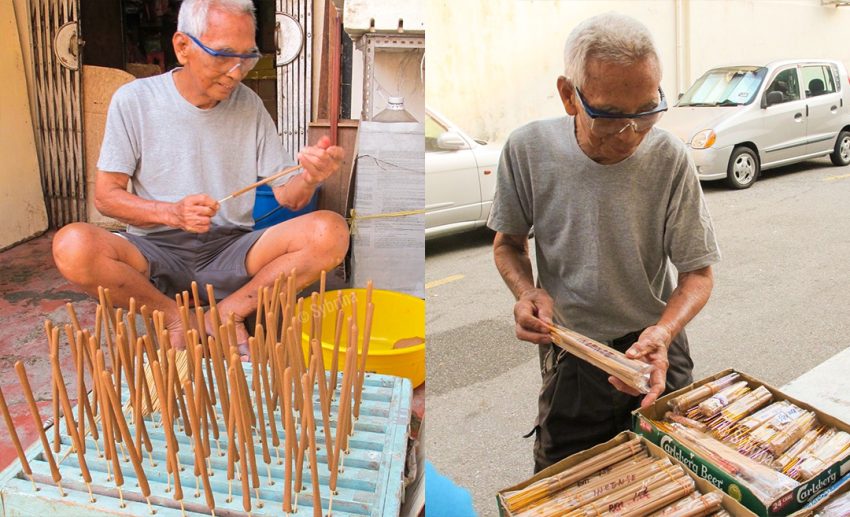 Joss stick plays a vital role in the Chinese custom as it is used not only in temples but also in household alters. It is believed that the joss stick assists in spiritual communication and an offering.
The late Mr Lee Beng Chuan, who passed away in 2020 at the age of 94, is known to be the only one who used to make joss sticks by hand. He learned this skill by observing the joss stick makers in China and carrying on this craftsmanship as most joss sticks are now factory-made. In hopes of keeping this trade alive, Mr Lee used to host workshops on making joss sticks by hand for the public to learn.
The joss sticks are made from natural raw ingredients like sandalwood, agarwood, Kayu Menang, benzoin, wormwood, and Tibet holy grass, making them of supreme quality. Penang Heritage Joss Stick Maker is now run by the late Mr Lee's son, Lee Chin Poh, also known as Thaksin. Give them a visit if you're interested in the workshop or looking to get customised joss sticks.
Address: 37-A Lorong Stewart, 10200 George Town
Contact: +6011 350 36815
Operating hours: Daily, 11am to 3pm
The list of vanishing trades is endless compared to the one we have written but the next time you're in Penang, take some time to discover others that have been around for decades. They'll undoubtedly add to your cultural knowledge!
*All images courtesy of the author, Sybrina Ng.