This Valentine's season, love isn't just in the air, it's up in the clouds quite literally! If you're looking to go or be taken the extra mile but don't want to go too far away from Kuala Lumpur (KL), we're here to remind you that Genting Highlands is only an hour away from our bustling capital city.
And at Resorts World Genting, there's plenty to expect this season of love.
Putting on a show
Ever dreamed of being part of a live stage performance? Then you'll be enthralled by Love Matters — a couple-centric stage show that features explosive song and dance performances, acrobatic stunts, and live audience involvement happening until 27 April 2023 at the Genting International Showroom.
Love Matters explores romantic love's ups and downs in a variety of show-style plays. During the show, three lucky couples are chosen at random from the audience to appear on stage with Cupid and the Devil. Selected couples are put through a test of their devotion to one another by being asked to recount the most memorable love-hate incidents they've shared with their partners. The selected 'forever love' couple wins the top prize, and other on-stage contestants receive fantastic rewards.
Overall, it's a fun and memorable way to celebrate Valentine's. And you get to do it while being thoroughly entertained by a multitalented 28-member ensemble hailing from all over the world — including Brazil, Colombia, Spain, Ukraine, Belarus, Russia, and China.
Tickets cost RM136 (for a VIP spot) and RM86 (regular).
Immortalise your love in photos
Couples who are planning their big 'I DO', this is for you. While it's pretty standard to take your wedding photos in a picturesque park or garden, what about doing things differently and going snap happy in a theme park instead? You can easily capture magic at Genting SkyWorlds, but if you really want a hint of nature, then a photography package at Resorts World Awana is the way go to.
Resorts World Awana pre-wedding photography package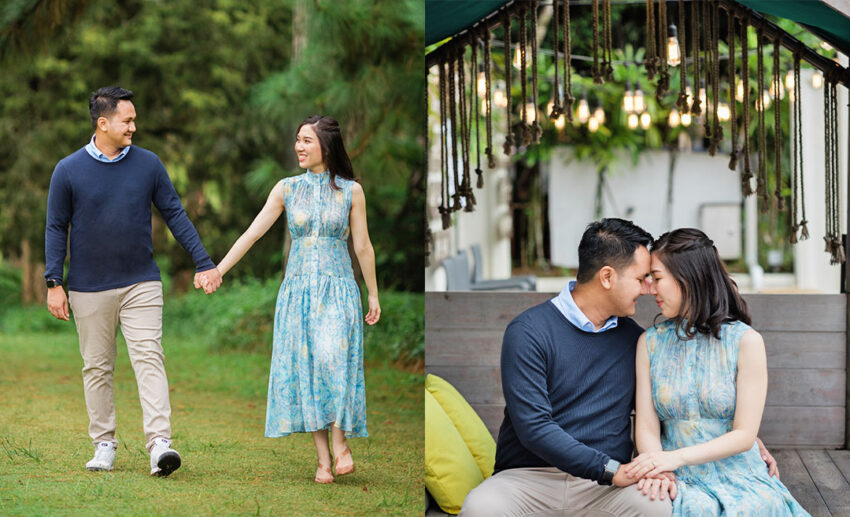 Resorts World Awana is perfect for outdoor photos. The property is a tropical haven that calls to those with a passion for the outdoors with its seemingly endless stretch of manicured lawns and breathtaking views of a distant misty mountain range. Create a memory that will last a lifetime in the picturesque highlands, perched 1,100 feet above sea level, and surrounded by a rainforest that's 130 million years old.
The Resorts World Awana pre-wedding photography package starts at RM4,680 and includes a one-night stay in a Superior Deluxe Room, set breakfast and supper for two, a four-hour Stories Lifestyle pre-wedding photography session with access to selected resort areas, edited high-resolution digital photographs, and a slideshow montage.
Genting SkyWorlds Theme Park pre-wedding photography package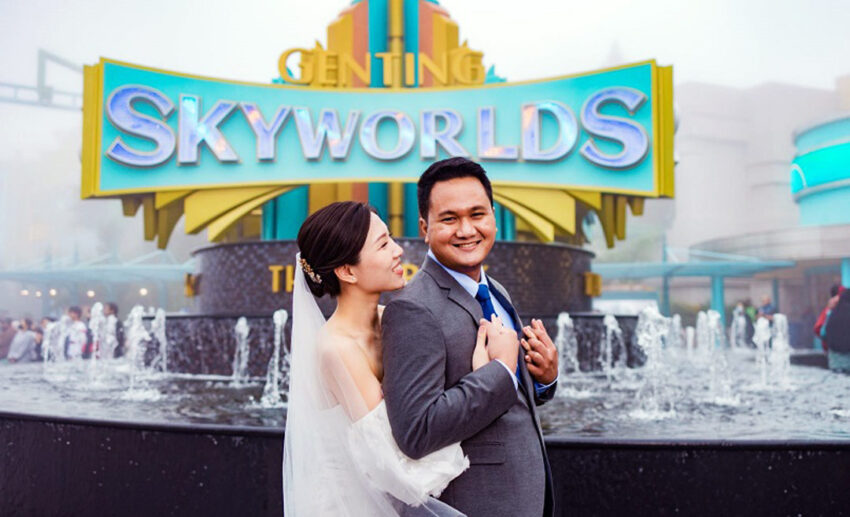 You can also unleash your inner child at Genting SkyWorlds Theme Park and make your own fantasy movie and adventure images. Heavenly, larger-than-life backdrops of colourful carousel rides and other eye-catching attractions will help you celebrate your love of all things magical and whimsical. Photos taken in the opulent Studio Plaza or in the San Francisco-inspired Liberty Lane, Madison Square, or Central Park Gardens, or at the Lake of Dreams' spectacular fountain show, will be treasured for a lifetime.
Packages for pre-wedding photography here start at RM5,580 and include a two-night stay in a Superior Room at the Crockfords Hotel, breakfast at the Crockfords Café, and a four-hour photographic session with edited, high-resolution digital photographs and a slideshow montage by Stories Lifestyle. Guests can pay an extra RM200 to stay in a Suite at Crockfords. Sounds like a mighty great deal to us!
*All images courtesy of Resorts World Genting.