Theme park fans, rejoice! After nearly 10 years of planning and development, the highly-anticipated Genting Skyworlds Theme Park finally opened its doors to the public in February 2022.
The 26-acre attraction is home to nine uniquely themed worlds. The theme worlds include Andromeda Base, Eagle Mountain, Central Park, Studio Plaza, Epic, Ice Age, Rio, Liberty Lane, and Robots Rivet Town. Within these worlds, visitors can explore a wide variety of world-class attractions, dining, retail, and live entertainment sites suitable for people of all ages.
If you're wondering whether to take a trip there, keep reading for our list of favourite rides and attractions in the all-new Genting SkyWorlds.
1. Independence Day: Defiance (Central Park)
Thrill level: High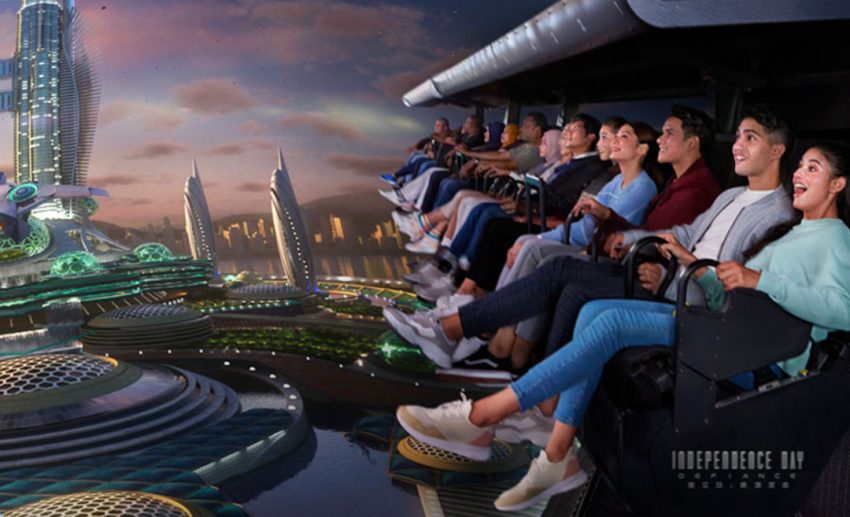 The minute you step into the theme park, you'll be greeted with the park's buzzing town square — Central Park. There are already various attractions here, one of which is the 4D ride Independence Day: Defiance.
You'll get a chance to be a recruit and fight aliens on an exhilarating space mission, one filled with immersive visual effects and synchronised motion. A Malaysian comedian will also welcome you into the Earth Space Defence Team to help defend Earth from an alien invasion. So, buckle up and be a hero!
2. ESD Global Defender (Central Park)
Thrill level: High
Check out ESD Global Defender at Central Park if you're looking for an adrenaline rush outdoors. You can board a hybrid aerospace fighter, take flight, and soar through the galactic skies. Prepare yourself for heart-pounding twists and turns while taking in the breathtaking view of Genting Highlands as you engage in a battle to defend Earth!
3. Terraform Tower Challenge (Andromeda Base)
Thrill level: High
For extreme thrill-seekers, Andromeda Base is the world for you. If you're familiar with Space Shot, one of the nostalgic rides at the old Genting theme park, then Terraform Tower Challenge will offer you similar heart-thumping terror and invoke nostalgic memories. It also has a background story and special effects that fit the galactic theme. Hang on tight and be warned that it's not for the faint-hearted!
4. Boot Camp Training (Andromeda Base)
Thrill level: Medium
If you haven't tried an obstacle course challenge, consider the Boot Camp Training attraction at Andromeda Base. Perfect for children and families, you can test your strength and resilience with the multiple obstacles that await. Take note that some courses involve mental tests, so be sure you're ready for the challenge!
5. Rio Carnaval Chaos (Rio)
Thrill level: Medium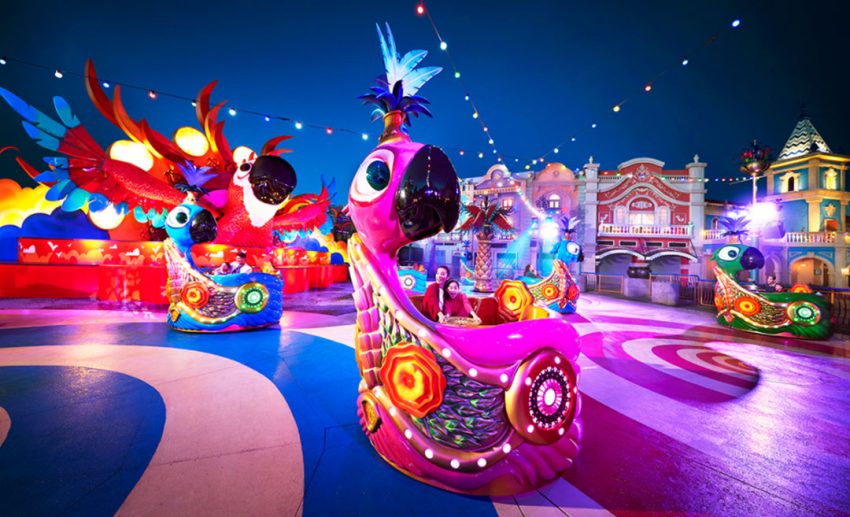 Rio is easily one of our favourite worlds in Genting Skyworlds, as it is a colourful Santa Teresa neighbourhood and has a summer feel all day! For a fun-filled time with your children, check out Rio Carnaval Chaos, where you can spin around in colourful teacups with Blu, Jewel, and the rest of the Rio crew! This ride is interactive and absolutely kid and family-friendly, so spin into a whirlwind of fun!
6. Samba Gliders (Rio)
Thrill level: Medium
If you're looking to enjoy a bird's eye view of Skyworlds, try out Samba Gliders. You'll get suspended 65 feet above the ground with your legs dangling, which can be great fun for the young at heart. Take in every corner of the colourful Rio world while you're up in the air!
7. Epic Voyage to Moonhaven (Epic)
Thrill level: Medium
Like Rio, Epic is a secret kingdom with a magical charm that will fill you with childlike joy. Check out Epic Voyage to Moonhaven, a whimsical indoor boat ride that offers a family-friendly adventure.
Please keep a lookout for Nod, M.K. and Mandrake as they come alive with larger-than-life animatronics and special effects. A tip: avoid the seat on the right to avoid getting splashed by the water!
8. Acorn Adventure (Ice Age)
Thrill level: Medium
You'll be sure to fall in love with the Ice Age world if you're a fan of the Ice Age movies. Take the opportunity to wear the hat as Scrat to go on a nutty adventure at the Acorn Adventure ride!
Climb as high as 65 feet before making a splash and experience twists and turns that take you around an icy waterfall. Hang tight, and be warned this is not for those who have an intense fear of heights.
The Acord Adventure is currently not operating just yet but it will be soon, so stay tuned!
9. Bigweld's Zeppelins (Robots Rivets Town)
Thrill level: Mild
Robots Rivet Town is a world dedicated to the vibrant Robot City in the movie Robots. If you're looking to take a break from all the thrilling rides, check out Bigweld's Zeppelins. This ride comes with controllable motion, which allows you to fly high and enjoy panoramic views of Robots Rivet Town. Perfect for the little ones.
10. Rivet Town Roller (Robots Rivets Town)
Thrill level: High
Hidden just below Bigweld's Zeppelins is Robots Rivet Town's most adventurous ride — Rivet Town Roller! It is a capsule coaster that will take you on a topsy-turvy route, so you'll feel pumped with every twist and turn. This town is also highly Instagrammable, as it has many colourful buildings that look just like the ones in the Robots movie.
If you're now sold on the idea of visiting the theme park, we recommend downloading the Genting Skyworlds on Google Play. This app allows you to navigate the park virtually to get a head-start on what to do and where to go.
Link your ticket and enjoy complimentary ride reservations for specific time slots. This will help save you lots of time getting stuck in long queues, and you can also skip the line by heading to the VQ (virtual queue) reservation lane at each ride.
Website | Facebook | Instagram