Songkran is one of the most important and popular holidays in Thailand. Also known as the Water Festival or Thai New Year, the three-day celebration (13-15 April this year) marks the passage of the sun from Taurus into Aries and the completion of the Thai calendar.
A mix of ritual and festivities, during Songkran, Thai Buddhists participate in a number of cleansing rituals. They include cleansing the Buddha images in their homes and local temples, sprinkling of water by younger Thais on their elders as a sign of respect and good wishes in the new year, and the symbolic tying of string around the wrists of others. (To learn more about the history and cultural traditions of Songkran, check out this article)
1. Down But Not Out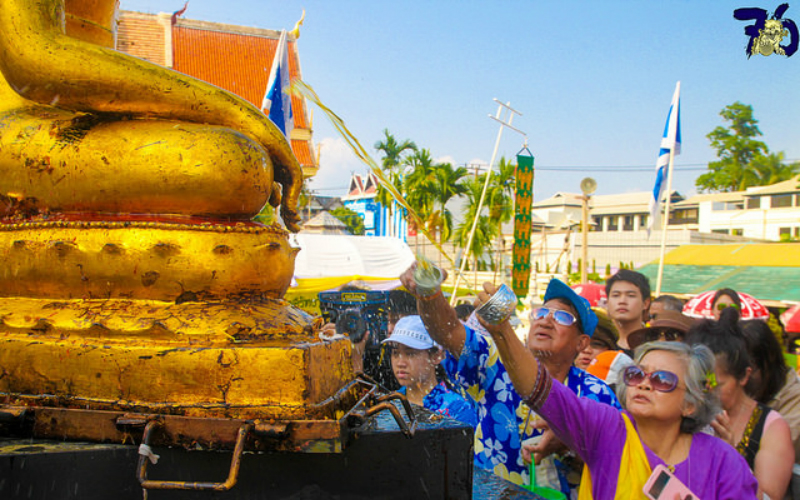 During Songkran, Bangkok practically shuts down and empties out as many take advantage of the long holiday to visit family or get away from the heat. I have made it a point of spending Songkran in Bangkok for the past two years in order to enjoy the peace and quiet of a city that is usually bustling with traffic and construction.
Tip: Key infrastructure and shopping malls remain open while trains, buses and taxi run more or less as normal – though they are often much wetter than usual from dripping passengers. 7Elevens continue their normal hours so no fear, you will be able to get a post-splash toastie or Slushie.
2. Fight Water With Water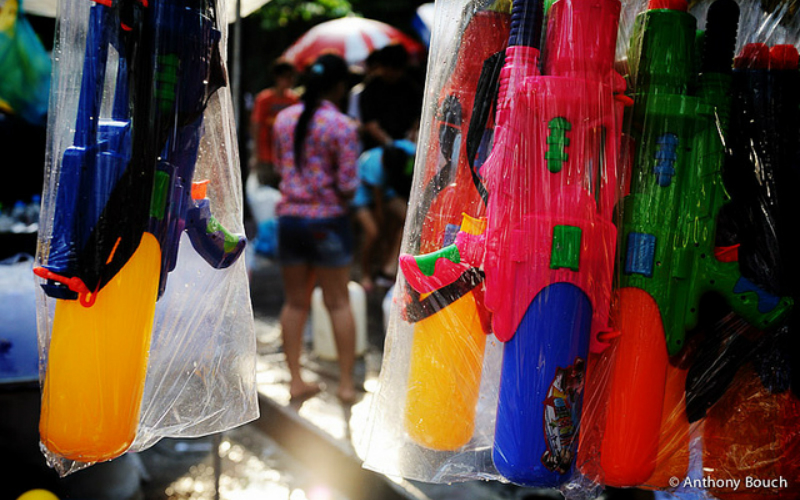 For many visitors, the main draw of Songkran is the famous three-day water fights throughout Thailand. Many neighbourhoods break out into water fights in the streets, with large areas closing down to cars. And when I say water fights, I do mean this literally. Enterprising youngsters set up (clean) trash can bins full of water along walk ways and vendors set up tables after tables of water guns, protective eye glasses and lots of food and drinks (usually under some kind of cover). Things may be a bit tamer this year because of the current drought, but you can still expect quite a celebration.
Tip: Purchase a water gun and protective eye glasses early and keep an eye out for the bins full of ice water. You'll have a lot more fun if you can attack back when a kid (or adult) pops out from behind a vendor and dumps a bucket of cold water on you.
3. Let The Party Begin
Water fights usually start on the first official day of Songkran. In some areas, they end on the third day or may continue through the weekend. Starting around mid-day on day one, people start to celebrate with loud music blasting through waterproof speakers, merrymakers driving along roads with water guns to catch unsuspecting pedestrians, and groups setting up street-side picnic areas. At tourist hotspots, you might start seeing water guns or water-themed parties as early as the weekend before. Bigger night clubs may also host foam parties.
Tip: There are unspoken rules about where you can and cannot spray people so as a visitor, only take out your gun in defence or once you've reached a clear water fight. Then go all out!
4. Pick Your Wardrobe Wisely
Before you start splashing around, have two key plans: Clothing and phones.
Songkran is also well-known for the sudden widespread appearance of floral shirts (also known as Hawaiian shirts to some). Make sure to pick up a Songkran shirt from a street vendor a few days early and then wash it before wearing to prevent the dye from running. My first year in Bangkok, I ruined my favourite white bikini by wearing it under a green floral shirt!
If you're fully committing to the festivities, you will be completely soaked within minutes so decide on bottoms that you will feel comfortable in if you jumped in a pool. Many Thai women wear shorts or sarong-style skirts. Next, decide on undergarments. I usually wear a bathing suit underneath or a sports bra. Again, the key is to keep in mind that the combination of clothing and water can mean chaffing, so be prepared.
Tip: As mentioned in our Introduction to Bangkok: Even though everyone is getting wet, it is not common for women to walk around water fights in just a bathing suit so try to bring comfortable shorts and t-shirts that can handle being splashed.
5. Digital Protection
Purchase a (hopefully) waterproof pouch to wear around your neck from many of the street vendors or a (more likely to be 100%) waterproof diving bag from specialty shops. I carried my stuff around in a Ziploc bag my first year and then just left everything at home my second year. Like any big festival, pickpocketing is a major concern. My friend took some amazing photos all day only to find his very nice, very new camera stolen at some point in the afternoon.
Tip: When in doubt, leave everything in the hotel safe and travel with just the absolute necessities.
6. Plan A, Plan B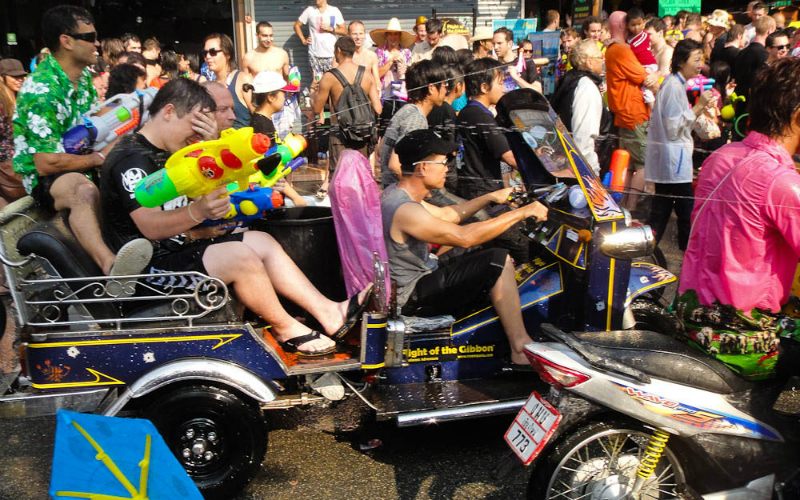 This will sound obvious to some but if you're leaving your phones behind, make sure to agree on where and when to meet later. Popular water fighting areas are bound to be extremely crowded so decide which exact corner you will meet at and give each other a window of wait time (such as "stay at that corner for 15 minutes before giving up"). Have a Plan B in case Plan A doesn't pan out; for example, if you don't manage to meet at the designated spot at 1pm, meet at a later time at another location.
Tip: Plan to meet away from main streets to minimise the likelihood of missing each other in the crowd, and make sure you give yourself a lot of extra travel time! Even with much less traffic, the areas around big party areas such as around Silom or Khao San shut down for blocks and you might need to push through a lot of people to get to the meeting spot, taking much longer than it would on a normal day.
7. Watch How Much You Drink
Khao San, Bangkok's backpackers district, is one of the most popular areas for Songkran. Expect lots of people from morning to evening, and people drinking all day. Don't be surprised if you get caught up in the flow and find yourselves joining the drinking sprees.
A word of caution: Many day drinkers find themselves much more intoxicated than they would be normally because of the mix of heat, lack of drinking water, and forgetting to eat.
Tip: Pace yourself and be sure to glug more water than usual. Even if you don't feel like eating much, at least have a nibble so help soak up some of the alcohol. Keep a good head – maybe you'll see me on my favourite Songkran street, Rambuttri, just off of the main Khao San Road.

Read Next:
 Get all the latest travel updates from Zafigo. Follow us on Facebook, Twitter, and Instagram.