We hit the ground running in January and kick-started the year with our very first camping trip as a family of four. My son, Quentin, had just turned two years old, and my daughter, Zoe, was four. Hence it was only a rite of passage that they experienced their first camping trip. Next up, they will be hunting wild lions for game. I'm kidding; there are no wild lions in Malaysia, and you certainly shouldn't hunt animals for fun.
In all seriousness though, here's how our camping trip with little kids went down.
Getting started with the necessities
It all began when we said yes to going on a camping trip with our friends to Hutlista 2 (a camping site in Sungai Tua Recreational Forest), and ever since then, we've gone camping together plenty of times. However, as first-timers with little ones in tow, we cautiously approached this trip and decided not to splurge too much on the big stuff. So, most of the outdoor gear, like the tent, sleeping mattresses, stove, and camping chairs, were on loan from kind friends and family.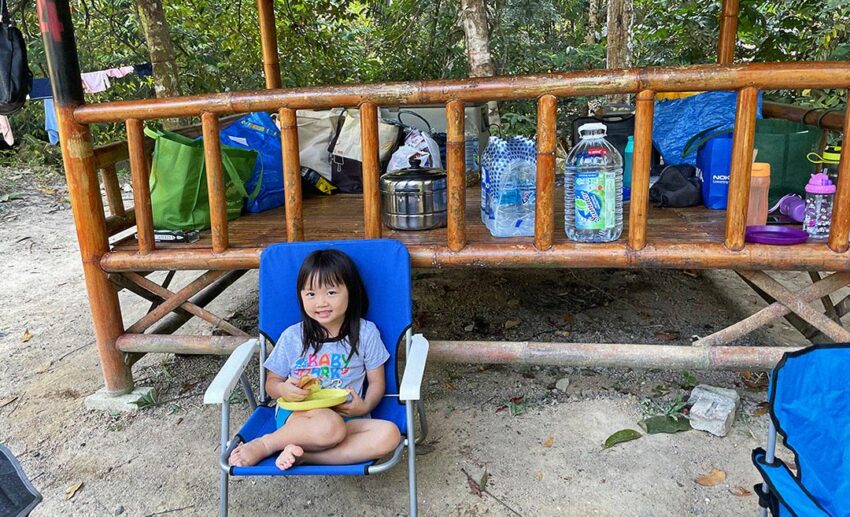 We also applied the sharing economy for cooking utensils and common daily necessities. Personal belongings were packed to the bare minimum for adults — a few lightweight tops, fast-dry shorts/capris, some swimwear for water play in the river, innerwear, towels, and toiletries. Think essentials!
As for the children, we packed basic clothes, toys, diapers, floaties, and hats. Other essentials include sunblock and mosquito repellent. It helps to bring extra towels as well, hangers, and let's not forget, good ol' toilet roll.
Food wise, each family took turns preparing dinner for everyone, and for other meals during the day, each family would sort themselves out. The simpler the food, the better, such as sandwiches, pasta with canned sauce, wraps and rolls with minced meat, pre-marinated chicken chips, cold-cut vegetables, and cheese. Of course, you can cook out in the wilderness, my advice is to just keep it easy.
We each brought along an icebox to store the frozen and cold goods that can last up to two or three days in our hot and humid Malaysian weather. An important thing to note when planning the menu: make sure it revolves around food that's either pre-packed, like tin food, or anything easy and quick to cook and serve. Be as creative as you like, and remember to bring lots of water!
What you'll need and more
Our camping master list looks something like this for a three-day-two-night camping excursion with two young kids: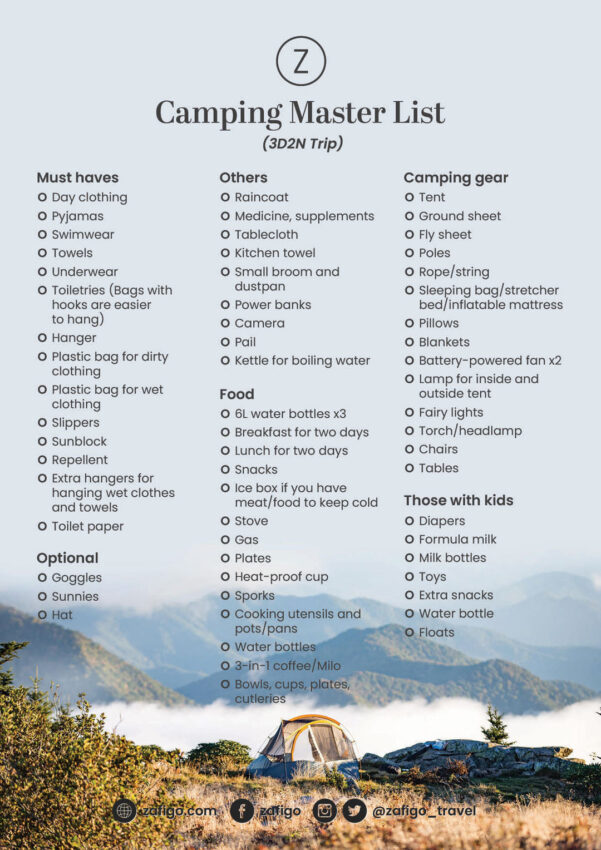 This list has gotten us through four camping trips in the last year, and we get better at packing after each time — bringing a little extra fluff to create a better experience with erecting and dismantling the tent in a quick and orderly fashion. If you're wondering about the toilet situation, fear not, as most campsites provide proper toilets and showers. So you won't have to rough it out fully.
The one thing to keep in mind is that almost nothing is provided out there, so having concrete-walled toilets and showers is considered a luxury and, on the flip side, sacrilegious by real campers who prefer to do it entirely nature's way. But ya' know, to each their own, we say!
So, if you're looking for Shangri-La in the middle of the enchanting forest, remember to dial down the expectations a few notches and pack as much as needed or as much as your car can fit.
On the bug front, do expect to be sleeping with the occasional ants and flying insects. Most are usually harmless, but be vigilant for the fire ants! Having a well-stocked first aid kit is definitely good for preparing for any bites and cuts that may occur. Sleeping in something like a RoofBunk will also help avoid this problem; plus you'll get lovely views from atop your vehicle!
The beauty that the outdoors bring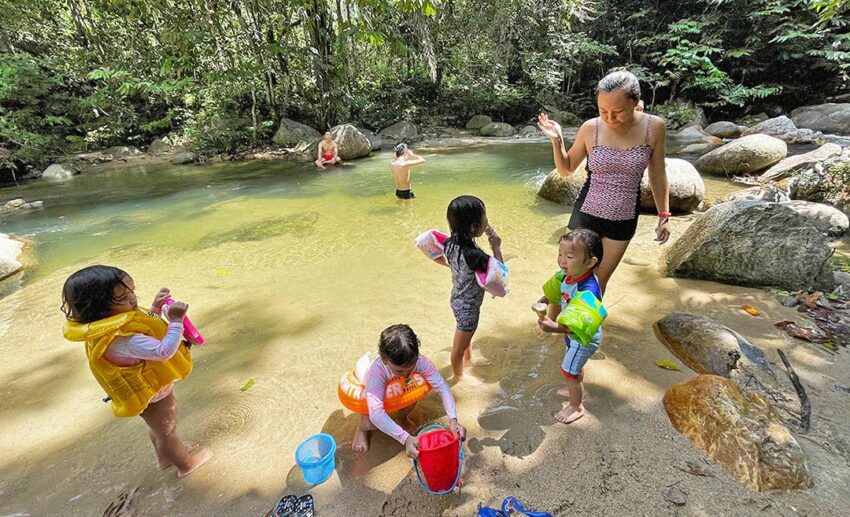 On a brighter and sunnier note, Malaysia has beautiful campsites and nature aplenty in almost every state. We are spoilt for choice as campsites are popping up everywhere like mushrooms after the rain. And honestly, we're not complaining. We love camping as a family for many reasons; to disconnect from the hustle and bustle of city life, to spend quality time with one another, and enjoy nature while introducing our kids to the outdoors and the beauty that is.
So far, we have enjoyed pitching our tents close to or near rivers, which also means a warmer climate during the day, but it being just right at night, followed by sleeping to the soothing sounds of a river flowing. Some may prefer a quieter experience up in the highlands, which beckons the packing of warmer clothing, a pail to store warm water for showering, and a lot more gas canisters for boiling water frequently.
Do it with people you enjoy being with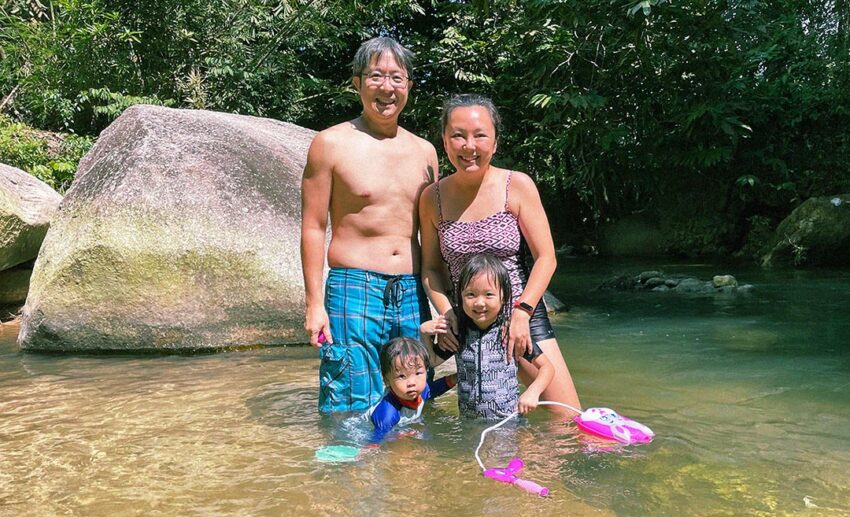 But no matter where you go, the best part about this outdoor experience is going with awesome people who share a common love for camping and nature. Each time we part ways with our camping mates, our kids are already looking forward to the next one. What's not to love as a kid when there are friends, all-day water play, favourite foods like pasta, sandwiches, and snacks, and sharing the sleeping area with mummy and daddy?
The idea of camping can be daunting and intimidating for first-timers, and even scarier when you have young children, but rest assured that children are easily adaptable and resilient. Quite frankly, they're simpletons that need not much but good company, food, and a place to lay their heads when tired. Most times, it's us parents that fear the great unknown that is the outdoors, and in some cases, rightly so.
However, it is with the hope that all the unknown will not deter you and your family from beginning your camping journey. So, start packing and be on your way to the great outdoors this 2023!
*All images courtesy of author.