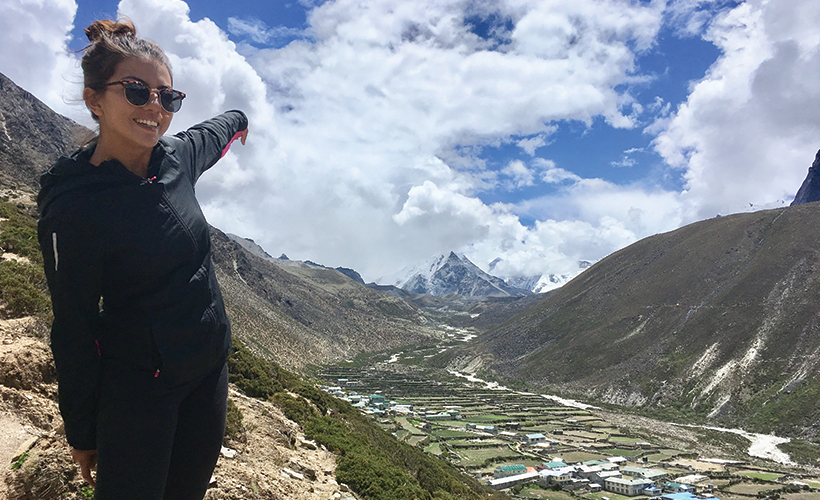 Whenever I'd hear about people climbing Everest, I assumed two things — that they are super fit and have lots of money. I was wrong on both counts.
I discovered there was a lesser-known trek to the foot of Mount Everest called Everest Base Camp (EBC). Sitting at 17,600 feet, you get to see Everest in person and hike through the same trails Sir Edmund Hillary and many other hiking legends once traversed.
If you google EBC treks, prices can scale up to USD7,000! However, I figured out a way to keep my costs at a reasonable USD800. Here's how:
Flights
You need to take a flight from Kathmandu in Nepal to a location at the bottom of the trek called Lukla. At the time I went, the return flights cost me USD300 and I booked them via a travel agent called Mountain Sun Valley Treks and Expeditions. Their price was exactly the same as booking a flight myself online.
The benefit of booking my flights with them was that I received amazing tips from a local Sherpa, and had their contact number to call if things went wrong. Things did go pear-shaped, but that's a story for another day, so having that number did prove useful. A quick look at the local airline website indicates the average price is now USD330.
Entrance fees
I paid RS2,000 (approximately USD20) for the Trekker's Information Management System (TIMS) card. However, this has now been replaced by a local tax of RS2,000. So, don't buy any permit ahead of time and just pay for it when they ask at the beginning of the trek. Some people have bought the TIMS only to realise later on it's no longer required. Then had to pay an additional USD20 for the local tax.
In addition, I had to pay for the Sagarmatha National Park permit fee that's charged at the entrance to the National Park in Monjo. This is priced at RS3,000 (approximately USD30). Together, this brought the cost of my total admission to around USD50.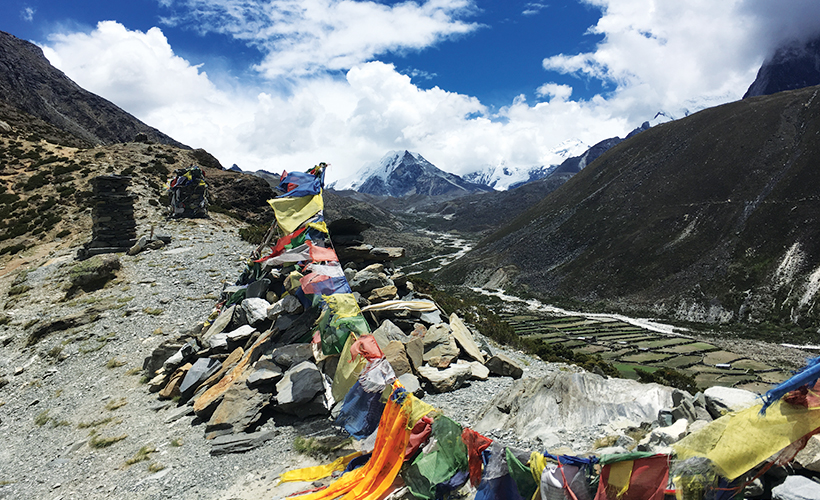 Route
Now, this is where you are going to save most of your coins. You do not need a porter or guide. Yes, you read that right. You can trek to EBC independently without a guide. It's safe and it's possible as I did it myself. The ascent to EBC is a well-maintained, clearly marked trek that's easy to follow.
A porter or guide can charge between USD30-50 per day. The trek takes around 10 days to complete, so you're saving yourself a huge chunk of money by carrying your backpack yourself and following the route without a guide.
Below is the route I took. A local Sherpa wrote it down for me and I followed it exactly. It worked like a dream. So, the total cost for the trek itself: FREE

Accommodation and food
I hiked in May, during the low season, so every single guesthouse I stayed at was free on the condition that I ate my dinner and breakfast there. Yes, absolutely no charge. This is normal. I've been told in the peak season of October to March, guesthouses may charge between USD2-7 per night.
The cost of three meals was probably RS2,500 (approximately USD25) but I like to eat and while I am happy to live the #budgetlife, I won't do it at the expense of my stomach. So I allocated extra money for food. Nepali food is simple but comforting, so I didn't mind.
It's important to note that the guesthouses will charge you for hot showers, Wi-Fi, and to charge your electrical goods. So, I allocated USD35 in total for everything. Times that by 10 nights and accommodation and food comes up to USD350.
Miscellaneous
In Namche Bazaar, there will be a little market and shops along the way selling souvenirs. One of my best investments were some purple wool booties that kept me warm higher up the trail. Altogether, I reckon I spent around USD50 on miscellaneous items. It's always good to allocate a bit of pocket money.
Total trek costs
Here's a total summary of my expenditure:
There you have it! Everest Base Camp tackled in under USD800. Keep in mind that this is a basic, no-frills budget that'll allow you to rub shoulders with the misty Himalayas. You're welcome to allocate more for food and miscellaneous items, but don't let the cost deter you from scaling this majestic mountain.
With that, let me end with a quote by Sir Edmund Hillary to hopefully inspire you to take on the EBC trek, "People do not decide to become extraordinary. They decide to accomplish extraordinary things."
Get all the latest travel stories from Zafigo. Follow us on Facebook, Twitter, and Instagram.