Nepal is heaven for those who love being outdoors. The Himalayan mountain range is the main attraction here, featuring some of the world's highest peaks, thus forming the basis of Nepal's appeal to travellers from all across the globe. Visiting Nepal in the summer is a delightful experience, as that's when you'll get the clearest views of the magnificent Himalayas, can explore lush trekking routes, and expect only some light sprinkles of rain.
Suffice to say, it's the best time to visit, so here's a summer guide of what to see and eat when in spending your summer in Nepal:
Places to visit
It goes without saying that Nepal's best feature is the Himalayas. So even though it's a landlocked country in South Asia, Nepal isn't short of things to do, see, or experience. It's truly a unique country with plenty to offer – whether you're a nature lover or adrenaline junkie.
Kathmandu
Of course, it's Kathmandu that first comes to mind whenever you think of Nepal (other than the mountains). The capital city is perfect for discovering the local heritage and culture of the Nepalese. Kathmandu's also famous for monasteries, so anyone seeking soul relaxation can visit the city and relish in the spiritual calm.
Durbar Square, formally known as Basantapur Darbar Kshetra, is one of three plazas that face the royal palaces of the former Kathmandu Kingdom. This square has managed to remain fairly intact after the big earthquake of 2015 and is a must-see.
Google images of Nepal or Kathmandu and pictures of the Boudhanath Stupa are bound to appear. This stupa has been a beacon for Buddhism since its construction in the 5th century. The eyes you'll see painted on all sides of the stupa represent the all-seeing eyes of Buddha. These eyes also symbolise awareness.
Nagarkot
To satisfy your urge to experience nature at its best, the teeny village of Nagarkot is the place to go to. A place of peace, enjoy the solitude of nature or visit Nagarkot with your buddies and create some of your best memories together as you witness the most stunning view of the Himalayas — Mount Everest included. Nagarkot is a mere 32 kilometres east of Kathmandu.
Considered one of Nepal's best hilltop destinations, Nagarkot also lends a nice view of life down below in the valley. One popular stop as you hike up or down is the Nagarkot Bat Cave (Chamero Gupha). Fun fact: Kathmandu is home to 25 species of bats. Don't forget to cool down at Nagarkot Waterfall as you descend from the hike.
Pokhara
This is where you'll get to witness the unique beauty of Nepal while fuelling your adrenaline rush from activities such as bungee jumping and paragliding. Explore the Himalayan peaks and have a relaxed day at the lakes. Wander about in the caves, the old market, or go walk along a trekking path and enjoy this isolated town.
Also known as Phewa Tal, Phewa Lake is situated in Pokhara, and is Nepal's second largest lake. Rent a boat lakeside and head out for a ride. It's so relaxing!
Another one of Pokhara's highlights is the International Mountain Museum. Come here to learn about Nepal's many mountains, about the people who live on them, as well as the mountaineers who've climbed them.
Chitwan National Park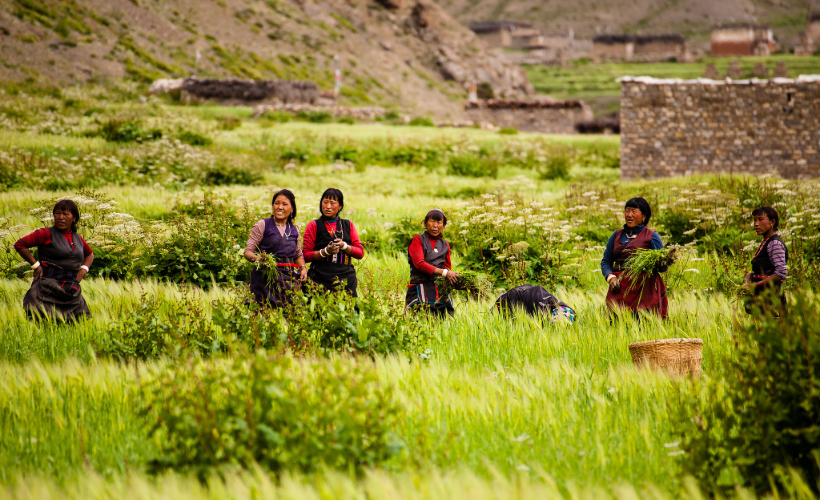 The rare species and spectacular greenery are enough reason to visit this pace when you visit Nepal. Situated in the Terai Lowlands, Chitwan National Park is famous for its biodiversity that boasts some rare animals, like the one-horned rhino. You might even get to see the Bengal tiger, but do expect crocodiles and various species of birds. A visit here is definitely worth your time.
The park has several safaris, activities, and cultural programmes to pick from. Highlights include a Jeep Safari, Canoe Ride, and Elephant Bathing. There also are several dining options here, like the Sunset View Restaurant & Bar being the favourite for — you guessed it — viewing the sunset.
Dolpo
If you'd prefer to head somewhere with fewer visitors, Dolpo is the place for you. This high-altitude region in western Nepal offers picturesque mountain views and a landscape in its most natural state, untarnished unlike other tourist spots.
While here, head up to Dho Tarap Valley, where you can see what it's like living in one of the world's highest altitude settlements. Nepal is also famed for its pilgrimage trails, and Dolpo acts as a gateway to the the Crystal Mountain (Shey Gompa) trek, which is considered one of the Himalayas' most sacred.
What to eat
Every country has its specialty fare, and Nepal is no different. Momo (dumpling) is usully springs to mind first when thinking of South Asian cuisine, however, there are other dishes worth trying.
Newari food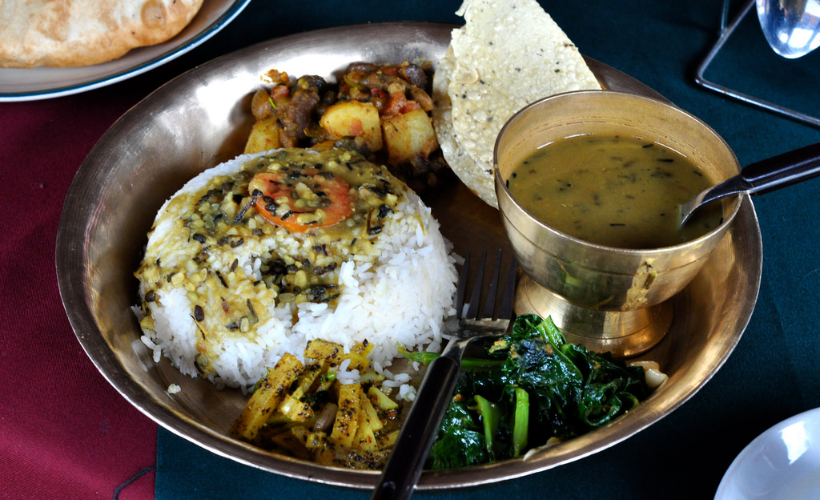 One of Nepal's most famed dishes is the newari khaja. One set of this common snack consists of choila (grilled buffalo meat), alu tama (potato and fermented bamboo soup), pounded rice with pickles, and many other items. This is a dish you must taste while in the country, and your taste buds will thank you. Be forewarned — only indulge if you're keen on spicy food.  
Dal bhat
A blend of lentils and steamed rice is served in a small bowl or plate and usually comes accompanied, pickle, meat, roti (bread), and other items. The vegetable varies as per the restaurants, and so does the taste. It's an affordable dish that's best eaten when really hungry, as it's a rather heavy meal. One of the best places to enjoy a dal bhat meal is at Thakali Kitchen, a family-run franchise in Kathamandu.
Sekuwa
Think of this dish as a traditional wood-fire barbecue. Sekuwa is meat roasted on skewers, and Bajeko Sekuwa is one of the best places to enjoy this specialty. Serving an extensive menu of vegetarian and non-vegetarian grill options, you'll surely get an authentic Nepali sekuwa treat here. They have numerous outlets. If you'd rather enjoy this dish the way a local would, there are many stalls that sell sekuwa. At pocket friendly prices too.
Dhindo
Dhindo is a thick porridge dish. The dish is made from combining flour (usually cornmeal or millet flour) into boiling water until it becomes a thick, sticky mush. This staple is usually enjoyed with a serving of kukhura ko masu (Nepali chicken curry), cooked vegetables, pickles, rayo ko saag (mustard greens), and salad. This is also a filling dish that's sure to satisfy your hunger; especially after a long trek.
Get all the latest travel stories from Zafigo. Follow us on Facebook, Twitter, and Instagram.