There are so many ways to travel –– besides the obvious, which is physically going to another location, you can also travel through books, magazines, photos, and of course, movies, which is a personal favourite of mine. I am a self-declared cinephile, and I don't discriminate; I watch all genres (except horror), and one of my all-time favourites is romantic comedies. They're often predictable, sometimes cheesy, and mostly kind of similar to the rest, but I just cannot get enough.
One of the things I love doing whilst watching a rom-com or any movie is researching where the filming location took place. Unbeknownst to me why, the idea of choosing a backdrop for a movie is intriguing. But let's not get into why. Here are a few personal favourites that will take you on a trip through its scenes.
1. Tuscany, Italy
Under The Tuscan Sun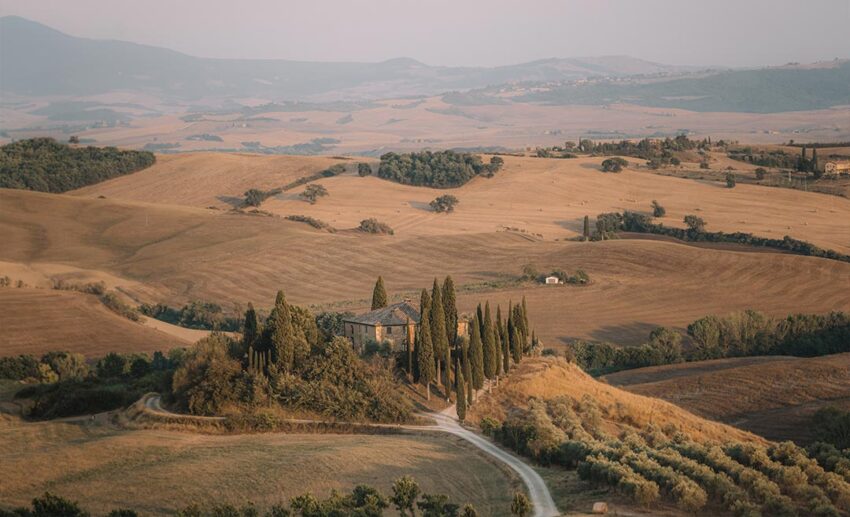 We start our list with arguably one of the best romantic comedy-dramas of all time, Under The Tuscan Sun. This movie sees Frances Mayes, played by Diane Lane, go on a soul-searching adventure after a heart-wrenching divorce. Where does she go to make sense of her life and herself? Tuscany, Italy.
From the abandoned Villa Bramasole (Villa Laura in real life), which she eventually purchases and turns into a home, to the breathtaking sunflower fields, this movie is a love letter to Tuscany and its hilltop town, Cortona!
Things to do: Wine-tasting in the Tuscan countryside, go shopping at Mercato Centrale, visit Basilica of Santa Croce, explore the many piazzas in Cortona.
Watch the trailer here.
2. Cannes, France
French Kiss
Starring Meg Ryan and Kevin Kline, French Kiss is a rom-com classic! Filmed in 1995, the movie whisks you away to the enchanting streets of France as the film protagonist goes on a trip to win back her love. While filming took place in various parts of the country, most of it was done in the resort town of Cannes; yes, where the international film festival takes place annually. The French Riviera is also known for luxurious hotels, designer boutiques, and sandy beaches.
Things to do: Sample produce at Marché Forville, stroll along La Croisette, explore Le Sequet.
Watch the trailer here.
3. Bora Bora, French Polynesia
Couples Retreat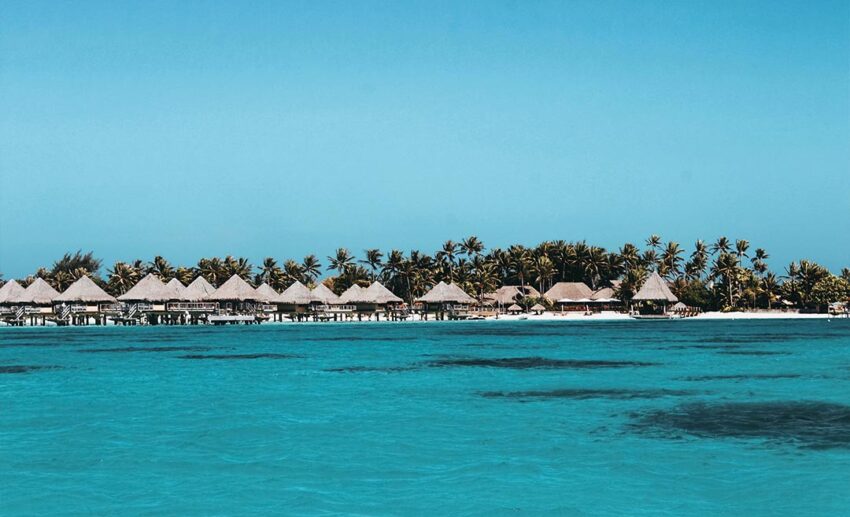 Who can forget the hilarious 2009 rom-com hit Couples Retreat, starring Vince Vaughn, Jason Bateman, Malin Akerman, and Kristin Bell, to name a few. Besides the movie's entertaining premise about a bunch of couples embarking on a group retreat to paradise, another memorable part is the stunning azure backdrop. While Eden Resort may not be a real place, the St Regis Bora Bora Resort is the primary location for the filming of this movie.
This small South Pacific island needs no introduction as its renowned for being a scuba diving spot and home to popular luxury resorts. Couples Retreat does a great job utilising this celebrated island's beauty and definitely will have you craving an island getaway –– specifically at Bora Bora.
Things to do: Indulge in the art of doing absolutely nothing, go scuba diving, treat yourself to some serious pampering sessions at a spa.
Watch the trailer here.
4. Thames, New Zealand
Falling Inn Love
Netflix's original rom-com, Falling Inn Love, will always have my heart, simply for its cheesy storyline – which works for all true fans of the genre – and its quaint location. In the movie, Gabriella Diaz suffers a breakup and, at the same time, wins a contest for an inn in New Zealand.
Before you know it, she's in another country with a rustic property that desperately needed some fixing, which introduces us to the bighearted contractor, Jake. In the movie, the gossipy town of Beechwood Downs in New Zealand is actually Thames in real life and is only a 1.5-hour drive from Auckland.
Much like a lot of New Zealand, this town is an ideal getaway for those seeking outdoor adventures. There are rivers, hiking trails, camping sites, volcanic mountain ranges, lakes, and valleys waiting to be explored. Thames also has a bustling food scene with plenty of restaurants that will attract any foodie, and there are plenty of art galleries and museums too.
Things to do: Spend the day at Bethell's Beach, check out Thames Goldmine Experience, visit Thames Market, have a soak in Miranda Hot Springs, brave the Kauaeranga Kauri trail.
Watch the trailer here.
5. Inis Mor (Inishmore), Ireland
Leap Year
If you're in the mood for a feel-good romantic comedy that will transport you to the captivating landscapes of Ireland, Leap Year is a delightful choice. Join Anna on her whirlwind adventure in beautiful Ireland as she discovers that sometimes the path to love isn't always straightforward but can lead to unexpected joy and happiness.
The film's picturesque Irish setting showcases the country's breathtaking beauty, from rolling green hills to charming villages. It captures the essence of Ireland's rich traditions, lively music, and warm-hearted people, creating a backdrop that adds immense value to this rom-com.
Things to do: Visit the Poll na bPéist – The Wormhole, check out Aran Sweater Market, get lost in all things crafty at Lia Árann, explore Na Seacht dTeampaill – The Seven Churches and other historical landmarks.
Watch the trailer here.
6. Frascati, Italy
Love Wedding Repeat
Prepare for a whirlwind of hilarious mishaps and romantic chaos in the charming film Love Wedding Repeat. Released in 2020, this delightful romantic comedy takes you on a wild ride through a chaotic wedding day filled with unexpected twists and turns.
Set in Frascati's idyllic Italian countryside, the story revolves around Jack, played by Sam Claflin, who finds himself navigating the complicated web of love and chance during his sister's wedding. As fate throws curveballs at every corner, Jack must find a way to ensure that true love triumphs while juggling eccentric guests and unforeseen complications.
The movie, which takes place mainly in Villa Parisi-Borghese, viewers can't help but fall in love with the idea of being in a magnificent palace house. From the curved stairs to a hidden cave with a carved dragon and a secret garden, this movie showcases the beauty of Italian architecture. Fun fact: the villa can be rented out for weddings and other special events.
Things to do: sample the wine from this region, see the 12 Tusculan Villas, explore Tuscolano Civic Museum, enjoy Frascati's food scene.
Watch this trailer here.
7. Malaysia
Crazy Rich Asians
You didn't think I was going to leave out Malaysia, did you? Plenty of films have used our country as their beautiful backdrops, but one in particular to take note of is Crazy Rich Asians. While the film depicts the ultra-luxe life of Singapore's wealthiest, most scenes were shot in Malaysia, and plenty in Singapore too of course. Even the opening scene in the film is set in London was actually the Eastern & Oriental Hotel in Penang.
Remember the cringey bachelor party on Rawa Island? In real life, the scenes were filmed on Langkawi Island. And who could forget Nick Young's very expensive family home –– our very own Carcosa Seri Negara in Kuala Lumpur played the beautiful setting.
Things to do: go glamping, indulge in our diverse culinary scene, explore the beauty of East Malaysia, shop till you drop at any one of our impressive shopping malls.
Watch the trailer here.