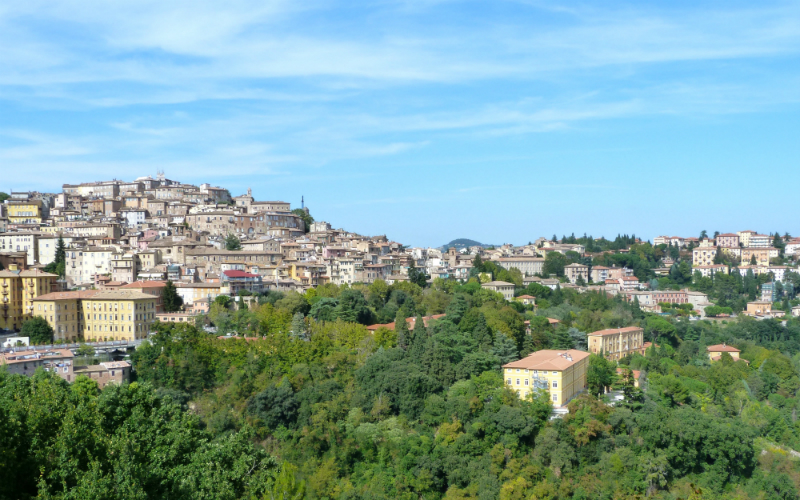 Ivisited the Eternal City for the first time many years back and came away in awe of the grandeur of Rome. The Coliseum, the Roman Forum, St Peter's Basilica and Vatican City… the magnificent monuments swept me away, while romantic Venice and cultural Florence stole my heart completely.
These wonderful cities are the pride of Italy and are well known on the tourist radar, but the country has so much more to offer. Years later, when I returned on my own, I discovered that the reason I fell in love with this land was not the cities but the countryside – picturesque coastal towns, rolling hills and mountains.
The medieval hill towns in central Italy and the Baroque hill towns in Sicily are the most authentic and beautiful places I have seen. Sitting on a rampart high above the traffic and trains, I basked in the serenity and charm that elude so many tourists. Of the many hill towns that I visited (and there are more that I have yet to), here are 15 of the most unforgettable. Each is a unique escapade in its own way.
Tuscany
This region is famous as both the birthplace of the Renaissance culture and the home of dreamy landscapes with rolling fields, haystacks and cypress trees.
1. Cortona
The town is best known for being the setting of Frances Mayes' memoir Under the Tuscan Sun and is populated by many churches. The Santa Margherita Sanctuary is worth a visit, located on a piece of vast land on the highest point on the hill and surrounded by lush greeneries. It's reachable via a short uphill walk and you will be rewarded with a panoramic view of the land below. Continue along the path and you will reach the city walls that surround the historical town.
2. Barga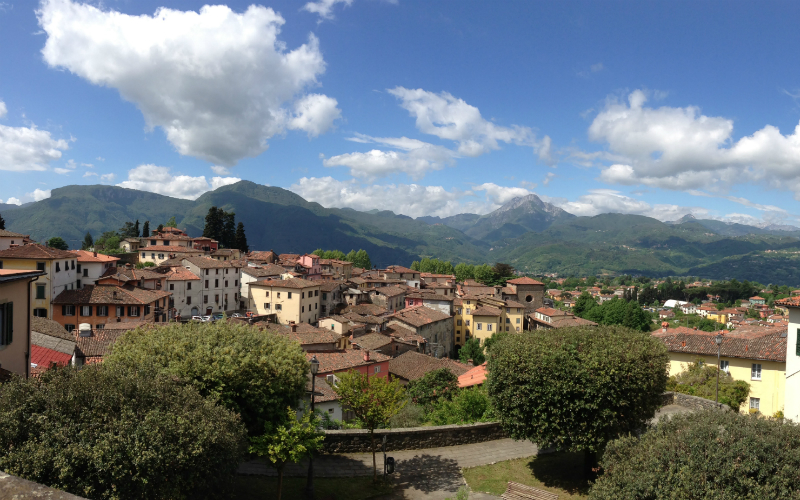 Situated in the Garfagnana area, Barga is a rather sleepy medieval town with a population of just 10,000. There's a closed-in, almost secretive, atmosphere about it that's emphasised by many narrow lanes and flights of steps. The piazza is no more than a space where two vehicles can pass each other. The ancient buildings sport faded facades with hints of the vibrant colours that once coated them. A spacious park down the slope provides natural respite.
3. Montepulciano
This Medieval and Renaissance hill town was built on a ridge of Monte Poliziano, and is famed for its highly reputed Vino Nobile. Here, you can bask in spectacular views of Val di Chiana and Val d'Orcia. Stroll the car-free main street and find your way to Piazza Grande, the main square and a great place to hunt down wine shops and authentic local cuisine. Head towards the countryside and you'll be rewarded with stunning views of the vineyards.
4. San Gimignano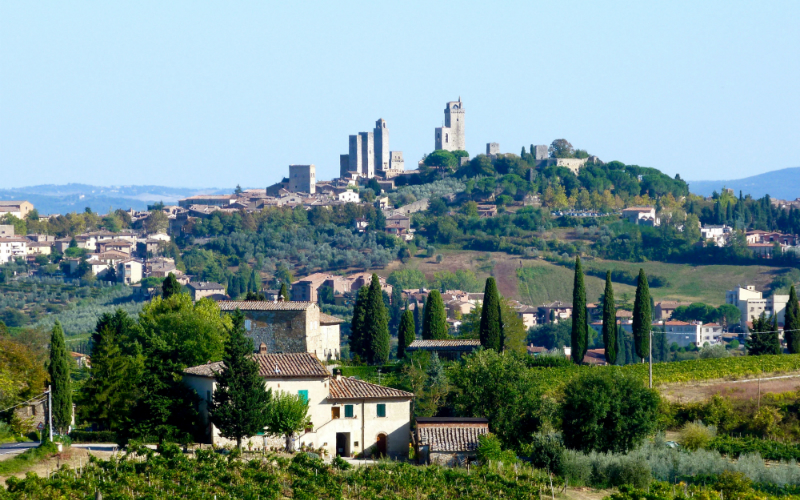 This little walled medieval hill town in the province of Siena is a well-known attraction, having retained a feudal atmosphere and appearance. Known as the town of fine towers, San Gimignano is surrounded by walls that were built in the 13th-century, with rows of medieval houses that form a triangle. The skyline is breathtaking: Hilltop setting, encircling walls and a total of 14 towers of different heights.
5. Volterra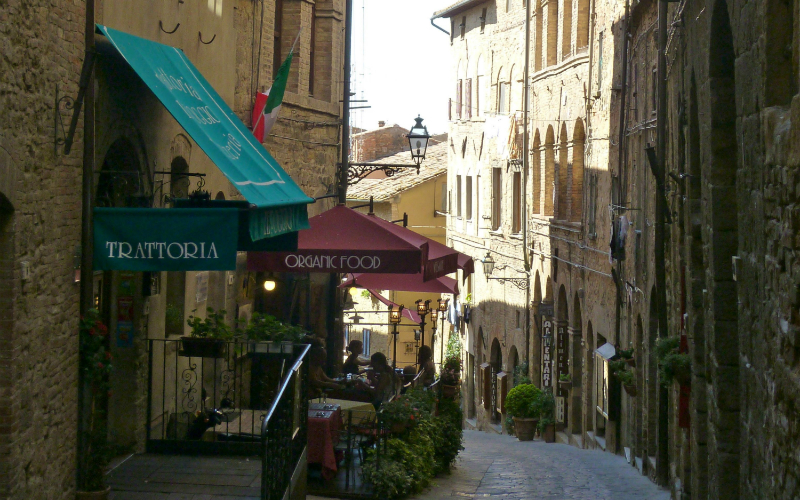 Nearby Volterra is set amidst an evocative landscape of rolling hills and lush woodland. A historically-important town, it is steeped in Etruscan heritage, a civilisation of ancient Italy. You can visit many archeological sites, from the Etruscan burial to a Roman theatre, and spend time at nationally-important archeological museums such as the Etruscan Guarnacci Museum.
Umbria
Umbria is the green belt of central Italy, with its green forests and mountainous landscapes, and consists of many lovely small towns perched on hilltops.
6. Assisi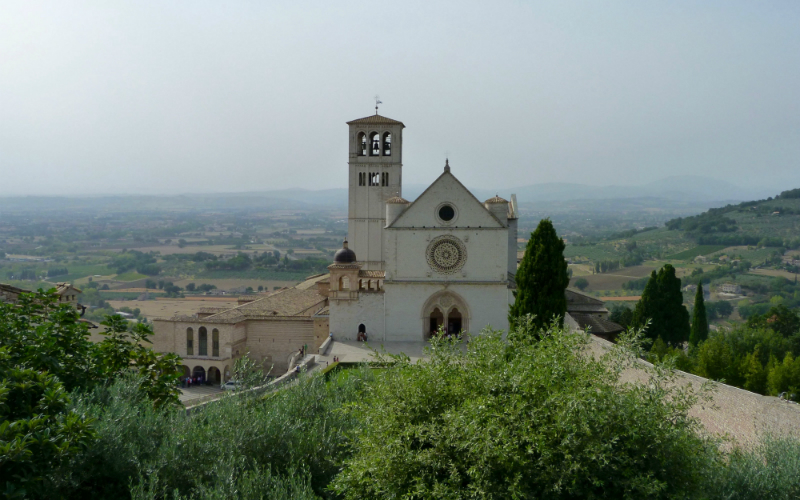 This was the birthplace of Santo Francesco (St Francis), the well-known Patron Saint from the 13th century. Your first stop should the Basilica of St Francis, a massive two-level church with frescoes portraying the life of St. Francis and a crypt housing the saint's stone sarcophagus. Home to many monks and pilgrims, Assisi's religious significance can also be observed from the town's many sacred shrines.
7. Gubbio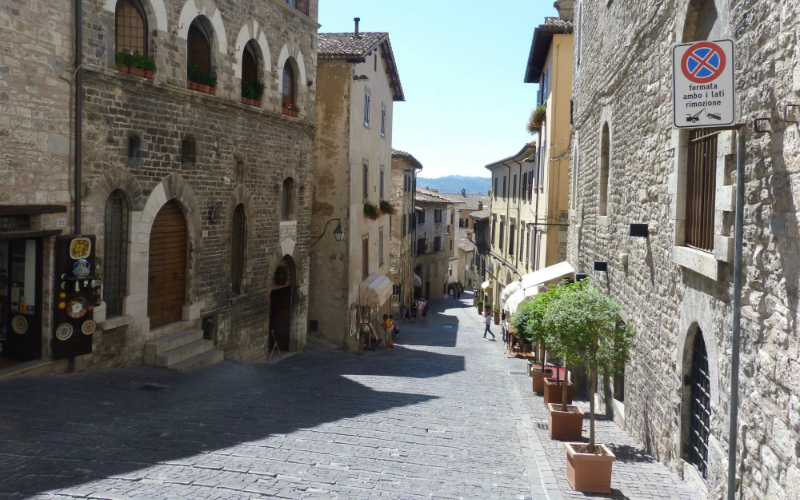 Like a medieval masterpiece, Gubbio is populated by Gothic-style buildings with distinct rooftops. This is the oldest settlement in the region, as evidenced by the Eugubine Tables (Tablets of Gubbio) displayed in the Palazzo dei Consoli, a huge 14th-century complex that houses an art gallery, archeology museum, and civic museum. The Palazzo Ducale (Ducal Palace) that rises in front of the Cathedral Dome in the old town is an imposing structure, and offers spectacular views of the countryside.
8. Perugia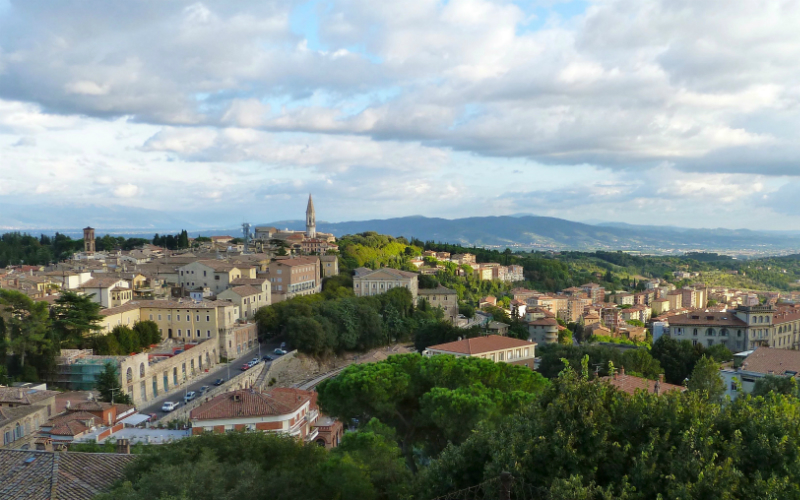 One of the largest but also most intruiging hill towns, Perugia is rich in the influences of Etruscan and Roman civilizations. Its centro storico (historic centre) features winding cobbled alleys, arched stairways at every corner, and piazzas framed by magnificent mansions and museums. In the centre of the main square, Piazza IV Novembre, is Fontana Maggiore, the hallmark monument completed in 1278.
9. Orvieto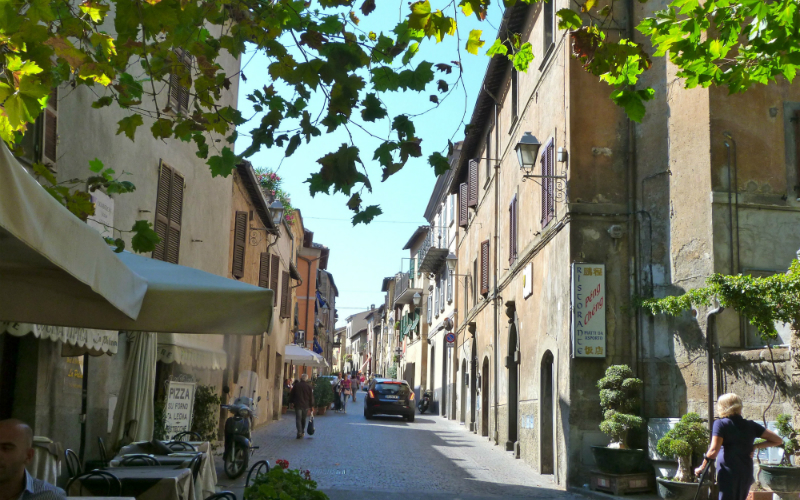 A strikingly beautiful town, it sits majestically atop a large tufo volcanic rock, above green fields of vines, olives and cypress trees. Orvieto's history can be seen from its cobbled lanes, medieval piazzas and churches, all beautifully preserved. Its main attraction is the Duomo (cathedral), famed for its colourful and intricate Gothic façade marked by four pillars. The entire structure is a gleaming mass of mosaics, stained glass, and sculptures. The town is virtually traffic free, which makes it really enjoyable to stroll around at your own pace.
10. Spello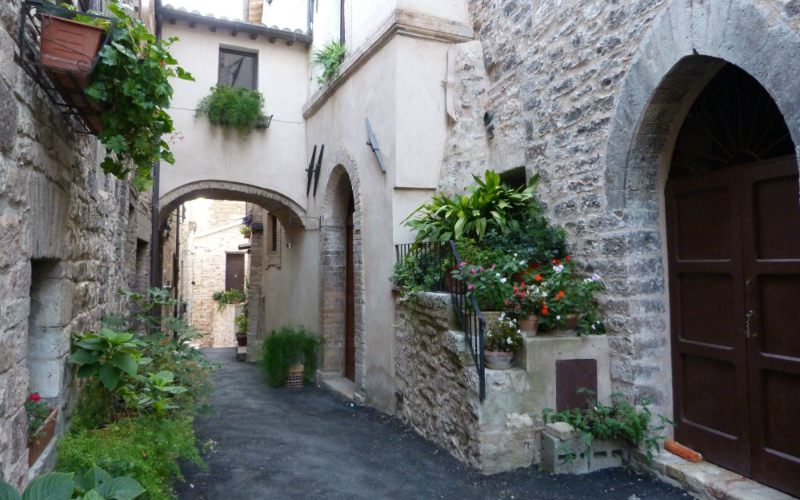 Not many tourists find their way to this small town with a population of just 6,000 but if you do, you will find its pristine countryside charms endearing. You will get a good workout walking around as there are many steep streets, stairways and cobblestone alleys that lead to elegant stone houses decorated with blooming flowers.
Basilicata
A less touristy region nestled between Campania, Puglia and Calabria, the highlight is the Sassi of Matera, an ancient town of caves dwellings, and its mountainous villages.
11. Maratea
Perched on a hilltop, this old town has it all: Breathtaking sea views, wooded hillsides, majestic mountains that sweep down towards the sea, 44 churches, and the Il Redentore (a statue of Christ the Redeemer) stands on the peak of the mountain. Rent a car and drive up the zigzagging road to the top, where if you're lucky, you will be treated to a surreal view amidst the clouds.
Sicily
The largest island of Italy boasts of varied and diverse landscapes. Its South- Eastern part is dominated by small baroque hill towns, many of which are listed as UNESCO heritage sites.
12. Ragusa
One of the most picturesque towns in Sicily, its mesmerising architecture and dramatic landscapes are matched by the nostalgic charms of its old town, named Ragusa Ibla. Walking is the best way to get around and explore the meandering, atmospheric lanes before crossing over to the town's modern side, at Ragusa Superiore. There are many piazzas here that often host cultural and artistic events.
13. Modica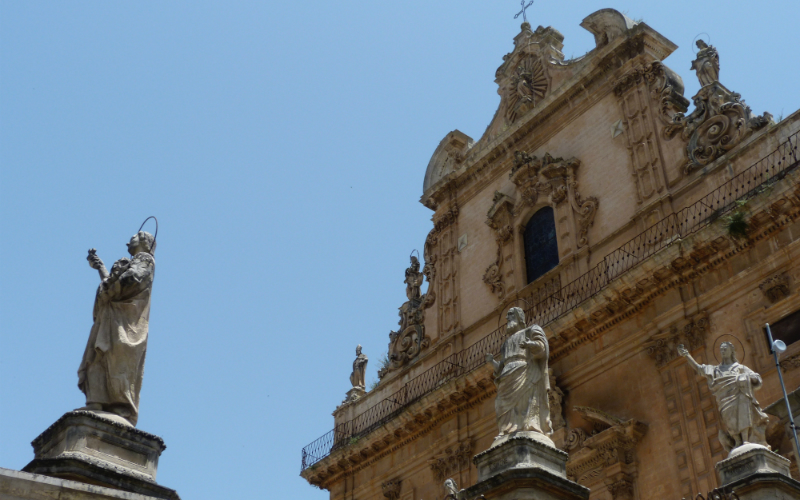 Modica was built around a junction of steep valleys. It is divided into two districts: The historic Modica Alta (Upper Modica) and the newer Modica Bassa (Lower Modica). The town's grand churches and monuments showcase Baroque architecture, with the most remarkable building being the Duomo di San Giorgio.
14. Noto
This serene town was rebuilt on its present site following a devastating earthquake in the 17th century. Its historic centre is composed almost entirely of crumbling Baroque palaces, churches and houses. Wander around the narrow streets to admire golden-coloured stone buildings, beautifully ornamented facades and balconies.
15. Erice
This enchanting medieval town that sits 750m above sea level is Sicily's best-kept secret. It has a cool climate even in summer and is often shrouded in thick fog, giving it a mysterious atmosphere and that feeling of being caught in a time warp. From the town's highest point, you can soak in stunning vistas of Sicily, stretching from the Gulf of Trapani to beyond the Egadi Islands.

Read Next: