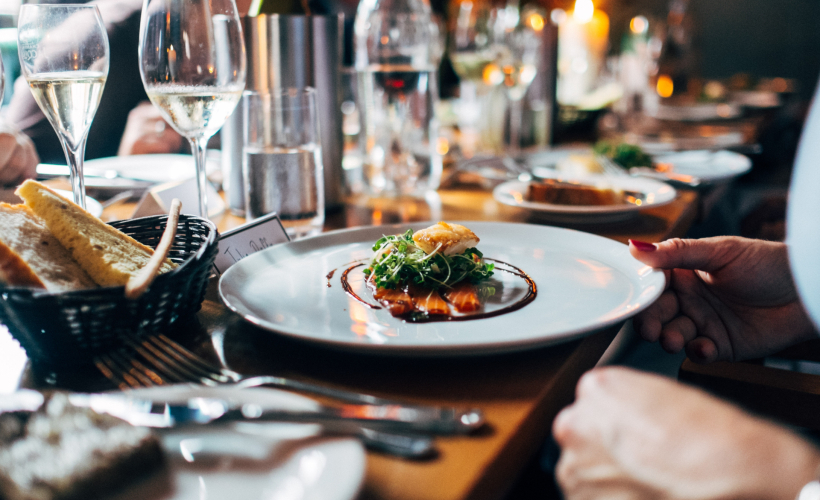 When it comes to food, you can bet that Singapore showcases among the most diverse cuisines in the world. Its fare features highlights from various ethnic groups – the greatest influence coming from the Malays, Chinese, and Indians. However, other cultures have also had a great impact on Singaporean cuisine. Traces of Peranakan, Thai, Japanese, and Western European traditions can be tasted in much of its food too.
Now, you may think that local food is best enjoyed along the streets. But that's simply not the case in Singapore. This list of eight unforgettable fine dining restaurants proves that Singapore's culinary scene is best enjoyed at the hands of a gourmet chef. There are many other restaurants worth visiting, of course, but this is a great list to get you started on a luxury foodie tour around the island state:
Odette
Starting off this list is a stellar establishment – Odette. Established by French chef and co-owner Julien Royers within the equally stunning National Gallery Singapore, Odette was named after his grandmother. Having won so many accolades, Odette is worth a special journey. It's currently ranked No. 1 on the Asia's 50 Best Restaurants list (knocking Gaggan in Bangkok off the top spot it held for four years), stands at No. 18 on the World's 50 Best Restaurants list, and has a whopping three Michelin Stars.
What makes Odette so special are two things – the food and its team. Royer sources for the finest ingredients from across Europe, Asia, and Australia to create exceptionally-executed dishes. Although essentially a French restaurant, you can see hints of the decade Royer has spent in Asia shine through. You'll see this especially in dishes such as the Hokkaido Uni that combines sea urchin, langoustine tartare, Granny Smith apples, and caviar.
As for its team, Royers has pulled together a frontline that includes GM Steve Mason and star sommelier Vincent Tan. So what guests can enjoy along with the beautiful food is being treated to a truly enjoyable, bespoke meal with attention spent on the little details. Degustation menus here range from SGD188 to SGD358 (approximately USD137 to USD261).
Gunther's Modern French Cuisine
Dining here reminded me of teatime at the Ritz – small and minimally-decorated room, white table cloths, and a caddy displaying the day's choices. However, instead of choice brews, one is presented with the choice catch. The ambience undoubtedly screams of an art deco affair with its walls that feature a tentacle-like wooden accent, but yet there's still something immensely pared back (perhaps sterile?) about the dining room's only eight tables that reminds you you're in a fine dining joint.
Décor aside, the service at Gunther's is immaculate and the food utterly delightful. There are some firm favourites on the traditionally French menu (a must is the cold angel hair pasta with Oscietra caviar and a sliver of uni) and a choice between a four-, six-, and nine-course degustation menu. Although, I'd recommend waiting until your server brings up the caddy with the day's specials before you decide on what you're having. Any regular will likely tell you to do the same.
They may not have a Michelin Star or a standing on the Best Restaurants list, but Gunther's definitely worth a visit and a local favourite. A degustation meal here starts at SGD148 and can go up to SGD350 (approximately USD108 to USD255). Meanwhile, wine pairings are an additional SGD80 to SGD250 (approximately USD58 to USD182).
Burnt Ends
Now, here's a fun one! Burnt Ends is a barbeque restaurant unlike any other. Chef-owner Dave Pynt has some mad skills on the grill as he was mentored by the likes of Basque master griller chef Victor Arguinzoniz of Asador Etxebarri. Pynt also received the Chefs' Choice Award in 2017 – the ultimate accolade as voted for by his peers. So it's no surprise that Burnt Ends stands at No. 10 on the list of Asia's Best Restaurants.
While the central feature at Burnt Ends is a custom four-tonne, dual cavity kiln and custom grills, don't expect to find a slow-smoked brisket on the menu. Instead, find killer steaks (opt for the Hida wagyu or flatiron steak with burnt onion and bone marrow), the juiciest burger, and other meats like fish and fowl on offer. Pretty much everything on the menu has met the kiln's heat and smoke – even the quail's egg. The menu here is a la carte.
Tippling Club
Tippling Club is famous mostly for Chef Ryan Clift's modern gastronomy and avant-garde cuisine. Most people would describe this gastro-cocktail destination as playful and unexpected. Clift manages to blend some of the weirdest food combinations, so definitely try out some of the more intriguing creations such as the Omelette with Smoked Eel and Caviar.
Keep in mind that the Tippling Club is also known for its ambitious cocktails; it's ranked No. 7 on the list of Asia's 50 Best Bars, after all. Enjoy a seven-course Classic Meal here for SGD190 or SGD295 with pairing (approximately USD139 and USD216 respectively). Alternatively, there's the 12-course Gourmand Meal priced at SGD295 or SGD455 with pairing (approximately USD333).
Waku Ghin
Established by Tetsuya Wakuda, Waku Ghin has a special meaning to its name. Waku means 'spring forth' and Ghin means 'silver', which happens to be the chef's favourite colour. Waku Ghin is located at Marina Bay Sands and Chef Tetsuya sees it as his dream playground. It's a 10,000 square feet space meant for serving a maximum of 25 customers at a time.
When here, you absolutely have to try Waku Ghin's signature dish – the Marinated Botan Shrimp with sea urchin and Oscietra caviar. It's utterly diving and will simply melt in your mouth. A 10-course degustation menu at this two-Michelin Star restaurant costs up to SGD400 per person (approximately USD292). Waku Ghin was also awarded No. 40 on the list of Asia's 50 Best Restaurants 2019.
*Note: At time of writing, Waku Ghin is closed for renovations. Stay tuned for updates.
Iggy's
This eponymous restaurant was named after restaurateur Ignatius Chan. A long-time favourite, Iggy's has been a part of the World's 50 Best Restaurants list since 2009. As a matter of fact, Iggy's is the first Singaporean restaurant to receive this honour. What to expect from a meal here is an adventurous mix of mainly European with a hint of Eastern cuisines. The dishes at Iggy's are based on its founder's favourite food combinations that incorporate inspirations from Asia, Europe, and Australia. When it comes to lunch, the regular tasting menu costs around SGD150 onwards (approximately USD110) while the Dinner Menu is priced at SGD235 (approximately USD172), while the Gastronomic Menu costs upwards of SGD275 (approximately USD201).
JAAN
This fine dining establishment sure has an interesting name. JAAN is derived from an ancient Sanskrit word meaning 'bowl'. The food here, however, is far from South Asian. Instead, chef Kirk Westaway injects his own spin to British cooking, based on his upbringing in the seaside town of Devon. You'll see his respect for produce and sustainability reflected in his modern iterations of English classics like his fish and chips. One of the must-tries here is English Garden – a plate that features over 30 kinds of vegetables, herbs, and edible flowers. It's a feast for the eyes as well as the palate. JAAN is currently ranked No. 32 on the list of Asia's 50 Best Restaurants and has been awarded one Michelin Star.
So go on and take in the stunning views from the 70th floor of The Stamford for either lunch or dinner. There are a number of options for lunch, but dinner at JAAN will set you back SGD148 for five courses or SGD168 for six courses (approximately USD108 and USD123 respectively). Do consider going for the wine pairings too – JAAN proudly displays over 500 Old World and New World Wines. Wine pairings for dinner are priced at SGD220 (approximately USD161).
Shinji by Kanesaka
Japanese cuisine is popular worldwide and especially in Singapore. However, this one really stands out. Shinji by Kanesaka is a traditional Edo-style sushi restaurant that serves sashimi and sushi of the highest quality. It also arguably offers one of the best Japanese food tasting experiences outside Japan. So load up on that healthy protein!
Make sure to try the Omakase Wa that includes an appetiser, assorted sashimi, cooked dishes, sushi, soup, and Japanese fruit for SGD300 (approximately USD219). If you get the chance, request specifically for Master Chef Koichirio Oshino who trained for 20 years under Kanesaka himself when at the Carlton Hotel location. You and your friends will enjoy watching his cooking process and humorous ways of explaining it.
Get all the latest travel stories from Zafigo. Follow us on Facebook, Twitter, and Instagram