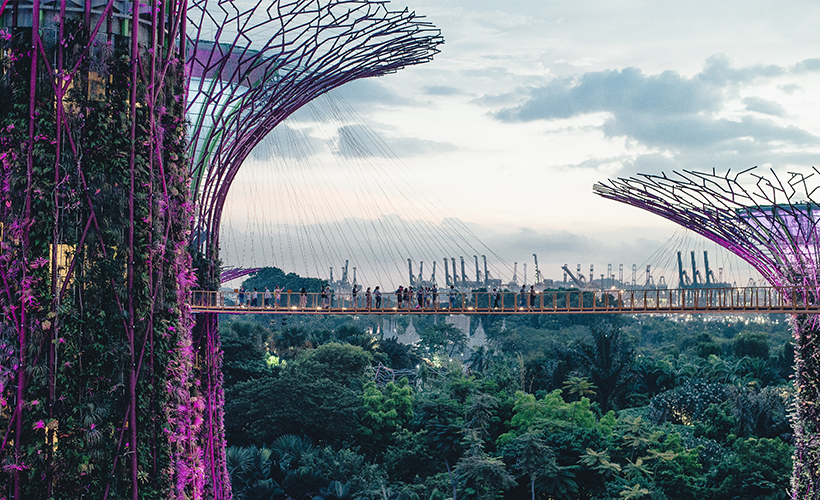 In 2012, the Singaporean government set out to create a 'City in a Garden'. With a clear objective to green their urban landscape, it's now no longer fair to refer to the island nation as a concrete jungle, as they've attained their goal of embracing nature and biodiversity. Singapore is now as green as they come. One of the main destinations this exercise has resulted in is a magical, futuristic botanical park known as Gardens by the Bay in the Central Region. It's filled with exotic plants, lush greenery, and distinctive features that draw tourists from around the world.
Getting there
Bayfront MRT is the closest train (MRT) station, and is on both the Circle and Downtown lines. It's a two- to five-minute walk from the MRT station to the gardens.
· Arrive at Bayfront MRT and look for Station Exit B
· Exit the station and follow the underground linkway
· Cross the Dragonfly Bridge and you will arrive at the Malay Garden
· Continue walking straight and you will arrive at The Supertree Grove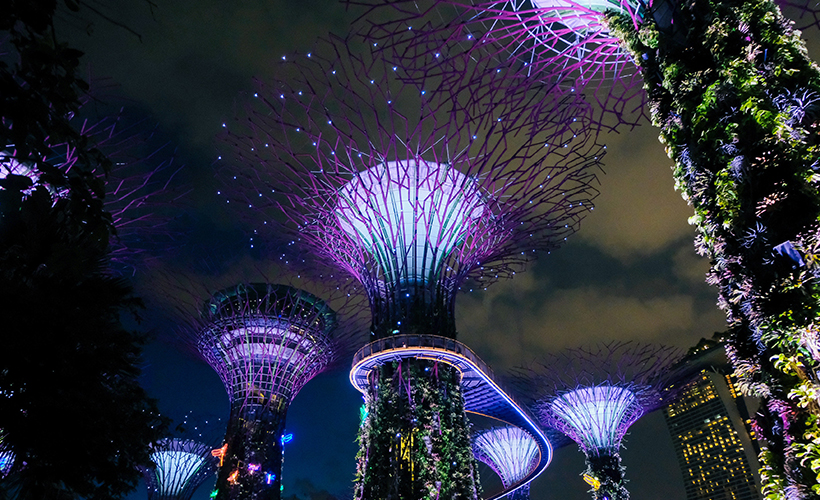 What to see
Supertree Grove
Measuring between 25 to 50 metres tall, these sci-fi 'trees' look like they're straight out of Avatar, as they emit glowering bioluminescent light. There are 18 Supertrees in total made up of more than 158,000 plants, comprising of more than 700 species. They're really an urban wonder.
Building upon their eco-friendly theme, the Supertrees collect rainwater which is used to help out with running and cooling the Flower Dome and Cloud Forest. Furthermore, some of the trees have photovoltaic cells that harvest solar energy to light up the Supertrees at night. Don't miss out on the light and music show that takes place at the Supertrees, starting at 7:45PM and 8:45PM.
OCBC Skyway
You can take a stroll on the OCBC Skyway if you want to get up close and personal with the Supertrees. This is a 128-metre-long walkway constructed to give visitors the sensation that they're floating off the ground.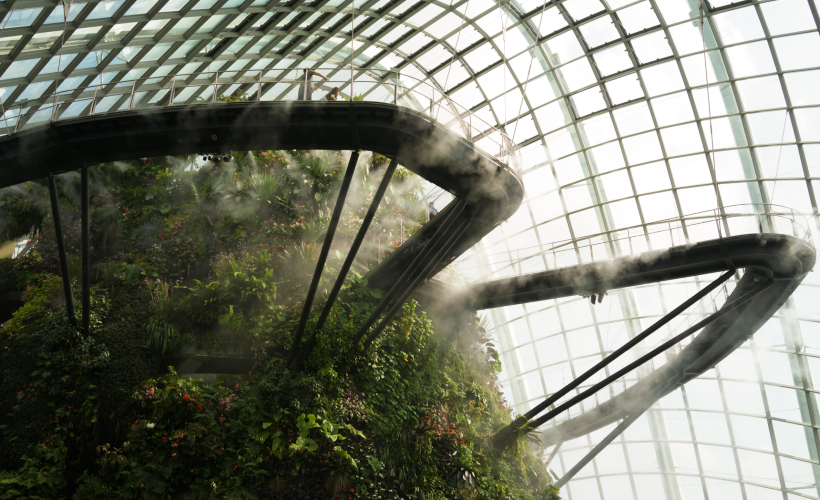 Cloud Forest
Cloud Forest is a dense and humid tropical area that features the tallest man-made waterfall in the world standing at 35 metres tall. You can follow a walking path called the Cloud Walk that'll take you up a big green mountain, aptly named Cloud Mountain. From here, you can enter the Lost World that showcases vegetation usually only found at 2,000 metres above sea level.
You can also see superb views of the rest of the Gardens by the Bay from here. Finally, from here, you can also explore the Crystal Mountain Cave that showcases a variety of stalagmites and stalactites.
Flower Dome
Replete with exquisite plants and flowers that are divided into seven different gardens, each with its own theme, is the Flower Dome. Visit them all, but your choices include a South American garden, Mediterranean garden, South African garden, and so much more.
If you're feeling a bit peckish, nip on over to Pollen. It's a French-Mediterranean restaurant focuses on producing dishes with seasonal produce and herbs grown from their in-house garden. The cumin-infused rump of lamb and pan-fried sea brim comes highly recommended.
---
Welcome to Singapore, the only island city-state in the world, home of the world's third-largest financial centre, and one of the best cities for expatriates to live and work in:
---
Floral Fantasy
Gardens by the Bay's newest addition, Floral Fantasy is a botanical garden that comprises of four diverse garden landscapes, each its own concept – Dance, Waltz, Float, and Drift. Flora aside, one of its main highlights is Flight of the Dragonfly, a 4D ride that takes visitors on a journey through Gardens by the Bay, from a dragonfly's perspective.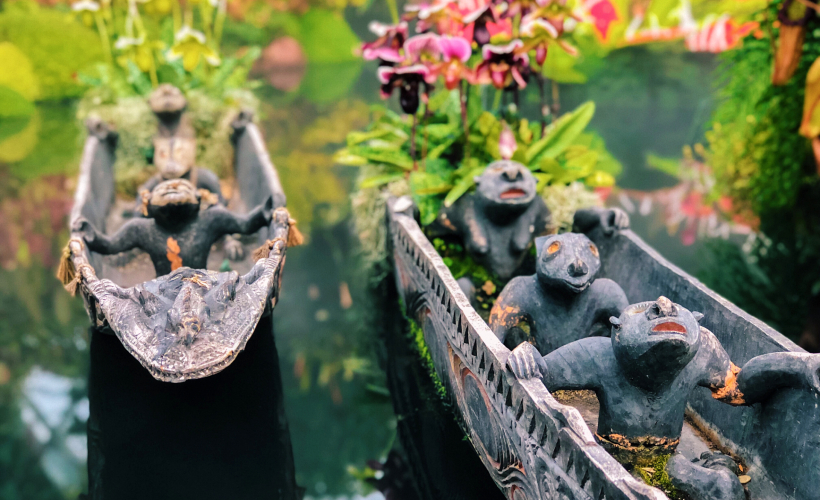 Heritage Gardens
The Heritage Gardens pay homage to Singapore's multicultural history. The gardens have four main themes – Indian, Chinese, Malay, and Colonial. Each garden theme has plants and art features intricately linked to the culture of each group. It is open from 5AM to 2AM and admission is free.
The (secret) Big Fish Aquarium
You won't find this one on the map. Nevertheless, next to the Sun Pavilion is a hidden enclave with gigantic fish. Here, you can peer as at humongous catfish, alligator gars, huge black pacu, and giant-sized Amazonian arapaima.
Dragonfly and Kingfisher Lakes
The Dragonfly and Kingfisher Lakes are full of rich aquatic life and surrounded by lush foliage. If you're lucky, you may be able to spot shiny dragonfly sculptures woven between the plants and lakes. You can also take a leisurely walk through a 440-metre boardwalk through the Dragonfly Lake.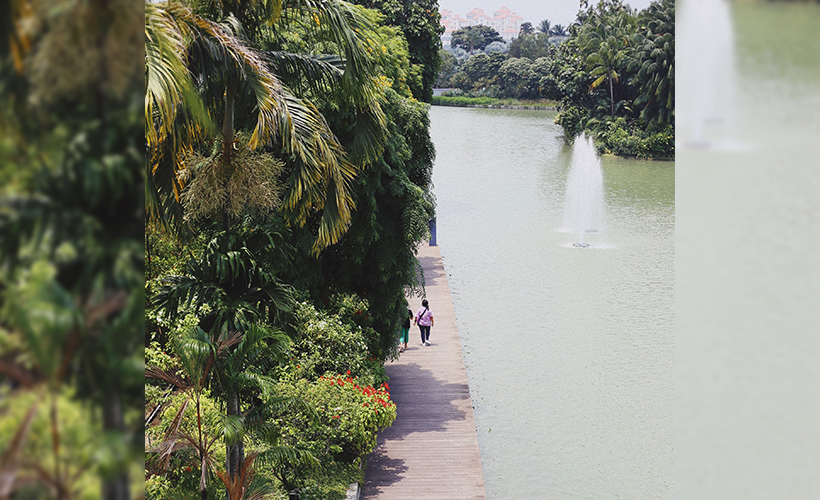 Entry fees
The Supertree Grove, Heritage Gardens, Sun Pavilion, and lakes
Free admission
Flower Dome and the Cloud Forest
Adults: SGD28 (approximately USD20.50)
Children: SGD15 (approximately USD11)
OCBC Skyway
Adults: SGD8 (approximately USD6)
Children: SGD5 (approximately USD3.70)
Floral Fantasy
Adults: SGD20 (approximately USD14.60)
Children: SGD12 (approximately USD8.80)
You can buy your tickets in advance here.
AirAsia flies from Kuala Lumpur to Singapore 73 times a week. Visit www.airasia.com to plan your trip!
24372, 27512, 20766
Get all the latest travel stories from Zafigo. Follow us on Facebook, Twitter, and Instagram.