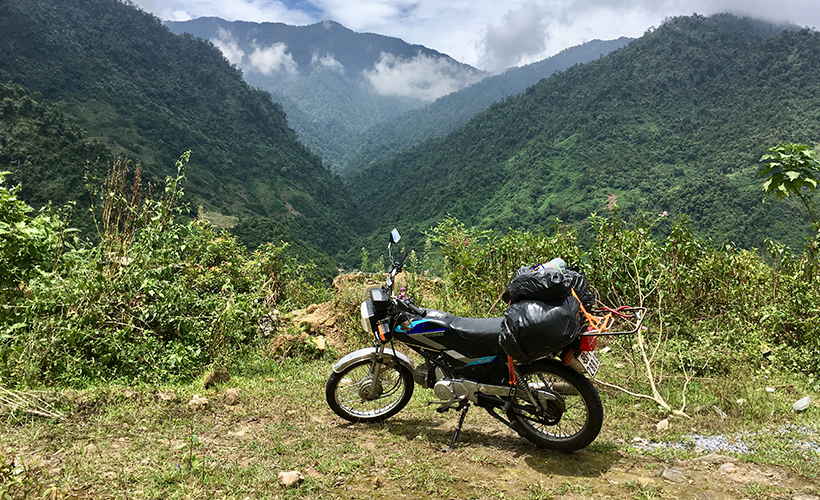 Did you know that it's possible to motorbike from the north to the south of Vietnam in just one month? In just four weeks, you get to see all the Instagram-worthy attractions this beautiful country features first-hand, and truly immerse yourself in Vietnamese culture and food. It's a unique way of experiencing a country — one that I highly recommend.
So how do you get started, what do you pack, and most importantly, how do you keep safe?
1. Rent a motorbike that allows different drop-off locations
Once you arrive in Hanoi, make your way to a motorbike rental shop to rent your bike for one month. There are three main providers who specialise in long-term rentals for motorcycle tours:
Style Motorbikes
Flamingo Travel
Tigit Travels
I went with Style Motorbikes and it cost me around USD300 to rent a 250cc* manual motorbike. Bear in mind you should also rent a helmet and buy a pair of gloves. Now, before you panic and decide that you don't know how to ride a manual motorbike, you can also rent a twist and go scooter. It'll obviously mean a longer ride, but the trip is doable.
*The cc represents the size of an engine. Generally, the higher the cc, the faster the vehicle.
2. What to wear
At the very least, please, please, please wear a helmet, proper shoes, and gloves. I didn't wear all the appropriate motorcycle safety gear as I found the weather to be extremely hot and humid. However, I knew I was taking a huge risk of possibly severely injuring myself if there was an accident.
As well as protecting your hands, wearing gloves will also feel more comfortable when you're holding on to the clutch and throttle for a long time. I rode for one hour without gloves and developed blisters on my hands.
In terms of footwear, flip-flops are a big no-no, especially for a long motorbike ride. You'll need to have a proper grip of the ground when the bike slows to a stop, so a pair of comfy slip-ons will do the job. Obviously not as good as proper boots or shoes, but much better than slippers!
3. Plan your route wisely
Your bike rental company will give you a map. Study it in great detail and plan your route. Think about the locations you want to visit, how many kilometres there are from one place to another, and use Google Maps to determine how long it will take you.
For example, you want to get from Hanoi to Ban Gioc waterfalls. According to Google Maps, the route is 358 kilometres and will take seven hours and 40 minutes by car. It's unsafe, unrealistic, and uncomfortable to try this in one day. You should also always arrive before sunset, so you need to cut that trip in half.
A better option would be to ride to Bac Kan (161 kilometres and three hours by car) and then the next day ride to Ban Gioc (197 kilometres and five hours by car). You can ride at a safe slow pace, enjoy the views, and take as many food or pee breaks as you want.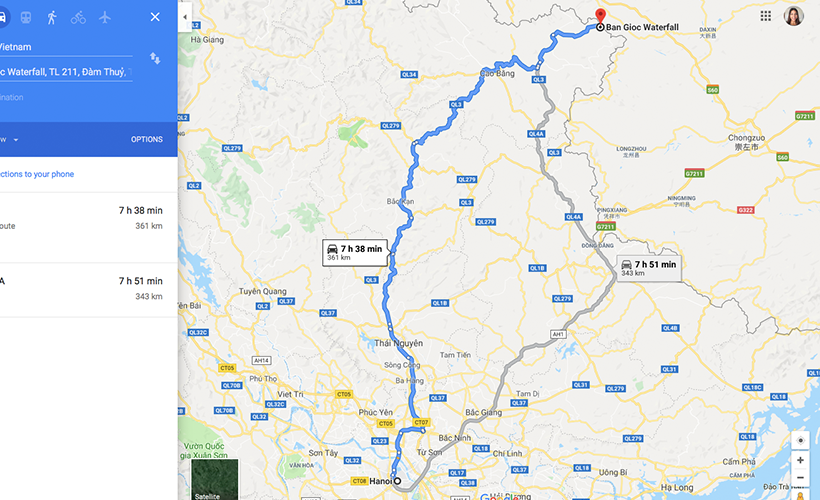 Here's a tip: Factor in two extra hours, as a motorbike will always be slower than a car, especially since you'll most likely ride nothing faster than a 250cc bike, and if you intend to ride safely. Finally, know that you can actually bring your motorbike on the train or bus if you want to skip certain parts of a route that aren't as scenic or are more dangerous. You can ask your bike rental company for more advice on this.
4.What to pack
Necessities
Two shorts, three tank tops, two pairs of trousers (one to ride in and one to relax in), two shirts, a jacket, trainers, flip flops, two pairs socks, a raincoat, seven pairs of underwear, three bras, a quick-dry towel, a scarf, a battery pack (very important), deodorant, tampons, sunscreen, anti-histamines, and Panadol.
Optional
A cute light dress to wear for dinner on your rest days, a neck pillow and a small blanket similar to the ones you get in planes, and makeup. Got to look good in those pics, eh?
Your backpack should weigh no more than 15kg, and make sure you have a waterproof bag cover to protect your belongings when it rains — which it will — from time to time. I just used a black bin bag. Strap your bag to the back of the bike with bungee cords. Make sure you buy extra bungee cords, as some of them will snap on the way.
5. Accommodation
You can book accommodation in advance on Booking.com or just walk up to the reception of most guesthouses. It'll be cheaper if you negotiate in person, but I also understand if you want the peace of mind by booking it ahead. I did both on the journey.
6. Safety
Always arrive at your next location before sunset (I can't stress this enough), and ask the motorbike rental for numbers to call if and when things break down. They should give you a list of common Vietnamese phrases to use too.
Halfway through the trip, go to a mechanic shop (there will be plenty along the way, just Google them) and do a full service on the bike. They will re-oil, tighten, and fix any repairs to avoid things breaking down.
Purchase a SIM card with data as you will use it frequently to guide you throughout the route and let your family and friends know your plans every day, line where you're going and the time you expect to arrive. It'll be easier to raise an alarm in a timely manner and help you if you keep people informed.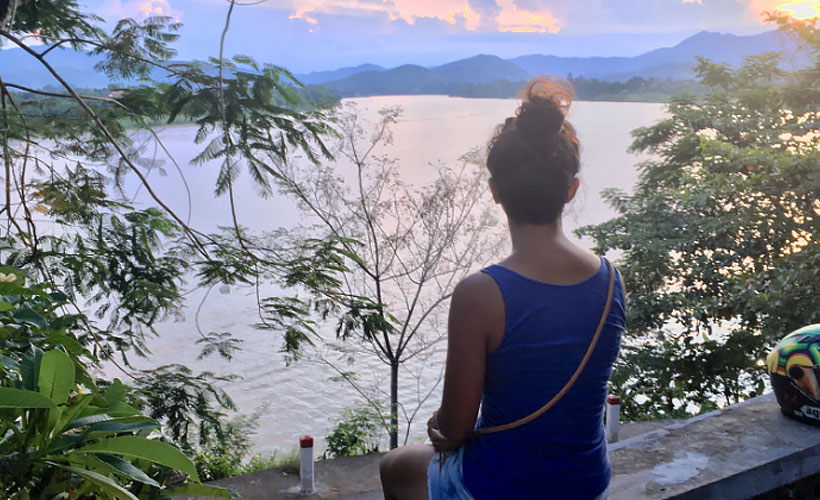 Finally, there will always be plenty of petrol stations along the way, but it won't hurt to carry a plastic bottle of extra fuel. Just make sure it's securely fastened.
Riding through Vietnam was one of the best experiences of my life. It can be daunting, but with a bit of planning and lots of courage, you can do it too!
*All photos are courtesy of the author. 
[zf_post_boxes widget_hide_desc="true" num_post="3″ post_id="29590, 29100, 29059″]
Get all the latest travel stories from Zafigo. Follow us on Facebook, Twitter, and Instagram.