Just like the rest of the world, we are not travelling during this COVID-19 pandemic, but we hope you turn to Zafigo as a source of inspiration for your future travels. Please stay safe and adhere to any quarantine and movement control orders that have been imposed in your country.
Tucked away on the south-eastern tip of Panay Island in the middle of the Philippine archipelago in a region called Western Visayas is the city of Iloilo. Steeped in heritage and history, this quaint city is known for its Spanish colonial buildings and unique eats. This has awarded the city with many nicknames like The City of Love, Queen City of the South, and the Heart of the Philippines.
If you're a fan of history and heritage, you'll love this city. There are 33 heritage mansions in Iloilo. These buildings are mostly owned by affluent families who acquired their wealth from the sugar industry that used to be Iloilo's main industry. This is why the locals consider Iloilo the Queen of the South, although Cebu's snagged that title. These buildings are also the reason why Iloilo's tourism tagline is "where the past is always present."
While other cities and islands like Boracay, Manila, and Cebu may be top of mind when it comes to exploring the Philippines, we decided to give Iloilo a chance, and we're so glad we did. Here's all you need to know about how to spend a day in the original Queen City of the South:
9AM – Casa Mariquit
We started our day by heading over to Casa Mariquit first thing in the morning. This house is named after former vice president Ferdinand Lopez Sr.'s wife, Maria 'Mariquit' Lopez, whose family this home belongs to. It's a 216-year-old manor built by Don Julio Javellana Quimbiong that's extremely well-preserved despite never having undergone any renovations. There is no official ticketing counter as it's a privately-owned residence, but the caretaker here usually asks for a donation of PHP50 (approximately USD1) per person if you'd like a tour.
Walk through the doors of yakal wood you'll see the structure in its original form with walls of adobi (red stone) that are held together by shell ashes, sticky rice, and egg whites. Besides some historical artefacts and personal belongings, one of the house's most striking inclusions is a painting of Don Julio that in which he's watching you wherever you are in the room. Similar to how the Mona Lisa 'follows' you.
10AM – Jaro Cathedral
It's a three-minute walk to Iloilo's most famous cathedral from Casa Mariquit. Jaro Cathedral is the second national shrine in Mindanao and Visayas. One of the unique features of this cathedral is that the bell tower is located directly across the street at Jaro Plaza. Normally, a bell tower is located right next to a church, but the previous church was destroyed by an earthquake in 1948. Another unique feature of this place of worship is the stairs right in front of the church building that leads up to the statue of Our Lady of the Candles.
11AM – Batchoy at La Paz Market
For brunch, we took a detour and hopped in a cab to La Paz Market (a quick five-minute ride). This is where Iloilo's famous batchoy shop originates, so we went to the OG restaurant and local favourite – Ted's Oldtimer Lapaz Batchoy. Batchoy is a noodle dish with pork in pork broth. Allegedly, the few restaurant owners who sell batchoy here are actually family members. They've used the same original recipe, but tweaked it slightly so that you can enjoy its own unique flavour.
1PM – The Iloilo Museum of Contemporary Art (ILOMOCA)
Just 10 minutes away by taxi in the award-winning Iloilo Business Park Township is ILOMOCA. Situated in the Casa Emperador Building, there are three floors with five exhibition rooms in this museum that features modern and contemporary art from around Asia and the rest of the world. On the ground floor, is a special exhibition space. Meanwhile, the second floor showcases local artists and has various themes that change every six months or so. On the third floor, at the Adoration Valencia Gallery, you'll find art featured from Edwin Valencia's collection by local and international artists.
Admission is PHP100 (approximately USD2) for adults, PHP80 (approximately USD1.60) for senior citizens, and PHP50 for students while children four years and undergo in for free. It opens every Tuesday to Sunday from 10AM to 7PM. They're closed on Mondays. If you visit in the evening, it's quite nice to take a leisurely walk around the area, as they have nice animal lights that illuminate the walkway.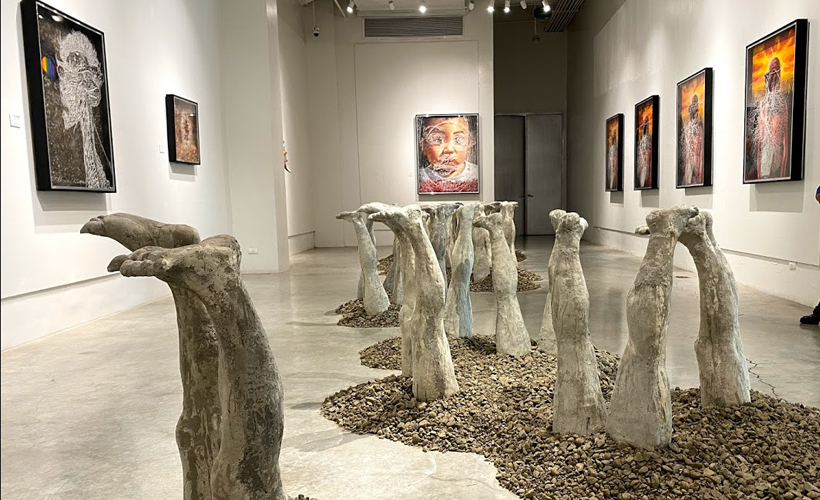 2:30PM – Snack time at Roberto's
All the way south of Iloilo and a 10-minute ride from ILOMOCA is another famous place to try – Roberto's Siopao. The interior of the café is festive and decorated in myriad hues. But once you settle in for a bite, you'll quickly realise why there's always a long line outside. Be sure to try the signature Roberto's "Queen" Siopao that consists of bacon, Chinese sausage, chicken-pork adobo, and an egg. The buns are really light and fluffy. It's somewhat akin to Malaysian tai pao but still quite different. Also worth trying is the lumpia Shanghai (fried spring rolls).
3PM – Iznart Street
When you're done snacking at Roberto's, take some time to look around you. You're actually just a stone's throw away from walking along the first concrete road in the Philippines, so go on over to Iznart Street. Although it is the main road, it is quite narrow because it was originally made for horse-drawn carriages, the kalesa. It is currently home to many banks, shops, and other businesses that are mainly run by the Chinese.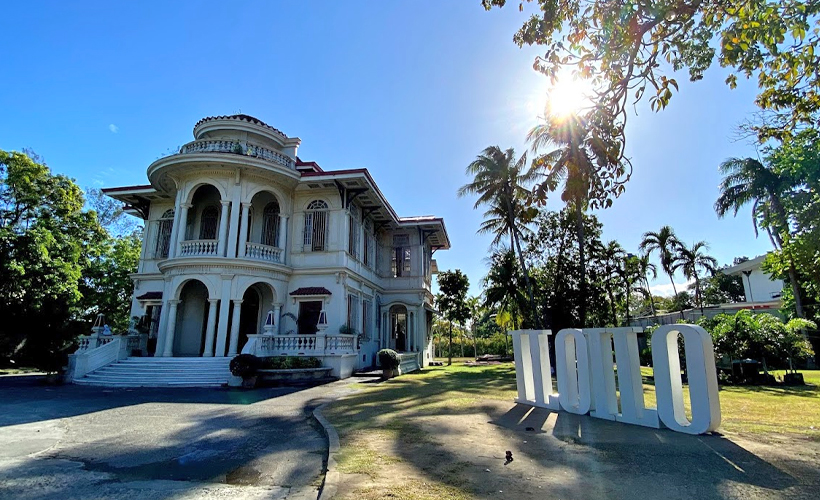 3:30PM – Molo Mansion
Next, we headed to this mansion-turned-heritage museum. Another one of Iloilo's famed heritage properties, Molo Mansion is just a short 10-minute ride from Iznart Street and is a nice place to visit as you're able to envision what it'd be like to live in a stately manor. The house itself is empty, so you won't need to spend much time here, but you can buy products like art and pearl jewellery made by the locals. Definitely do your souvenir shopping here.
4PM – Molo Church (Also known as St. Anne Parish Church)
Right opposite the heritage mansion is this gothic church that's listed as a UNESCO World Heritage Site. It's a beautiful church made out of coral rocks and limestone. As cement was not accessible during its build, the builders used egg whites and sand to construct it. It's also known as a 'feminist church' because there are 16 images of women saints inside.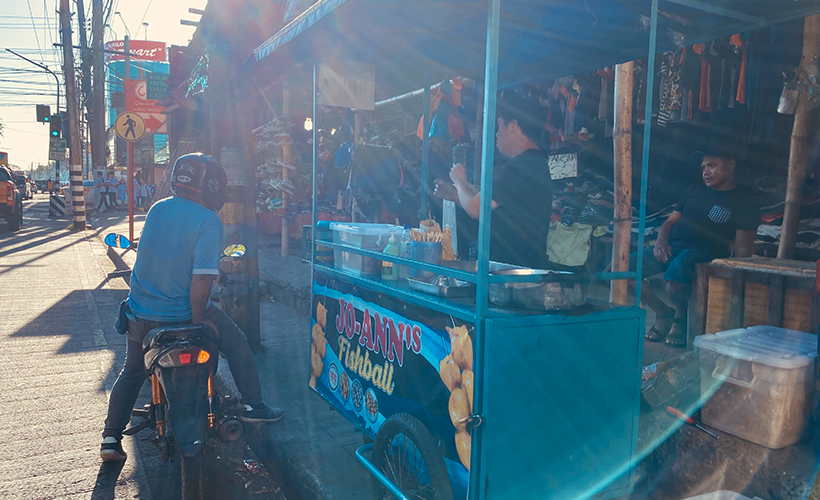 4:30PM – Street eats near Molo Plaza
Since we were in the area, we walked to this popular stall that sells fried fish balls called Jo-ann's Fishball located opposite one of the corners of Molo Plaza along a very busy street. We know what you must be thinking, "Food again?" Well, trust us when we say it's worth the calories. Plus, it's a really light snack. A stick of four balls costs PHP10 (approximately USD0.20) each. You can choose between four different sauces too – sweet, sweet and spicy, hot, and extremely hot. The fishballs are crunchy on the outside and full of fish flavour. You can tell that they use real fish meat and not just artificial flavourings. It's so good that this stall has been around for 40 over years!
5:30PM – Iloilo River Esplanade
Just four minutes away by cab, or 15 minutes if you don't mind walking, is the Iloilo River Esplanade. It's best to visit here in the evening, as it won't be searing hot and you can take a stroll along the riverbank. It's very popular among the locals to have their morning or evening walks and jogs here. They have Zumba classes here every evening at 7PM. If you are interested in joining, it only costs PHP20 (approximately USD0.40) per class. There's also a grandstand here where the city throws its parades during festivals.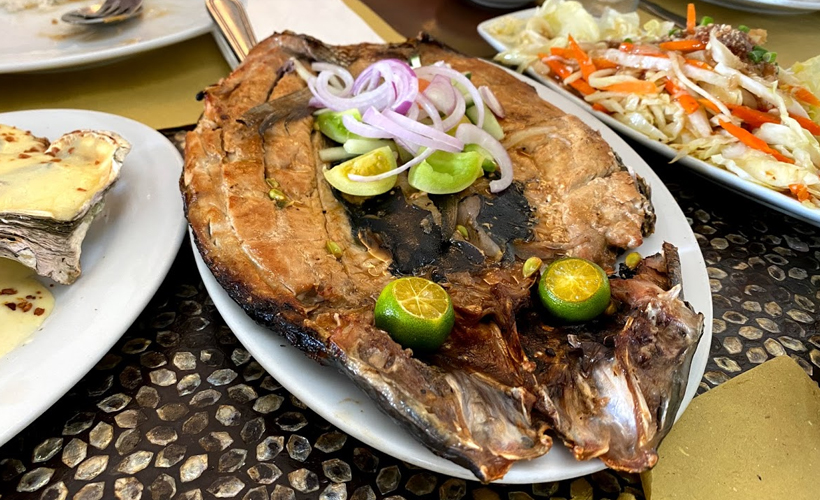 7PM – Dinner at Ponsyon by Breakthrough
For dinner, if you'd like to try some delicious bangus (milkfish), we highly recommend Ponsyon by Breakthrough. It's a chain restaurant so you'll be able to find it in multiple places; just find the one closest to your hotel. The fish is so well-flavoured and perfectly grilled. You'll find that they also use quality fish, as they're meaty while its flesh simple melts in your mouth. It's so delicious that you can finish the whole fish by yourself. My personal favourite dessert here was the halo-halo. It's a popular Filipino cold dessert that's a mixture of shaved ice, evaporated milk, fruits, and many other different beans and nuts topped with a bit of leche flan (crème caramel) and a scoop of fragrant and creamy ube (yam) ice cream.
10PM – Supper at Jolibee
Yes, more food! If you have more space in your tummy, Jolibee is a must-try whenever you visit in the Philippines. This fast-food chain is famous for its crispy and crunchy fried chicken. There are 1,100 outlets worldwide and 1,000 Chicken Joys sold per day. That shows how well-sought after they are. You can also try their sweet sauce spaghetti and burger patty with rice. Surprisingly, their burger patty tastes slightly homemade and really good with their brown sauce.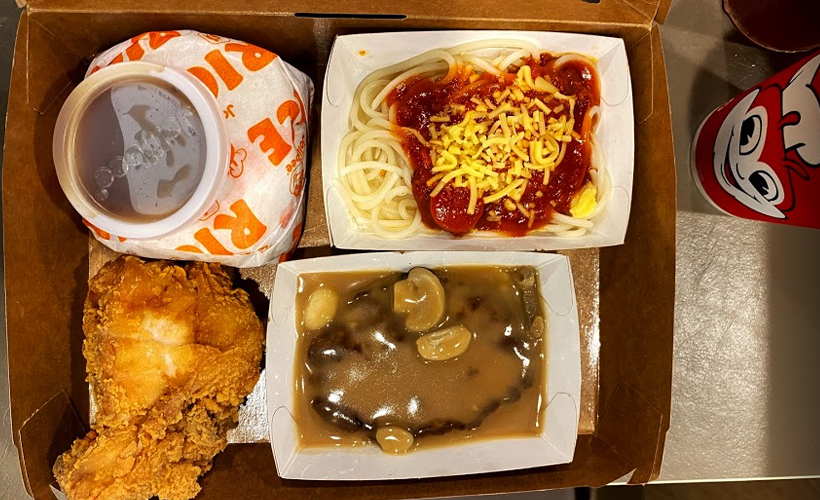 Safety notes
The Ilonggos are really friendly and nice. Sometimes, one would think that chivalry is dead, but there were a couple of times when we were looking out for a taxi, men would ask if we're looking for one. When they confirm that we were, they'd quickly run out to the street, hail a cab, and open the door for us. At first, we were a tad wary because in our country, if a man by the street asks if you're looking for a taxi, they're most likely out to scam you. After a while, we learned that the people here are genuinely altruistic.
That said, although most locals are friendly, you will still need to exercise some caution. We wanted to go to one of the tourist attractions in the city and our taxi driver dropped us off at an unknown location, pointed in a general direction, and asked us to walk a few metres down to find it. As we were walking down the lane, we realised that it got quieter and quieter. We even got cat-called twice. So, we decided to quickly get out of the area. To be safe, hire reliable and reputable taxis such as Light of Glory and GDR. If you're at your hotel or near one, you can also ask the concierge to call for one.
AirAsia flies from Kuala Lumpur to Iloilo 21 times a week. Visit www.airasia.com to plan your trip!
Get all the latest travel stories from Zafigo. Follow us on Facebook, Twitter, and Instagram.