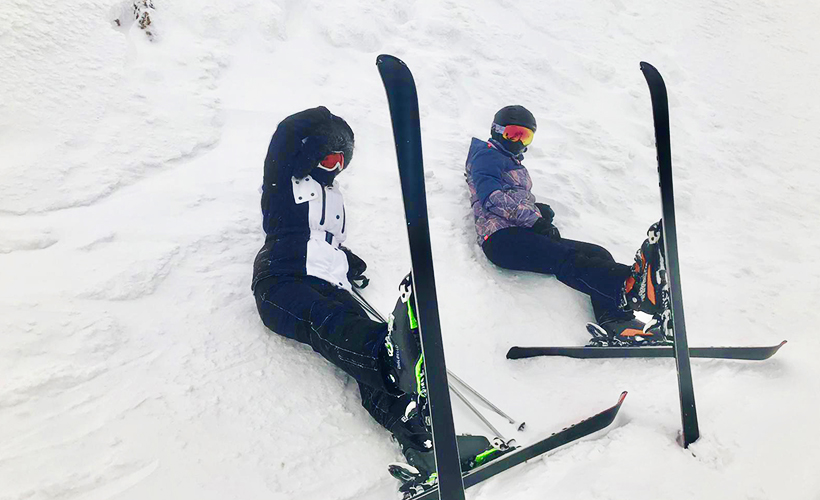 I always thought skiing was reserved for the privileged few in the world who had wads of spare cash shooting out their money guns. Think the "Make It Rain" music video by Fat Joe and Lil Wayne. Luckily, I've discovered a way to ski in a number of well-manicured magnificent ski fields for weeks on end, without breaking the bank. My solution: Skiing in Bosnia! It costs no more than USD40 to hire skiing/snowboarding gear to hit the slopes all day.
Where to ski
Jahorina
I travelled round Bosnia and tried a number of big and small ski fields. My recommendation is to start skiing at Jahorina Olympic Center that's just 20 kilometres from Sarajevo. It's where the 14th winter Olympic games took place and comes equipped with 17 ski slopes and six chair lifts.
Another highlight is night skiing and the chance to experience fantastic apres ski culture in the many cafés and bars peppered throughout the ski field. Make sure you try the thick and creamy hot chocolate at Caffe Restaurant Peggy to the sounds of wild Balkan music. It's impossible to miss as you'll catch random skiers shaking their hips to the music right outside the café.
Cost: USD26 for an all-day ski pass, USD11 to hire skis, and USD20 for a one-hour lesson.
Tip: Rent your skis at 'Ski Rental Kristal' and ask for Mario. Mention me (or show my picture), and he will hook you up with the most comfortable ski boots at the most reasonable price. He might also offer you some Rakia, a fruity brandy popular in the Balkans.
Bjelasnica
Bjelasnica is my next recommendation. It is approximately 45 minutes from Sarajevo and has 12.5 km of ski slope and eight ski lifts. Bjelasnica is also an Olympic mountain and hosted the men's alpine ski events during the 1984 Winter Games. The great thing about skiing here are the spectacular views from the top and the opportunity to ski off course into the forest all over the mountain.
Cost: USD20 for an all-day ski pass, USD8 to hire skis, and USD20 for a one-hour lesson.
Tip: Try the pizza as well as sausage and chips at the café right at the bottom of the ski field. You might put on all the weight you lost during skiing, but it'll be worth it.
Smaller ski fields
There are a number of smaller ski fields that you can consider visiting. Although they don't have all the glitz and glamour of the pricier ski resorts, they do have decent ski fields at cheaper prices. If you want to be surrounded by Christmas trees and rustic ski lifts, try Malo Polje at Mount Igman or Blidinje-Risovac. For a beginner-friendly field, opt to head to Ravna Planina.
Cost: USD10 for a ski pass and USD6 to hire ski gear.
Tip: There are ski shops selling apparel and gear in Bosnia that will come up cheaper than purchasing it elsewhere in Europe.
Where to stay
A delightful place to set down your holiday roots, the Bergkranc Hotel & Resort is just 25 minutes from Sarajevo and 15 minutes from the Jahorina Ski Resort. It's a family-run hotel with German roots, and the Germans sure know a thing or two about building cosy houses. Expect to be wrapped up in warmth and Bosnian hospitality. You'll find yourself feeling very much at home, but with room service and spotless, snazzy rooms… all at amazing prices.
Be sure to try their home-brewed alcohol, Bergkranc Sljivovica (Peaceful Apple) and Bergkranc Jabukovaca (Powerful Plum). Both flavours will surely bring your palate to life and they make great gifts to bring home as opposed to the usual t-shirt of fridge magnet
Tip: Bergkranc provides a free airport shuttle and can also transport you to and from the ski fields for a fee of USD10. They also have free Netflix. Perfect for those cold winter nights after a long day of skiing.
Getting around
Renting a car in Bosnia is very affordable. I rented a car from Sixt for USD20 a day, which included insurance. However, if you don't want to hire a car, check with the accommodation you book, as most provide shuttle services for a minimal fee.   
Tip: Bosnians aren't the chattiest when it comes to strangers. So if you're driving and you give way to a Bosnian, don't be offended if you don't get a smile or wave of thanks. Also, when asking for directions, you'll likely receive simple and straightforward instructions. However, if you have the privilege of getting to know them on a deeper level, be prepared for warm hospitality and lots of food!
Where to eat
Over in Pale, a small town 25 minutes from Sarajevo, we went to the Grill Centar for the best cevapi – a dish made of lamb or beef kebabs served with somun (Bosnian pita bread) and raw onions. Another specialty worth checking out is the grilled fish at Vrelo Miljacke that's freshly-caught upon ordering. If you're looking to indulge in a tummy warmer after a day out in the cold, try grah – a delicious soup consisting beans, onions, and smoked beef.
Tip: Head here for more ideas on where and what to eat while in Bosnia.
How to have fun
Once you're all skied out, there are a number of winter activities you can experience. Give snowmobiles a try; they were one of the highlights of my trip. I booked a ride with Bato, a tough looking Bosnian with the kindest heart. He'll show you the ropes and give you the experience of a lifetime. Cost: USD55 for one snowmobile that can seat two people.
For some rest and rejuvenation check out the spa at Termag Hotel in Jahorina. It has a pool, sauna, and steam bath, as well as numerous massage and beauty services. Cost: USD28 for an entire day. While you're at it, finish a day of pampering with the hotel restaurant's yummy Milk Caramel dessert.
If you're feeling particularly adventurous, venture out on one of many hiking routes through the Bosnian mountains. A day tour with usually costs USD55 inclusive of transportation and guide services, for groups of two to five people. You might even be able to tuck into a traditional Bosnian meal, made from scratch and with love for no more than USD10.
Finally, you can explore caves, go zip-lining, paragliding, paintballing, or rafting. My advice is to speak to Bosko or Bogdan at Bergkranc, as they have the local contacts and can negotiate the best prices.
There you have it folks, astonishingly good skiing at affordable prices. What are you waiting for? Get yourself to the Bosnia so you can experience this Balkan winter wonderland.
*All photos are courtesy of author.
Get all the latest travel stories from Zafigo. Follow us on Facebook, Twitter, and Instagram.