Nepal, the home to eight out of 14 of the world's highest mountains, is no doubt a haven for trekkers. After I trekked Annapurna Base Camp last year, I just knew I was going to go back, and it happened after a year. I returned to Nepal to conquer another achievement – the 11-day Everest Base Camp (EBC) trek with my husband and two girlfriends.
It was a test of stamina, endurance, perseverance and mind power for all of us, but we were glad that we made it to EBC successfully. It was surreal seeing Mount Everest with our own eyes. The journey was never easy, and we were challenged with altitude sickness, low oxygen levels, extreme cold weather, and strong winds.
"Trekking is like meditation. You learn how to breathe," an experienced Nepalese guide told us along the journey. While the journey was filled with surprises, encounters with different people and interesting stories, it taught us some valuable life lessons too.
Perseverance and endurance
It was 5.45AM and it was the most important day of our trek to Everest Base Camp – the day we were going to actually reach! After a quick bite at Lobuche lodge, we put on our hiking gear and started our longest trekking day. It was different from any other day as we would be taking the return journey on the same day, and thus, our trek distance would be doubled.
Kabi, our trekking guide, led the way, while Ghorka and Deepak, our porter friends, followed us from behind. The sky was dark and the wind that hit our faces was icy cold. Our hands were almost frozen even though we were wearing gloves. The temperature was estimated to be -8°Celcius (17.6°F). Along the way, we welcomed with an hour of flat surface, although that was followed by two hours of rocky uphill and downhill climbs! We could hardly catch our breath and stopped more often than usual, and that slowed down our pace. It was a mental struggle overlooking the endless rocky mountains, not knowing when it would come to and end. Perseverance and encouragement from our guides and porters saying "We're almost there!" were what kept us going.
We reached Gorakshep at 9AM and recharged ourselves with breakfast before continuing on another two-hour leg to EBC. The sun had risen and temperatures became more bearable on this second part of the journey. From here, the views were spectacular yet surreal; as if we were walking on Mars. What we could see at above 5000 metres was stunning – white shiny mountain ranges, greyish giant rocks, sharp white Khumbu Glacier, and blue skies. Not a single piece of greenery despite being surrounded by nature.
Small yellow camps appeared in the distance, indicating the culmination of our eight-day trek. As we got closer, excitement overcame exhaustion. We were all elated and celebrating this historic moment, hugging and high-fiving each other. We proudly found a Malaysian flag at the base camp to take photos with. The day wasn't over yet, but the return journey seemed much more manageable, echoing our excitement of a mission accomplished. Ah… the rewards of perseverance!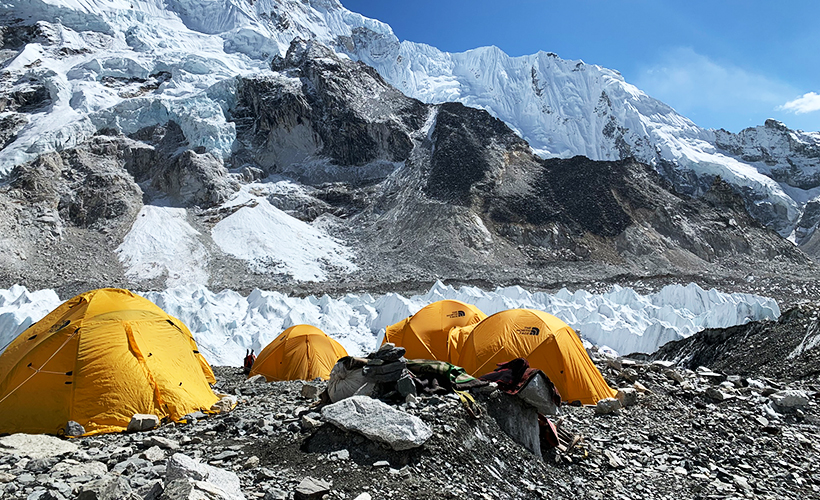 Positivity and optimism
"Hi, Japanese?"
"No, we're from Malaysia."
That's how we started our conversations with a group of five Japanese senior hikers on the way to Namche Bazar. One of them told us she's 72 and we were shocked and amazed with their positive vibes and stamina. The leader was an avid hiker since young and had been to Nepal countless times. Bringing his best friends here was how they celebrated friendship and enjoyed their retirement. They cheered and supported each.
[box color="#89c44c"]"So, I sat there cross-legged, closed my eyes, let the words fill my senses and cried tears of gratitude". Read this ? How Travel Has Taught Me To Live In The Present[/box]
"Tired hah? It's not easy, but you can do it," said an elderly Lithuanian solo traveller with a huge backpack on his back as he smiled at one of us and caught our attention. Despite his not-so-fluent English, his passion for hiking and adventures was written on his facial expressions when he described his excitement seeing Mount Everest in Kala Patthar. He showed us his travel photos to Norway and other countries. He's 63 and will continue to see different mountains in the world.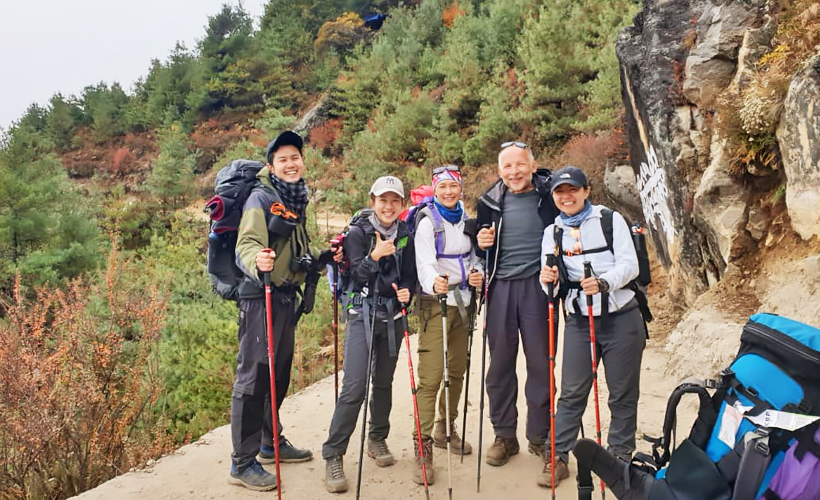 When we felt tired, an affirmative smile from fellow hikers or even some simple encouraging words were enough to keep us going due to the positivity. It was all these interesting encounters and stories that really made our trekking trip.
The locals' grit and kindness
I can't complete our story without mentioning the amazing locals who we'd met along the way. Life can't be easy where resources are scarce, the weather is extreme (especially in the winter), and the altitude can get to you. Children in the region trek for hours daily to attend school. When they grow up stronger, they'll become porters who aspire to be trekking guide one day. They learn English, Chinese, and even French to stand out. The trekking guide industry here's a competitive one.
"Life's a struggle. It's not easy"
This is a favourite quote from our 25-year-old guide, Kabi, who's the breadwinner of his family of five since the age of 18. He appreciates his trekking career to support his family and thus serves his clients the best he can. He took care of all our meals, accommodation, and health condition attentively along the journey. When our friend was down with altitude sickness, all of us slowed down our pace which prolonged our trekking journey. He patiently piloted us. When he knew that we were too tired to take photos, he silently took up his phone and captured photos for us.
Sharing that time with just one Nepalese local has shown us grit and how they appreciate the simple things in life. In such a remote area in the Himalayan region, we should be grateful even over a pair of warm socks, a warm sleeping bag, and even a campfire set up by lodge owners at night.
I'll never forget this lifetime experience of trekking to EBC and I would be back to Nepal for its nature again one day.
Get all the latest travel stories from Zafigo. Follow us on Facebook, Twitter, and Instagram