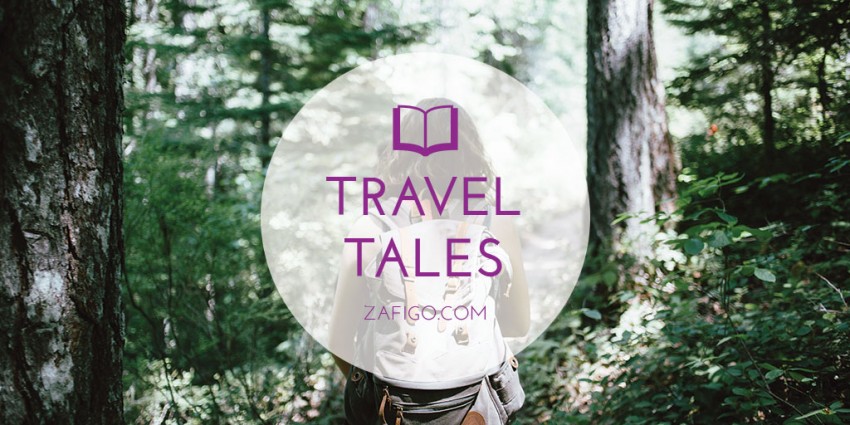 Since the tragedy that turned my father into a quadriplegic, I vowed to live life passionately. This is why every year, either at the end or start of the year, I reflect on the life I've lived and make time for a mid-year check-in when my birthday comes around in July.
On my birthday in 2016, I decided to make four promises to myself:
To continue travelling
To spend more time with my mother
To make memories with people I care about;
To be good to myself.
In just 18 months of making these plans, I've spent the most amazing time in Mallorca and Nairobi (both places that have touched me spiritually and emotionally), I've seen my mother on five separate trips, and I've enjoyed organising the various gatherings and events that not only connect me to the people I love, but also whom I will come to love.
Looking back at the goals I've set for myself, it was clear that the fourth goal would be something I'd struggle with. It's one that I struggle with still, as being good to myself contradicts everything I've been taught. As the eldest child, I've always been taught to look out for, and after, my siblings. Being Asian, I was told to be selfless. Lastly, being Chinese, I was taught to make my family proud by doing things others would approve of.
Now, after 40 years, I have to work hard at looking after myself and to put my own needs first. It's a large investment that I'm not used to making. I'd have to steal time from work, from my children, from the people I love. Time that is used to get a massage, learn Spanish, travel, learn meditation, to be spiritual. The most difficult thing of all, is that I need added time to overcome the guilt of doing it all.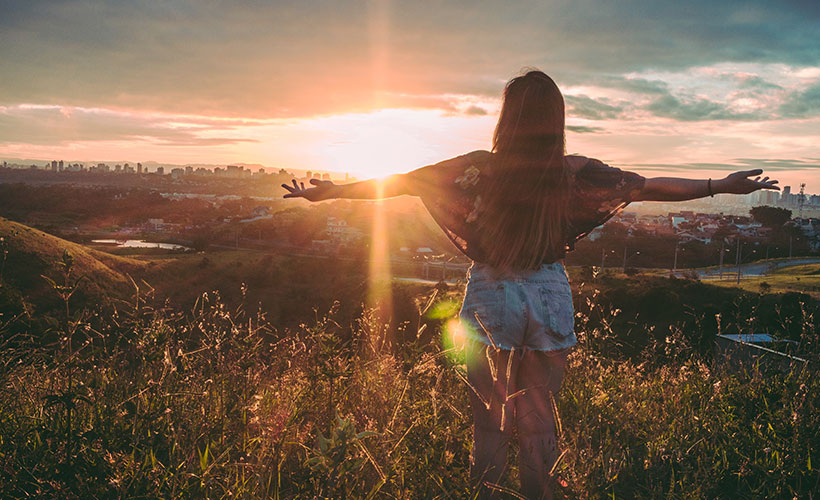 Against this history, culture, and tradition that's been so ingrained in me, I set only one goal for myself this 2018. The goal is to be even kinder to myself. To achieve this, I want to do three specific things:
I want to do things for fun.
I want to spend more time meditating and breathing slowly.
I want to let more go, especially of things which I have no control.
I'm happy to report that I have started this journey. I went stand up paddling because I thought it would be fun! I came back with bruises on my knees and shins, but I absolutely adored the feeling of being in an unfamiliar setting, open like a child and daring to take the next step.
As for number two on the list, I am now reflecting from an ashram in Bali. I am a student of myself here. My lesson started as soon as I landed in Denpasar.
Upon arrival, my driver, Wisma, and I talked during the ninety-minute drive to Ubud. We spoke about our children, and how as parents, we often forget about ourselves. Our children too easily become priorities that we lose parts of ourselves. He's learnt that hard lesson and is now learning to focus on his own spiritual needs. My heart went out to him because I was there too.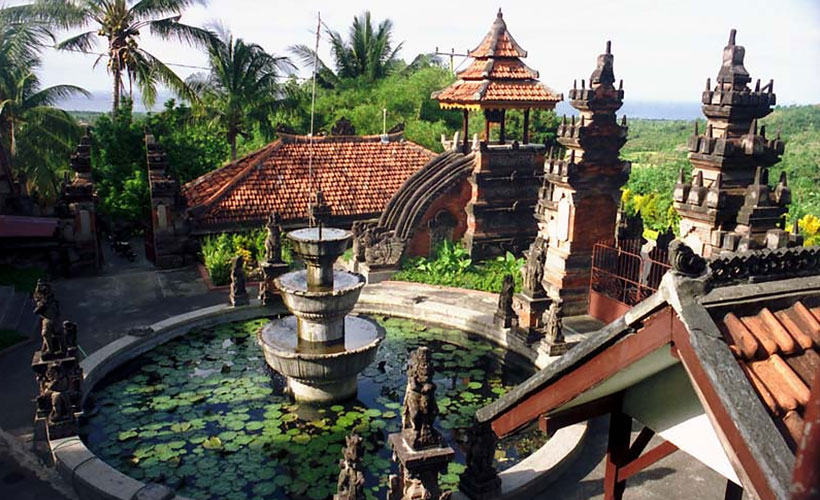 After passing by many temple-like houses, and villages surrounded by lush, green rice fields, we arrived at the ashram. Before leaving, Wisma invited me to Sufi Mehfil, an event they are holding that night to celebrate love and life. It was all so surreal. The old and young came together to sing and dance. There was poetry read in Bahasa Indonesia and translated to English, but I found myself so familiarly drawn to the Malay words – the magic of the language, I felt in this instance, was lost in translation.
Words like 'sejati' and 'kesempurnaan' contain within them beauty that can only be felt, and not explained. So, I sat there cross-legged, closed my eyes, let the words fill my senses and touch my heart, and cried tears of gratitude. And then, Guruji spoke. He taught us the meaning of the word 'geet'. The letter 'g' in geet means 'mathematics' in Sanskrit, the letter 't' means the end. "It is when the logical reasoning of mathematics end that love, joy and celebration can thrive," explained Guruji.
He continued, saying, "Love can be illogical, irrational and dangerous, but without it, one cannot live fully. In any case, what you conceive as logic may not be the truth; and what the truth is may not seem logical at all. The truth can only be felt intuitively; it cannot be perceived or explained logically. Those who are trying to understand and define love are not true philosophers. They are intellectuals. Beware of them, shun their company, lest you become one of them, ever incapable of love." I cried some more.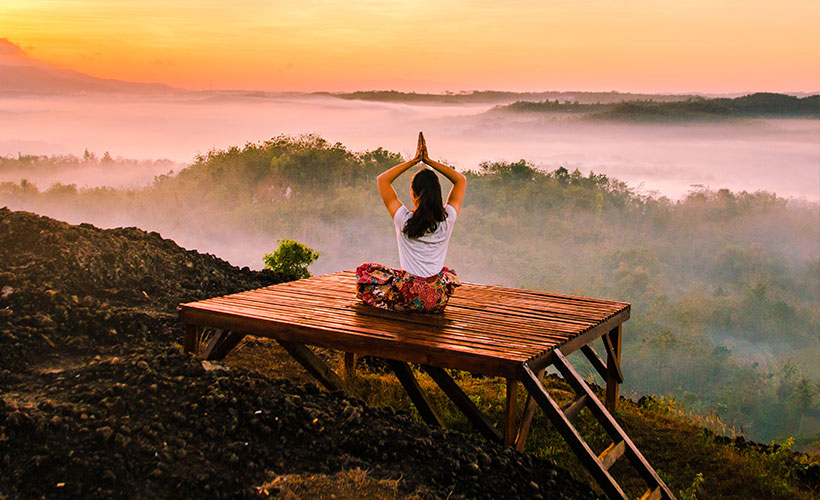 For the next three days, I would perform the ritualistic acts of a pilgrim. I attended chanting at the crack of dawn, cleansed my spirit in the morning fire ceremony of Agnihotra, and stretched out on a yoga mat to the sounds of chirping birds. Mealtimes were vegetarian and simple. Breakfast would be followed by meditation and attending a noon chant. I would enjoy lunch, then meditate some more and attend spiritual guidance classes. I went out to the local warungs for dinner, participated in the evening activities of the ashram, and then fall into a deep sleep.
While the morning rituals are especially beautiful, the evenings are as equally enchanting. One night, I joined five local Indonesian women for yoga after dark. We were in the open, accompanied by the stars, candlelight, the sound of soft, tranquil music punctuated by frogs croaking in the distance, and the calming voice of our yoga teacher, Hernie.
In this ashram, I am a spiritual traveller, seeking knowledge to better myself, learning to be kind to myself. As hard as it is, I am learning to live passionately in the present. I am learning to be eternally present, and so it's befitting to end this piece with this saying from Guruji Anand Krishna, "Biasakan diri anda untuk mendengarkan suara halus dari hati-nurani." Which means, "Accustom yourself to hearing the true and quiet voices from within." Because life is short.
xxx
Women have to look out for many things that men may not. This is especially so in Asia and the Middle East where social and cultural norms that affect women vary from one country to the next. Zafigo is dedicated to helping women navigate that maze by making travel safer, better, easier, and more interesting for women.
For the first time in Kuala Lumpur, we're bringing Zafigo to life with ZafigoX 2018, a three-day event that features speeches, workshops, and panel discussions with extraordinary women from all around the world. These women have broken boundaries, achieved goals, overcome hardship, shattered stereotypes, and set records — all by embracing their wanderlust.
Dr. Catheryn Khoo-Lattimore has a PhD in Consumer Behaviour and is a senior researcher on women in tourism. Join her at her talk and panel sessions at ZafigoX to learn and to have discussions on travel trends for women.
She will be joined by other inspiring women at this one-of-a-kind event made just for women travellers like you! Get the ZafigoX ALL-Access pass here.
Get all the latest travel stories from Zafigo. Follow us on Facebook, Twitter, and Instagram.