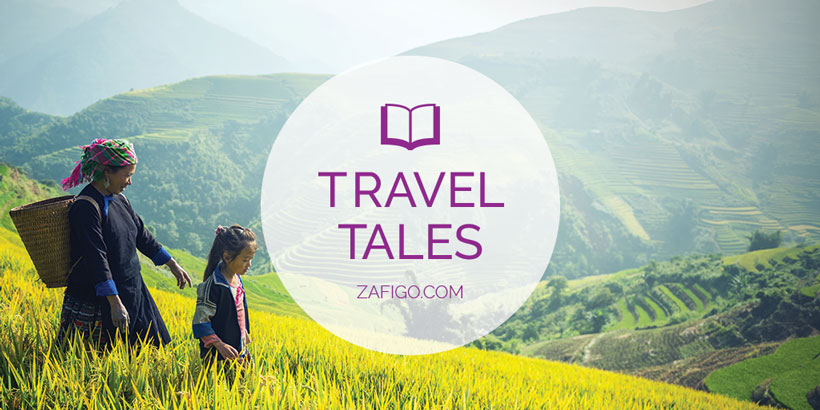 In Pearls of Wisdom: Great Mind by Lailah Akita, she writes, "Dare to explore the beautiful places of the world," – and so I ended up in one of the most photogenic places I've ever had the privilege of visiting: Tibet.
Tibet is the rooftop of the world. It has some of the most stunning landscapes you'll ever witness, and some of the most amazing people you'll ever meet. Aesthetically, it's so beautiful it seems magically surreal, and at the heart level, it emotionally affected me. The Tibetan people are warm, humble, open. They have a kindness that shines through, and wonderful characterful faces.
I wondered how I'd ever be able to put into words the feeling of standing next to the bluest lake imaginable, or document the emotions of proud yet friendly people encouraging you to share in their place of worship. How I'd describe the sight of prayer flags as they fluttered in the majestic frenzy of the Himalayan wind, passing over roads, bridges and on top of mountains.
And then how I'd accurately convey my feelings of excitement that eventually gave way to reverential respect. Or the tranquility and serenity of the faces that haven't changed with progress or oppression. The tangle of narrow cobblestoned streets and maze of alleys. How time seemed to stand still, encapsulated in the ritual gestures of pilgrims. The collective sound of haunting mantras and chants, breathtaking in a way only selfless devotion can be. Antique structures of all colours and dimensions. The inexplicable sense of intrigue that crept over me.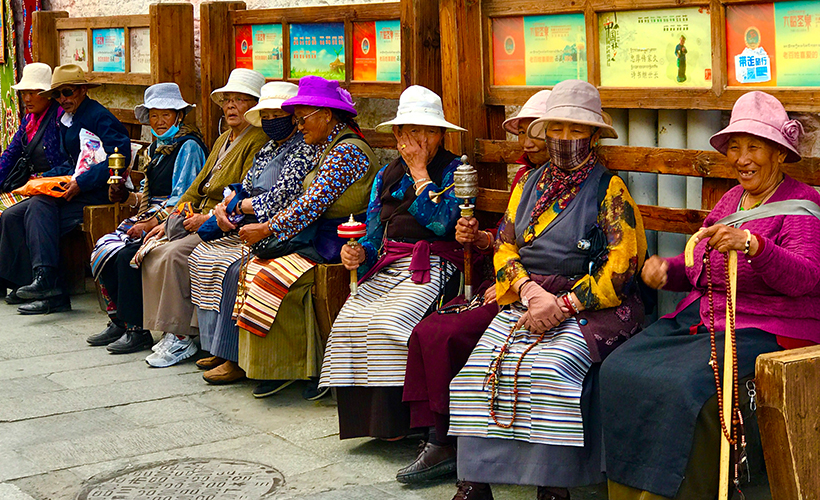 However, one cannot in good conscience talk about Tibet without at least mentioning its politics. The ever-pervasive presence of the Chinese police and military is evidence of this fragility. They're on every street corner, in every public square, in every monastery, in every temple – with their stern, unfriendly demeanor and their threatening stance. Not even the holiest of places are spared.
Tibetans have learnt to co-exist alongside this unflinching, suffocating, ever-present assault on their freedom – but I find it disconcerting, to say the least. It's illegal for anyone, local or foreigner, to have the Tibetan flag or a picture of the Dalai Lama. I had my passport, China visa and Tibet travel permit checked at least three times a day at various locations.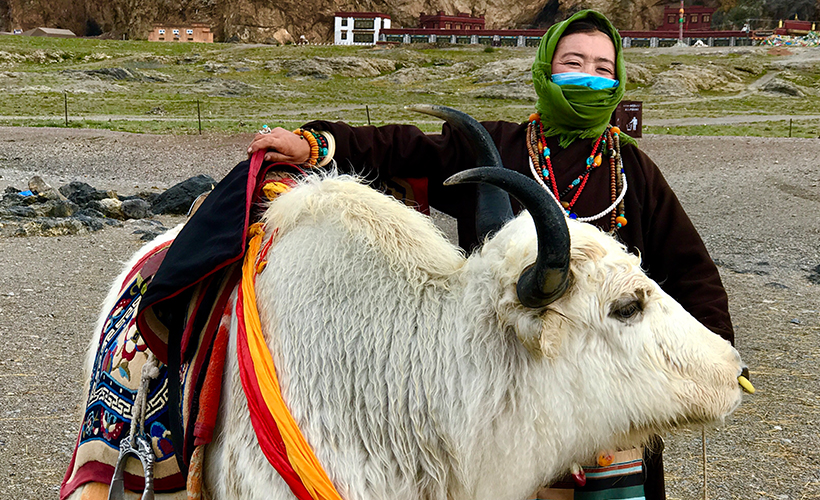 Despite all this, the Tibetans I interacted with taught me quiet simplicity, and how to slow down and to see what's in front of me, not just with my eyes but also with my heart. How to make a conscious effort at becoming aware of my surroundings and being present in that moment.
Whenever I was focused on what there was to see next, or hasting through something, my Tibetan female guide would say, "Lyn, khalu, khalu." Slowly, slowly.
Don't rush.
Be all here.
Appreciate the now.

---
 Read our last Travel Tale:
---
Here's your chance to get published on Zafigo! We want your most interesting Travel Tales, from memorable adventures to heartwarming encounters, scrumptious local food to surreal experiences, and everything in between.
They can be in any form and length –short stories, top tips, diary entries, even poems and videos. Zafigo is read by women travellers the world over, so your stories will be shared to all corners of the globe.
Email your stories to [email protected] with the subject line 'Travel Tales'. Include your profile photo and contact details. Published stories will receive a token sum.
Get all the latest travel stories from Zafigo. Follow us on Facebook, Twitter, and Instagram.