As a quarter Japanese-Malaysian, I have always had a soft spot for (almost) all things Japanese. My late grandmother was born on a ship between Nagasaki and Malaysia, and even though she grew up entirely on Malaya/Malaysian soil, she was still so Japanese in her ways; from the meticulous way she would dress or prepare meals, right down to her penchant for buying something she liked in every single colour.
I was 31 when I finally visited Japan for the first time, and even on that very first visit, part of me felt like I was coming home. There was something in the way things so harmoniously clashed that made me feel at ease and appealed to both the creative and organised parts of my brain.
So when the opportunity to travel for 28 days came up, I couldn't have imagined going anywhere else. Japan was at the very top of my list, and for many reasons.
1. From budget eats to fancy treats
Ok, let's face it. If you're Malaysian, food is likely to be a high priority on any travel checklist, and eating in Japan is always one of the best parts about visiting this country.
Whether I'm tucking into a steaming bowl of yuzu soba on a very cold day, dropping some Yen on uni sushi, ordering ramen via a vending machine, or just grabbing a quick bite from the local konbini (convenience store), eating in Japan is always a major highlight.
And if I were to suggest an absolute must-have, the super indulgent Cremia soft serve is definitely on the shortlist.
2. Always chasing Fuji-san
If I had to pick a single iconic image of Japan, it has to be Mount Fuji, hands down. From classic depictions by Japanese ukiyo-e (a genre of Japanese art) artist, Hokusai – my personal favourite being 'The Great Wave off Kanagawa' – to more contemporary visualisations by Yayoi Kusama's 'Mt Fuji in Seven Colours', there's just something about seeing Mount Fuji that makes me feel calm and happy.
During my trip, I discovered views of Fuji-san that were not often shared by travel accounts and influencers, and those turned out to be some of my favourites. And even though I've seen Mount Fuji multiple times now, I've yet to find myself tired of this incredible view.
3. The zen of traditional Japanese gardens
Traditional Japanese gardens are true living works of art. From the small and minimalist to those of the more sprawling variety, each nook and corner is carefully curated with purpose. And there's a reason these gardens are so peaceful and calming to look at – most of them were designed for meditation.
I visited five traditional gardens during my 28-day trip, each one beautiful in its own way. My personal favourite is the one at Gio-ji Temple in Kyoto, which is less garden and more small mossy grotto, made even more magical by the lack of visitors due to it being a little off the beaten path.
4. The harmonious collision of future and past
One of the things that fascinate me about Japan is the dichotomy that exists in a truly seamless way – a temple surrounded by skyscrapers, traditional tea ceremonies and rebellious street art, and finely crafted knives and robot waiters in restaurants.
There's no need to compromise and choose either/or – Japan is both, and all of them, all at once – unashamedly traditional, trailblazing-ly futuristic.
5. A staggering variety of museums
With 4,465 museums across Japan, according to Statista, the breadth and variety of museums here can often be surprising. From locations in seemingly random places to specialisations that go from niche and kitschy to surrealist masters, even the most hesitant of museum visitors is bound to find one that piques their interest.
I was surprised to find a wing dedicated to 32 sculptures by Auguste Rodin in Shizuoka, had so much fun at the cup noodle museum in Yokohama, and there's something about walking across the crisp snow while exploring the Hakone Open-Air Museum.
6. Japanese street-style, and I don't mean the fashion
While Japanese street fashion is certainly a worthy reason for visiting, the 'street' I find myself most attracted to is of the literal variety. Doors, walls, and padlocks are my favourite things to photograph.
Whether walking down a tiny back street in Nagano or joining the crowd on a car-free day in Shinjuku, there's always a tiny detail or larger picture to photograph. Oh, and let's not forget their fun manhole covers literally embedded into streets and sidewalks!
7. By train, Shinkansen, or bus
There's no denying Japan's impressive transport network, and my 28-day trip was designed according to places we could get to with the Shinkansen. Armed with a 21-day JR Railpass, we aimed to take the Shinkansen to the southernmost point we could reach and then work our way back towards Tokyo. While Railpass prices have increased recently, it was, back then, an affordable way to travel around if you were planning to stop at several destinations.
Prices include free rides on the Narita Express, JR trains, buses, and ferries, all of which we used liberally. Despite the country's amazing connectivity, it's important to remember that local buses run a little less frequently outside of major cities.
8. Stationery shops, take my money!
You can't go to Japan without buying stationery. Well, I can't go to Japan without buying stationery. The Japanese truly are in a league of their own when it comes to designing and crafting fountain pens. Then, their buttery smooth papers are to die for, and let's not forget their stickers, washi tape, rubber stamps, ink, and, well, a whole bunch of other stationery-related products you never knew you needed.
My trips to Tokyo are never complete without a visit to Traveler's Factory in Nakameguro, home of my favourite journal, the Traveler's Notebook. Of course, I also always inadvertently find myself ogling at stationery at Itoya, LoFt, and Tokyu Hands, the branch in Shinjuku Takashimaya Times Square being my favourite.
Small, cutesy, and independent stationery shops are also worth checking out, like Masutake, which I accidentally stumbled upon while randomly strolling the streets of Shizuoka.
9. A different kind of stamp collecting
While it may seem to be a recent phenomenon among stationery addicts, rubber stamps have a long history in Japanese culture. Hanko are name stamps used instead of a signature on official documents. At the same time, temples and shrines have goshuin, a red stamp paired with calligraphy that certifies your visit (available to visitors for a small fee).
The latter might be the inspiration for the Yamanote Line stamp collection, which features 77 designs for each individual station on the Yamanote Line! And they're not the only ones. Many train and subway stations across Japan also have their own rubber stamps, and part of the fun is trying to figure out where in the station it's located.
Parks and attractions also have rubber stamps, and the Traveler's Factory stores have a variety of rubber stamps you can use for free.
10. A hot soak for those sore muscles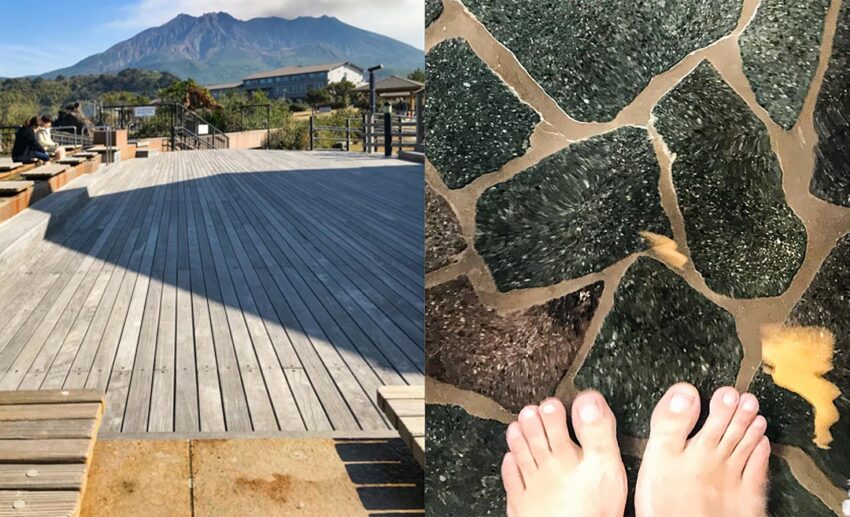 After a long day of walking and exploring, nothing feels better than taking a soak in an onsen's hot, healing waters. However, as someone who is not keen on getting naked in front of others, I only get my soak on when I stay somewhere with a private onsen or have private onsen hours.
A nice alternative is soaking my tired legs in the often free footbaths, and many of them have a great view. All you need to do is roll up your trousers and ensure you have a towel for wiping up afterwards!
There's a somewhat inconspicuous footbath at Arashiyama Station, and the Nagisa Park one comes with a great view of the Sakurajima volcano. It felt so good that we soaked our feet there before and after exploring the island! Besides these, there are many other reasons why I love Japan so much and can't wait to return again and again (and again).
For more on my 28-day trip in Japan, check out my self-published title, 28 Japan! It's a visual and written journal that can hopefully serve as a travel guide and satiate your own wanderlust for Japan.
28 Japan is available at Kinokuniya, Lit Books, Stickerrific, Gerak Budaya, and CzipLee, to name a few.