For Women's Health Month, we at Zafigo encourage our readers to take a beat and treat themselves to some self-care. Life can sometimes get the best of us, and our bodies suffer these stresses, so this editor jumped at the opportunity to pause life and indulge in some profound relaxation at Urban Retreat Onsen Spa in Mont Kiara.
But first, what exactly is an Onsen spa? This moniker holds many meanings, including Onsen water, bathing facilities, and the areas around hot springs. But in the case of Urban Retreat, this Onsen Spa is an experience of soaking in a wooden tub imported from Japan. Of course, it's so much more than just immersing yourself in a wooden tub of water – Onsen has many benefits like relieving stress, improving blood circulation, and detoxing, to name a few. Athletes who suffer from soreness resulting from their rigorous workouts can also enjoy the healing properties of an Onsen.
So, if you're in the mood for some self-care, we recommend giving these three treatments a try at your next visit.
1. Signature Onsen Spa Treatment (RM149 for 45 minutes)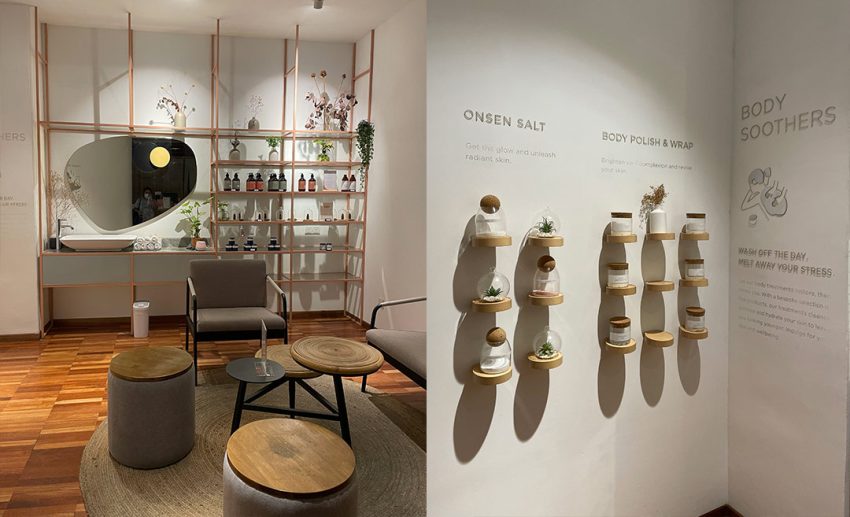 As I entered the spa outlet, I could feel my body relaxing thanks to the soft-spoken staff and the relaxing ambience. The waiting area transports you (without hopping on a plane) to one of a local Japanese Onsen, with its warm lighting paired with bamboo and wooden accents. While I waited in the cosy waiting area, the staff took their time explaining the chosen treatments and went through the 'menu' with me.
I began my self-care journey with the sacred Japanese tradition of Onsen, and during this visit, I chose Kirei, which helped moisturise the skin, boost suppleness, and brighten it. Guests are asked to select the degree of their preferred temperature, and as a first-timer, I went with 40 degrees instead of 42.
After being ushered into the changing area, which had lockers to keep your belongings safe, I then prepped myself to enter my very own private Onsen. The room is spacious enough with amenities such as a shower, a little stool to sit on, and all the products you'd need to clean the body.
Prior to entering the Onsen tub, guests are recommended to have a quick rinse to clean the body. So, that's what I did!
Once I immersed myself in the tub, I could feel my muscles relaxing almost instantly. For someone who prefers a cold shower, the hot temperature took some getting used to, but after spending 45 minutes in the tub, I felt 'lighter'. The staff also prepared a cold glass of water for me to sip on to avoid dehydration. And again, if you're a first-timer like me, take your time getting out as you may feel dizzy.
Once the 45 minutes had passed, I wrapped the robe provided and got ready for my next treatment.
A little pro-tip: I highly advise leaving your mobile phone in the locker to fully reap the benefits of the Onsen without being distracted. I made the mistake of taking mine with me, and if I had a do-over, I would definitely leave it behind.
2. Signature Massage Scrub (RM209 for 60 minutes)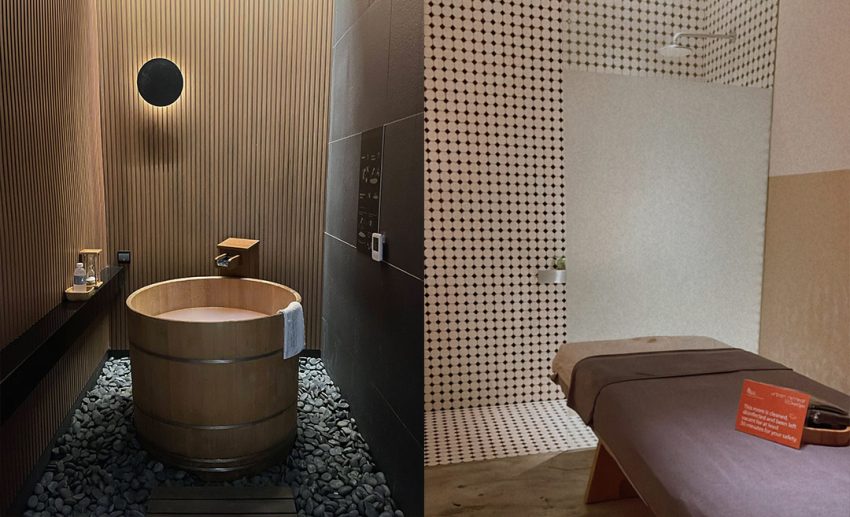 Feeling incredibly relaxed, I entered one of their private rooms, equipped with a spacious shower for post-scrub treatment. Before starting, the therapist handed me a fresh set of disposable intimates, a shower cap, and then left me to get myself ready.
The Signature Massage Scrub is pretty straightforward in terms of what you would expect – you get to choose the different scents they had available, and I, of course, went for one infused with vanilla.
I was ready to go with the right ambient lighting and soothing music. Pairing a curated massage technique with dry brushing, the entire experience made me feel even more relaxed, which I didn't think was possible. The benefits of such an approach help with our natural lymphatic system and encourage the body's detoxification process.
Once the scrub treatment was over, my attentive therapist guided me to rinse the rice-based scrubs off but not wash away the body butter completely. My skin has never felt smoother and softer, and I am not one to exaggerate. I also smelled incredible.
3. Essential Aromatherapy Massage (RM179 for 60 minutes)
To cap off my experience at this urban oasis, I moved on to the Essential Aromatherapy Massage, which honestly was my favourite experience. After a quick rinse off and a change into yet another set of fresh garments, my massage therapist came back to prep the room once again.
What sets Urban Retreat Onsen Spa apart is how they can personalise even the massages to your preference. While I enjoy body massages, I tend to avoid being massaged on my legs and arms and prefer to focus on my back and shoulders.
With my chosen essential oil, the massage therapist meticulously took time to undo the stubborn knots in my muscles using the level of firmness I preferred. The massage bed is equipped with a heated blanket to provide extra comfort to guests, so if you don't like it toasty, gently inform them of your preference.
They say a sign of a great massage is when you fall asleep, which is precisely the thing I did. My body must have needed the relaxation so much that after a soak in the Onsen tub and body scrub, plus the massage, I drifted off into my dreams. I will shamefully admit to being woken up by my own (slight) snoring.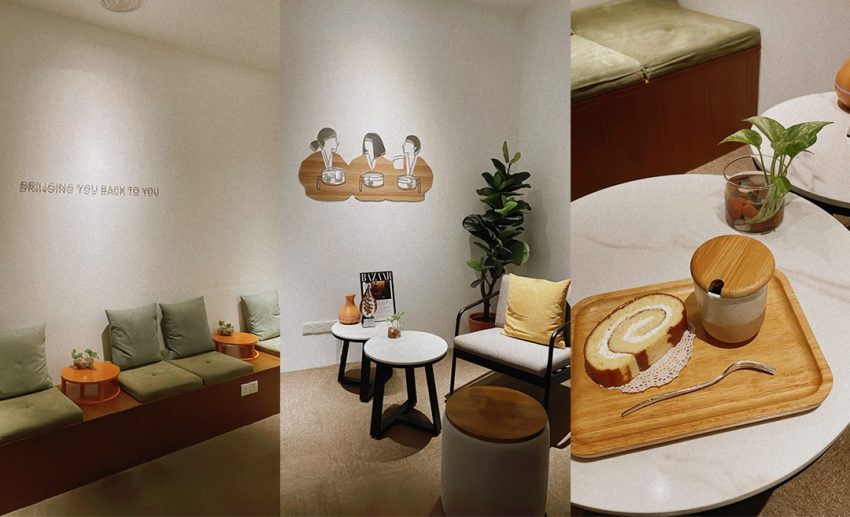 The pampering did not stop there. Once my last treatment ended, I visited the changing room for the last time to gather my belongings and was eventually ushered into a private waiting room, where a cute little sponge cake and a cup of ginger tea awaited.
This little 'cool down' moment from the hours-long of excellent spa treatments was the perfect way to end my time at Malaysia's first private Japanese Onsen.
So, if luxurious and pampering treatments are right up your alley, then I highly recommend Urban Retreat Onsen Spa. I must say, their bespoke approach to guests' preferences and warm customer service undoubtedly makes them a winner, and will have guests coming back for more.
Urban Retreat Onsen Spa
Address: Lot 2F-02, 163 Retail Park, Jalan Kiara, Mont Kiara, 50480 Kuala Lumpur
Contact: +6017 881 4486
Uroot's Relaxing Sleep Massage (RM189 for 80 minutes)
The thing with stress is that it stays present in your body — like your shoulders. But leave your knotted body in the hands of Uroot's expert therapists, and you'll come undone in the best way possible. Every session begins with a customary foot wash before you're led to a dimly-lit room equipped with a heated bed to keep you toasty.
Then, to unknot the tightness all throughout your body, expect to be gently 'tenderised' with long, sweeping strokes as an in-house lavender massage oil blend envelopes your skin and lulls you to sleep. But the big question is: Did I actually fall asleep? Yes, I did.
Insider tip: For the best relaxation experience, we highly recommend visiting Uroot Spa during off-peak hours, for fewer distractions
Uroot Spa
Address: LG1-5, Arcoris, Jalan Kiara, Mont Kiara, 50480 Kuala Lumpur
Contact: +6017 881 3990