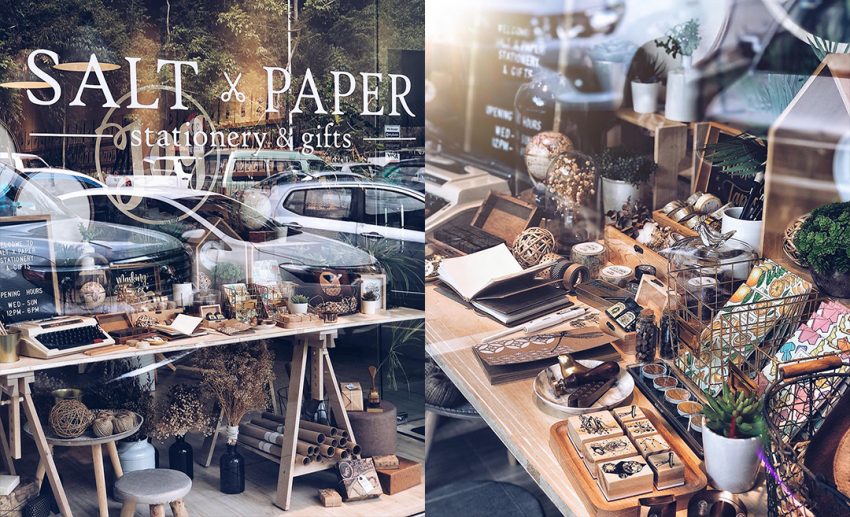 You can learn a lot about a city from the stationery stores you visit – from the local artists whose sketches and paintings adorn cards and stickers to the handmade inks, illustrated totes, and leather handmade pencil cases. Most local stationery stores take great pride in not only sourcing popular brands from around the globe, but they also shine a spotlight on local makers, such as those creating custom stickers, custom made coins, custom enamel pins, and the like; providing customers with more unique and personalised products. It also makes shopping for souvenirs a little more interesting than the usual fridge magnets.
You don't need to be an artist or keep a diary to appreciate a boutique stationery store. Let me first say that stationery shops are no longer a one-stop shop for your regular office and school supplies. There has been a shift in consumer needs, beyond just Sharpies and paper clips. Perhaps in a bid to balance the digital and analogue world, an increasing number of people have started to pen down thoughts versus thumbing their phone screens. Now even more so with all the alone time brought about by lockdowns. 
It's perhaps in this new refuge of 'slowing down' and picking up a new hobby that speciality stationery stores have started popping up around the world, offering a wealth of inspiration, from handmade paper, letterpress cards, decorative sticky tapes, customisable notebooks to 18-karat gold fountain pen nibs. Like an artisanal tube almond-scented glue, the list rolls on. Even generational stationery stores are now experiencing a new wave of craft-obsessed scrapbookers, journalling enthusiasts, and antique stationery collectors who are seeking something a little more unique, and are prepared to spend generously for a conversational piece.
Here's my top 10 list of stationery stores that I've personally visited around the world! I hope it'll inject some romanticism into your love for stationery. Or at the very least, invoke the curiosity to pick up a pen and send a postal letter to a friend.
1. Choosing Keeping, London

 
View this post on Instagram
Perched right at the edge of trendy Tower Street in Seven Dials, sits this gem of a store that'll leave you wanting more! The clear windows will offer you a peek into a dreamy world of gorgeous stationery, displayed beautifully within the warmth of wooden flooring and exposed bricked walls. Passers-by tend to slow down and take pause as they walk by the beautifully-merchandised windows filled with paper art, colourful pens, and handmade ceramic cups. Perhaps it's called Choosing Keeping because try as you may to choose a few items, you'll end up wanting to keep everything.
---
2. L'écritoire Paris, Paris

 
View this post on Instagram
This place is one of the longest-standing stationery stores in the city of love and has become an institution in itself amongst Parisians and tourists alike. The shop's been run by Sofie since 1975, and when it was opened, it was called L'Ecritoire – "The Parisian stationery store." However, the name is somewhat misleading, because it's so much more than just shop – it's a homage to heritage, timeless craftsmanship, and handmade creations. 
Many of their items are made by master French craftsmen. Expect the inkwell to be slightly crooked, the nib holders to be a little tarnished, and handmade paper to be slightly frayed and deckled, but behind these doors, affection is prized over perfection.
---
3. CforCalligraphy, Jakarta

 
View this post on Instagram
One might easily miss this little store in the sprawled out and dusty roads of a city known for its unforgiving traffic. It took me about 40 minutes to get to this gorgeous little shop, an oasis and respite within the cluttered structures around it. Upon entering the beautiful exterior of a hand-lettered storefront – a stark contrast from the metal shutters of its neighbours – you'll be greeted by soothing tunes, dried flowers hanging from the ceiling, and a buffet of rubber stamps, inks, and nib holders all lined up for the picking! Aside from providing all the supplies one would need for the intricate art of calligraphy, they host workshops – often flying in artists from greater Asia and beyond – who are masters of their crafts.
---
4. Salt x Paper, Kota Kinabalu

 
View this post on Instagram
An unexpected delight in the tropical paradise of Sabah's capital, Kota Kinabalu, or as I like to call it – the Hawaii of Malaysia! The store's name is probably inspired by the ocean, where its close enough to smell the salt in the air. Tucked within a row of mom-and-pop stores, this quaint shop will have you retracing your footsteps thrice over in fear of missing out on camouflaged goodies amongst the plethora of stickers, rubber stamps, globes, notebooks, and cards. You name it, they probably have it in every single colour and then some! This is a great gift shop too, with novelty items and locally-crafted decorative pieces. There's truly something for everybody here.
---
5. Melodies Graphiques & Ecritures Papiers, Paris

 
View this post on Instagram
If Versailles had a stationery store in the 18th century, this would be it. This is a place for those who like to write by hand, and for those who appreciate forgotten objects and elevated desk accessories – think elaborately engraved brass pen trays. 
This is not a place of needs, but a place of wants. You'll notice rows of antique ink bottles proudly displayed on the top of shelves, a reflection of the owner's personal collection. Try as you may, but you won't be able to leave this store without feeling visually seduced by the luxurious and opulent feathered pens, textured papers, and everything in between celebrating French culture and craftsmanship. "Draw me with one of your French pens…" *fans self*
---
6. Zetta Florence, Melbourne

 
View this post on Instagram
A charming family-run stationery wonderland from the Land Down Under. Imagine high ceilings in a heritage building on the trendy and artistic street of Brunswick where good coffee flows aplenty. Zetta Florence will draw you in with her dressage of Italian posters, photo albums, archival boxes, illustrated notebook covers, and rolls upon rolls of colourful yarn. 
Whether you're a hardcore DIY crafter or a noob seeking a new hobby, this place will scratch your creative and curious itch. If you're lucky, you can even catch one of their bookbinding workshops. And since you're in the neighbourhood, make a day out of it and explore other small independent businesses like Kami Paper just next door (home to speciality paper experts and personalised journals to capture your passions).
---
7. Scriptum, Oxford

 
View this post on Instagram
Take a step back in time and get lost in the endless wonderment of Scriptum in the charming town of Oxford. You'll have to wander through cobbled stone lanes before you're greeted by objects of curiosities such as oversized magnifying glasses, marbled globes, nautical compasses, and lion head bookends. This isn't your typical stationery store. Upon entering, you'll be greeted in true Oxford style – with classical music and Azeem, the gentleman owner, who's always dressed to impress. And just when you feel that it's all too much with the sensory overload, you'll discover more upstairs. 
Double the levels, double the happiness! It's floor-to-ceiling of endless discovery. Blink and you might miss something. Scriptum, much like the majestic timeless architecture surrounding it, is keeping alive the traditions of journalling and writing through its beautifully-curated selections of analogue pieces. We're sure that you won't leave here empty-handed, but you may very well leave with empty pockets. 
---
8. Stickeriffic, Kuala Lumpur (KL)
View this post on Instagram
Ask any stationery enthusiast visiting KL, from near or far, and their eyes will light up when you mention Stickeriffic. This is where the local community of creatives congregate, huddle, shop and socialise. Not too bothered with stocking mainstream, popular brands, you'll find a wide variety of stationery staples that'll suit your scrapbooking, bullet journalling, painting, sketching, calligraphy, and crafting needs. 
This is where the boyfriends come to buy their lady a special notebook or anniversary gift. A place of thoughtful and purposeful objects that'll bring its user endless joy from creating. The cats here have become an attraction too, as the store's 'paw keepers' are often seen sitting atop the tables or sunning by the window. So sit back, order a cup of coffee, whip out a book, or journal. This is where time slows down. 
---
9. BomoArt, Budapest

 
View this post on Instagram

Established in 2000, BomoArt has garnered a cult following amongst creatives from around the world, and it's not difficult to see why. Best known for their speciality prints, paper quality, and leather-bound journals that use traditional book-binding techniques, you'll find BomoArt's pocket-sized shops peppered around Budapest. 
They stock a wide variety of their own vintage-inspired designs, making them truly unique. And beyond selling branded stationery from other cult brands, BomoArt designs and produces their own collection of items, from maps, photo albums, bookmarks, and accordion folders to art boxes and kaleidoscope. You won't find their products mass-produced and stocked in many other stationery stores – at the very most, just a handful. 
If customisation is something you appreciate, then you'll be pleased to know that you can customise a notebook from the colour of the leather-bound to the design print of the book and embossing of words or initials. With all the options available, expect to be spoiled for choice! 
---
10. Il Papiro, Venice

 
View this post on Instagram
I first stumbled upon this store by pure chance. This is where you will find precious pieces of Venetian Murano glass pens, produced in the Venetian island of Murano since the 13th century. This material's also artistically made into ink wells and wax seal handles. Aside from that, you'll find famous Italian marbled paper, Amalfi and Florentine paper (sought-after Italian handmade paper), as well as premium leather-bound journals. 
They have shops all over the country, from Rome to Florence and Siena. You can even visit them in major cities around the world, like London and Melbourne. What one can acquire overseas due to their popularity, though, can't compare to the actual experience of walking into an 'original' Il Papiro store in Italy. The store just exudes a timeless beauty that has to be felt in person.
*Website and social handles of the flagship store in Florence. 
---
11. Traveler's Company, Tokyo
View this post on Instagram
Every journaller would know the famous Traveler's Notebook from Japan. The brand pioneered the TN journal notebook, a beautiful collection of leather cover notebooks with interchangeable notebook inserts, amongst many other popular brass tools and retro items. Even if you're unfamiliar with the brand, you won't regret making your way to one of their stores. 
They have a few around Tokyo, but if you're tight for time, you can visit the outlet in Terminal 3 of Narita Airport. There are regular busses that go between all three terminals, and if you're lucky, you'll score some limited-edition pieces that are so coveted, they often sell out online and in the main stores around the city. Here, you'll be able to do some last-minute shopping and squeeze your haul into whatever space is left in your hand carry!
Follow Zafigo on Instagram, Facebook, and Twitter. Sign up to our bi-weekly newsletter and get your dose of travel tales, tips, updates, and inspiration to fuel your next adventure! 
[zf_post_boxes widget_hide_desc="true" num_post="3″ post_id="40137, 38664, 40153″]