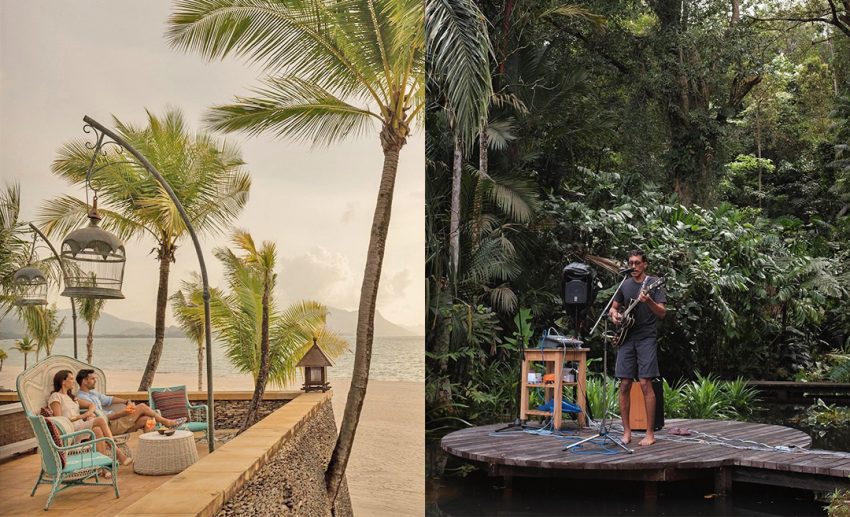 Subscribe to our new 

Telegram

 channel for the latest updates.
Just like you, we're desperately counting down the days until Malaysia's interstate borders open (and for COVID-19 to finally be a thing of the past). While it may take a little while for those wishes to materialise, it doesn't hurt to start pre-planning a list of all the intriguing things you'd like to do in the coolest places imaginable.
When it comes to a full multi-sensory experience (ones that appease your five senses), we've compiled a list of activities that definitely hit the spot from activity to scenery. Just think of this list as something you can either do over the weekend or plan to head over to if it's not where you already live.
Without further ado, here are seven cool things to do once our interstate borders open, along with their captivating venues:
Go glamping in a glass treehouse
Tropical Spice Garden, Penang
Tucked away along the north-eastern coast of Penang island is the luscious Tropical Spice Garden. Reminiscent of an idyllic jungle paradise, this property features five landscaped acres of biodiverse living museum that's filled with over 500 tropical plants and exotic spices.
If you'd like a balance between nature and modern comfort, try glamping in a glass treehouse for a luxurious feel of the outdoors. Or choose to camp in the bamboo garden or red grove deck. Either way, you have the chance to take long walks in the rainforest, stargaze at night, and barbecue with your loved ones.
On top of that, feel free to join in on their multitude of diverse activities organised year-round, such as cooking classes, live music performances, yoga sessions, and outdoor film screenings. Additionally, you can stop by the cyclist-friendly K(an)opi Cafe housed within this oasis.
Enter an immersive haunted house
Hauntu, Kuala Lumpur
Ever thought that you'd make much better choices than the squealing characters of horror flicks? At Hauntu, it's time to put opinion, and fight or flight responses, to the test. Offering the first immersive haunted house experience in the country, it includes a blend of live theatre performance, role play, and interconnected storytelling that revolve around a colonial hotel brimming with mystery and the paranormal.
As participants, you'll take on roles within the pre-independence backdrop storyline to then navigate your way out by finding clues and interacting with (or avoiding) the hired characters. With a maximum of 10 players per session, bring along your friends and loved ones to experience an unforgettable night of terror.
Drink cocktails in a traditional speakeasy bar
Budi, Melaka
If you've yet to visit a speakeasy bar, Budi is a fantastic gateway to this enigmatic realm of entertainment – especially since it's been given a local twist. Inspired by Dondang Sayang (love ballad) clubs popularised by the Nyonya communities of yesteryear, this Melaka-inspired bar hidden behind Sin See Tai café is perfect for a lazy afternoon drinking session.
Surrounded by clear skylights and potted greenery to rattan furniture and batik-covered cushions that evoke tropical homely vibes, taste their ever-changing cocktail menu that's often embedded with Malaysian flavours like asam boi (preserved plum), longan, and pandan. As a fan favourite, be sure to try The Nenas – think Melaka's famous pineapple tarts reimagined as a boozy concoction!
Step into a hot spring and dine in a cave
Banjaran Hotsprings Retreat, Perak
Cradled between verdant rainforests, limestone hills, natural caves, cascading waterfalls, and rejuvenating geothermal hot springs is the magnificent Banjaran Hotsprings Retreat. Just as its name suggests, no trip to this oasis (hidden just outside Ipoh city) is complete without a relaxing soak in the open hot spring tubs that overlook a stunning lake. Also, be sure to stop by the thermal steam cave for a natural sauna session, a freezing ice bath for a revitalising dip, as well as the crystal cave for some metaphysical healing.
In terms of gastronomy, don't forget to pop on over to Jeff's Cellar for an unforgettable candle-lit dining experience. Situated within a 260-million-year-old limestone cave, dig into a rotating menu accompanied by a carefully curated wine pairing.
Dig into a luxurious kampung meal overlooking the ocean
Ikan-Ikan at Four Seasons Resort Langkawi, Kedah
Salivating at the thought of feasting on refined yet good ol' classic Malaysian cuisine whilst marvelling at the scenic view of blooming gardens and crystal-clear ocean? Get ready to materialise that heavenly image come dinner time with the help of Ikan-Ikan at the Four Seasons Resort Langkawi. Constructed in the style of a traditional Malaysian hut, the alfresco teakwood deck and beachfront pavilion are undoubtedly the best spots to dine at.
With generous portions upon serving, dig into their locally-inspired menu of lamb shank kurma, Dangli Island fresh lobster, grill percik chicken, along with their must-have selection of fish dishes (namely the ikan jenahak asam katok or fried red snapper fillet with tamarind honey sauce). Don't forget to finish off with their caramelised gula melaka panna cotta!
Sip on wine and paint
Art & Bonding, Kuala Lumpur
Channel your inner Picasso and get your creative juices flowing with the help of some wine and canvas painting events held by Art & Bonding. Whether you're opting for the traditional sip and paint session or funky neon paint party, you'll be guided by kind instructors to follow a particular painting chosen for the class.
Although this childhood pursuit has been elevated to appease a more mature audience, kid-friendly events are also held so everyone can join in on the fun. Beginners have no fear as this is a safe space for all, regardless of artistic skill, to simply de-stress and have a blast.
Devour a countryside farm-to-table feast
A Little Farm On The Hill, Pahang
Looking for a day-trip escape to the countryside? The search is over, thanks to the rustic elegance that awaits you at A Little Farm On The Hill in Janda Baik, Pahang. Located 600 metres above sea level and encased by wild jungles, the cool surroundings of this idyllic farm with ponds and willowy trees is also the residence of several wildlife species, including monkeys, boars, and hornbills.
Practicing a farm-to-table dining approach, feast on their year-round seasonal menu filled with globally-influenced dishes that incorporate their large array of site-grown organic produce. Be sure to order their slowly-smoked meats that are always flying off the counter.
Additionally, they organise yoga retreats, gardening classes, cooking classes, food parties, theatrical performances, and small concerts with warm agrarian hospitality. This includes greetings by their four friendly pet canines! Don't forget to book at least a week in advance to secure a reservation.