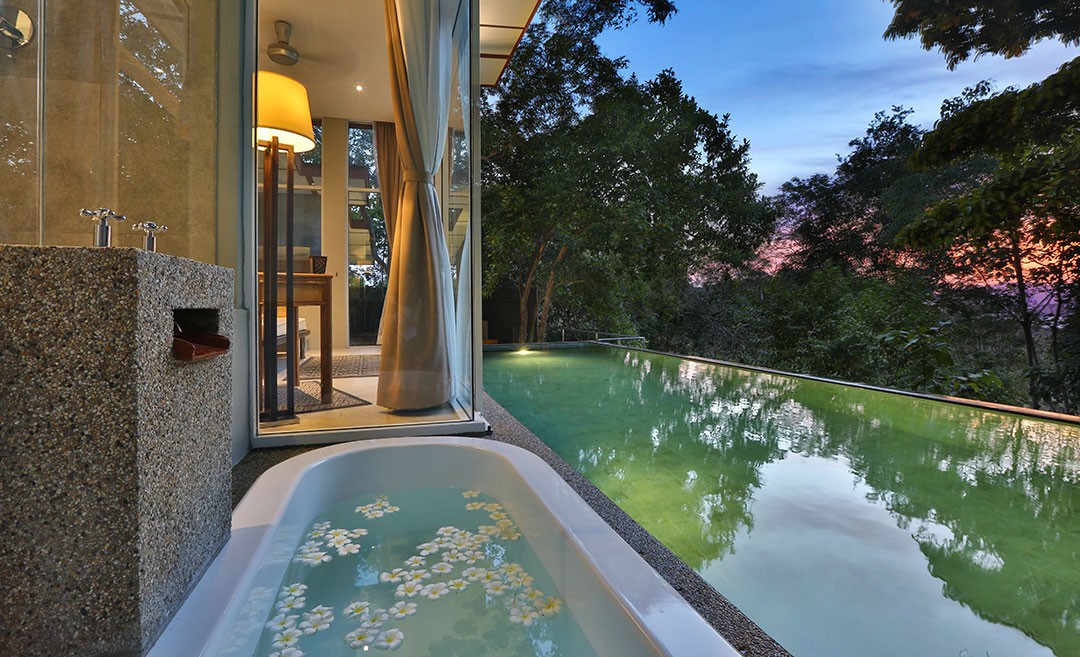 Subscribe to our new

Telegram

channel for the latest updates.
When I'd first checked into the Ambong-Ambong Rainforest Retreat some three years ago, it was the beautiful rainforest views that had my attention. I promised myself I'd return to the boutique property one day, especially when I was informed of the new pool villas being constructed nearby. After all, the Ambong-Ambong properties are located on the UNESCO Global Geopark that is Langkawi island.
Luckily for me, this not-so-secret wish came true just last week. I got to check into Ambong Pool Villas that's currently the #1 traveller-ranked hotel in Langkawi, and listed as one of the 2020 top 25 small hotels in Asia by Tripadvisor's Traveler's Choice Awards. Tucked high in the hills of Pantai Tengah and surrounded by lush rainforest is the Ambong Pool Villas, where I called Villa Malut (or Villa 5) home for two days, perched on the sunrise side of the hill with my husband in tow.
The accommodation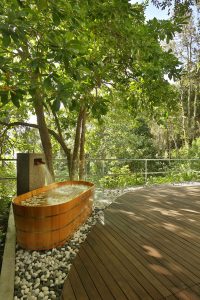 Privacy (and lots of it) forms the basis of Ambong Pool Villa's appeal. Despite being a family- and child-friendly resort, with only nine villas in total and plenty of space between, you'll find that you're in your own little bubble whichever villa you opt to stay in. Villa Malut is a one-bedroom pool villa that's best for travelling couples (families will benefit from the added space and bedrooms of Villa Raya) although the option to add on a single bed is available.
Touches of nature abound here too. And not just in the façade of stark concrete walls constructed in tandem with a 'floating' stairway and other warm wooden finishes. Ambong Pool Villas is sprawled over four acres of hilly rainforest that overlooks the gorgeous and (mostly) calm azure waters of the Andaman Sea. So, although the boutique resort doesn't have beach access, it's more than made up for by the awe-inducing views you get from your private 10-metre-long infinity pool.
Replete with a large outdoor area, Villa Malut's open-air terrace is literally built around a lofty bogor tree, offering guests adequate shade from the scorching tropical sun. While it's said that this villa is the ideal spot to see hornbills and monkeys frolic and feed, we got to see eagles soar high above and even touch its talons into our pool. That, coupled with our view of Teluk Baru and the local fishermen coming and going, were enough to make me happy.
Teeming with quaint little details, I was beyond pleased to find a mini-library in our villa. Never one to turn on the telly while on holiday, I can certainly appreciate tucking into the works of local literary luminaries such as Nobel Prize nominee Cecil Rajendra and Ang Swee Chai. For those more inclined to suspense, John Le Carré will be right up your alley while Paulo Coelho caters to the existentialists.
Overall, however, the villa is furnished with all the creature comforts and modern amenities you could want – like satellite TV, sunbeds, his and hers sinks, a rain shower, al-fresco sunken bathtub, and if that's not enough, an outdoor wooden bathtub too. The kitchenette/bar area even comes equipped with a toaster oven, making mealtimes easy.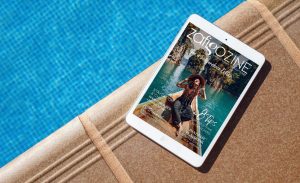 Download our second edition of ZafigoZine for FREE today!
In the #Independence Edition, we give you inspiration for domestic travel within Malaysia – whether you're
taking a road trip to a different state
or
staycationing right where you are and more.
The bells and whistles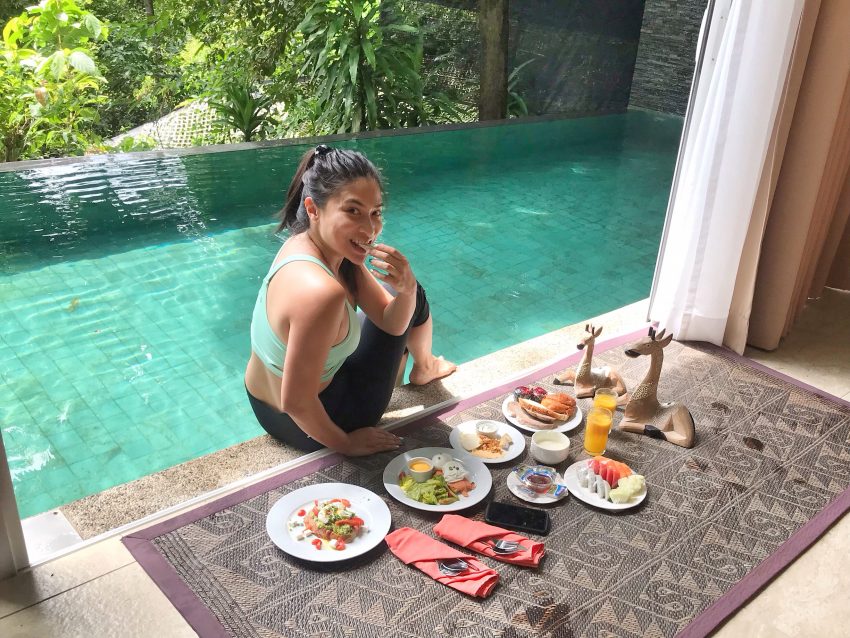 One of the perks of staying in a low-density establishment is the personable and personalised service you receive. Right from the get-go, I was placed in contact with the reservation team via WhatsApp, and upon checking in, given a list of important mobile numbers (for the front desk, restaurant, and so on) that I could reach out to any time. If Cheers were a resort instead of a bar, this would be it. Because here, everyone knows you by name. It's the kind of treatment I'd only ever received at the Four Seasons.
Another (highly important) perk of staying in a hotel that only has nine villas is that it's extremely easy to social distance. Ambong Pool Villas offers contactless check-ins and check-outs, going above and beyond the new normal hotel SOPs. And because each luxury villa is self-contained, there are no common lifts, pools, or centralised air-conditioning that can potentially expose guests to the risks of COVID-19.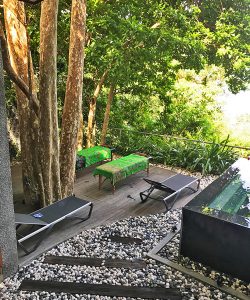 As with any luxury resort, Ambong Pool Villas has an in-house spa. That said, we didn't need to venture far to receive a relaxing massage. In fact, I got to enjoy Ishan Spa's signature treatment – the Immune Booster – right in the comfort of my villa! Simply ring them up and you'll be in expert hands in a jiffy. For one blissful hour shortly after I checked in, I surrendered to the healing touch of Ishan Spa's therapists as they firmly kneaded an anti-microbial and anti-oxidant blend of patchouli and clove essential oils – precisely what any weary traveller needs in this pandemic.
Now, what better way to finish unwinding at the end of the day than with sundowners? Drinks at Ambong Pool Villa's Monsoon Bar overlooking a verdant tree canopy and Pulau Tepor in the distance sure did the trick. The best time to visit is at sunset (around 6:45pm), when an orange-coloured sky creates one of the most stunning golden hour panoramas I'd ever laid eyes on. Then, we headed downstairs to end the day at the highly-rated Rimba Restaurant, where we tucked into their Nasi Goreng Istimewa that offers diners a little bit of everything – fried rice flanked by six of their signature dishes (the squid was to-die-for!).
The next morning, I begin my day with a wonderful hour-long intermediate yoga session over at Ambong-Ambong Rainforest Retreats that's open to all in-house guests. Meditative and thoroughly relaxing, this morning sweat and stretch was the perfect way to kick-start my day. Besides through asanas (postures), there are many ways to practice yoga while travelling, but this session rounded it off perfectly.
Naturally, I'd worked up quite an appetite post-class, but lo and behold – breakfast had been delivered to my villa just a few minutes before I'd arrived back. Yes, to add to their new normal low-risk, little-to-no contact ethos, breakfast can also be served in your villa at no extra charge.
The area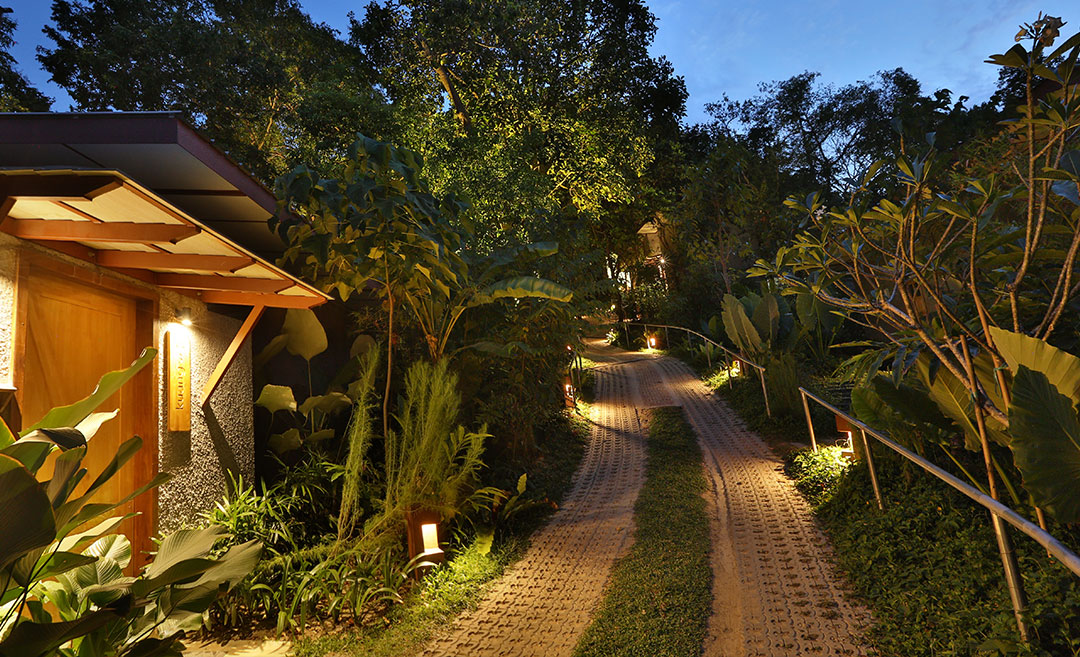 Not too far past the commercialised and busy stretch that's Pantai Cenang, Ambong Pool Villas is situated in the peaceful, more quiet neighbourhood of Pantai Tengah. You'll find numerous places with good food just a stone's throw away. For instance, head to Boat Restaurant for superb Chinese fare (the Guinness chicken is a must) or to the award-winning Unkaizan for the best Japanese cuisine on the island (it's right at the foot of the hill of Ambong-Ambong Rainforest Retreats).
There isn't much to do in the immediate area besides eat, but again, the resort has you covered. For cooking classes and UNESCO Geopark excursions, head over to Ambong Pool Villa's Experiences page to discover more. The hotel will be happy to help with recommendations and bookings that'll help you discover the 'Jewel of Kedah'.
Checking out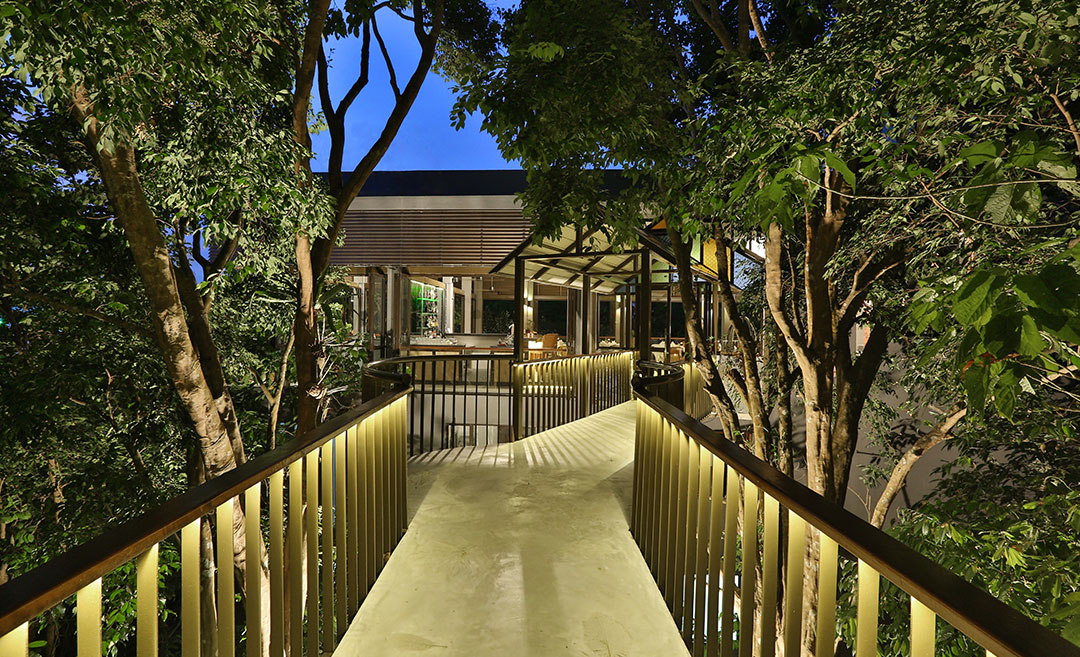 The name Ambong-Ambong is derivative of the name of a tree called Pokok Merambong that's indigenous to the island. Some cultures also believe in this tree's healing properties, which explains why the Ambong Pool Villas and the experience of staying there is as though you're wrapped up in a cocoon of wellness for days.
What started as a holiday home of two chalets quickly turned into two award-winning boutique properties and it's plain to see why. This family-owned and run luxury retreat is a hidden gem within an oasis. Add to that the top-notch service and I can tell you with confidence that I'll definitely be back, and hopefully it's sooner than later.
All images courtesy of Ambong Pool Villas
Follow Zafigo on Instagram, Facebook, and Twitter. Sign up to our bi-weekly newsletter and get your dose of travel tales, tips, updates, and inspiration to fuel your next adventure!