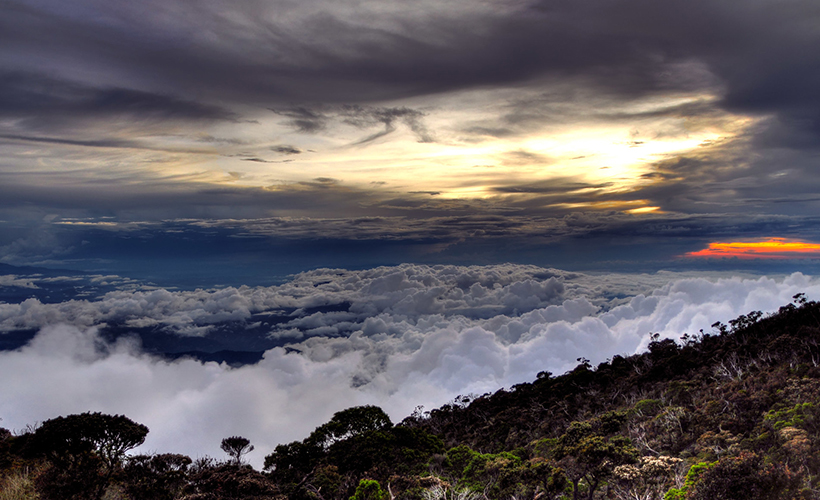 Life's biggest pleasures can be found in the little things – like basking in the glory of Mother Nature herself. With all that's been going on around us the past few months (think pandemic-related lockdowns and fragile mental health), perhaps it's time to engage in the easiest outdoor activity in existence: watching the sunset. 
Within the geographically diverse state of Sabah in East Malaysia, it'd be impossible to refuse an invitation to view a striking sunset in different environments. From mountaintops to ocean fronts and everything else in between, you'll certainly be spoilt for choice. Check out the seven most beautiful sunset-viewing spots in Sabah:
Laban Rata
Bet your top dollar that anyone emboldened to undertake the thrilling quest of conquering Mount Kinabalu will come across the midway point known as Laban Rata. Elevated at approximately 3,272 metres above sea level, this standpoint offers a magnificent and unencumbered view of the sunset floating above a pillow of clouds that creates a cool-toned, luminous effect. It's utterly mesmerising.
Tip of Borneo
As you venture towards the northernmost zenith of Kudat, you're guaranteed to stumble upon the Tip of Borneo (also referred to as Tanjung Simpang Mengayau) – the converging point of the boundless South China Sea and Sulu Sea. Despite the warning sign, tourists sometimes don't refrain from climbing down the slopes towards the rocky shores lined along the edge for a clearer view. With the exception of poor weather days, such a risk is understandable as the majestic, unobstructed sunset scene from an unsullied coastline is tough to turn down.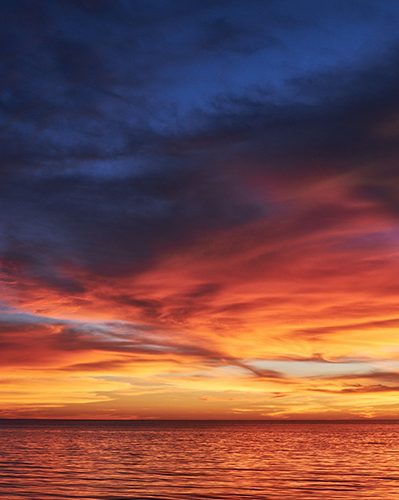 Tanjung Aru Beach
As a popular tourist hotspot, the bustling stretch along the coastal city that's commonly referred to as Tanjung Aru Beach has cemented itself as an iconic place to watch the flaming tangerine-violet hues of the sun going down. Come early to grab a spot either along the sandy shores or at any of the luxurious beach bars (the Kinabalu Golf Club, Shangri-la's Tanjung Aru Resort, or the Kinabalu Yacht Club) for a better look. If the odds are in your favour, you will literally see the sun descend below the ocean line with perfect clarity.
Pom Pom Island
Home to alabaster beaches and dense emerald mangroves is Pom Pom Island, located in the deep Celebes Sea about 30 kilometres north-east outside the town of Semporna. Upon hitching an hour-long speedboat ride to this paradise, you'll be given the gift of privacy and serenity due to its seclusion from the outside world. Feel free to take leisurely walks on the beach or go for a picnic whilst gazing at the breathtaking sunset over turquoise waters. If you're travelling with a significant other, it doesn't get much more romantic than this.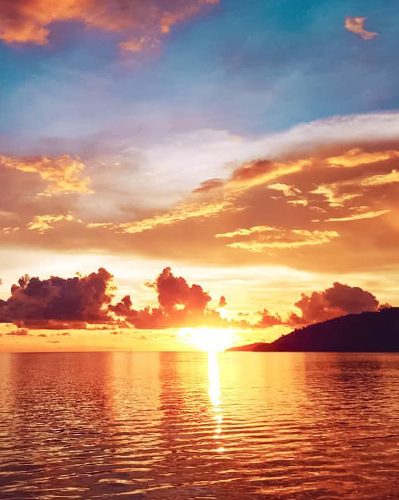 Kota Kinabalu Waterfront 
Contemplating bar-hopping or munching on some scrumptious grub as you feast your eyes on the crimson sunset before dancing the night away? Seated at the southern end of Kota Kinabalu, the famous Kota Kinabalu Waterfront is home to a multicultural row of bars, restaurants, and clubs facing the sea. Built with an open wooden platform to usher in the cool breeze and spectacular view, you needn't escape the city to enjoy this seaside experience. 
Weston Wetland
Ever thought of catching the glowing sunset in a swamp? Instead of heading to a typical sunset spot, get on a river cruise through the murky Weston Wetland. Here, you'll catch glimpses of rare proboscis monkeys and luminous fireflies. Here, a sunset is framed by nipah trees and sparkling, reflective water. However, be warned that the picturesque view lasts for only a few minutes, so be sure to keep your eyes peeled and ensure you're camera-ready as the sun quickly disappears below the horizon. 
Kokol Hill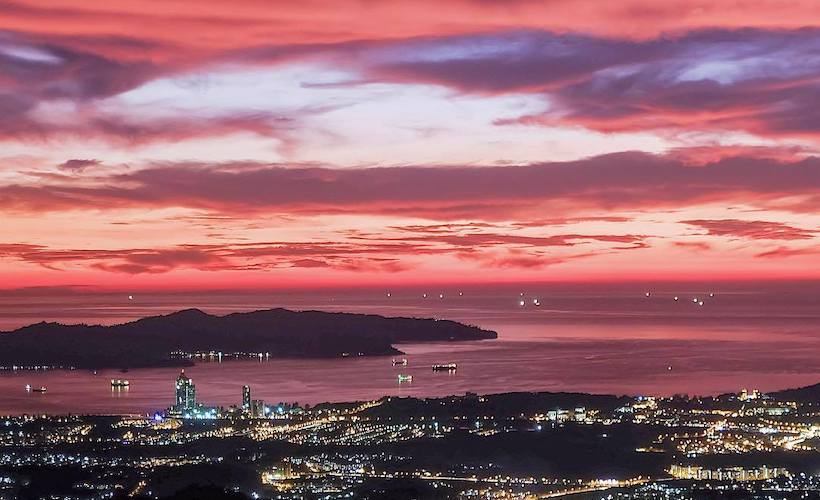 In search of an unimpeded glimpse of a glorious sunset overlooking the city? Embark on a two-hour hike or a 45-minute drive from the concrete jungle that is Kota Kinabalu to Kokol Hill, located in the quiet area of Menggatal. Amid the crisp air and lush hilltop, the panoramic view of the metropolis (and some neighbouring islands) complemented by a fiery sunset is tough to beat. 
Follow Zafigo on Instagram, Facebook, and Twitter. Sign up to our bi-weekly newsletter and get your dose of travel tales, tips, updates, and inspiration to fuel your next adventure! 
[vc_row][vc_column][zf_post_boxes widget_hide_desc="true" num_post="3″ post_id="37873, 37624, 37702″][/vc_column][/vc_row]