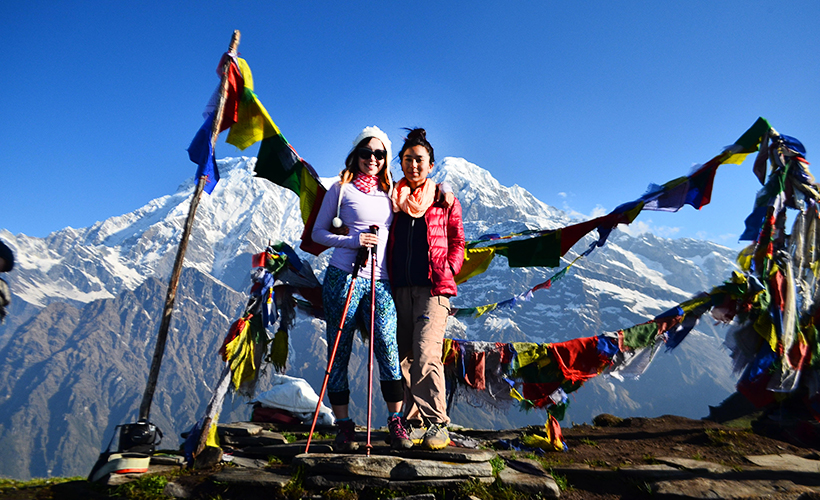 "Twenty years from now you will be more disappointed by the things that you didn't do than by the ones you did do. So throw off the bowlines. Sail away from the safe harbour. Catch the trade winds in your sails. Explore, dream, discover."
This famous quote by Mark Twain is what gives Amalina Davis, a transformation consultant with Sime Darby Property and vice curator cum storyteller at Humans of Kuala Lumpur, her inspiration to travel and explore uncharted terrains – be it trekking in Nepal or scuba diving in Sipadan.
A Yayasan Sime Darby scholar, Amalina started developing her love for both travelling and storytelling while living and studying in Australia and Europe. "During my solo travels, I met and engaged with people from all walks of life. Each person had a unique story to tell. I have learnt so much from these strangers, and I wanted to share those lessons with others as well. I have always been a follower of Humans of New York, so when the idea of Humans of Kuala Lumpur came up, my gut feel insisted that I join the team and work toward growing the platform. I love writing and engaging strangers, and Humans of Kuala Lumpur is the perfect match!"
Not the one to shy from adventures, she has trekked the Mardi Himal Trek in Nepal on a solo travel adventure after her fellow companion fell sick and had to turn back for medical attention. "You never know how strong and capable you are, until it is the only choice you have. Keep testing your limits and have faith that you'll make it through," she says, agreeing that more than the view, it was finishing the hike that was her true sustenance.
Recently, the travel enthusiast spent a month at Imbak Canyon Conservation Area, Sabah studying the rich biodiversity of the tropical rainforest and as treat after, rewarded herself to a diving spree at Mabul island. We speak to the nature lover about her adventures in the vast green canopy.
Understanding the science of nature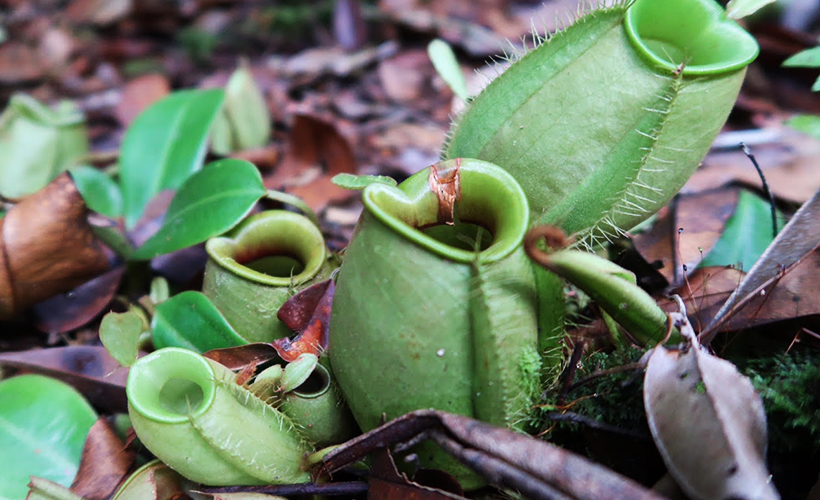 Located in the heart of Sabah, the Imbak Canyon Conservation Area consists of 30,000 hectares of undisturbed forest reserve and is recognised as a prominent global genetic seed bank. Not only is the forest reserve extremely rich in plant biodiversity, it is home to several animal and bird species including orangutans and the Bornean blue flycatcher, attracting the attention of scientists, conservationists, wildlife photographers, bird watchers, and visitors who are keen to experience the wilderness of Borneo's rainforests.
A management trainee programme with her corporate firm took Amalina to Imbak Canyon to study the wealth of biodiversity of a tropical rainforest. "I have always had a love for nature, but I didn't understand nature from a scientific point of view. This was a chance to do that."
For a month, Amalina and her colleagues, spent time living with the field scientists from the United Kingdom (UK) who who were conducting research on mammals, insects, plants and carbon. "We followed them to collect data, trekked through challenging terrains for hours just to get there, set up mammal and insect traps, electrocuted fish, and collected leaf litter. Every bit of research we did was an eye opener and made me realise how little we know of our biodiversity, and the effort that goes into studying these complex ecosystems. I have come to appreciate the dedication that botanists and zoologists put in for the betterment of humankind."
Disconnecting from the concrete jungle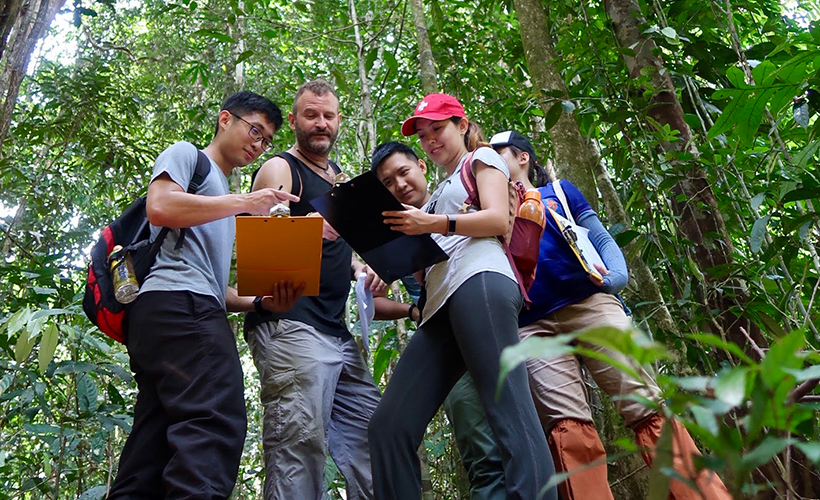 "In cities, we have 24-hour access to internet and Wi-fi. Problem-solving is merely a few clicks away. Despite the connectivity channels that surround us, living in the forests for a month has actually made me realise how disconnected from nature and ourselves we truly are," says Amalina.
The adventure junkie recalls what a busy day in the forest looks like. "Instead of waking up to urgent emails and deliverable reminders, you wake up to a beautiful sunrise. This is followed by some yoga and exercise, a simple breakfast, morning walks for bird watching, and plant identification. Evenings are reserved for hikes to waterfalls, getting caught in thunderstorms, playing sports with the local community on good weather days, deep conversations against the backdrop of a setting sun, night walks to see nocturnal animals, catching up on a good book, and going to bed by 10pm, an hour some urbanites find themselves still caught in meetings."
Not having a phone or internet connection was initially a struggle, even for nature-loving Amalina. "But once you take away all those distractions, you start to connect with a deeper part of yourself and the people around you."
Prepping for your green adventure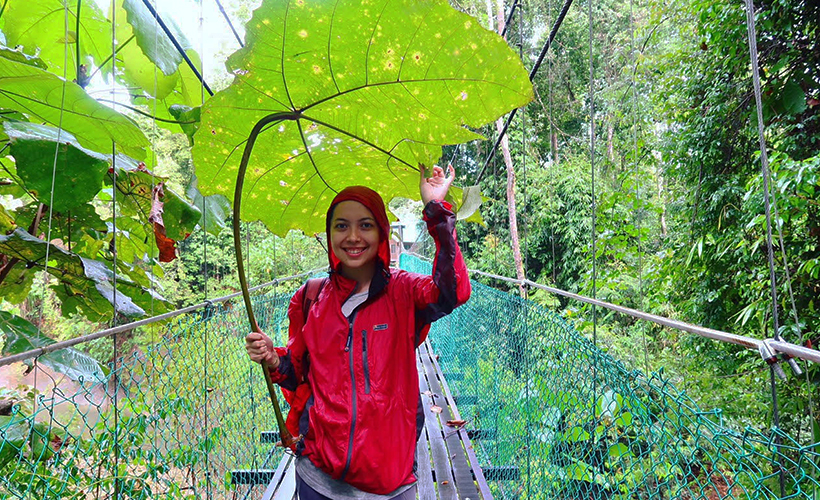 A nature retreat is always a welcome option travel getaway for many and women are increasingly exchanging their luxury holiday ideas for an adventurous trek or exploring roads less taken. While Amalina attests that such trips are an absolute must-do, she adds that women travellers should maintain caution and avoid venturing alone into jungle at all times. Best to take a local guide with you who is well aware about the challenges that you might face in a forest. When you are lost on a hike route, the best tip is to turn back, and trace your steps on a path you already know – especially if it is getting dark.
Packing right for such adventures is critical to avoid a last minute scampering situation. Luggage must-haves should include long-sleeved shirts (to protect yourself from insects), loose fitting clothes (helps with ventilation), Adidas kampung (cheap black rubber shoes made in Malaysia that have excellent grip for muddy jungles), insect repellent, sanitation and bathroom kit (preferably with eco friendly products), and a notebook to journal your adventure.
The busy jetsetter who was recently also a part of the Global Shapers Asia Pacific Conference in Bangkok says that travelling through parts of South America is next on her travel bucket list. And yes, that involves quite a bit of trekking through the Amazon forests and Andes mountain ranges.
Get all the latest travel stories from Zafigo. Follow us on Facebook, Twitter, and Instagram.