It goes without saying that these days, people are more concerned about environmental issues than ever before — which is a great thing! There are many simple ways to live greener, more sustainable lives. What's better is that brands and businesses are taking action in this regard too.
Fast Retailing's sustainability goals and focus on zero waste and marine conservation inspired Uniqlo Malaysia to start two projects in Terengganu earlier this year to help combat environmental pollution and enhance the state's infrastructure for waste management.
To help communities keep their beaches litter-free, the Adopt-a-Beach initiative teaches them how to properly collect and sort trash for recycling. Meanwhile, the Plastic Upcycling Livelihood Project (PULP) aims to help residents launch a small social enterprise to upcycle plastic waste into useful products.
Adopt-a-Beach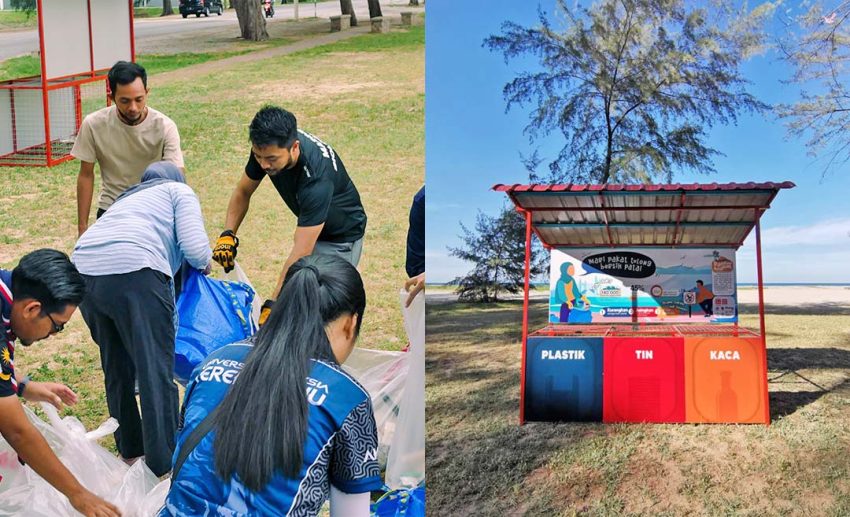 Regular beach cleanups and the installation of recycling stations at 'adopted' beaches are two of the core activities of the Adopt-a-Beach programme. In collaboration with the Faculty of Science and Marine Environment at Universiti Malaysia Terengganu (UMT), local communities, including Uniqlo customers, will be asked to engage in regular beach cleanup efforts. Uniqlo has donated AIRism t-shirts to keep volunteers cool and comfortable during beach cleanups in hot, humid conditions.
Uniqlo Malaysia also sponsored 10 recycling stations with three bins each for plastic, tin, and glass recyclables to enable beachgoers to properly sort and dispose of their garbage and waste. In collaboration with Majlis Bandaraya Kuala Terengganu (MBKT, Kuala Terengganu City Council), these stations will be dispersed along the coastlines of beaches that have been 'adopted'.
Plastic Upcycling Livelihood Project (PULP)
To promote PULP, Uniqlo Malaysia has sponsored a plastic upcycling machine, which is currently in the care of the UMT Faculty of Science and Marine Environment for the purpose of experimenting with the products it can produce.
Next, workshops will be held to teach the community members how to run the machine, and Uniqlo will assist them in establishing a small social enterprise to upcycle plastic garbage into usable goods like plant pots and coasters. This upcycling initiative will make use of plastic garbage collected from the Adopt-a-Beach programme and the Uniqlo Kuala Terengganu City Centre shop.
Uniqlo's collaboration with UMT includes a youth outreach event that ran in June at the university's varsity field. The purpose of the event was to increase adolescents' understanding of the ocean in Terengganu and encourage them to have a good impact on the marine environment.