Subscribe to our new 

Telegram

 channel for the latest updates.
Kuala Lumpur (KL) is a bustling city, with a hedonistic night scene to boot. From speakeasies to rooftop taverns to poolside bars, the capital has them all! This list features the crème of the crop, showcasing eclectic interiors coupled with opulent atmospheres. Of course, they each serve up delicious cocktails made by award-winning bartenders. Some of these bars are even hidden in the most creative way possible, true to the purpose of speakeasies back in the day. Just remember to drink responsibly, adhere to CMCO SOPs, and don't drink and drive. Read on to take your pick on where to head to this weekend: 
1. Three X Co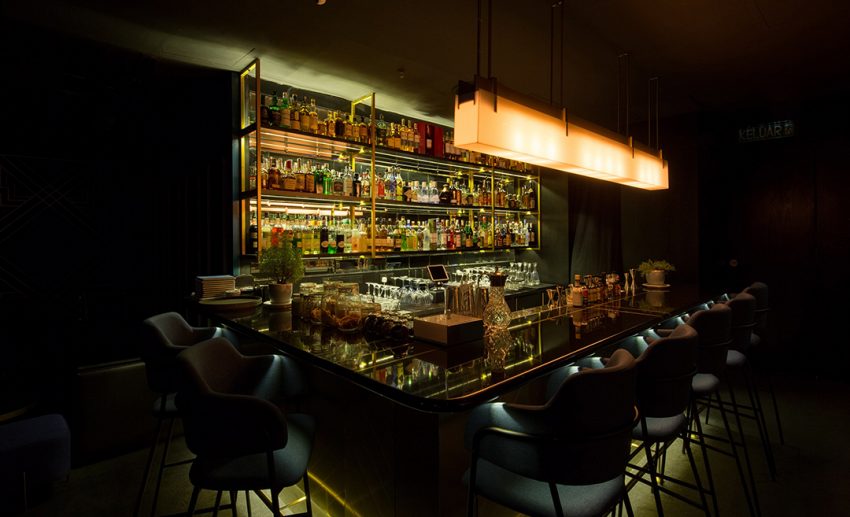 Having been in KL's bar scene for some three years now, this bespoke bar is tucked away in a secret location within Bangsar Shopping Centre and can be accessed through a gentlemen's pop-up barbershop. It's the brainchild of three friends alongside mixologist extraordinaire David Han – Asia's first World Champion of the Giffard West Cup 2017 competition.
Once inside, you'll see that the interior of Three X Co is inspired by The Great Gatsby. Leather furniture and dim lighting set the gentlemen club vibe here. Stylish decor in dark blue shades with hints of gold can be seen across the bar, which also lends a touch of class and warmth.
As for cocktail offerings, David Han impresses with specially-crafted drinks. Signature cocktails are classified as 'Our Cockytails' and include Eastern Poem, Blushing Melon, and Balik Pulau to name a few. All of these are oriental-inspired with key ingredients such as traditional Chinese Pei Pa Koa and ginseng in Eastern Poem to Balik Pulau's forgotten fruit – nutmeg, and Blushing Melon's winter melon tea. Other must-try cocktails would be Angers Potion and To Beatles, which are classics with a twist. Customers can opt to have a bespoke cocktail if they want something more personalised. 
Hours:
Open
Monday to Saturday. 5pm to 2am (RMCO hours: 5pm to 11:45pm).
Address:
Bangsar Shopping Centre, Lot T6A, Level 3, 285, Jalan Maarof, Bangsar, 59000 KL.
Telephone:
019-3366031 Email:
threexco@gmail.com
Facebook | Instagram
2. Pawn Room
In Taman Tun Dr Ismail (TTDI), an affluent township, lies the first Barter Bar in Malaysia. Pawn Room – a 1920s Shanghai-inspired speakeasy – was established by the same team that founded Private Room, a speakeasy wine bar. Known as 'The Paris of the East, the New York of the West', Pawn Room evokes an era that once was, and you will be immediately transported upon entering. 
Ascend two floors, and a series of deposit boxes welcome you as the doorway opens up to a crimson-hued room with a bathtub. As odd as it seems, it also doubles as a great spot to snap some cool photos. Upon entering, beautiful umbrella lanterns can be seen suspended, while antique items and classic rattan chairs, vintage film posters, and traditional medicine cabinets adorn the space.
Resident mixologists Sepet, McKay, and Janice Lau are known for their wicked cocktails, from presentation to taste. Savour a drink or two as you enjoy live music performances by both local and international musicians on selected evenings. 
Hours:

Mondays to Thursdays (5pm to 1am), Fridays to Saturdays (5pm to 2am).

Address:

46, Persiaran Zaaba, Taman Tun Dr Ismail, 60000 KL.

Telephone:

013-4838863

Email: thepawnroom@gmail.com
Facebook | Instagram
3. Soma Cocktail Bar

 
Another TTDI watering hole is Soma Cocktail Bar. The bar was established in December 2018 by a group of friends and is inspired by dystopian novel Brave New World by Aldous Huxley written in 1931. 
Lounge comfortably and indulge in an array of concoctions by one of the accomplished founders of the bar, Jason Julian. Bestsellers include tea- and gin-based ones such as Earl De Grey, which is infused with gin and serves as a refreshing starter with floral taste notes. For something tropical with a punch, the Yuzu Sour is a go-to with citrus peels that enhance the Yuzu. For something on the soft side, the sweet Guava Get Over You does it. Not overly-sweet, the gin-based guava cocktail is infused with fragrant basil and guava pickles. 
Soma is also known for its trio cocktail selection called 'The Risk Taker', where customers get three random cocktails for RM100. A total steal and a lot of fun. Tipples aside, another must-try here's the alcoholic dessert Tau Fu Fah, reminiscent of the soybean-based treat. The big difference is that this Tau Fu Fah contains rum, and customers can opt between the ginger syrup or brown sugar syrup. 
Hours:

Monday to Saturday (6pm to 2am) and Sunday (6pm to 1am). RMCO hours: 5pm to 11pm.

Address:

145A, Jalan Aminuddin Baki, Taman Tun Dr Ismail, 60000 KL.

Telephone:

011-36690879 Email:

soma.beakers@gmail.com
Facebook | Instagram
4. Kenshin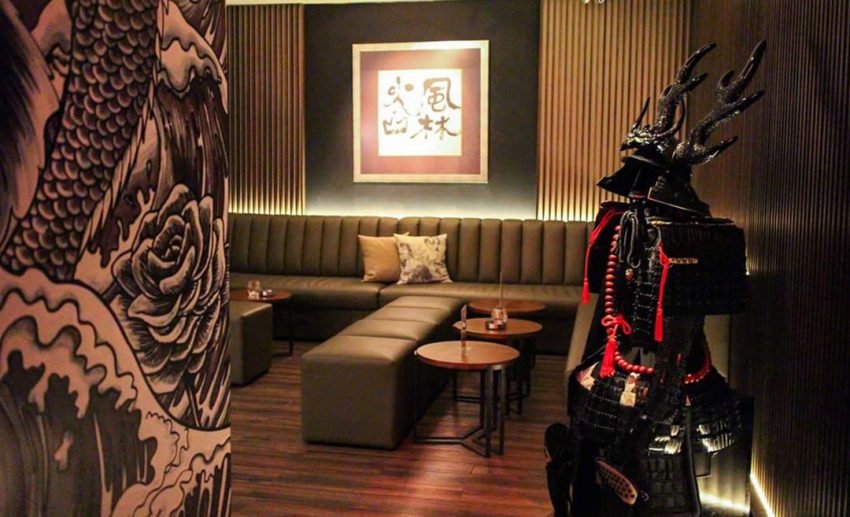 Known for its Japanese and Scottish whiskeys and sake, as well as staple Southeast Asian flavours (that pay tribute to Borneo and Indonesia), Kenshin at The Intermark is a lovely place to indulge in an array of poisons with a view to marvel at. Located where Tate once was, the Japanese-themed bar draws inspiration from a prominent samurai shogun, one with exemplary traits as a warrior.
Upon entering the dimly-lit entrance of Kenshin, you'll be greeted with a splendid motif with 'Carps Leaping Over Dragon's Gate' – a familiar expression that symbolises high ranks and success based on the Chinese mythology. Pick your poison for the night and enjoy the view that Kenshin offers. If you're looking to host a little get together, do consider Kenshin's private room.
Hours based on CMCO:  Monday to Friday (3pm to 10pm) and Saturday (5pm to 10pm). Closed on Sunday. 
5. Concubine KL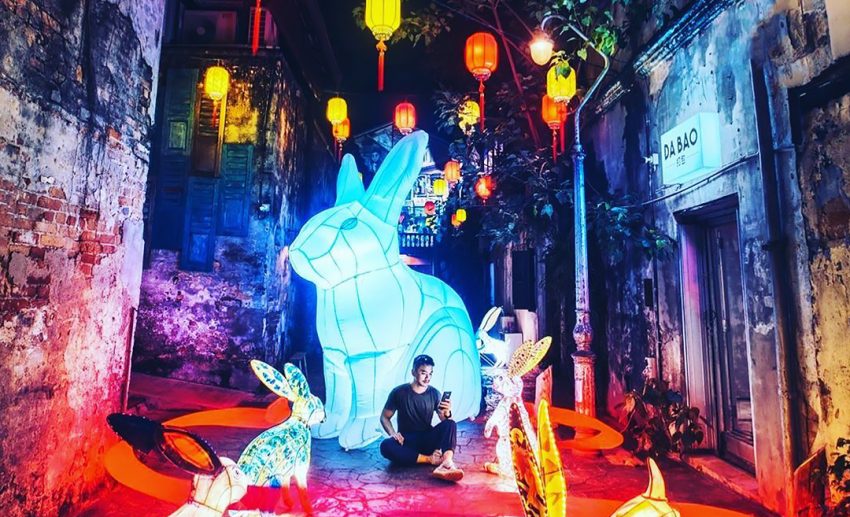 With its old-fashioned walls and original wooden structures, Concubine will have you reliving the past with its nostalgia-infused environment. Consider it an urban reinterpretation of Chinatown with a splash of colour. Inspired by a group of women from the concubine era, the murals are seen to empower the modern women of today – independent, multifaceted, and unapologetic. 
With small plates (skewers, dumplings, and salads) and cocktails that illustrate an Asian identity, take your pick and work your way through the menu. From the popular bunga kantan used in a cordial form in the ginger-torched flower with Aperol to asam keping-infused roots cocktail, and the most popular of the lot – Minyak Cap Kapak! You heard that right, the household medicated oil is now a minty concoction. Those in the mood for something stronger can opt for a list of spirits, wines, and beers.  
Hours:

Tuesday to Friday (11:30am to 10pm), Saturday and Sunday (11:30am to 12pm). Closed on Monday.

Address:

Lot 2, Jalan Panggong, City Centre, 50000 KL.

Telephone:

014-7112185 Email:

info@concubinekl.com
Facebook | Instagram
6. Rentak
Alexa, play 'Rhythm of the Night' by DeBarge. Why? Rentak translates to 'rhythm', and this bar is all about that. It's an artsy cocoon inspired by private parties held during the '70s in New York, brought to life by four friends who intend on bringing a new concept to the nightlife scene. Rentak is an ode to tunes from decades ago as well as small get-togethers.
Murals seen at Rentak are an exact representation of Malaysia's multicultural community. Synonymous with the private parties of the 70s, stacks of vinyl records alongside turntables and its decks are on display. As for drinks, Rentak has a slew of mixes to tempt you: Joget, Fela, and 808 are highly recommended and feature key ingredients found in most Malay, Nyonya, and Indian kitchens.
Hours: Thursday to Sunday (4pm to 10pm). Closed on Monday and Tuesday.

Address:

Rentak, Above ETC cafe, 198, Jalan Tun H S Lee, 50000 KL.

Telephone:

012-6086065 Email:

rentakbar@gmail.com
Facebook | Instagram
7. Vertigo

 
Fancy a glass of wine with the Petronas twin towers as your view?  At Vertigo, perched atop the 59th floor of Banyan Tree Kuala Lumpur, you can fill your gastronomic desires and enjoy an unhindered panorama of KL's skyscapes. 
Mixologists at Vertigo will have you sipping on cocktails influenced by staple Asian ingredients. Signature cocktails include Asian Lady and Hawaiian, both of which see fresh coconuts and pineapples as their key ingredients. The former has hazelnut liqueur as its base, while the latter is gin-based.  Feeling peckish? Pair your drinks with Vertigo's Southeast Asian-inspired tapas.
8. Marimbar, The Rooftop Bar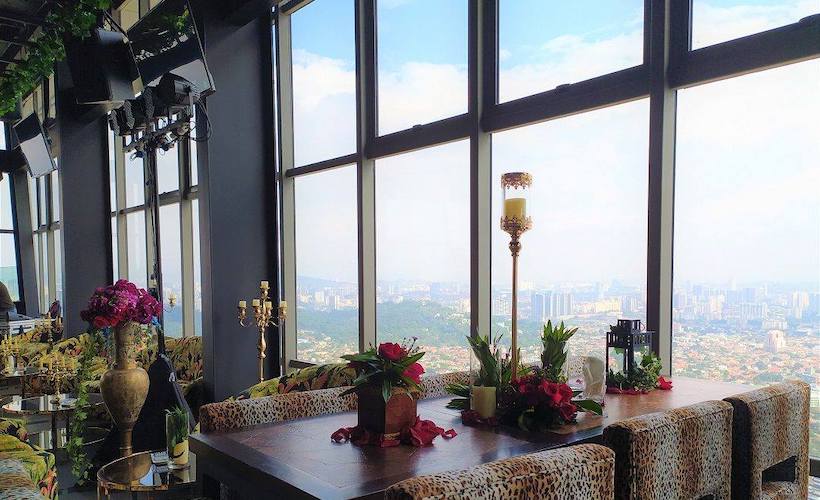 Marimba is a combination of owner Modesto Marini's surname, the Malay word 'rimba' that translates to jungle, and the word 'bar'.  There you have it, Mar-rimba-bar! Offering a bird's eye view of Petaling Jaya, Marimbar is strategically situated on the 35th floor of Pinnacle PJ Tower A. As you step into the jungle, you're greeted by cool cocktails, groovy music, and undeniably good Italian food. A spacious venue with decor befitting its jungle theme, expect green and splashes of animal prints.
They have an extensive menu with a happy hour from 3pm to 6pm, offering premium spirits and signature cocktails such as The Red Rimba and Jungle Rose, both of which are gin-based.  These have fruity taste notes to it thanks to the former's raspberry puree and lemon juice, and the latter's cranberry juice. 
Hours:

Monday to Saturday (4pm to 10pm). Closed on Sunday.

Address:

  Level 35, Pinnacle PJ Tower A, Lorong Utara C, PJS 52, 46200 Petaling Jaya, Selangor.

Telephone:

03-23866030  Email:

reservations@marinisgroup.com
Facebook | Instagram



9. B.A.T.S.
Nestled along the row of shops in Telawi, Bangsar lies B.A.T.S. – an acronym for Bar at Telawi Street. From its cosy and welcoming interior to seriously delicious food, they also have a grand piano and a small stage for a performance on weekends, when a resident pianist and singer entertains the guests. 
Of course, the reason behind this emphasis on music is obvious. One of the co-owners of this snazzy nook is Malaysian Idol Season 1 winner Jaclyn Victor.  If you're lucky, you may be able to catch the songbird in action. If you're luckier, she'll even sing you 'Happy Birthday'. This bistro promises hearty meals as you enjoy a pint or two. These include western foods such as pizzas and tapas, local fare, and an assortment of cocktails. 
10. Circa
Access this hidden gem of a bar via a hole in the wall and up a winding staircase. The fun doesn't stop there, because weekly passcodes are given out through their Instagram feed to unlock the bar's door. It's really a speakeasy gone digital. Circa's interiors, however, will transport patrons to early 1930s Paris with art deco fixtures featuring gold, taupe, and silver.
Try signature cocktails such as The Edison and Yuan Dynasty. The Edison is a combination of butterfly pea with kantan-infused gin, rose extract, and cane syrup. Meanwhile, Yuan Dynasty is a warm brew of Hennessy VSOP, oolong, and osmanthus syrup marinated in orange peel and pandan leaf. 
11. House of Lulu
A cute-sounding, casual day-to-night dining spot, House of Lulu turns it up a notch with its drinking experience after dark. In the day, Nyonya-themed space will have you spoiled with some delicious brunch options, and you'll love the friendly alcohol-infused drinks that are perfect for day drinking. When picking your poison, make it the Ondeh Cloud – pandan, gula melaka, and coconut with a gin base and hints of lime. 
It seems like spiral steps are a trendy thing when it comes to bars; you'll find the same at House of Lulu. This stairway doesn't lead to heaven, but to a cosy room for more privacy, as you catch up with friends at the bar and have a mixologist at your service. Seems pretty close to heaven for us. 
+++
All photos courtesy of the respective bars.
Follow Zafigo on Instagram, Facebook, and Twitter. Sign up to our bi-weekly newsletter and get your dose of travel tales, tips, updates, and inspiration to fuel your next adventure!