Celebrated during the full moon in the 10th month of the Hindu calendar, Thaipusam is a colourful affair. The day is observed as a tribute to Lord Murugan, a Hindu warrior God who stayed three evil demons.
Many from all around Malaysia and the rest of the world used to flock to Kuala Lumpur (KL) to participate in the procession and visit Batu Caves. We're talking up to well over a million people! But since COVID-19 began, we saw a year where Thaipusam was prohibited from being celebrated the way it used to be and another year of strict SOPs.
But things are looking up again this year.
One of the most important Hindu festivals, and a major event in Malaysia's cultural calendar, Thaipusam symbolises the triumph of good over evil. This year, it falls on 5 February, and if you're visiting KL during this time, make sure to fit in a day at Batu Caves, where the country's biggest Thaipusam celebration takes place. If it's your first Thaipuisam at Batu Caves, read this before you go.
Why Batu Caves?
Located 13 kilometres north of Kuala Lumpur, Batu Caves is a limestone outcrop comprising a series of caves, within one of which is the Sri Subramaniar Temple, a sight to behold with stalactites that shimmer when the sun streams through the opening. Sitting at 400 feet above ground level, it is considered one of the holiest Hindu shrines in Malaysia.
During Thaipusam, devotees converge here bearing offerings that they carry up 272 steps from the foot of the cave, where an imposing 42.7 metre-tall statue of Lord Muruga stands.
Tip There will be a special lane for kavadi (a decorative, heavy structure) bearers heading up to the temple. Don't get in their way!
Does the entire celebration take place at Batu Caves?
While Thaipusam is marked as a one-day public holiday in Malaysia, the festival actually takes place over four days, and begins with a chariot procession from the Sri Maha Mariamman Temple in Kuala Lumpur. There will be two chariots this year: A golden one for Lord Ganesha, the god of prosperity and fortune, and a silver one for Lord Muruga.
The chariots, elaborately decorated and lit up brightly, make for a grand sight. Some devotees will take the opportunity to offer fruits, flowers and milk while others may smash coconuts on the ground (to represent eliminating ego and pride) as the chariots pass.
Tip The chariot procession will start at 10pm on 29th January and is expected to reach Sri Subramaniar Temple by 2pm the following day. Even if you miss the starting point, there are plenty of opportunities to catch the chariot during its 16-hour journey across the city.
How do I get to Batu Caves?
With the huge crowds and some roads in the area closed to traffic, driving or even taking a taxi there is not advisable as you'll inevitably get caught in the congestion. KTM Berhad, the local train service, has a station that's conveniently located within easy walking distance of Batu Caves. Trains run every 15-20 minutes and what's more, during Thaipusam, service is available 24 hours.
Tip Make sure to get return tickets so you don't have to queue again on your return trip.
What time should I head to Batu Caves on 5th February?
The train ride from KL Sentral to the Batu Caves station takes about 30 minutes, and a good time to leave Kuala Lumpur is at 4am so that you can get there before sunrise. Expect to walk a lot and spend most of your time outdoors; there's little shade aside from the temple and caves. Once the sun is up, the heat won't be kind and you won't last long outdoors.
Tip Upon reaching Batu Caves, make your way to Sungai Batu that's a few hundred metres past the temple. This is where devotees start their preparations, cleansing themselves in the river before getting into a trance, after which piercings and kavadis are affixed – without drawing blood.
I read that some Hindu temples will close that day due to the lunar eclipse. What about Batu Caves?
On the years that Thaipusam coincides with a lunar eclipse, indeed some Hindu temples will choose to close. However, Batu Caves usually remains open throughout. To negate the impacts of an eclipse, a special prayer known as Parihara Pooja is normally held.
I've seen countless photos of Thaipusam at Batu Caves online. So photography is permitted everywhere?
There are no restrictions on photography. In fact, you'll probably find many willing 'models' among the devotees and visitors! Generally, the mood is jovial and friendly. Every kavadi bearer is supported by a team of family and friends, who are mostly welcoming when visitors ask to take photos.
Tip You'll be tempted to snap away nonstop; but be careful not to encroach on someone's personal space. Always ask first if you intend to take close-up shots. Note that the kavadi bearers will be in a trance and therefore, not able to communicate or even notice you. Check with the people accompanying them.
Can I follow the kavadi bearers as they walk to the temple?
Yes, you can. From the riverbank, they will begin their very, very slow treks to the temple, stopping frequently to rest. It's amazing to watch the teamwork surrounding every kavadi bearer; one will carry a chair that is whipped out each time the bearer needs to rest, another may ply him with water or help wipe away sweat, and others play traditional music or dance. Each group is a colourful, vibrant little party on the move.
Tip The route includes a winding stretch of elevated highway that will be closed to traffic. Wide roads devoid of cars with sunny blue skies – and when you get near the temple, imposing limestones – as the backdrop makes for some pretty memorable photos. Park yourself along this stretch or trail the kavadi groups.
Will I be pushed and jostled around in the crowds?
Make no mistake – the crowds will be massive. But people are generally well-behaved, so things move about in an orderly fashion. Just go with the flow, be patient and remain vigilant of your surroundings.
Tip A sling bag is better than a backpack, so you don't risk bumping into the people behind. It also lets you access and check on your belongings more easily.
Are there places to eat at Batu Caves?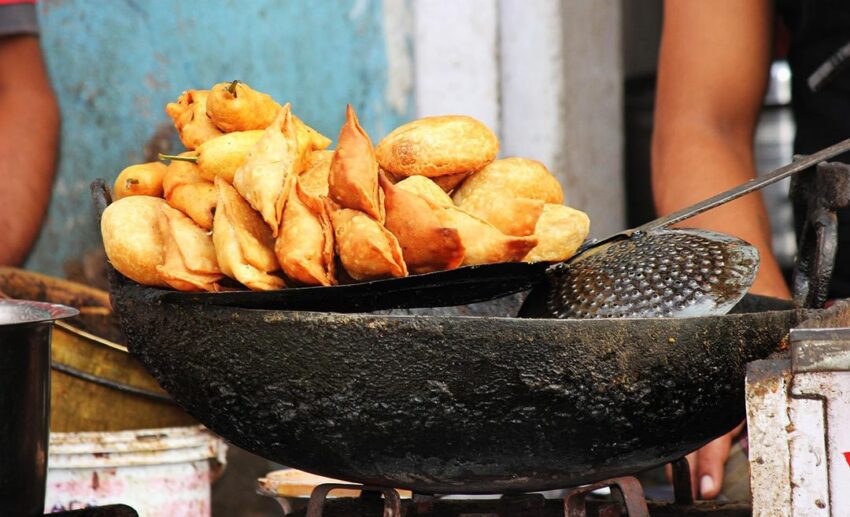 From the minute you step out of the train station, you'll be greeted by rows of stalls selling vegetarian food and drinks.
Tip Take the opportunity to try a variety of popular Indian snacks and traditional cuisine.
How should I dress?
Comfort and ease of movement should be your priority as you'll be walking for hours; and under the sun too. Also remember that it's a sacred festival, and that you'll be entering temple grounds at some point, so dress respectfully.
Tip Shoes are not permitted inside the temple, you'd have to leave them outside the entrance or at the bottom of the stairs. But with the big crowds, there's a chance you won't find them again! Wear flip-flops that you can quickly stash into your bag or bring an extra pair.
What about washrooms?
There are portable toilets placed at several convenient locations.
Tip Bring tissues and wet wipes or hand sanitisers.
Editor's note: This article was originally published on 26 January 2018 and has since been updated.