Even though most of us won't ever scale to the top of the world's highest peak, there's not doubt that some of us still carry the ambition to at least make it to Everest Base Camp one day. And for any mountaineer, travelling to the Himalayas is always a goal, even if to just catch a glimpse of Mount Everest, or Jomolungma (Sagarmatha) in the local language, from a distance.
But to see the legendary mountain, there is no need to master mountaineering and climbing because the grandiose peaks can be quite accessible by means of ordinary trekking.
Mount Everest, 8,848 metres high, can be reached from two directions — the North and the South. The northern route lies within the territory of Tibet, while the southern route lies within Nepal.
Everest Base Camp Trek tours in either direction are attractive and exciting. They have stunning sites along the way and plenty to offer. Here's what to expect, depending on which direction you decide to head to base camp, which is an achievement in itself!
Here are three things to consider and keep in mind to ensure you can make the most of your trek to the literal top of the world. It's sure to teach you many lessons.
First, pick your route — north or south?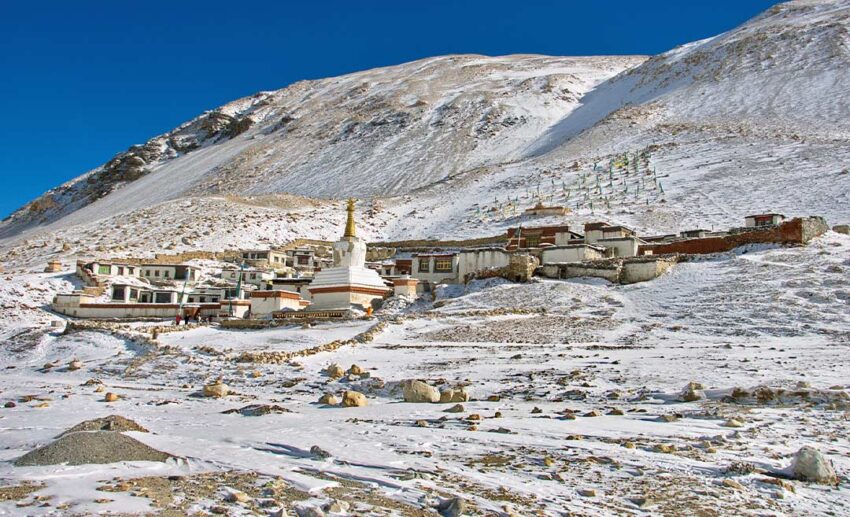 Tibet Everest Base Camp (North)
Everest North Base Camp lies on the territory of Tibet at an altitude of 5,150 metres above sea level. You can get there either on foot or by car. From Lhasa, a road called the Friendship Highway leads to the Tibet Everest Base Camp, but you'll require access from the Chinese government, which is relatively easy to obtain.
Pros of heading to Everest Base Camp from the north:
The Everest Base Camp in Tibet is much easier to reach and visit.
You can embark on the Tingri trail to Everest Base Camp Trek from the northern side, providing access to the legendary Rongbuk Monastery.
Alternatively, you can opt to take the Gama Valley trek on the eastern slope of Mount Everest.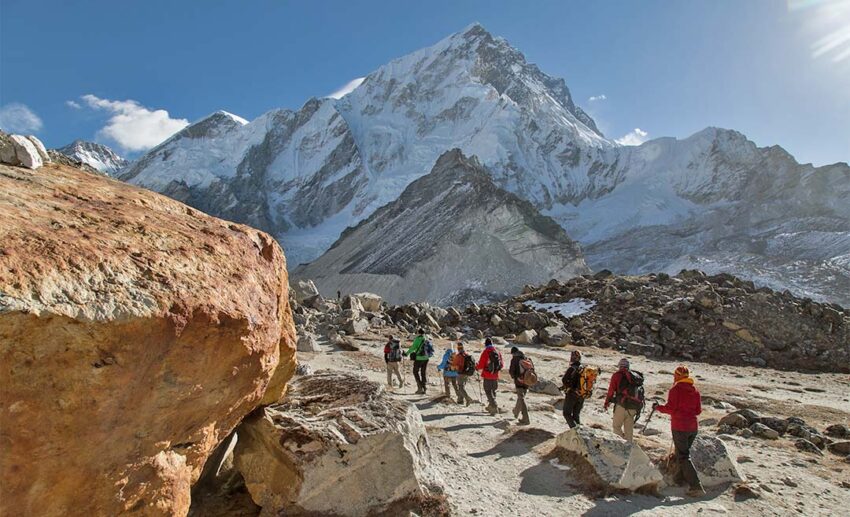 Nepal Everest Base Camp (South)
The southern base camp of Everest lies on the territory of Nepal at an altitude of 5,364 metres above sea level. Unlike its northern counterpart, it's a more popular option among tourists because it can be reached on foot. The route to Nepal Everest Base Camp is considered one of the most beautiful hiking routes in the world!
Hikers pass through several climates along the way, from the colourful Nepalese tropical jungle to rocky cliffs and icy glaciers of the high mountains. The route mostly follows the rushing mountain river Dudh Kosi, which has evolved into beautiful canyons in the cliffs of Sagarmatha National Park over millions of years.
Pros of heading to Everest Base Camp from the south:
You can take an Everest Base Camp helicopter tour in Nepal. A private Everest helicopter tour costs approximately USD4500 while joining a group flight costs around USD999 (roughly RM21,000 and RM4,700 respectively).
You can embark on the challenging Everest Three Passes Trek, offering breathtaking views from Renjo La, Cho La, and Kongma La passes.
You can also explore the Gokyo Lakes Trek in Lukla that leads you to the mesmerising beauty of turquoise lakes.
Several routes to Nepal Everest Base Camp vary in difficulty and duration. Everyone can choose their favourite one, depending on their physical fitness and availability of free time.
The easiest route to Everest Base Camp can take about two weeks and is a round trip through Tengboche Monastery to Nepal's Everest Base Camp and back. The most popular and perhaps the most beautiful is the trek to Nepal Everest Base Camp via Gokyo Lakes and Cho La summit pass. As part of this route, you can climb to the summit of Kala Patthar, watching the sunset and admiring the golden peaks of Everest in the rays of the departing sun.
Needless to say, all the treks feature the amazing and unique Nepali culture. Plus, many of these Nepali sacred temples, chapels, and Buddhist stupas are set against a backdrop of majestic mountains. And you don't need to be a mountaineer. The routes are designed for ordinary hikers and are accessible to almost everyone.
Next, prep for extreme weather conditions at Everest Base Camp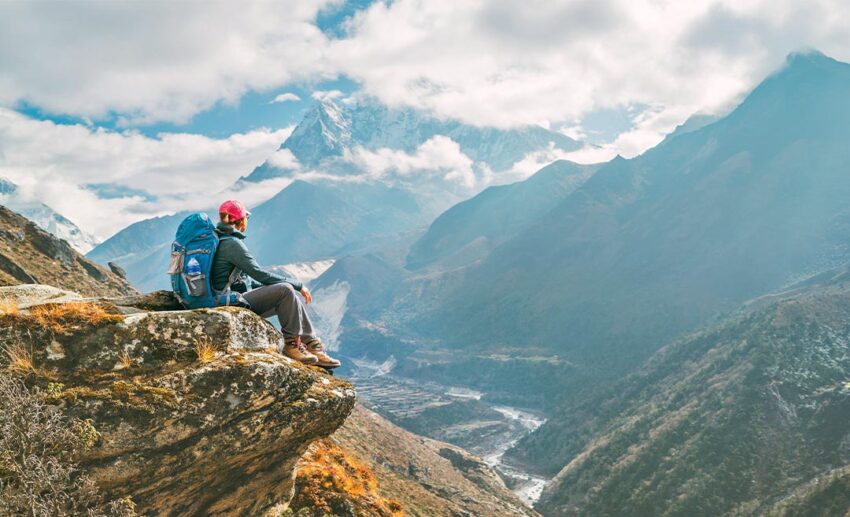 The weather conditions at this altitude are quite extreme due to the high altitude and mountainous climate. The last thing you want to do is be ill-prepared or make a mistake while trekking to Everest Base Camp. So here's what to expect in a nutshell:
Low temperatures. Even in summer, daytime temperatures can rise to just zero or a few degrees above zero Celsius. At night, they can drop to -10°C or even lower.
Strong winds. Winds at this altitude are often strong, making it feel even colder. Wind speeds can reach significant levels, so bundle up well.
Rapidly changing weather. Everest weather conditions can change in a flash, from clear skies to overcast and back. Both sunny weather and snowfall can be expected in a single day.
Strong sunlight. Due to the high altitude, the sun's rays become more intense, increasing the risk of skin burns.
Low oxygen. The air at this altitude is much thinner, causing the oxygen content to be lower. This can cause fatigue, headaches, and other symptoms of mountain sickness.
Snow and ice. Even during the summer, snow/ice can be encountered at Everest Base Camp, especially at higher elevations.
Acute temperature changes. Temperatures can fluctuate significantly in a single day, greatly affecting your comfort.
Travellers wishing to visit Everest Base Camp should be prepared for extreme weather conditions, have the proper gear, and follow safety precautions to avoid the negative effects of a high altitude and unpredictable weather.
Finally, enjoy the food at Everest Base Camp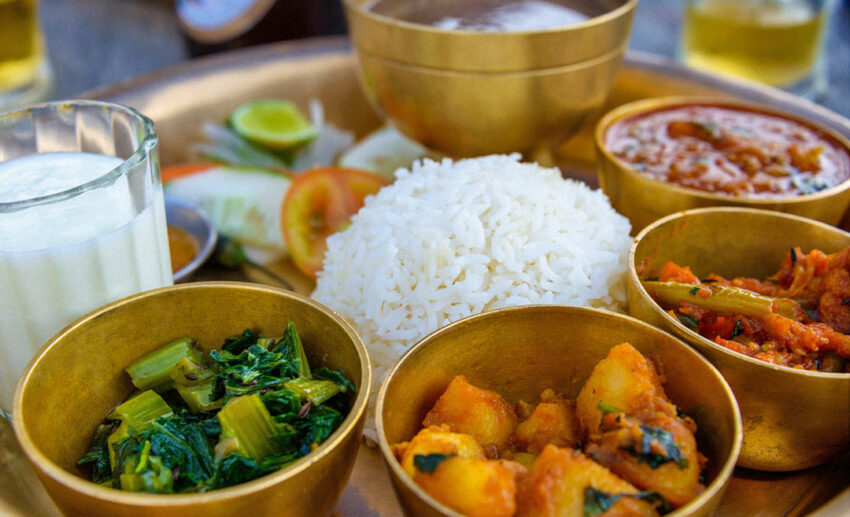 You can enjoy some delicious dishes during your Everest Base Camp visit. Remember that due to the remote location and limited resources, the culinary offerings at Everest Base Camp and the surrounding lodges are simple, but satisfying. Here are five dishes to taste:
Dal bhat — This traditional Nepali dish consists of steamed bhat (rice) served with dal (lentil soup), along with various accompaniments such as vegetables, pickles, and sometimes meat or fish. It's a staple meal in the region, providing essential nutrients and energy for trekkers.
Momos — These are famous dumplings made with a thin dough and filled with minced meat (usually chicken, buffalo, or yak), vegetables, or even cheese. They're often steamed and served with a flavourful dipping sauce.
Sherpa stew — Sherpa cuisine often features hearty stews made with local ingredients like potatoes, vegetables, and meat. These warming dishes are perfect for refuelling after a long day of trekking.
Thukpa — This hearty noodle soup is made with various ingredients such as vegetables, meat, and spices. It's a comforting and warming option, especially in the cold Himalayan climate.
Yak cheese — The region is known for its yak cheese, often used in various dishes or enjoyed on its own. Yak cheese has a unique flavour and is a good source of protein.
When tasting these dishes, appreciate the effort to provide them in such a remote and challenging environment. So, don't forget to thank your host!