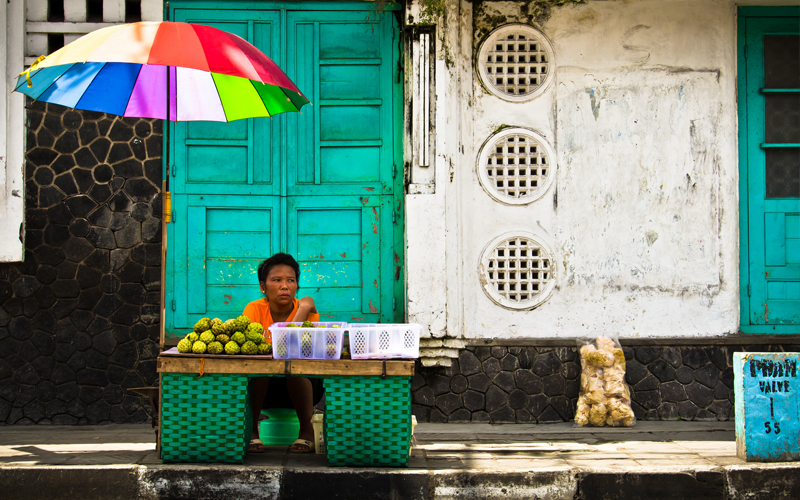 With a population of over 10 million and a notoriety for the world's worst traffic, Indonesia's capital comes off as a daunting country to travel.
Based on our observation, one of the most popularly searched topic for travelling Jakarta is whether it is a safe country for tourists. In the 2015 Economist Intelligence Unit (EIU) Safe Cities Index, Jakarta ranked at the bottom of the list of 50 cities. The Jakarta Post reported that Jakarta ranked 45th in the personal safety category, followed by Sao Paulo, Tehran, Beijing, Moscow and Santiago at the bottom. 
However, on travel forums discussing whether Jakarta is safe for women, locals and expats are quick to defend the largest city of Indonesia. Most commented that Jakarta is relatively safe so long you practice basic precautions such as avoiding seedy areas. The one thing to watch out for that was echoed across all the discussion boards is pickpockets.
Pickpockets aside, here are some of the best advice for travelling Jakarta that we found across the web:
1. Prepare yourself for one of the worst traffic in the world
Get your mind, body, and soul ready for endless traffic jams; it's all part of the daily Jakartan life. "There will be a lot of anxiety, cursing, shouting, honking, and other things," Wisnu Aditya who is born and bred in Jakarta cautioned.
2. Don't hesitate when you cross the street 
Jakarta's roads are not pedestrian-friendly. For the uninitiated, crossing its streets might be the most adrenalin-pumping experience you will have in town. Farida, a lady who has been travelling since childhood, says it best: "The most frightening experience I had in Jakarta was crossing its streets. The pedestrian does not have the right of way. Motorists and those ubiquitous motorbikes or mopeds won't stop for you to let you cross. They just keep going and will swerve in front of or behind a crossing pedestrian. As a pedestrian, you're considered a nuisance to the motorists that ply the roads of Jakarta. That said, your undivided attention is absolutely necessary when crossing Jakarta's roads. Watch out for those motorbikes. They're the most unpredictable."
3. Don't rely on public transportation
Every comment that we've read agrees that Jakarta's public transportation is unreliable, confusing, and always crowded. This is also where the city's famous pickpocketers leer. The city's buses and trains are not the most ideal way to get around, your best bet is to take a taxi.
4. Never ever accept taxi offers from touts
Taxi scams are rife in Jakarta, the one reliable taxi company that you can't go wrong with is the BlueBird Taxi Group. BlueBird taxis are one of the very few that actually use the meter. Even when you're at the airport and overwhelmed by the number of random men offering you their taxi, politely reject them and walk straight to the taxi counter to ask for a BlueBird Taxi.
5. Dress modestly
Remember that Indonesia has the largest Muslim population in the world. Wear clothes that will cover cleavage and thighs, and keep the more risqué clothing for the city's nightclub and megamalls.
6. Watch out for beggars 
You might come across beggars on the street asking you for money. You are allowed to reject them by politely shaking your head, and looking away. You don't have to donate to them if you don't want to, but if you do, it's best to have a small pocket of small change for this. Avoid rummaging through your wallet in front of the beggar and accidentally announcing to thieves the amount of money you have on you.
7. Ignore the catcalls 
Catcalling is common in Jakarta. Annoying as it may be, it is usually harmless. Ignore the men catcalling you and just go on your way.
8. Get a sim card at the airport 
Justine from Travel Lush recommends investing in a sim card as internet there is cheap and reliable. "I paid Rp 100,000 (RM30) for 30 days of phone and internet coverage. Being able to track your destination on Google Maps will make you feel so much more at ease while taking taxis around Jakarta. You'll also be able to call your hotel if you get lost. Another perk is that you can use Google Translate to help you communicate with drivers as most don't speak English." Justine recommends XL if you are only visiting Jakarta; for those touring the country, go for Telkomsel.
As a general tip, be nice and smile to the locals serving you. People in Jakarta are friendly and willing to help, a fair amount of them speak English as well. So if you ever find yourself in a pickle, you can easily approach someone for help.
To sum up whether Jakarta is safe for single female travellers, we'll share this quote from one Jakartan on Quora: "Jakarta is quite safe but not safe enough for you to put your phone in your pockets and have little to no chances of someone trying to rob you."
H/T: TripAdvisor Jakarta Forum, Thorn Tree Forum, Quora


Read Next:
| | | |
| --- | --- | --- |
| | | |
| | | A Solo Traveller's Advice For Women Travelling To Difficult Countries In Asia  |
Get all the latest travel stories from Zafigo. Follow us on Facebook and Twitter.