If there's one thing Bali is notorious for amongst travellers, is its taxis.
Balinese taxi drivers rarely use the meters and are known to overcharge. At Ngurah Rai Airport, the official taxi service Koperasi Jasa Angkutan Taxi Ngurah Rai Bali controls a monopoly, giving them the power to take advantage of tourists.
These are the official taxi rate at the Ngurah Rai Airport, but taxi drivers often quote above the published rates: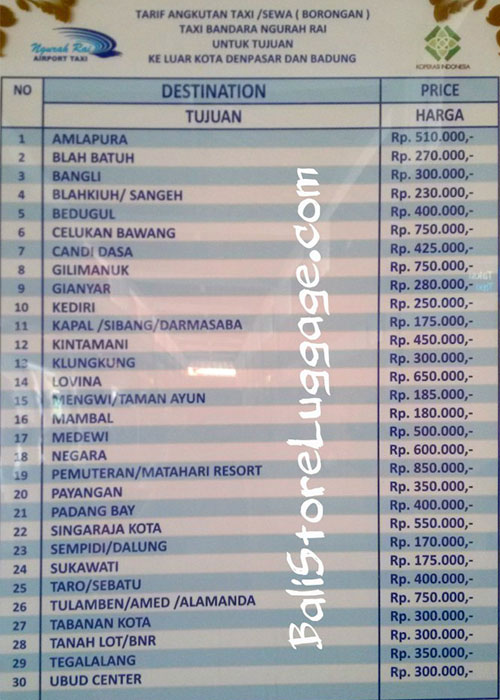 Popular Taxi Scams
If you are hailing a taxi by the side of the road, always ask to use the meter. If they refuse, politely reject them and look for another taxi that would. Some taxi drivers will quote a 'per person' fare, which you should never agree to. The fare should also disregard the luggage in the trunk.
Another popular scam that taxi drivers employ to squeeze more money out of you is by acting like they do not have small change. When you pay with a big note, the taxi driver would say he does not have any change, leaving you with no choice but to tip him. You can easily avoid this as long by always carrying small change on you.
The One Reputable Taxi Company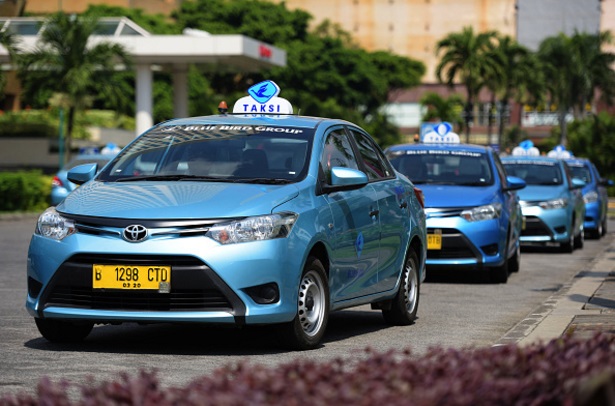 There are several taxi companies in Bali, but the one and only taxi company that have earned a reputation for its reliability and honesty is the Blue Bird Taxi Group. The Blue Bird Taxi Group's fleet of cars are in good condition and the drivers do not hustle you for money. In fact, they are one of the very few taxi companies that consistently use the meter. 
As the Blue Bird Taxi Group's popularity rise, several taxi companies have replicated the Blue Bird Taxi's branding to leverage on the company's popularity. They may look identical to a Blue Bird taxi, but they do not offer the same level of services. A traveller on the Villa-Bali blog had a bad experience when he hailed a taxi that he thought was the from the Blue Bird Taxi Group. "It was blue and it had a bird logo on the front and side, exactly like a Bluebird cab. However, the driver refused to use the meter despite my insistence, and that's when I realized that the taxi was in fact not a Bluebird, but instead one from another company that looked almost identical."
Now that you know which taxi company to look out for, Villa-Bali has a few more tips to make sure you don't get cheated:
1. Instead of hailing a taxi by the side of the road, order one via the hotline or booking app
Bluebird Taxi Groups' booking services are quite efficient. You can make a booking via their app or call the hotline and they will dispatch a driver to you within minutes. 
Bluebird Taxi hotline runs 24 hours, you can make a reservation or order on demand. The numbers are: 
BLUE BIRD PUSAKA, Regular Taxis: (021) 7917 1234 / 794 1234
SILVER BIRD, Executive Taxi : (021) 798 1234
GOLDEN BIRD, Limousine & Rental Car : (021) 794 4444
BIG BIRD, Charter Bus : (021) 798 0808
The mobile app is available on the App Store and Google Play.
2. Look for these signs before hopping in
A genuine Blue Bird Taxi would have these:
3. Make sure the taxi meter is set to IDR 6,000
The taxi meter base price should always be set to IDR 6,000. If the driver refuses to use the meter with excuses that the meter is broken or the distance is too short, do not take the taxi. Instead, report the errant driver to the company's customer care.  
Private Driver And Hotel Shuttle Services
To avoid the hassle of it all, consider hiring a private driver or use the shuttle services provided by your hotel. Most hotels and villas provide free shuttle services for certain distances and areas, some even provide airport shuttle services.
Uber And GrabCar
It was long awaited, but Uber and GrabCar has finally made its way to Bali. However, the safety concerns for taking an Uber or GrabCar is high. Both private-ride hailing apps have provoked the ire of taxi drivers. Uber was banned by the Bali Provincial Transport Department in January 2016 but oddly, is still seen operating in certain areas. On the other hand, GrabCar was given a free pass. Both apps are still being evaluated by the Transport Ministry, but in the meantime, taxi drivers have taken things into their own hands. Several neighbourhoods have banned both apps from entering their areas.
A Zafigo team member was recently in Bali and saw many of these protest posters.
The situation for Uber and GrabCar in Bali remains tense and uncertain, while routes offered are still limited. We'd recommend for you to err on the side of caution and stick with reputable taxi companies and shuttle services for now.
Remember the key is to be firm and to agree upon a fair price before you hop into the taxi.
For more tips on staying safe on public transportation, read: 10 Easy Ways To Stay Safe On Public Transportation
Pic credits: Virginia Vagabonds, Indonesian Industry

Read Next:
| | | |
| --- | --- | --- |
| | | |
| | | Did Your City Make It To TripAdvisor's Top 25 Travel Destination Of 2016? |
Get all the latest travel stories from Zafigo. Follow us on Facebook and Twitter.