Planning on visiting Bangkok during Songkran? Get ready for a wild and wet ride!
We have all the information to help you prepare. To get started, check out our article on 7 Useful Insider's Tips For First-Time Songkran Revellers.
For more advice, we've curated a list of information for ideas on where to go, what to do, and how to stay safe: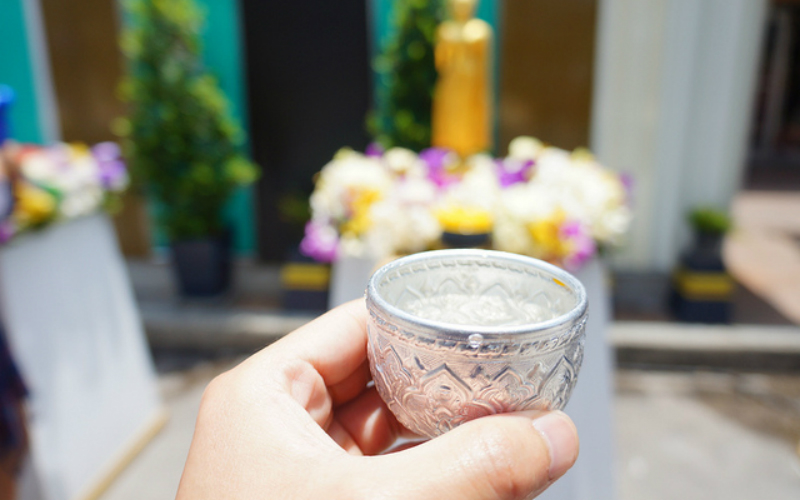 What Is Songkran?
Besides being a nationwide party-holiday, Songkran is first and foremost the traditional Thai New Year's Day and is celebrated from 13 April to 15 April. The word 'Songkran' comes from the Sanskrit saṃkrānti and means 'astrological passage' – the transition of the sun from one sign of the Zodiac to another. That means there are actually 12 Songkran celebrations each year, but the significance of the celebration that falls on 13 April (sometimes called Major Songkran to distinguish it from the others) is when the sun enters the sign of Aries (the ram). Office Holidays has a more detailed description on the history of Songkran.
Here are some ways you can greet Thais on this day:
ICS Travel Group has come up with this handy infographic to illustrate the different rituals Thai people perform on this day: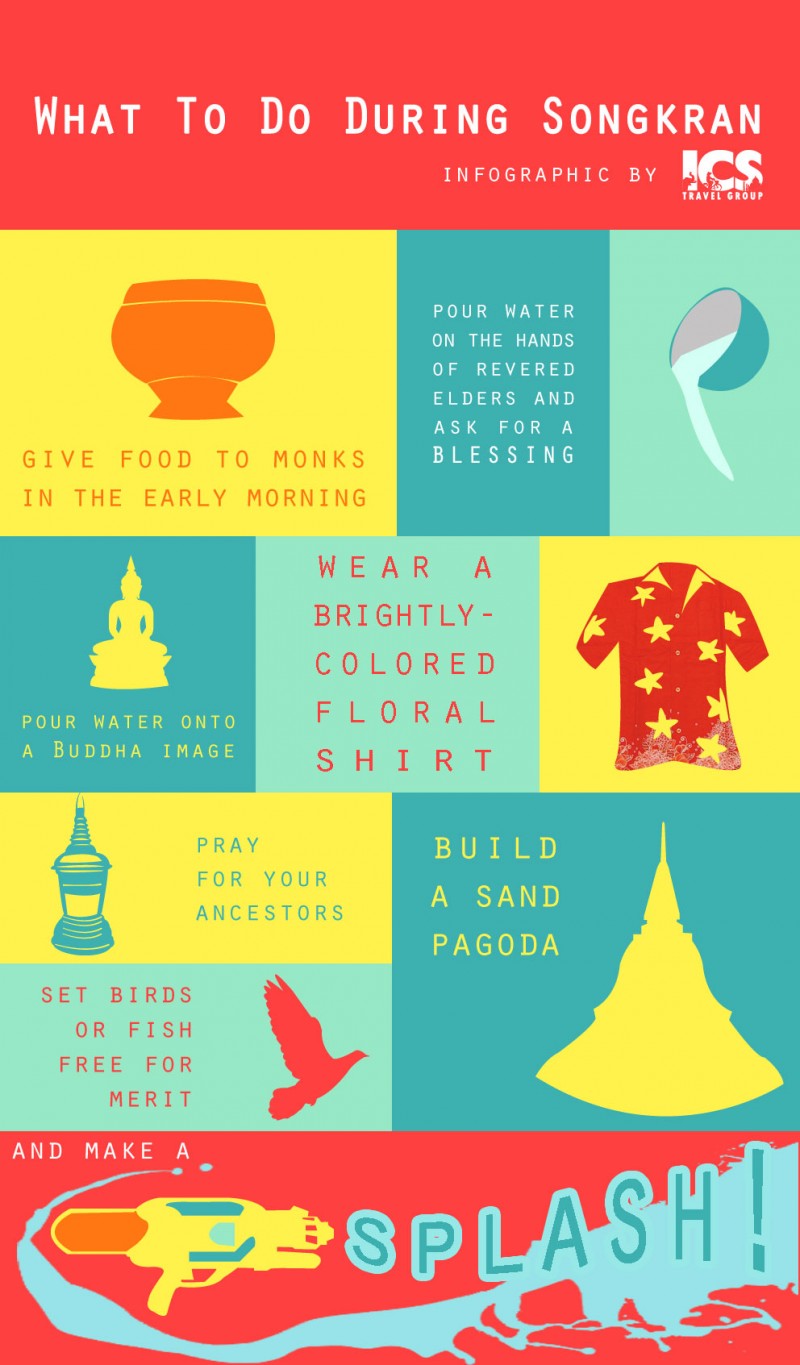 Do's & Don'ts
Bangkok.com's 'Do's and Don'ts for Songkran' will help you have the most fun without accidentally offending or hurting anyone:
Do's
• Do give alms and make merit (or just witness the rituals if you are not a Buddhist)
• Do use waterproof bags to protect your valuables
• Do watch your belongings
• Do use public transportation if you are heading to one of Songkran 'hotspots', as traffic will be paralysed
• Do try wishing the locals a happy new year in Thai – "Sawasdee Pee Mai!"
• Do smile and have fun
Don'ts
• Do not douse monks, babies or the elderly
• Do not drive when you have been drinking
• Do not throw water with ice or dirty water
• Do not throw water at motorcyclists, to prevent road accidents
What To Wear
Amy Charoenwong of Urban Adventures has some tips for women on what to wear during Songkran:
"It's going to be hot and you're going to get wet, so best to wear something light, but not skimpy or see-through. Avoid wearing thin tank tops or short shorts (especially as a woman, you'll risk getting unwanted attention), and keep your feet water-friendly with sandals or flip-flops/thongs. For the most comfort, wear a bathing suit rather than underwear under your outfit. Don't forget sun protection (sunscreen, sunglasses, and a hat), water, and, most importantly, your water weapons!"
Lauryl Kitson of Wanderlust and Lipstick also shares some useful tips on what to wear and bring along with you. Here are the few points that we find essential:
Two outfits – The water fights usually start mid-morning and last until 6PM in Chiang Mai. For the three days of the festival, plan on switching clothes every other day and drying your outfit at night. After 6PM you are generally fine to wear a nicer outfit and stay dry.
Waterproof necklace for camera/money – Buy the waterproof necklace you'll see at the stands selling water guns. Buy the more expensive 60 Baht option that has clear plastic on each side. For less than 2USD, you'll have a handy case for your money and phone that conveniently hangs around your neck. BONUS: you can still take pictures through the clear plastic!
Flip flops – Just plain, plastic flip flops will suffice. Don't get fancy with the criss-cross sandals. They will just get in your way, take forever to dry out and, if you are in a beach area, never come clean of the sand. Those tiny pieces of sand will then rub your feet raw.
Swimsuit – Again, alternate two options so you can wash and wear. Most visitors for the festival will be wearing their bathing suit under shorts and a tank top. Locals will be wearing much more clothing but still be drenched. The Thai people who I encountered during the festival did not mind the different clothing standards for tourists compared to locals. That being said, don't be "That Girl" who is the bathing suit top and booty shorts. Even though it is about 100 degree Fahrenheit, it's important to be respectful of the more conservative culture and the holiday.
Toilet paper – In Chiang Mai, there is a Burger King near Tha Phae Gate and most restaurants will let you use the restroom. If you do get in a pinch, there are bathrooms near the temples that you can pay to use. Bring coins to buy your toilet paper and prepare to squat.
Here's an infographic Visual.ly prepared to help give you a good idea on how to dress: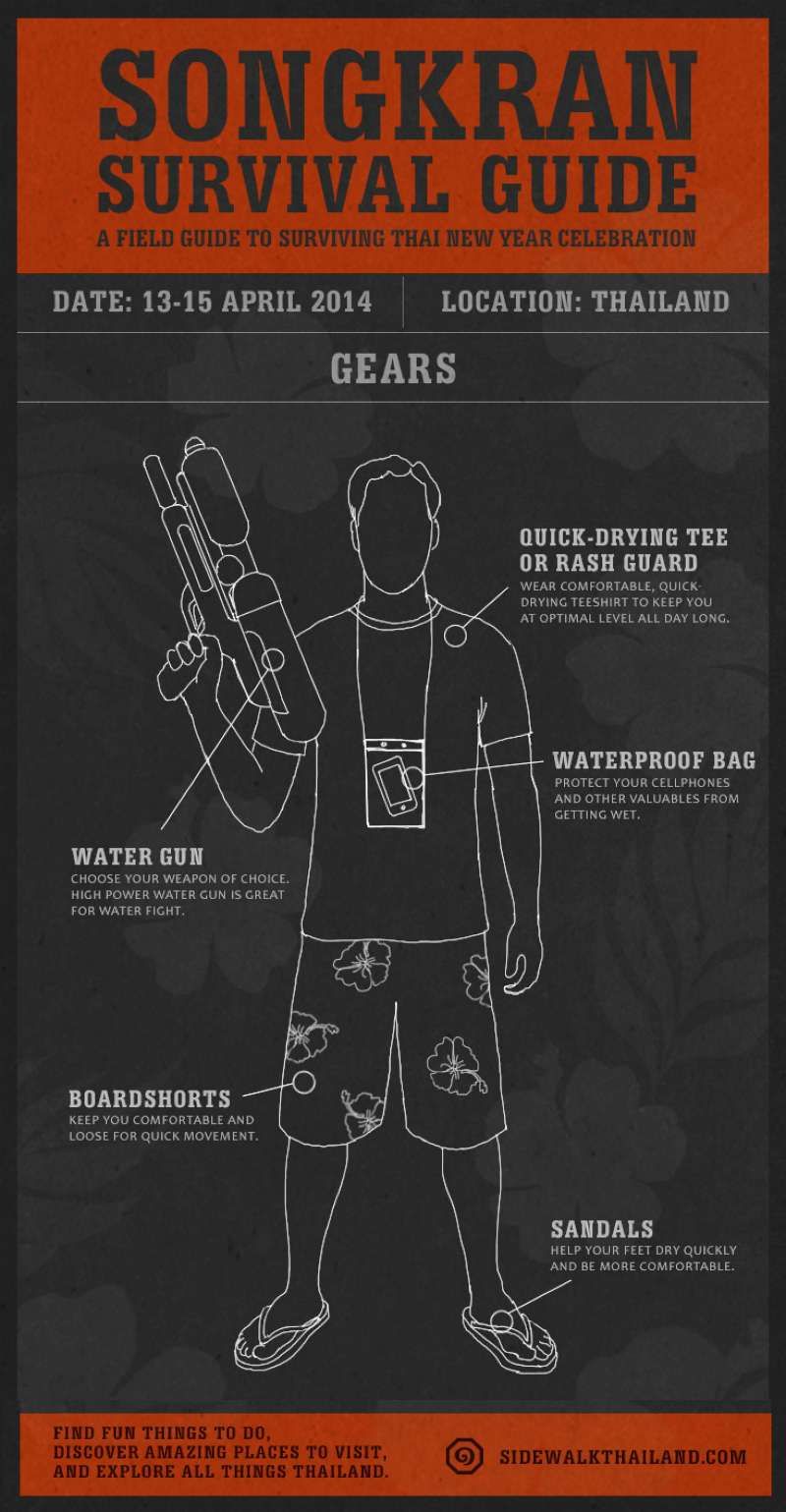 Staying Safe
Richard Barrow's tips for staying safe from 2013 are still as helpful today as they were during our first Songkran experience.
"If you go out during Songkran, then you are fair game. Don't complain if you are squirted in the face with a water pistol or someone rubs white powder on your face. Although it might not seem like it, they are actually taking part in a centuries old tradition of paying respect to their elders. Let them do it and smile. Resistance is useless."
Be aware that some people add cooling powder or cooling oils to the powder mixtures so even though we agree that you should smile and enjoy, don't feel forced to accept the powder/mud mix on your face. It made me break out all red!
"The shopping malls and movie theatres are all open during Songkran. So, you can use these places as a safe haven. However, getting to them safely might be a problem. If you have to use public transport, make sure you use an air-conditioned bus or meter taxi. If you use a normal bus with the windows down or a tuk tuk then you will get soaked."
"Songkran is not just about water fights. Do make an effort to see the more traditional side. Early in the morning Thai people will be going to the temples to make merit. They will also bathe the monks and Buddha images with rose scented water. In the afternoon, they will build sand pagodas in the temple grounds."
Where To Go & What To Do
BK Magazine has a list of all of the best parties, events, and ways to celebrate Songkran this year:
Khao San Road
The entire length of this backpacker haven turns into an all-day water-fight zone (10am-10pm) for the duration of the festival, packed with huge crowds of teenagers and international backpackers. Being one of the city's main centers for nightlife, expect plenty of alcohol served from the bars lining the street as well as music from live DJs and lots of dancing."
Silom
The heart of the central business district, stretching from Sala Daeng to Narathiwat intersections (MRT Silom/BTS Sala Daeng), transform into what is likely the largest and wildest crowd celebrating Songkran. Starting from 2pm until late, the street gets very busy with university students, young adults and the city's sizeable LGBT population taking part in the massive water-fight. For those less inclined to get wet, the view of the crowd from the overarching BTS stations can serve as quite a spectacle."
The article also has a list of after dark parties as well.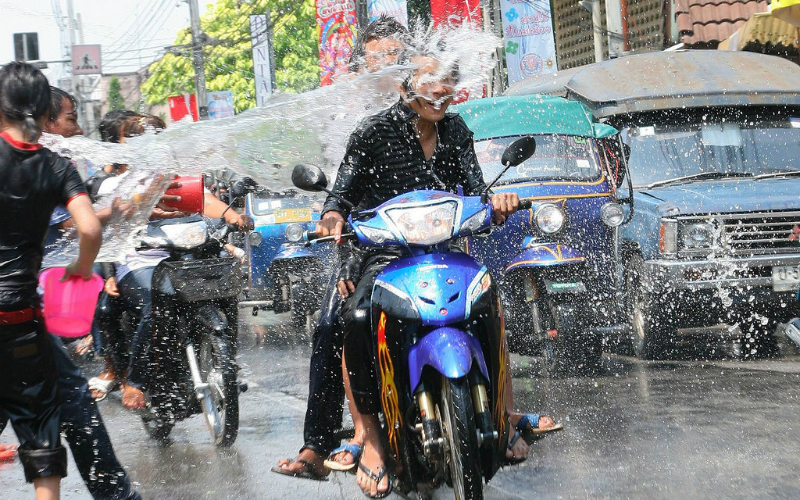 Songkran is definitely the wildest time of the year in Thailand. The government has designated splashing zones, so be sure to keep your water activities within the boundary. Splashing water inside shopping malls and public transportation is a big no-no!
For those who are not willing to get wet, the only guaranteed advice we can give you is to stay indoors.

Read Next:
Get all the latest travel updates from Zafigo. Follow us on Facebook, Twitter, and Instagram.