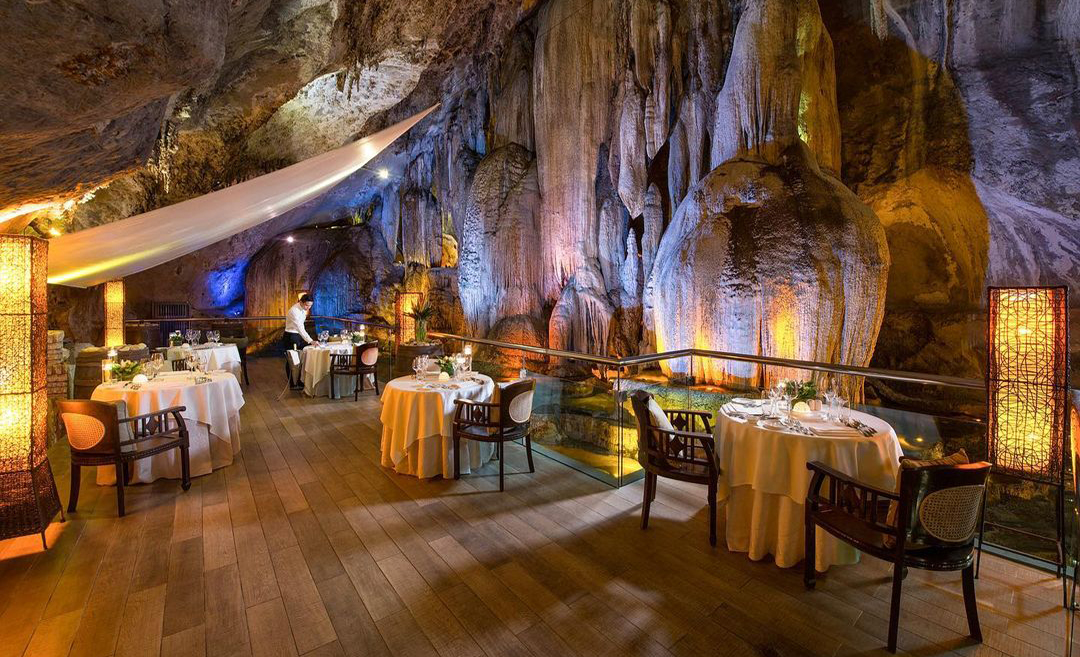 Subscribe to our new 

Telegram

 channel for the latest updates.


Have you ever wanted to dine in a place that'll make you gasp in awe and go, "This doesn't look like real life!" From a cave dining experience reminiscent of an Indiana Jones adventure (minus the action but adding on culinary delights) to underwater dining (like how they do it in the sunken city of Atlantis) and a woodland fae-approved forest feast, these seven dining experiences are absolutely bucket-list worthy.
Underwater dining in Nordic waters
View this post on Instagram
Recently awarded with a Michelin star, Under is Europe's first and the world's biggest underwater restaurant. The monolithic establishment is sunken five metres below sea level, allowing guests to enjoy an otherworldly view of Nordic marine life. Under offers only one seasonal menu, but patrons can expect only the finest and freshest of ingredients sourced from the surrounding archipelago. Do note that the menu is not vegetarian and vegan-friendly, and those with a seafood allergy cannot be catered for. Indulging in Under's Immersion Menu will cost you NOK2450 (approximately USD300) per pax, and reservations are required.
---
Popping open a bottle in a 260 million-year-old limestone cave
View this post on Instagram
Malaysia's very own out-of-this-world dining experience is hidden in Ipoh, home to the country's ancient limestone caves. Jeff's Cellar offers a cave dining experience with a seasonal menu of farm-to-table finds alongside a carefully curated wine menu. The candle-lit cavern has become one of Malaysia's leading fine dining destinations, and with its breath-taking views of the prehistoric rock formations and water features, it's no wonder people from all over the world come flocking to this restaurant. Dining rates start from RM675 (approximately USD165) per pax and reservations are required.
---
Castaway-style dining but make it glam
View this post on Instagram
Hidden amongst the limestone cliffs of Phranang Beach, Thailand, is The Grotto – a casual beachside dining experience operated by Rayavadee Krabi. Kick off your flip-flops and burrow your feet into the warm sand while enjoying killer sunset views along the coastline whilst listening to the lapping of calming waves… Rayavadee's special cocktail in hand, of course. This spot is popular amongst couples, with its romantic ambience and amazing food, so we can promise that even if you don't fall in love with whomever you're with, you'll certainly fall head-over-heels over the dining experience. If you'd like to enjoy a barbeque by the beach, be sure to ring them up by 3pm to ensure availability.
---
Dress up and enjoy a Shakespearean-themed banquet
View this post on Instagram
Step into Sarastro Restaurant and be immediately whisked away into the backstage of a Shakespearean play. This elaborately decorated establishment prides itself as 'the show after the show', and is also a favourite spot amongst the locals. Nestled in Drury Lane, London, dine from one of the opera boxes as you bask in the eclectic décor. As happening as the ambience is, Sarastro's also home to a tantalising selection of Mediterranean food and booze of international variety. Don't forget to take some pictures while you're here – the restaurant is filled to the brim with numerous props and knick-knacks collected from nearby theatres. There are musical events held every now and then, so keep abreast of any updates by following their social media.
---
Cosy up atop a tree in your private dining pod
View this post on Instagram
We think that Soneva Kiri has earned the top spot for #treehousegoals with their gravity-defying dining experience amid the lush rainforests of Koh Kood, Thailand. Acrophobics had better look away because guests are seated in a bamboo pod and then wheeled high up above the tree canopy for a gorgeous view of the sea and rainforest below. Your dinner will be zip-lined to you (literally) by your personal waiter, so sit back and take in the sounds of the forest below and the picturesque view of the sun setting on the far horizon. Unfortunately, this treetop dining experience is reserved for hotel guests only, so make sure to check in at Soneva Kiri to be able to enjoy it.
---
Indulge in a lava-grilled feast atop an active volcano
View this post on Instagram
With its rocky terrain and crimson peaks, enjoying a meal at Restaurante El Diablo is the closest thing to dining on planet Mars. Well, that's if Mars still has any volcanic activity. Built upon stacks of basalt rock and having a 400℃  lava pool located underneath as its sole heat source for fuel, expect a delightful menu of volcano-grilled meats and vegetables at this restaurant. Take a trip to Timanfaya National Park located southwest of Lanzarote, Spain for this unique meal and enjoy the stunning volcanic views of the Montañas del Fuego (Fire Mountains of Lanzarote) while you're at it.
---
Join an enchanting woodland feast in a hidden forest
View this post on Instagram
Put on your flower garlands, grab your baskets, and come in your best cottagecore ensemble for a forest feast located in Chalfont St Giles, England. Nomadic hosts their signature Forest Feasts once a month, whereby guests are able to forage for wild ingredients and dine in a luscious forest glade surrounded by local floral and fauna. Dining reservations are required for the MasterChef-affiliated restaurant, and prices start from £99 (approximately USD140) per pax.
[zf_post_boxes widget_hide_desc="true" num_post="3″ post_id="38810, 30603, 30170″]