Christmas is commonly associated with traditions like gift-giving and the much anticipated Christmas dinner, when loved ones gather around tables laden with ham, turkey, fruitcake, and pudding. But around the world, Christmas can hold many different meanings and many different customs are practiced, some not even religious. Whether it's a French feast or an engraved apple, Christmas in Asia is full of quirks and originality that make the festive season a unique experience.
1. Nine Day Mass in The Philippines
The official observance by the Catholic Church is from the 16th of December all the way up to the Feast of the Epiphany on the first Sunday of the new year. Filipinos, however, start counting down the days to Christmas starting from 1 September.
Every day from December 16 to the Eve of Christmas on the 24th, Filipino Catholics rise before the crack of dawn for Simbang Gabi. This is a nine-day series of masses, each held almost as early as 4:00am.
The practice builds anticipation for Christmas and for many, is a crucial part of the season to pay their respects as well as in the hopes of having their wishes granted. It begins so early in the day because it was initially a practical compromise for farmers, who began work at sunrise to avoid the scorching noonday heat.
2.

Engraved Apples in China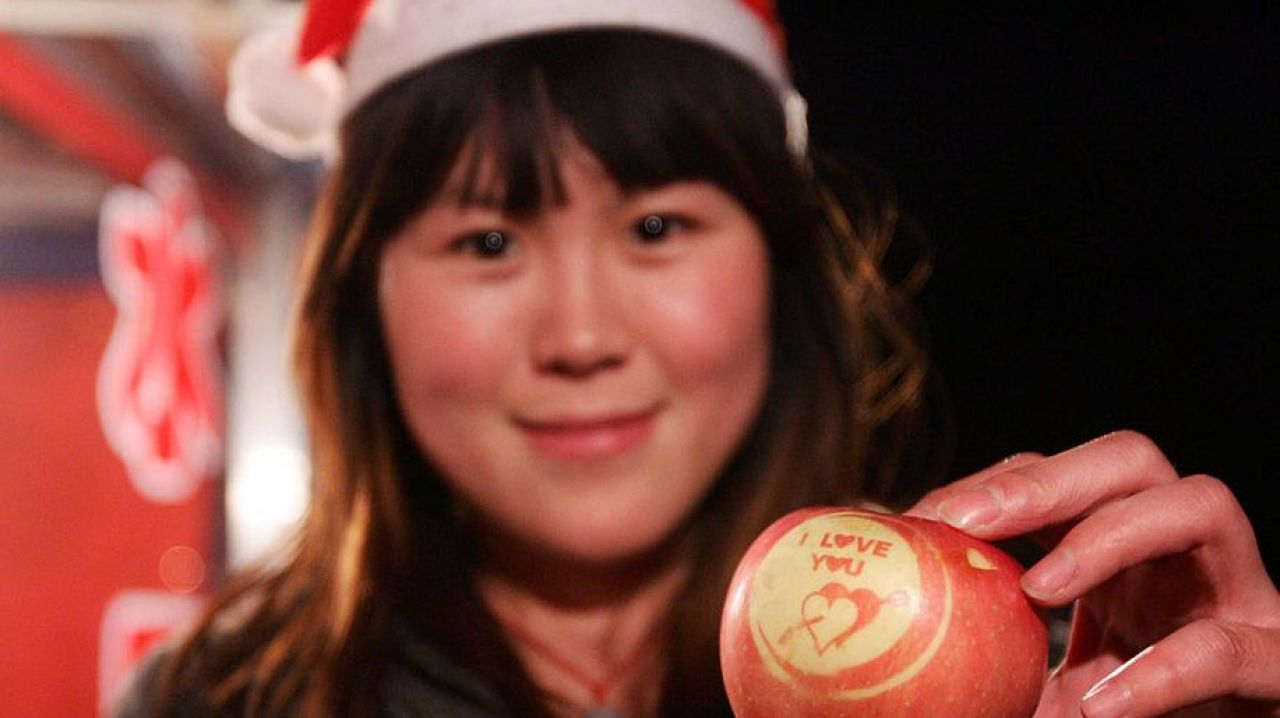 Christmas is hardly celebrated in China, with only 1% of the population being Christian. The festive season ends up being a very commercial affair with malls taking the opportunity to decorate to the nines in an effort to attract more visitors (like it is everywhere else in the world!). There is, however, a unique aspect to Christmas in China that you won't see anywhere else.
Christmas Eve in Mandarin is ping an ye, which translates to the night of safety and peace. The word apple is ping guo which sounds very similar. Thus, apples somehow became a popular gift for friends, colleagues, and loved ones during the season. Not just any apples too – the apples are typically engraved with well wishes and wrapped in patterned cellophane or packaged in boxes.
3. Santa Haraboji in South Korea
Fact: 30% of the South Korean population is Christian. They're the only East Asian country to recognise the day as an official public holiday too! However, the season still remains relatively secular, just like in Japan, where the day is predominantly for couples instead of families.
If you happen to be in South Korea looking around for Santa Claus, you might have to change your perception of what he looks like. Lookout instead for a figure dressed in green or blue! Meet Santa Haraboji! Garbed in traditional robes and a tall black traditional gat hat in lieu of the soft red santa ones you'd expect, he's a unique take on Korea's version of Santa.
4. The Gift-Bearing Camel in Syria
As grand a spectacle as it is in the western world, Christmas in Syria is also celebrated on a large scale. With about 10% of the population being Christian, the same festive enthusiasm is portrayed here as you'd expect in a country like the US. Nonetheless, Syrians still practice certain traditions that are unique to their own.
Typically, children in the west associate Christmas gifts with Santa Claus, pulled on a sleigh by 12 reindeer, who visits each house to place gifts beneath the Christmas tree. In Syria, it isn't Santa who brings the gifts but the smallest camel of the biblical three kings!
Legend has it that during the long journey to Bethlehem, the youngest camel continued to persevere despite its weariness and exhaustion. Jesus Christ is said to have blessed this camel with immortality. Thus, on Christmas Eve every year, children leave their shoes out in hopes of it being filled with gifts the next morning, along with hay and water for the camel.
5.

French Feasts in Vietnam
Though Christmas isn't an official public holiday in Vietnam – and despite the majority of the population being Buddhist – Christmas is still largely celebrated here. Vietnam used to be a part of the French empire, and traces of French influence are easily spotted throughout the country's cuisine and culture, and this includes the way Christmas is celebrated.
One of these particles of influence is the reveillon – a long Christmas dinner held during Christmas Eve in French-speaking places like Quebec and Belgium. On top of this festive dinner when families gather around the table, you're also bound to see the iconic buche de noel, or Yule log cake as the dessert centrepiece. Bakeries in Vietnam have been known to annually roll out over 140,000 cakes of up to 50 varieties of this sweet, chocolatey cake.
6.

Christmas Cribs in India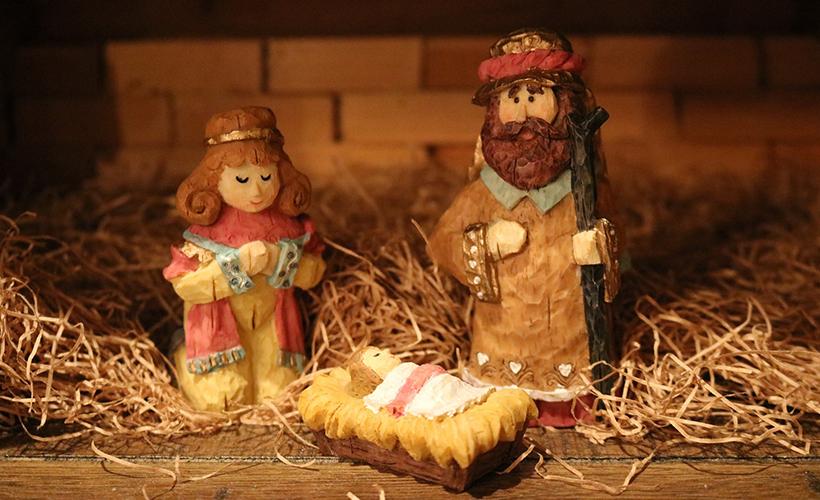 Depending on which part of India you're in, Christmas can be a huge affair. In states like Goa which is largely Catholic-dominated, midnight mass is held on Christmas Eve, carols are sung, and as expected of a colourful, festival-loving country such as India, the streets are filled with vibrancy and merriment.
Nativity scenes, or the 'Christmas crib' as it's called in India, are one of the icons of a traditional Indian Christmas. These scenes depicting the birth of Jesus Christ play an important role and are commonplace in homes.
Neighbourhoods and schools hold crib-decorating competitions where children use ceramic figurines, small piles of hay, and decorations to make the beautiful and elaborate Christmas cribs. In states like Goa, live cribs are also enacted in churches.
7. KFC craze in Japan
Christmas is less of a religious celebration for the Japanese, but more a season to spread joy and happiness. There are also usually more activities on Christmas Eve than on Christmas Day itself. On Christmas Eve, couples spend time together and exchange presents, similar to Valentine's Day. Sightseeing, looking at Christmas lights, and having a romantic restaurant meal are common, with most restaurants fully booked. A trip to Tokyo Disneyland is also popular, with Christmas-themed decorations and parades to enjoy.
Fried chicken is really popular on Christmas Day, and the Japanese KFC Christmas set meal is so widely demanded that people have to pre-order it! For cakes, the Japanese have a Christmas sponge cake garnished with whipped cream and strawberries — unlike the traditional rich Christmas fruit cake.
8. The Father Frost of Kazakhstan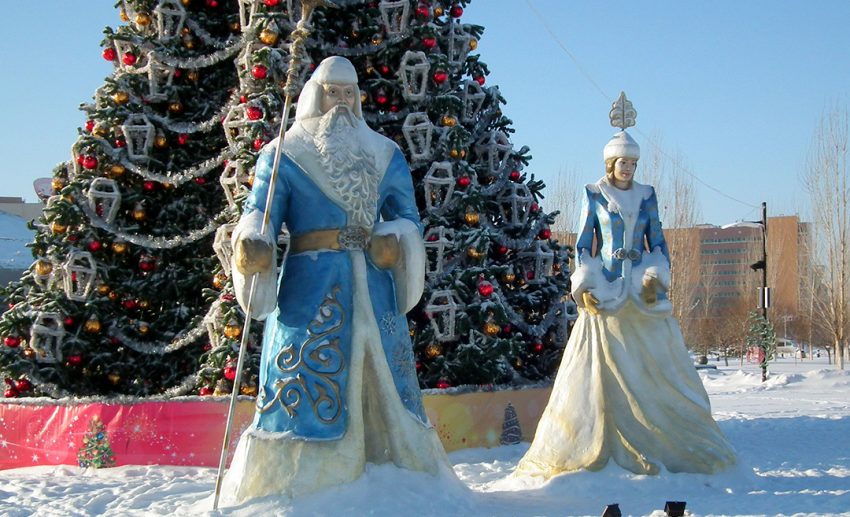 70% of Kazakhstan's population are Muslims, so Christmas is not a big holiday. Instead, the people of Kazakhstan celebrate New Year with as much enthusiasm as Christmas in the west. Apart from that, most Christians in Kazakhstan come from Orthodox churches, which means that they celebrate Christmas on January 7th instead of December 25th, making the New Year celebrations even more memorable.
The New Year celebrations start when December begins, and while they don't have Christmas trees, Santa Claus, and presents, the people of Kazakhstan have a New Year tree, a Father Frost, and a Snow Maiden. Father Frost, known as Ayaz Ata and the Snow Maiden, Kar Kiz, bring presents to the children in the New Year.
9. Church, cookies, and fireworks in Indonesia
Selamat Natal! While Indonesia is a Muslim country, the country's many local Christians celebrate Christmas. Locals typically attend church services on Christmas Eve and Christmas Day, with Nativity plays and the singing of the popular carol Malam Kudus — the Indonesian version of 'O Holy Night'.
Shopping malls will be filled with Christmas decorations, and Sinterklass (Santa Claus) can be seen giving presents to the children. People can also be seen setting off bamboo firecrackers and fireworks. Popular dishes during this season are Nastar, a butter cookie with pineapple jam filling, Kastengel, stick-shaped cheese cookies, and Putri Salju, a crescent-shaped cookie covered in powdered sugar.
Editor's note: This article was originally published on 24 December 2018 and updated on 22 December 2021 to include more traditions.