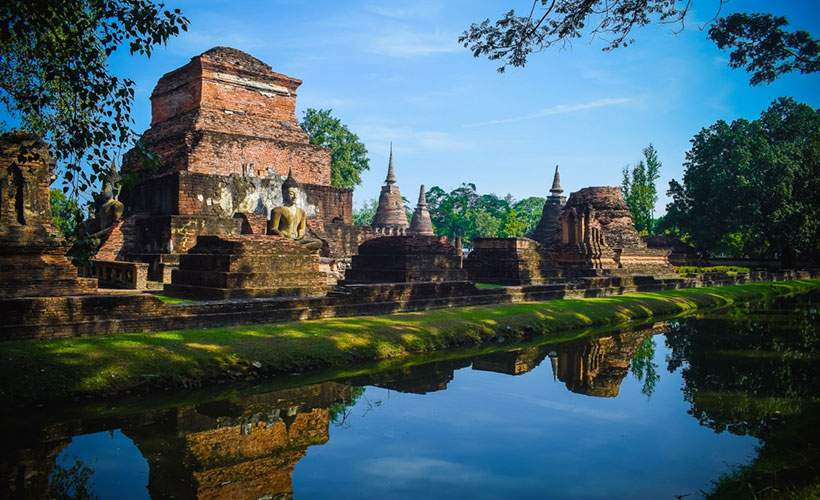 Concentrated within an area of 70 square kilometres are over 190 ruins that make up the Sukhothai Historical Park. This park in Mueang Kao, Thailand is divided into five zones with most of the best-known temples located at the central zone. There are, however, several interesting sites outside of this zone worth visiting. All in all, you're sure to spend at least a few days exploring this fascinating space.
While the central zone is the most popular, you can benefit from renting a bicycle or motorbike and exploring the other four zones. Fewer visitors make it to these sites and there is an abundance of ruins and temples to explore. Dress comfortably, bring some water, and spend some time soaking up the history of Thailand.
The Sukhothai Historical Park was constructed using several architectural styles. Earlier structures reflect Khmer temples with tall tower-like spires. This style was replaced by more bell-shaped stupas as Theravada Buddhism spread to the area. Later structures resemble the lotus bud-shaped chedi that can still be seen throughout modern-day Thailand.
Central zone
Wat Mahathat stands at the centre of the complex, inside the city walls. It was built in the centre, following the ancient Khmer that it's the centre of the universe. There are numerous Buddha statues in various poses. Some have been restored, while others are original statues dating back to the 13th century. This includes a stone sculpture of Buddha's footprint dating back to 1359. The Lak Muang City Pillar is also found in the central zone.
The collapsed ruins of the Royal Palace stands northwest of Wat Mahathat. To the north of Wat Mahathat is Was Sa Si. It's located near a reservoir known as Traphong Trakruan and you can reach this simple temple via a wooden footbridge.
Finally, the Traphon Tong reservoir is said to be the first place in Thailand where krathongs (beautiful floating sculpture made of flowers and folded leaves) were floated, thus giving birth to the Loi Krathong festival now celebrated throughout the country.
---
Soak up all the beauty, quietude, and serenity of sunrise at these stunning locations:
---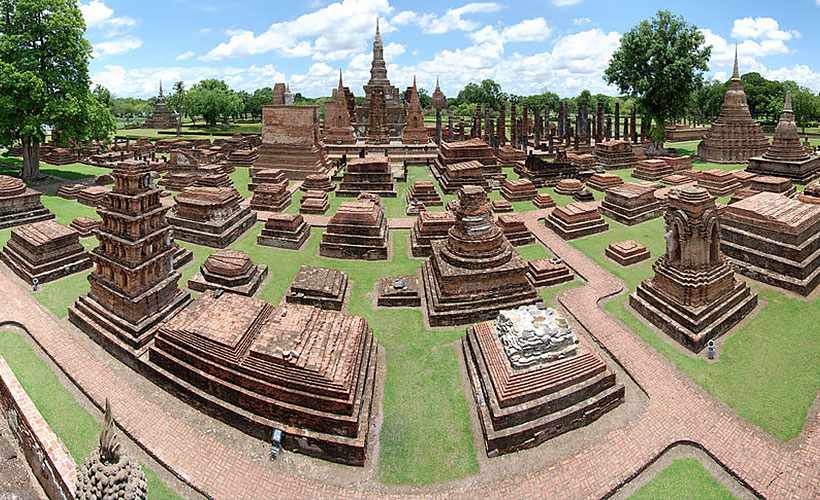 Northern zone
Wat Phra Pai Luang, believed to be the original site of the Sukhothai Kingdom, stands about 500 metres north of the city walls. The temple is older than the foundation of the kingdom, originally built by the Khmers in 1238. One of the three prangs – built in Khmer and Lopburi style architecture – still stands, although some of the details have become worn throughout time. There is a square-based chedi towards the east, once believed to have played a significant spiritual role.
Wat Si Chum, 500 metres west of Wat Phra Pai Luang has a seated Buddha that is 15 metres tall. This Buddha, known as Phra Atiana or immovable Buddha, has his right hand with golden nail polish is draped over his legs. The temple has double walls with a passage that leads all the way up to the Buddha's head, although this isn't always open.
Another temple in this zone that you can consider visiting is Wat Chetupon. It has several square-based pillars and features images of Buddha in various positions.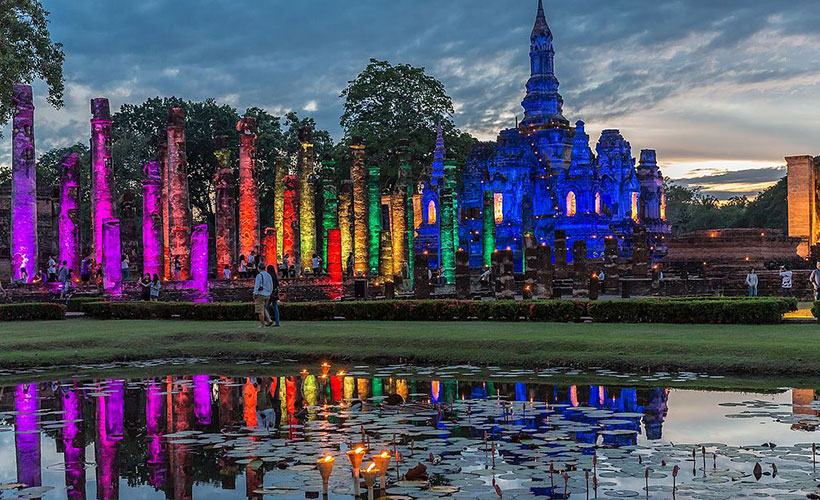 Eastern zone
Wat Chang Lom is also known as the Temple Surrounded by Elephants. It is near the canal and has a Sri Lankan-inspired chedi that is decorated with sculptures of elephants.
Western zone
Most of this zone is forest-covered hills. Wat Saphan Hin (Temple of the Stone Bridge) can be found here. It's about five kilometres west of the main entrance and stands on a hill. You can reach the temple via a 200-metre long elevated pathway of stone slabs. Although a lot of the pavilion has collapsed, there is a 12.5-metre tall standing Buddha statue here. And at an elevation of between 200 and 300 metres, it does have some impressive views.
[zf_post_boxes widget_hide_desc="true" num_post="3″ post_id="31452, 23688, 29324″]
Get all the latest travel stories from Zafigo. Follow us on Facebook, Twitter, and Instagram.