Southeast Asia is an exceptional travel destination for solo female travellers, offering a blend of captivating cultures, breathtaking landscapes, and warm hospitality. From bustling cities to quiet countrysides, this diverse continent has something to offer every adventurous soul.
Thanks to the expanse of coastline and hundreds of islands, Southeast Asia is also a great destination to spend time on the water. From sailing along the idyllic coastlines of Thailand's Andaman Sea to exploring the unreal beauty of Vietnam's Ha Long Bay, there are numerous opportunities for female travellers to enjoy boating and on-water experiences. Scuba diving enthusiasts can immerse themselves in the vibrant marine life of Indonesia's Komodo National Park or the Philippines' Tubbataha Reefs Natural Park.
One of the best ways to find boat and yacht tours in Asia is by using a booking platform like GetMyBoat, which connects travellers directly to local tour operators, boat owners, and captains to create a custom adventure.
With countless islands, gorgeous beaches, and incredible marine life, any traveller spending time adventuring in Southeast Asia should plan for at least one boat day during their trip. Here are the top on-water and boating experiences to have while travelling in Southeast Asia:
Scuba diving in Thailand
Thailand is a scuba diver's paradise, offering a wealth of underwater wonders for diving enthusiasts. It's also very affordable, which makes it attractive to scuba divers who are travelling on a budget. With its crystal-clear waters, vibrant coral reefs, and diverse fish and marine animal species, it's an ideal destination for both beginners and experienced divers.
The Andaman Sea, located on the west coast of Thailand, is home to popular dive spots such as the Similan Islands, Koh Phi Phi, and Koh Lanta. Here, divers can explore stunning coral gardens teeming with colourful tropical fish, encounter manta rays and whale sharks, and even dive into mysterious underwater caves.
On the Gulf of Thailand's east coast, Koh Tao is renowned for its affordable diving courses and thriving marine ecosystems.
Don't forget to follow responsible diving practices, respect the marine environment, and dive with certified operators to ensure safety and preservation of these incredible dive sites.
Snorkelling in Bali, Indonesia and hopping around the Gili Islands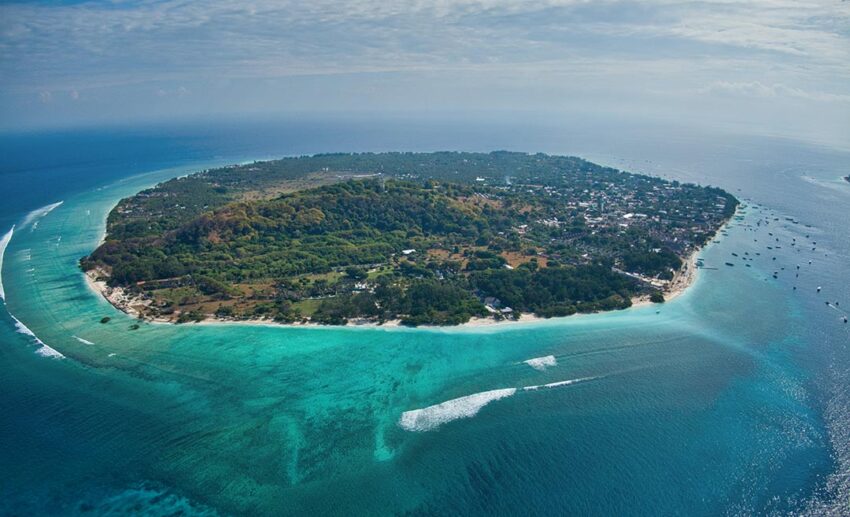 If you're spending time travelling throughout Bali, Indonesia, you'll want to plan a snorkelling trip during your vacation. Nusa Penida, located southeast of Bali, is renowned for its warm, clear waters and diverse marine life. Snorkellers can witness majestic manta rays gracefully gliding beneath the surface and swim among vibrant coral reefs, home to an abundance of colourful tropical fish.
Another fantastic snorkelling destination are the nearby Gili Islands, a group of three small islands off the coast of Lombok. Island hopping in the Gili Islands is a must-do experience, with each island boasting unique snorkelling spots, including underwater sculpture gardens.
Gili Trawangan (Gili T, as it's often called) is the best for snorkelling, offering colourful coral gardens and the chance to encounter sea turtles. You can book a private snorkelling boat tour with just your travel crew, or join a group adventure in Bali.
Overnight cruises around Ha Long Bay, Vietnam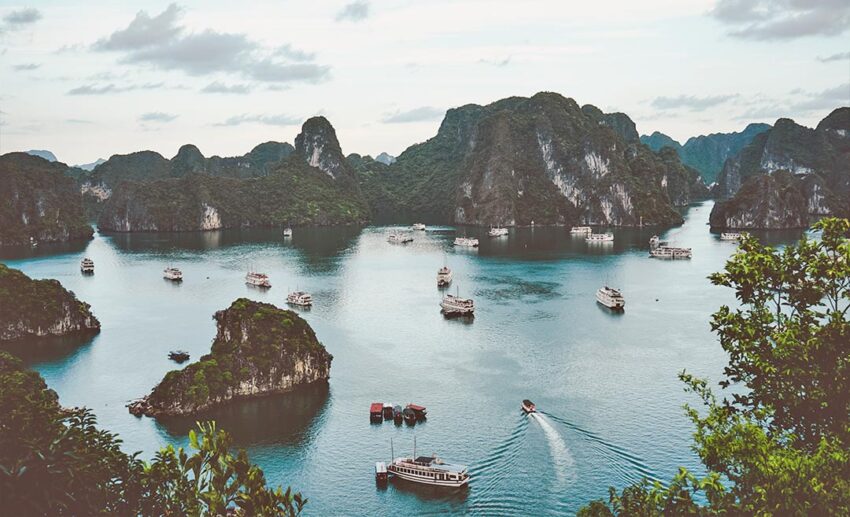 Experiencing Vietnam's Ha Long Bay by boat unveils the breathtaking beauty of this UNESCO World Heritage Site. With its iconic limestone karsts rising dramatically from emerald-green waters, Ha Long Bay offers a surreal and otherworldly setting for exploration.
Boat tours — many of them overnight — provide the perfect opportunity to immerse yourself in the tranquility of the bay, as you glide past towering cliffs and through hidden caves. From traditional wooden junk boats to luxurious cruises, there are options to suit every traveller's preference and budget. On your tour, you'll see picturesque floating fishing villages, pristine beaches, and have the chance to partake in various activities such as kayaking, swimming, and even squid fishing.
Island hopping in the Philippines
Island hopping in the Philippines is a dream come true for adventurers seeking pristine beaches, turquoise waters, and tropical paradise. With over 7,000 islands to choose from, this Southeast Asian archipelago offers endless opportunities for exploration.
Palawan, often hailed as the crown jewel of the Philippines, is a must-visit destination for island hopping. El Nido and Coron, in particular, boast mesmerising limestone cliffs, hidden lagoons, and vibrant coral reefs teeming with marine life. The Visayas region is another gem to explore, with destinations like Boracay, Cebu, and Bohol enchanting visitors with their white sandy beaches, world-class diving spots, and unique natural wonders like the Chocolate Hills.
Each island of the Philippines has its own charm and allure, so pick a region, then go from one island to another by boat. It's a surefire way to have a well-rounded vacation.