Everyone needs a break every now and then from the hustle and bustle of life, don't you think? Some choose to travel out of the country, while others just want to go on a vacation somewhere relatively close to home, or what everyone calls it these days — a staycation! It's safe to say that I've become more fond of the latter recently. Less travelling time, more time to actually rest and relax!
So, guess who was excited when the INNSiDE by Meliá Kuala Lumpur Cheras finally opened? Me, obviously! The hotel was nice enough to extend an invitation for a night's stay, and I gladly accepted! It was an easy decision because all I had to do was pack some clothes, and I was set to go!
Getting there
To get there, it took a mere 30-minute drive, and this is putting traffic into account. But if you prefer not to drive, there's also the option of taking the rail system. An MRT station (Taman Mutiara) near the hotel is connected to Eko Cheras Shopping Mall and the hotel itself.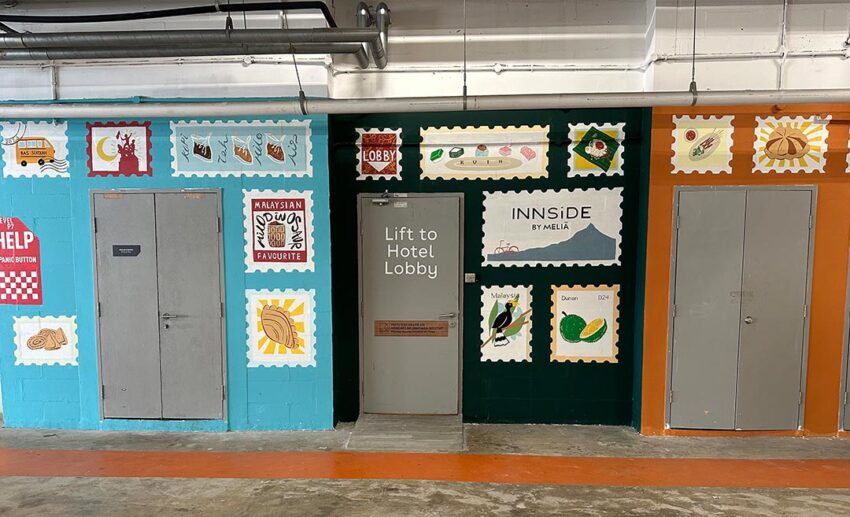 One major plus point about the path from the MRT station to the hotel is that it's fully sheltered, which is great considering how hot the weather's been of late. The parking area for the hotel is located within the same building as Eko Cheras Mall. Simply park on the designated floor and use the direct lift access to reach the hotel lobby.
Checking innside
Upon arrival, I was welcomed by a friendly hotel staff at the lobby, who assisted with my check-in. The first thing I noticed in the lobby area was the hotel's cute merchandise displayed neatly on a wall rack for sale. Meanwhile, the check-in process itself was fuss-free and quick. When they handed me the room keycard, I was delighted to see it was in a pretty pastel pink colour, which is my favourite! That and the playful design of the lobby area are already setting the mood for a casual and relaxing stay.
At INNSiDe by Meliá, there are a total of 238 rooms and six categories to choose from: The INNSiDe Room, The INNSiDe Room Xtra, The Loft, The Loft City View, The Townhouse, and The Townhouse Xtra. With such options, there's something to suit everyone. During my city staycation, I had the pleasure of cosying up in The INNSiDE Room Xtra — a standard room with an added Nespresso machine.
I'm not a coffee drinker, but if I was, this would be a major plus point. The room was new, clean, neat, and spacious — just how I like my hotel rooms to be. The mini bar was complimentary, which is always a bonus!
So many things to do and see
After leaving my bags in the room, the hotel representative walked me through the hotel facilities, such as the 24-hour In-Fit gym, outdoor swimming pool, executive lounge, and meeting rooms.
Upon seeing the outdoor swimming pool, my mind was set to go for a dip later that evening. How could I not? Not only was the pool itself huge, there was still space big enough to accommodate a poolside barbecue party of over a hundred people. And since the pool is on a high floor, it was naturally breezy, which (almost) makes you feel like you're on a beach holiday!
After checking out the swimming pool area, I decided to have a gander at the In-Fit gym, which was equally impressive. I was amazed by how fully equipped the gym was. There were cardio machines, a range of weight training machines, dumbbells, and even a yoga space with mats.
I also took a look at the executive lounge — a big room where meetings are held, only in a more casual setup — with sofas, tables, and TVs, much like a huge living room. The other two meeting rooms – The Big Idea Space & The Recording Studio — are designed as casual meeting spaces or can even be used as a safe and private space for a kids' party!
A walk to the mall
After getting familiar with the hotel facilities, the hotel representative was nice enough to also bring me on a quick mall tour! The Eko Cheras Mall is connected to the INNSiDE Hotel and has many shops such as restaurants, food courts, convenience stores, supermarkets, fashion retail stores, a kids' gym/indoor playground, a cinema, and many more. Definitely convenient to have right next door.
Food for thought
After touring around the hotel and mall, it was time for lunch. We headed to Duke's Kitchen, an all-day-dining restaurant, which is open to both hotel guests as well as mall-goers. I ordered fettuccine carbonara, and it was pretty tasty. The fettuccine's texture felt like it was freshly made instead of the usual dry, boxed pasta; but don't quote me on that.
After lunch, I couldn't wait to get back to the room to settle in, and once I did, I almost immediately laid on the comfortable and plush queen-sized bed. The combination of the comfy bed and the big fluffy pillows made it easy for me to fall asleep, which is what staycations are for, after all. Now, a quick recharge before heading to the pool for a quick swim!
I waited until about 6:30pm, closer to sunset, before going for a dip, and since it was a weekday, the pool area was empty, which I'm not complaining about. I swam a few laps and took this opportunity to truly relax by the pool, and it was pure bliss. Before I knew it, all the relaxing had gotten me hungry, and I was well ready for dinner time! So, off I went back to the room.
After a nice warm shower, I decided to order in for dinner as I was too tired to walk around the mall in search of a place to eat. Once my meal came, I turned on the TV, browsed through the channels, and called it a night.
The following day, I headed to Duke's Kitchen for the breakfast buffet included in the hotel stay. The buffet was not super extensive but had a wide enough variety that included the classics, such as nasi lemak, fried noodles, sausages, eggs, dim sum, pastries, cereals, fruits, coffee, tea, and fruit juices. The breakfast offering was pretty decent; my favourite was the fried noodles, so I had second helpings.
Overall, my stay at INNSiDE by Meliá Hotel Kuala Lumpur was a much-needed respite, though one night was too short of a stay, so I'll return for a longer period. If you want to get away from life's busyness but don't quite fancy straying away too far from home, this property is a great choice.
Address: No 693, Eko Cheras, N-G01, Batu 5, Jln Cheras, 56000 Kuala Lumpur
Contact: +603 9133 0700
*Images courtesy of Fiona Thong and INNSiDe by Meliá Hotel.