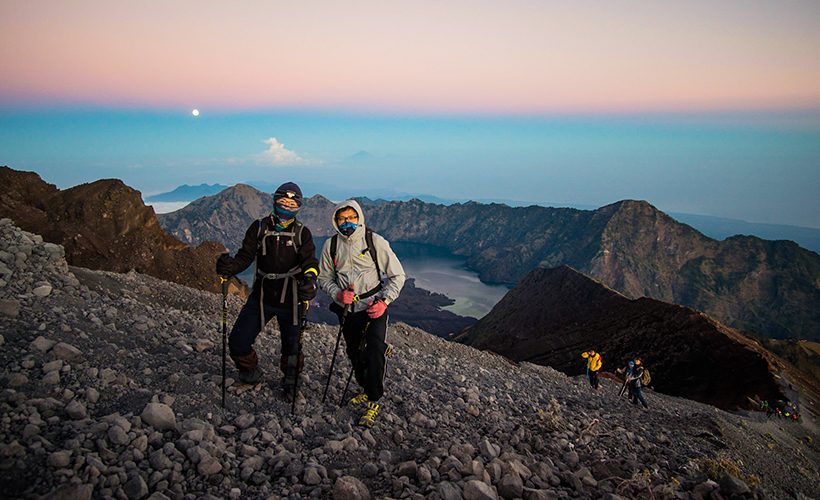 We sat gingerly at the side of the trail; on loose volcanic rocks threatening to send us sliding backwards at any moment. The lot of us were somewhere midway – a point where Lake Segara Anak and Gunung Barujari sit peacefully far away at the bottom as Gunung (Mount) Rinjani stands high up ahead of us.
"Are you guys going to continue going up?" I asked in between my breaths, nudging towards the towering summit.
My teammate, Tan quickly retorted, "Of course we're going up! We've climbed so far. You're crazy to give up now!" That was a harsh response but I understood.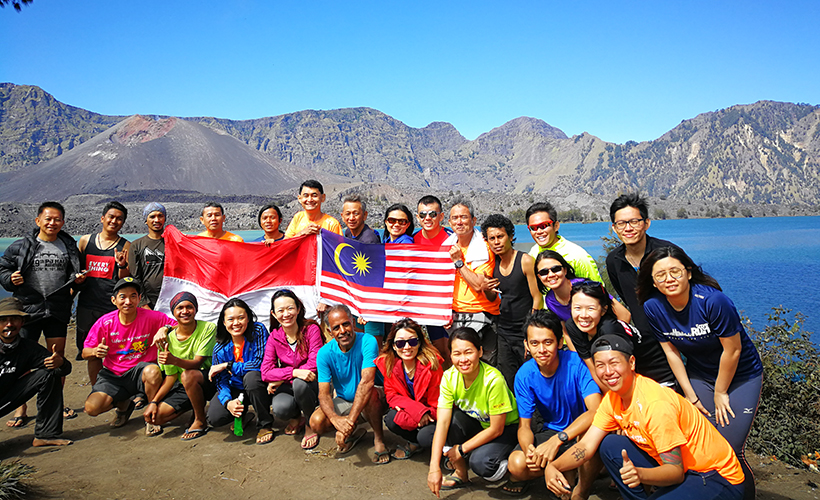 I was exhausted and frustrated, and so was she. We'd been inching upwards since 2AM for the past four hours. I thought we'd made great progress, but why is the summit so near yet so far?
Mind over matter
Hiking is more often about perseverance than physical fitness. A fit body can take up you up a mountain, but a strong mind is what will get you to the top. There's a saying by Confucius that rings true, "It does not matter how slowly you go as long as you do not stop."
I've done numerous hikes now, but with this Rinjani hike being my second attempt, I should know myself better. My mind was playing tricks on me and I wasn't going to allow it to bring me down. I forced myself to stand up supported by two loyal hiking poles. Rocks were in my boots poking against my sore and unwilling feet. "Let's do this. One step ahead of the other." I repeated the same mantra in my head as I took a deep breath and pushed myself upwards.
The day is breaking as the first sunrays appear over the horizon, illuminating the land with a warm orange hue. It is a beautiful sight – a fitting reward for our endless slog and some much-needed fuel to push us on.
Some hikers who'd made it to the summit were already making their way down. They skied down the loose rocks, generating plumes of volcanic dust in our face. Not the best encouragement, but we pulled up our face buffs and continued our quest.
Two more hours of self-motivation later, I finally set foot on the summit of Gunung Rinjani. Standing high on 3,726 metres above sea level, the euphoria was inexplicable. A wide smile that screamed "I made it!" was plastered across our worn-out faces.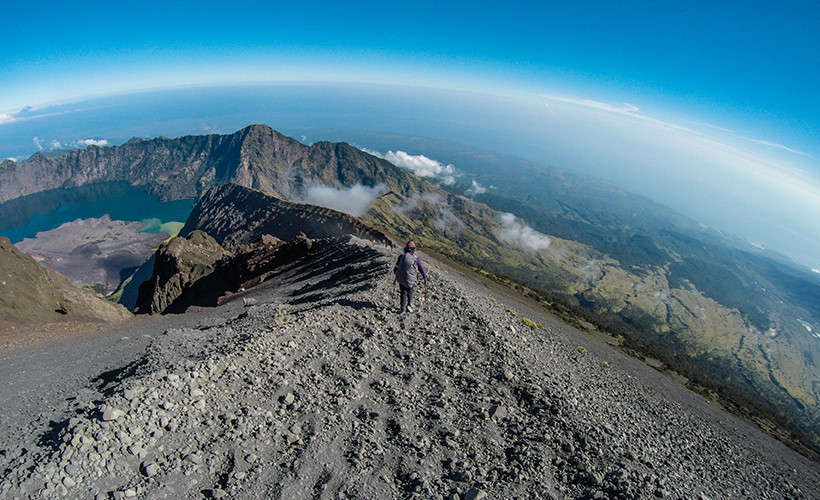 The summit has limited space for hikers to move about. We waited patiently for others to clear the space and took turns to snap that all-important summit photo. Lifting the Rinjani signage high above my head, I felt on top of the world. Perseverance pays off handsomely indeed.
All of us in the team made the summit albeit at different times. It was only Day Two of our adventure with a few more days to go. But we still rejoiced at our teamwork and looked forward to enjoying the camaraderie and fun camping experience coming up.
Beauty within Rinjani
Day two turned out to be the longest day of the entire trek. We started our 'summit attack' at 2AM and only ended the day at the next campsite by Lake Segara Anak at 5PM. Everyone let out huge sighs of relief when our yellow tents finally came in sight. We rushed forward and were immediately mesmerised by the scenery that greeted us. Whipping out our cameras, our 15-hour long journey was forgotten.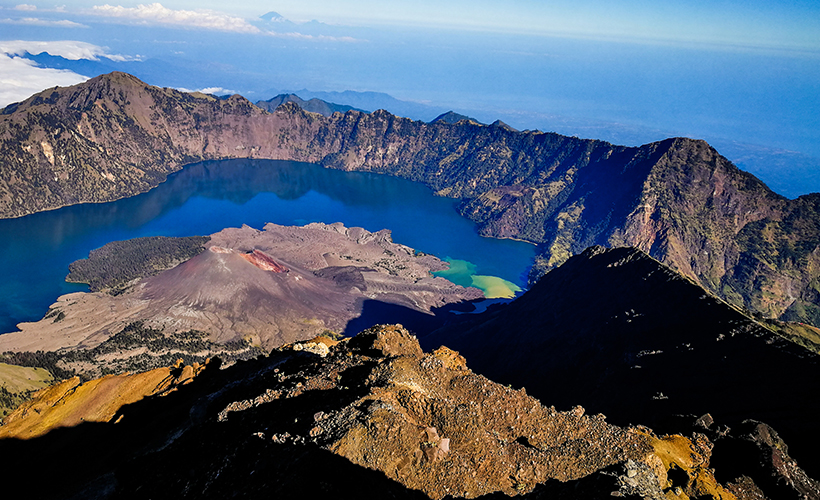 At 2,008 metres above sea level, Lake Segara Anak is the highest caldera lake with an active volcano in Indonesia. Gunung Barujari soars from the centre of the lake, as white plumes of smoke waft up from its oval-shaped opening, reminding us that it's very much active.
The air here is chilly, with temperatures ranging from 5° to 15° Celsius throughout the day. In this weather, a fog can suddenly appear, creating a rather mystical atmosphere. But when the fog lifts, it's almost like lifting a veil to reveal a picture-perfect scenery of the crescent-shaped lake surrounded by the steep cliffs of Gunung Rinjani.
As we sat around our yellow tents to watch the sunset, our porters sang away in the 'kitchen' while scraping metal ladles against a large wok. Soon enough, we were served with a hearty dinner of gado-gado (vegetables and peanut sauce) with rice.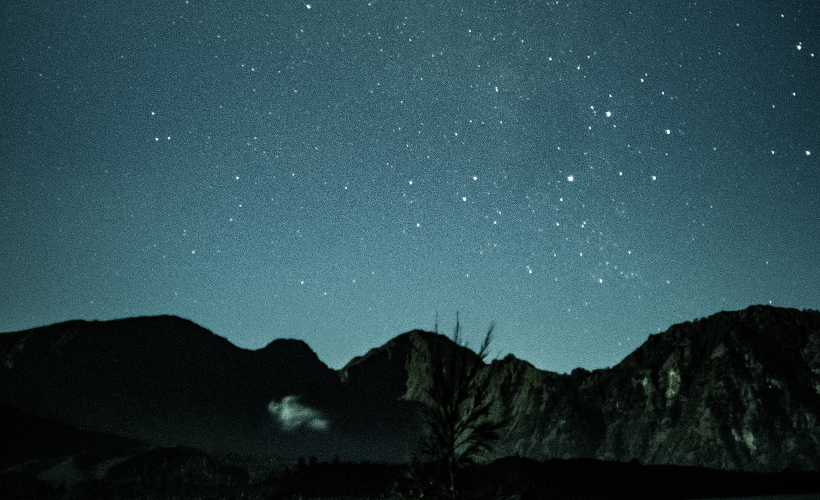 Finally, the night brought about a cool mountain chill. We stood outdoors taking in the amazing starry sky for as long as we could before retiring to our cosy tents – the ones our teammate Jack aptly named 'Million Stars Hotel'.
---
Mount Arjuno: It's not for the faint-hearted, but the sights along the way are rewarding.
---
Fun and merry camping
If you enjoy camping or want to give it a try, put the ascent to Gunung Rinjani's summit on your to-do list. The Rinjani trek is a camping trek. Throughout our four-days-three-nights' hike, we camped at different parts of the mountain, including on narrow crater rims and by a gorgeous lakeside. It's a unique experience.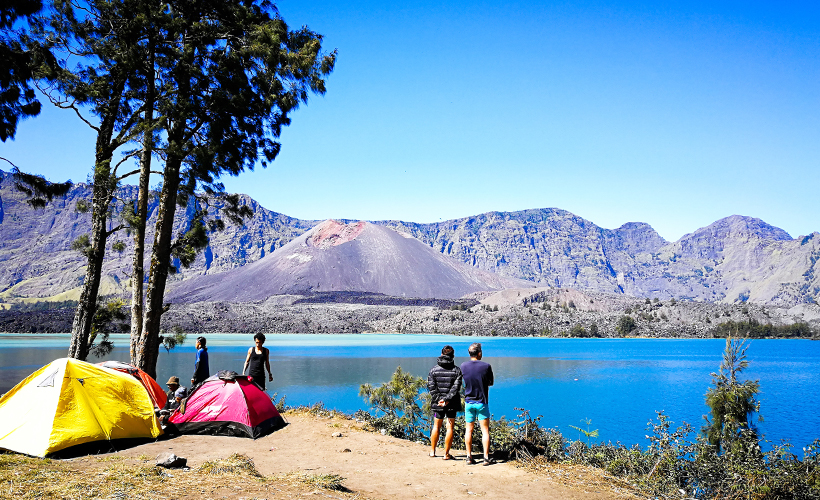 After engaging a local trek agency, porters were arranged to carry our equipment and food required for the duration of the trek. All we had on our backs were personal items. Some who preferred trekking light even engaged personal porters to carry their bags while they walked with minimal weight.
Our group trekked with Jack, my trusted Indonesian guide and friend who runs Rinjani Climbing Club (you can reach them at [email protected]). After my first enjoyable experience in 2013, I had no hesitation in getting Jack's assistance to arrange for my second Rinjani trek, this time with a much larger group.
Every day after breakfast, we left the comfort of our tents and set off for the day's hike while our porters stayed behind to pack up and clean the campsite. As we inched our way up and down the trails, our porters slowly but surely caught up and effortlessly sauntered past us. Carrying heavy loads on their hardened shoulders, they rushed on to the next campsite in preparation for our arrival.
On the third night of our trek, we camped out in a wide forest clearing just enough to accommodate 11 tents and a porters' shelter. Surrounded by tall trees and dense overgrowth, we heard the forest come to life. Curious monkeys tried to sneak away belongings when no one was looking, inviting a drizzle of stones and pebbles from our porters.
It was also the final night of our successful trek. In the dark and chilly forest, Jack and his porters conjured a large campfire and invited everyone to come close. The incandescence from the burning firewood put all of us at ease.
"Tonight is our last night on Rinjani. Let's go round the circle and have everyone share something about your experience," Jack said as he kick-started the campfire session.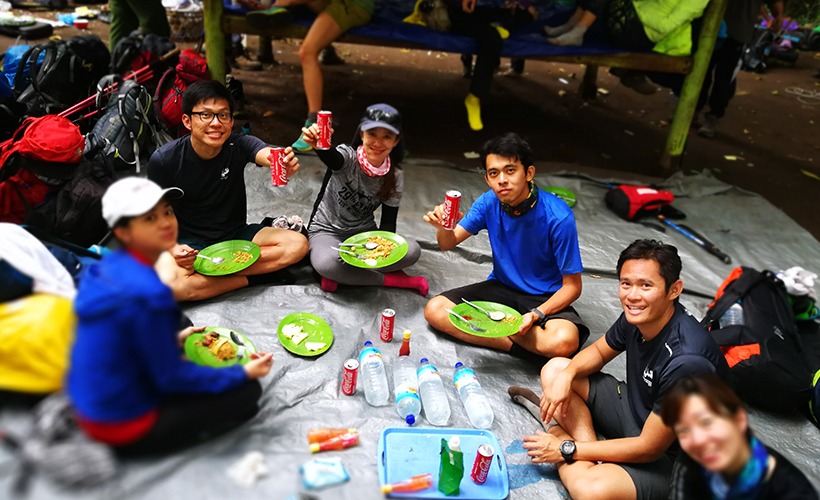 One by one, we spoke about our adventure, our motivations, and what gave us the final push to reach Rinjani summit. My teammate, Tan, who'd earlier harshly told me off while on the way up, admitted that she was also on the verge of giving up at that point. But when she heard my question, she just couldn't resist giving me a piece of her mind, which made her find the resolve to push herself all the way. Sometimes, it takes someone else to break our negative state of mind in order to keep going.
When the sharing ended, the party started. Our Indonesian friends turned on Lombok folk music and started leading us Malaysians to the centre for a dance. Hikers may not be the best dancers, but in the spirit of camaraderie and friendship, a large dance party ensued.
The sound of crackling firewood and joyful laughter filled the otherwise still forest air. A fitting end to an incredible adventure with amazing company.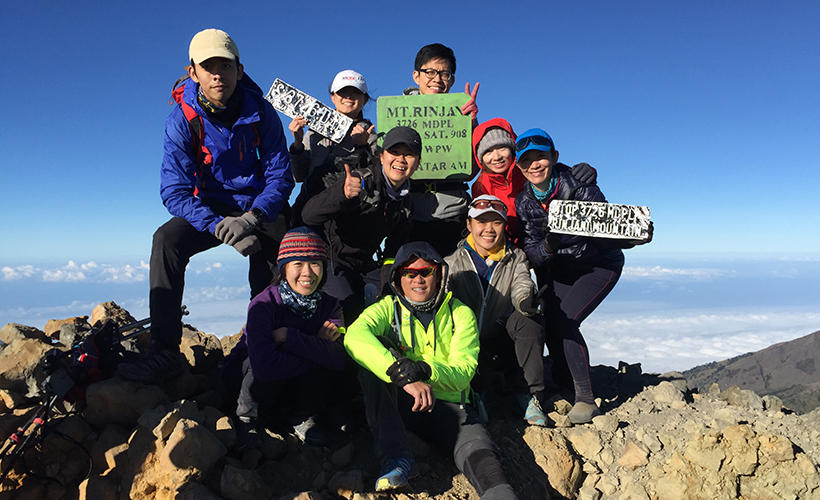 *The writer organises local and overseas treks with friends and strangers alike. Contact her at [email protected] for more details. All photos courtesy of the author.
[vc_row][vc_column][zf_post_boxes widget_hide_desc="true" num_post="3″ post_id="22829, 27870, 28310″][/vc_column][/vc_row]
Get all the latest travel stories from Zafigo. Follow us on Facebook, Twitter, and Instagram.