When it comes to special occasions, like anniversaries or birthdays, you have two basic choices. Three, if you count ignoring them completely. The first is to have a big party and invite all your friends and family to celebrate with you. The second is to take the money you would have used for the party to buy tickets for a travel experience. Considering the first would entail food, drinks, venue, music, a new dress, hair, and makeup, I decided on the second option.
My husband and I were nearing our silver anniversary in June this year. By any measure, 25 years is a big deal. It also happens to fall two days before my birthday. Not a very big birthday unless you see it the way my husband sees it, as the two biggest unbeatable domino combinations.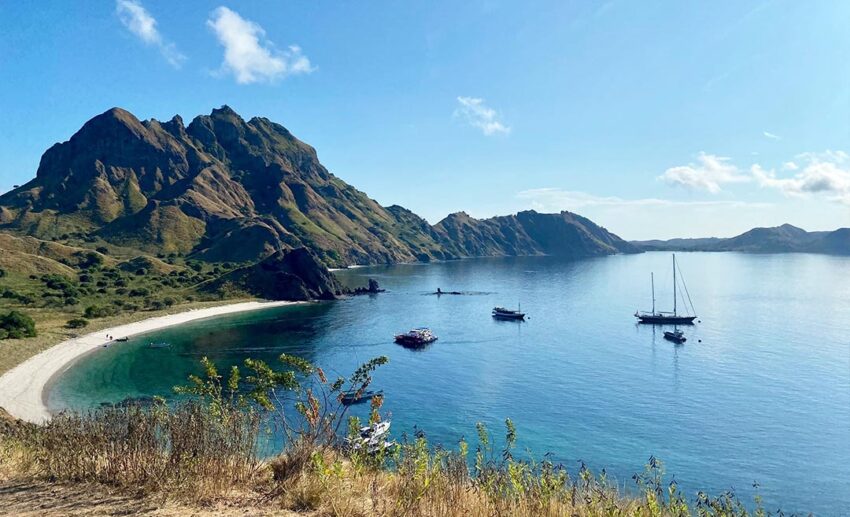 Ever since we've been married, hubby has been trying to take me to eastern Indonesia, specifically the Komodo Islands, home of those carnivorous dragons. He had always told me that those islands are very beautiful, especially the big island of Flores, named after the flowers the Portuguese saw when they first arrived there in the 16th century. But for 25 years, I had either not been able to find the time or been very nervous about meeting those dragons. They are, after all, carnivorous.
This year however, because I had no idea what to get hubby for an anniversary present, I suggested we go to Labuan Bajo, the city on Flores, from which we can go to Komodo Island. He was overjoyed, albeit a bit wary, given that he had not been there since the mid-80s when he was with a film crew making a documentary about the Komodo dragons. I think he was afraid to find the area spoilt by development, especially after seeing how Bali is now almost overrun by tourists, malls, restaurants, and traffic jams.
I can't say that either of us did much research before we went, so this is far from the definitive guide to Labuan Bajo. But this is what we did:
How we got there
We had intended to use soon-to-expire Krisflyer points for our trip, flying to Bali on Singapore Airlines and then on to Labuan Bajo on a local airline. But it turned out that we didn't have enough points, so we wound up flying on Malaysia Airlines to Denpasar. Then, because the connections didn't work, we stayed one night in Denpasar at the Novotel, which is walkable from the airport, before flying the next day on Garuda to Komodo airport in Labuan Bajo.
The flight to Labuan Bajo is only an hour from Denpasar, so this is not a bad route and probably less tiring, and we fitted in a nostalgic dinner at Made's Warung in Seminyak. We took the same route on the way back, but this time stayed at the Hilton Garden Inn, which is slightly further from the airport, so we had to take a cab. One tip: it might be cheaper to arrange with the hotel to pick you up for IDR50,000 (roughly RM15) than to take a Grab that wanted to charge us (roughly RM62) IDR200,000.
Had we done our research, we would have found out that you can fly to Jakarta and then change to one of the three daily direct flights to Labuan Bajo from there.
Where we stayed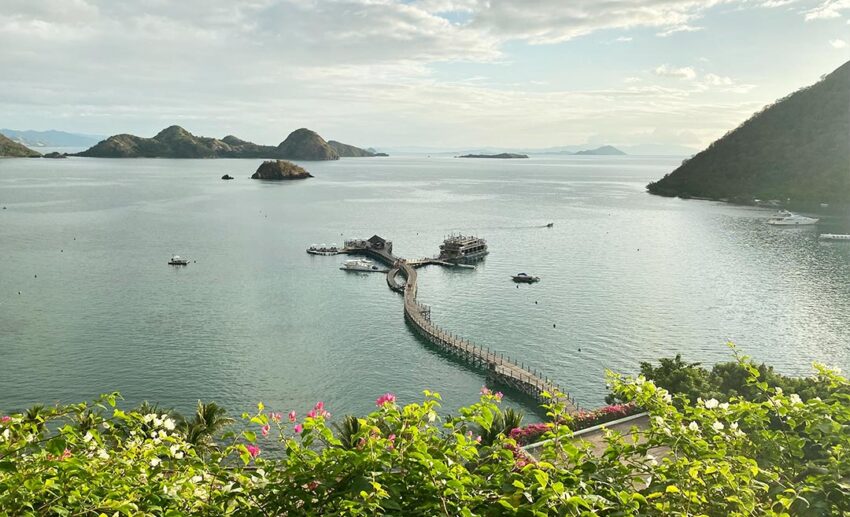 I looked up Booking.com and found two interesting-looking small hotels. We stayed for four nights at the Blue Parrot, which is a small property with only three rooms. You enter the reception, and the first thing you see is a breathtaking view of the sea with lots of little boats and little islands. We got the only room with that view, a large one with a comfortable king-sized bed. The bathroom, though, was a bit awkward; make sure you stay there with someone you're very intimate with.
The Blue Parrot only serves breakfast, but it is within walking distance from the centre of town and the harbour, so it is easy to get groceries from some mini markets and to eat at restaurants and cafes on Jalan Soekarno-Hatta. Pak Suni at reception is a very friendly and helpful person. He can also call a taxi if you're not keen on walking.
Then we moved to the Elang Bamboo Hillside Villas, which is exactly what it says. These are two-storey villas made entirely of bamboo set further up the hill with an even more amazing view of the seas. There's a small pool and dining area, but food, all of which we found delicious, needs to be ordered from reception.
Our room was lovely, with a queen-sized bed under a mosquito net, a small place to hang our clothes, a desk facing the view, a large bathroom, and a balcony where we spent a lot of time just gazing at the view. Downstairs is a sitting area, again facing the view, where the staff will bring breakfast. It also has a small kettle for us to make coffee or tea anytime. The local coffee is delicious.
What we did
Most people go to Labuan Bajo for two things: diving and visiting Komodo Island. Since neither of us are divers, we opted for island hopping. There are many local tour operators who offer day trips to the islands costing about IDR1,400,000 (roughly RM434) per person. This involves an all-day speedboat trip to six stops around the islands, beginning with Padar Island, where a very steep climb up its hill yields a view of its three beaches, each with different-coloured sand: white, black, and pink.
Next, we went to swim at another pink sand beach. The water is the epitome of aquamarine, perfectly clear and clean blue-green. After soaking in the sea and sun at the pink beach for about 45 minutes, we finally got to the highlight of the tour, Komodo Island, home of the Komodo dragon, in the Komodo National Park, a UNESCO-listed heritage site.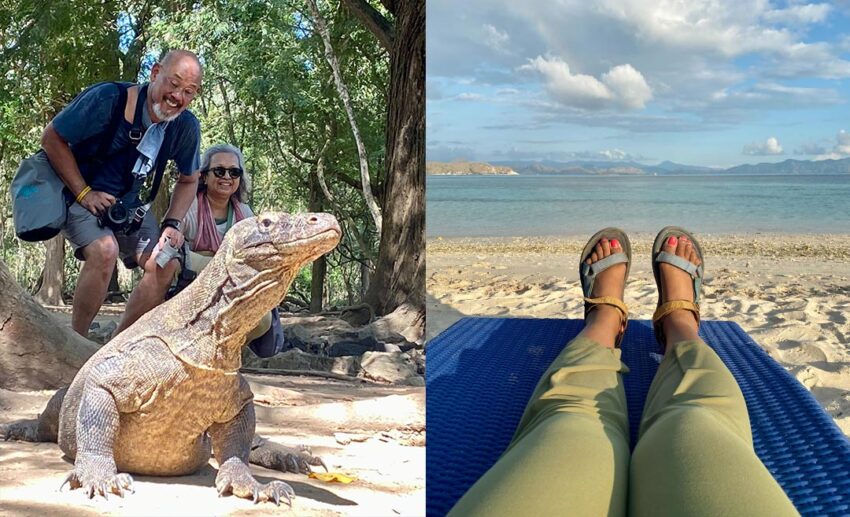 Before going on a walk to look for the dragons, the rangers briefed us on the dos and don'ts, essential not just because the dragons are protected animals, but also because they are carnivorous and their saliva is poisonous. It was mating season, and the dragons retreat into their nests to make babies, so we were lucky to see two adults and a youngster. And even posed with one of them!
The rest of the day was spent swimming and snorkelling at other beaches. Some people saw manta rays. We finally got back to Labuan Bajo just before sunset (which was about 5:30pm). The trip starts at 7am and includes lunch and tea. Breakfast is packed by your hotel, and the tour agency will collect you at your hotel and return you later.
What we ate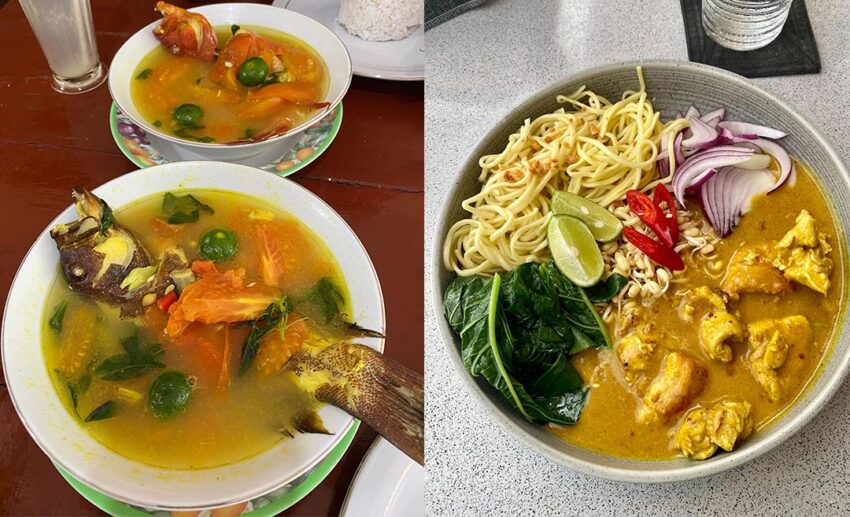 We were hoping to eat some good local seafood, but unfortunately, didn't really find any. Pak Suni from the Blue Parrot recommended the seafood stalls down the road from the hotel, but we didn't like the look of them. We did have drinks and food next door at Escape, which has a rooftop area to watch the sunset at.
Downtown along Jalan Soekarno-Hatta, there are quite a few Western-style cafes and restaurants, so you won't crave coffee or pastries ever. Our favourite place was La Cucina, which is an Italian restaurant with very authentic food. It's always full so you must book a table. We also had lunch at Copper Bonnet, which has good Thai food and an outside terrace facing the harbour. Burger Time, which is also owned by La Cucina, serves pretty good burgers.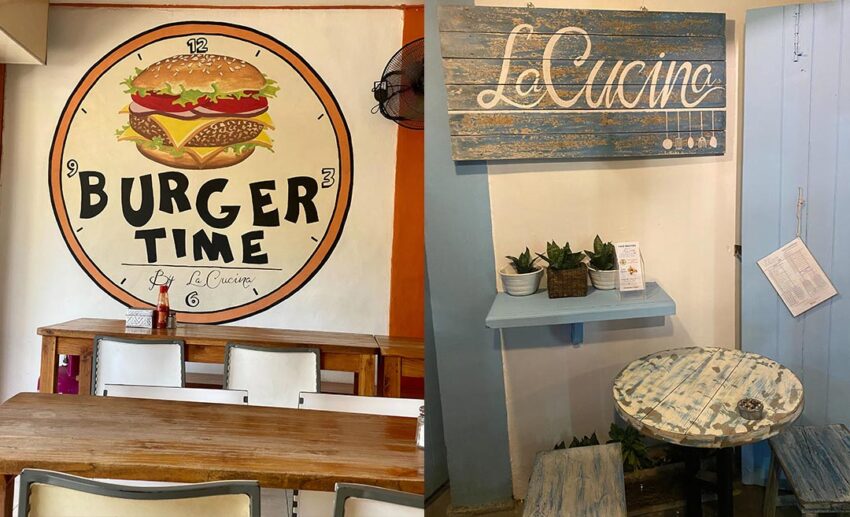 We did try one local restaurant that a friend recommended called Budi Luhur that is known for its fish soup. It tasted like tom yum.
One evening, we decided to treat ourselves to drinks at the Unique bar at the Ayana Komodo Waecicu Beach, a very beautiful 5-star hotel. The next day we returned for lunch at their coffee house and had some delicious local rice dishes. Despite its name, the Ayana doesn't have a beach. Instead, it has a long pier from which you can jump into the sea to swim. At the end of the pier, there is a bar and lounge chairs, so you can sit there and have a drink while savouring the sea breeze. They also have a large boat that you can have dinner on while it cruises around the islands.
What we loved
If you want somewhere to go for true peace and quiet, Labuan Bajo is the place. It is not yet overrun by tourists like Bali. You can do absolutely nothing like I did, or you can be more active and spend all your time in the sea. What I would like to do next time is live aboard a phinisi, a traditional sailing boat, with some friends and sail around the islands for a few days.
If you have more time, it is possible to take a drive further inland and visit Ruting up in the hills and maybe even drive all the way to Ende, where the best weavers are, and on to Maumere, the capital of Flores. Then you can fly back to Labuan Bajo.
What there isn't to do right now in Labuan Bajo is shopping. There are no nice boutiques with local handicrafts and other pretty souvenirs yet, but I understand that some entrepreneurs from Bali will be setting up their shops soon. A sure sign that Labuan Bajo is the place to go.
*All images courtesy of Marina M.