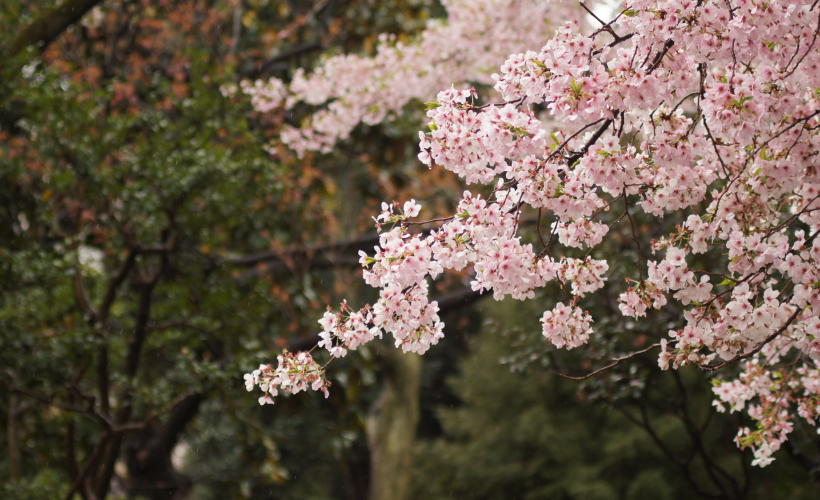 Springtime in Japan marks the beginning of cherry blossom (sakura) season. According to the first forecast for 2019, released by the Japan Meteorological Corporation, the famed cherry blossoms are expected to bloom early in 2019.
The forecast tracks around 1,000 locations across Japan and is updated on a regular basis for those planning to visit the country. Based on data derived from studying the blooming characteristics of the Somei-Yoshino tree, the most common type of sakura tree, the data predicts that 2019 will see earlier blooming dates.
"Kochi in Shikoku will be the first place to flower, on March 18, and Kyushu is expected to be the next," says Isao Kanda of the Japan Meteorological Corporation's Earth Science Center in Osaka. "In Tokyo, flowering will start from March 22, four days earlier than normal years, and full bloom is expected around the March 29."
At other major tourist destinations, Hiroshima should see flowering from 23 March and full bloom by 1 April, Kyoto from 25 March and 2 April, and Osaka from 27 March and 3 April.
---
Planning to indulge in the pink? Here's what to remember:
---
Locations like Wakayama and Kagoshima are all also expected to see flowering start before the end of March, with full bloom approaching by the first week of April.
Sapporo, up north in Hokkaido, will be fashionably later than the rest of the country, flowering on 4 May.
This year won't mark the first time the blossoms are expected to arrive early, with more than 350 sakura trees blooming six months ahead of time last October due to typhoons and irregular weather.
Cherry blossoms' flowering and full bloom are highly dependent on temperature patterns that start as early as autumn of the prior year. This is because flower buds form in the summer and enter a dormancy period throughout the winter. Any unusual increases in temperature will usually trigger an earlier flowering date.
---
Got your mind on other blossoms? Then you'll love these:
---
"On one hand, this winter has been relatively warm, which tends to delay blooming," Kanda says of this year's bloom. "On the other hand, it is forecast to be warm in spring, which tends to hasten blooming. Because the effect of the spring warmth is expected to be slightly more influential, we predict blooming will be a little early this year – up to five days, depending on the location."
For those who happen to be visiting Japan early, you don't have to miss out on the sea of pink blooms as a variety of cherry blossoms called the Kawazu-zakura is expected to bloom about a month earlier than its sibling in the town of Kawazu.
Get all the latest travel stories from Zafigo. Follow us on Facebook, Twitter, and Instagram.