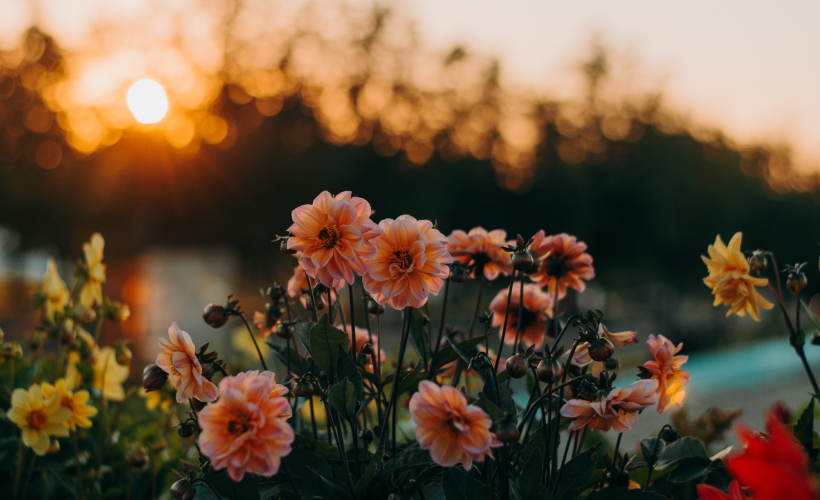 Posing for a photo amidst the tall, beckoning sunflowers of Bangkok, strolling hand-in-hand with your other half while waist-high tulips engulf you in colourful Holland, watching the petals of Japan's cherry blossoms fall gently through the air as you enjoy a picnic under its bowers.
If these scenes appeal to you more than any budget shopping tour in the city ever could, then flower tourism might just be your thing! Flower tourism is pretty self-explanatory – tourism driven by vast flower fields or parks. It can be an effective way to draw tourists to a more underdeveloped part of the country. For tourists, it means travelling according to the specific seasons to catch a glimpse of the flowers blooming in all their glory!
These eight flower tourism spots across the globe are a sight to behold, so make sure you plan your trip wisely so that you don't miss them. After all, nature is, and will always be, the most beautiful attraction.
Khao Yai, Thailand – Sunflower Fields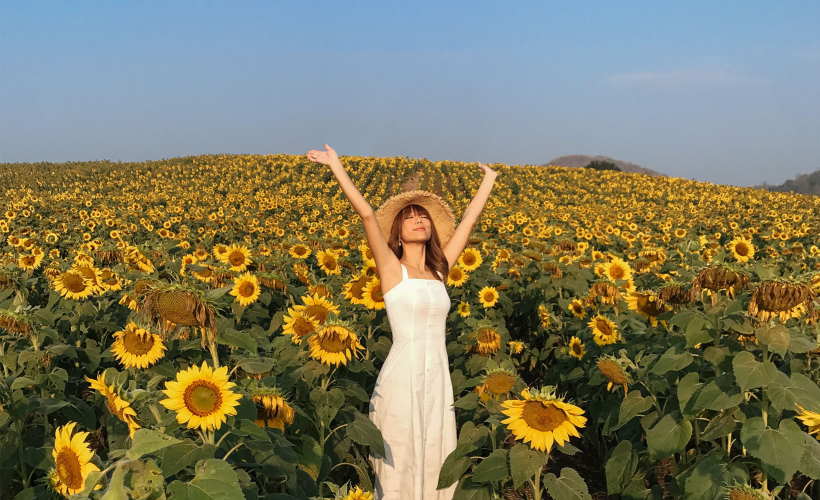 Khao Yai is a mini English countryside just three hours away from Bangkok! Not many think of this national park when Thailand comes to mind, but for most Southeast Asians, it's a more wallet-friendly and accessible way to experience a slice of Europe without breaking the bank. Other than feeding alpacas, visiting a mushroom farm, and experiencing what it's like living in a Hobbit's dwellings, the sunflower fields here are not to be missed!
There are two main sunflower fields in Khao Yai alone. Manee Sorn sunflower field and the Jim Thompson farm. The flowering season for these sunflowers are from November to January.
2. Tokyo, Japan – Cherry Blossom Viewing Spots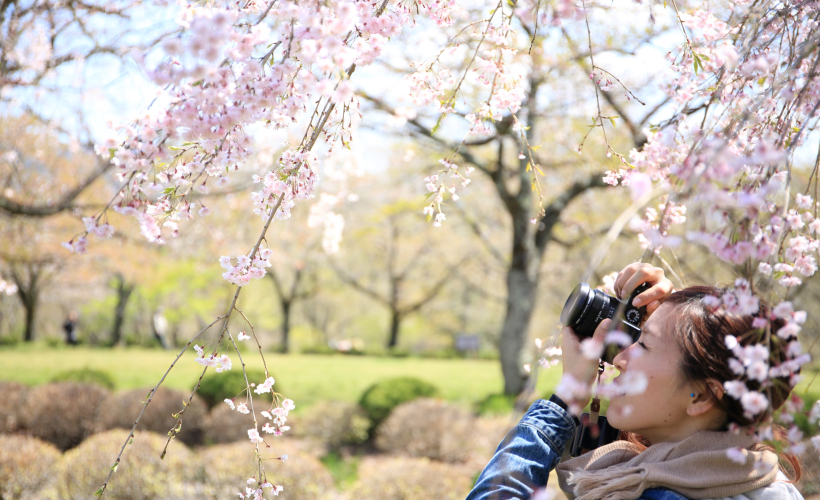 Probably the most infamous flower tourism attraction and every traveller's dream, the cherry blossom or sakura flowers of Japan rake in millions of tourists every year. There are tons of cherry blossom viewing spots in Tokyo alone, and even though you can simply walk down the streets to be able to see them, the full experience requires a picnic mat, alcohol, street food or home-packed feasts, and most importantly, good company!
In a practice called hanami or cherry blossom viewing, people gather around under the branches of the cherry blossoms during full bloom in a bid to experience the flowers in all their glory, while also an excuse to bond with friends and family over a drink or two. Some of the most popular hanami spots include Ueno Park, Shinjuku Gyoen National Garden, Chidorigafuchi, and Inokashira Park. For less crowded, more secretive spots, check out Sarue Onshi Park and Sumida River Park. The dainty pink blossoms usually bloom around the end of March to the beginning of April.
3. Holland – Vibrant Tulip Fields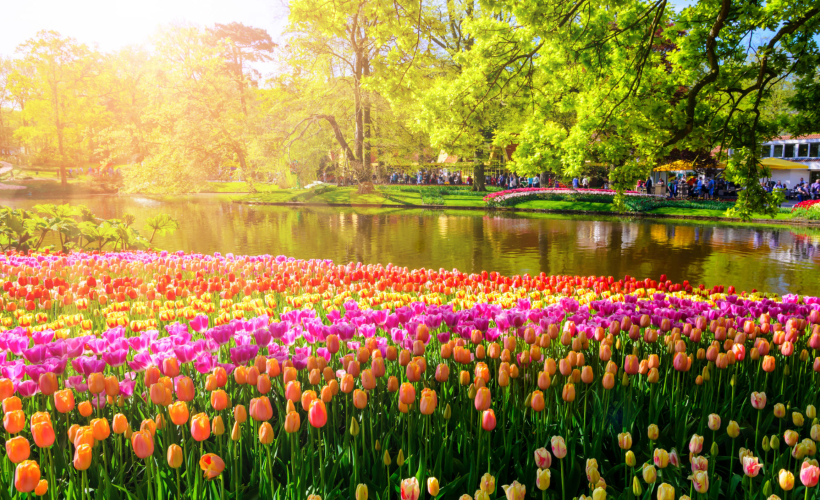 When it comes to flowers, there's no experience more magnificent than standing amongst the fields of Keukenhof, famously dubbed as the Garden of Europe. Acres and acres of red, yellow, white, and pink spanning as far as the eye can see. Sure, you've seen that scene on computer wallpapers, but it's truly something you have to witness in person. These vibrant bulbs play a huge role in Holland's overall tourism and has deep historical and economical ties with the region.
It goes without saying that if you only have time to visit one tulip field while you're there, it has to be Keukenhof situated in Lisse, South Holland. With approximately seven million bulbs planted annually and 79 acres of floral beauty, it's famous for good reason. For something even bigger but more peaceful, visit Noordwijkerhout, a municipality within an area of the region fondly known as the "bulb-growing region". Tulip season here runs from the end of March until mid May.
4. Provence, France – Fragrant Lavender Fields
Nothing exudes provencal charm like the fields of lavender there.The rolling fields of elegant flowers are the main highlight for most when it comes to Provence. And more often than not, those picturesque shots you see all over the Internet are probably from the lavender fields in Sénanque Abbey! The cobbled walls and charming architecture only add to the tranquil ambience. Keep in mind though, that the area is tended and home to the Cistercian monks so don't be too loud and always watch your manners. The latter includes not trampling or picking the lavender flowers!
Fields aside, distilleries where essential oils are manufactured also make for another option to enjoy these fragrant blooms. Along with a bunch of fresh lavender which dries up beautifully, they make the perfect souvenir! All these can be experienced in the historical little town of Sault in southeastern France. The elevated town comes alive during early July to early August when blooming season is in full swing and the entirety of Sault is cascaded in fields of purple.
5. Tochigi, Japan – Wispy Wisteria Parks
Native to East Asia, Wisteria are climbing plants with long strands of flowers in pink, violet, white, and most notably, periwinkle – a lovely shade of pastel lavender-blue. Tochigi prefecture in the Kanto region of Japan is the best place to see these blooms presented in the most romantic, picturesque way you could ever imagine. During the daytime, curtains of Wisteria blanket the skies above, making for a gorgeous photo-op or pre-wedding shoot destination.
Ashikaga Flower Park is the most well-known park for these blooms. Some of the flowers are over 150 years old! Kawachi Fujien Wisteria Garden in Fukuoka is also another popular destination for its long tunnels enshrouded in Wisteria vines. And if you happen to be staying nearby Aichi, check out Mandara-ji Temple and Tennogawa park! Japanese wisterias bloom from mid April to early May.
6. Crested Butte, Colorado – Wildflower Festival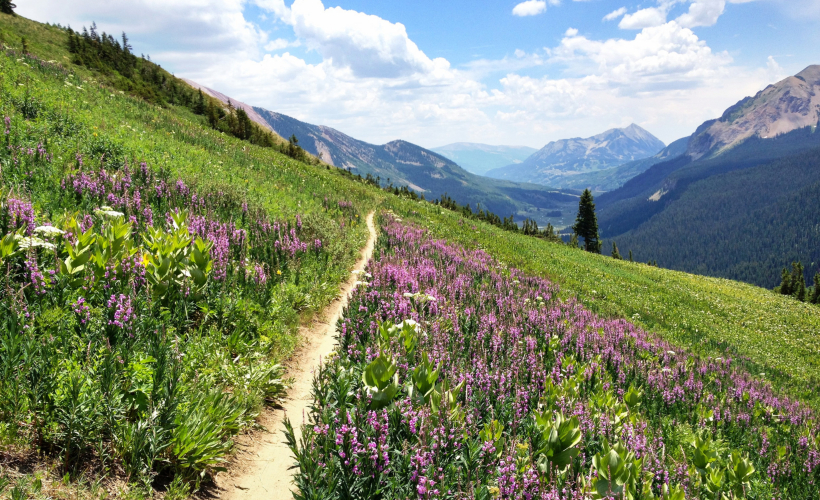 In a remote valley of Colorado lies Crested Butte, where the snow-capped alpine landscape melts and gives way to hills upon hills of wildflowers. During late spring to early summer, visitors flock to this area – known as the Wildflower Capital of Colorado – for Crested Butte's wildflower festival.
The only way to enjoy this surreal experience is to get off your feet and hike, no lazy way around it! There will be experienced tour guides to guide you through the meandering routes. One such route is the Lupine Trail which brings you past thousands of lupine flowers. The Brush Creek Trail is also a great option for you to see sage bushes in vibrant colours. Though most of these flowers can be seen throughout the spring and summer seasons, early July is peak season, your best bet to experiencing the wildflower hills in all their glory.
7. Hallerbos, Belgium – "The Blue Forest"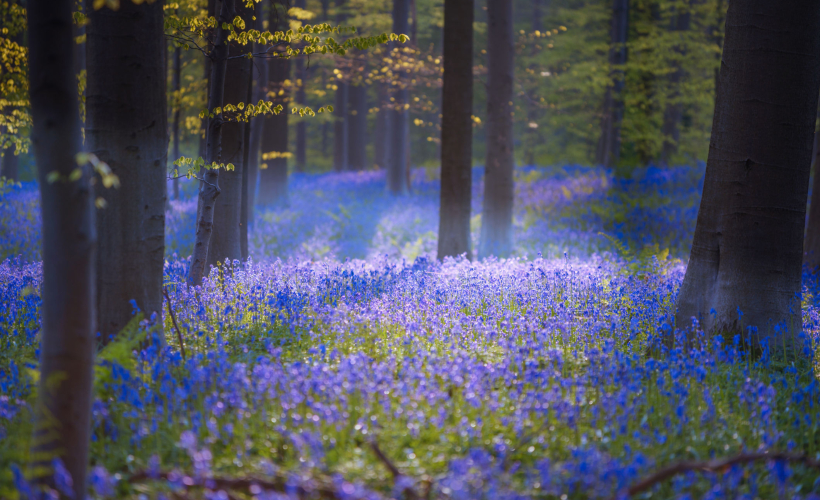 Slender trunks of beech and oak loom over carpets of vibrant bluebells, turning the scenery in Hallerbos into a whimsical painting. You'd half expect fawns to be skipping around you and the sound of harp to start playing out of nowhere! A lesser-known flower tourism spot, Hallerbos is an ancient forest in Halle, Belgium which comes alive usually in April.
When the weather, soil conditions, and sunlight come together in perfect harmony, these fickle flowers bloom and transform the green-browns of the forest floor into a vast carpet of violet bluebells. A stroll through the trails of this enchanting forest make for a rare experience, considering how tricky it is to predict the blooming of these flowers. Make sure you closely follow the flowering seasons on their website in order to not miss the golden period which is usually sometime in April, but can begin as early as March or extend to May.
8. Cape Town, South Africa – UNESCO Floral Sites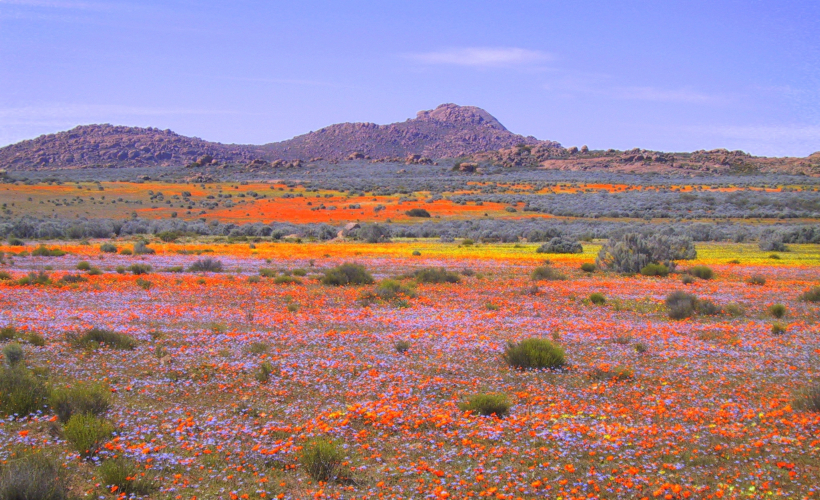 One of the richest centres of biodiversity known, the Cape Floristic Region in South Africa is the most unique of the six floral kingdoms, with 30% percent of the plant genera here found nowhere else in the world! It represents less than 0.5% of area in Africa but is home to nearly 20% of the continent's flora.
Statistics aside, if you're looking to see unique, one-of-a-kind flora, there's no better place to be than in Cape Town. There are many different protected gardens and parks where you can explore the landscape, one being the Kirstenboch Gardens. This garden in particular falls under one of the eight protected gardens of Cape Town's UNESCO heritage site. Visitors can expect a fragrance garden, medicinal garden, and if you come at the right time in summer, concerts and even an outdoor cinema.
Get all the latest travel stories from Zafigo. Follow us on Facebook, Twitter, and Instagram.