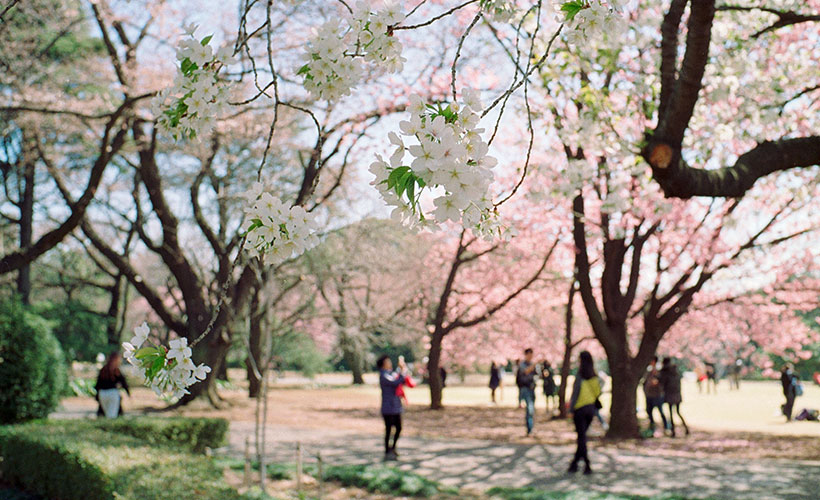 For many, few things say "spring has arrived" more than the sight of cherry trees in full bloom, gently raining their petals down on delighted onlookers. And nothing is as quintessentially Japanese as the hanami, or cherry blossom viewing, where you enjoy a picnic underneath the trees.
If you're planning on travelling to Japan for this delightful experience anytime soon, here are the best spots to check out:
TOKYO
Shinjuku Gyoen
Just a 10-minute walk away from Shinjuku Station, Shinjuku Gyoen has over one thousand sakura trees and plenty of spacious lawn area for everyone. With a mix of early and late-blooming trees, you're sure to catch some trees in bloom no matter when in the season you visit. There's a small admission fee of ¥200 (approximately USD2), but it's well worth it for one of the best hanami spots in Tokyo. Do note that opening hours are from 9am to 4.30pm and alcohol is not allowed.
Ueno Park
Located right next to Ueno Station, Ueno Park is usually packed with tourists and locals during sakura season. Take a leisurely stroll towards the National Museum or around Shinobazu Pond for the best views.
Mitsuike Park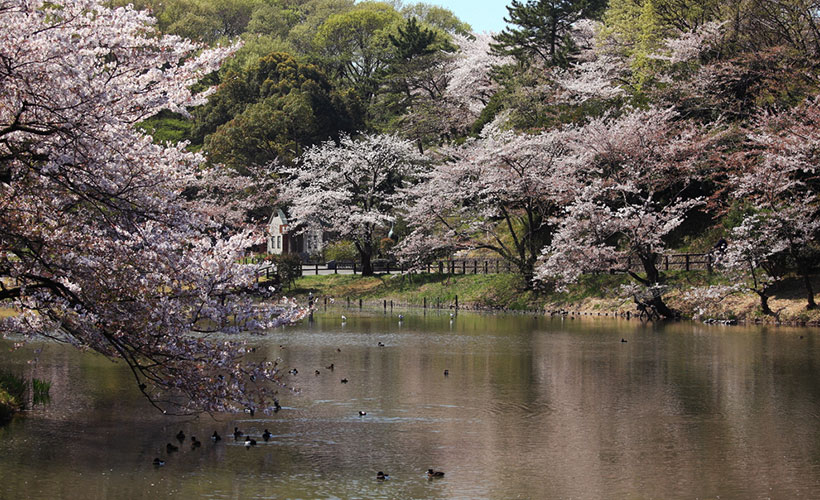 Looking to escape the crowds in central Tokyo? Take a short train ride to nearby Yokohama to take in the blossoms at Mitsuike Park, listed as one of the top 100 cherry blossom spots in Japan by the Japan Cherry Blossom Association. You can easily grab a direct bus from Tsurumi Station or Shin-Yokohama Station.
FUJI FIVE LAKES REGION
Lake Kawaguchi
The northern shores of Lake Kawaguchi offer a postcard-perfect view of the lake and its blossoming cherry trees, along with the majestic Mount Fuji in the background. You'll want to set up your hanami spot at the lakeside promenade to the east of Kawaguchiko Music Forest.
Ubuyagasaki Peninsula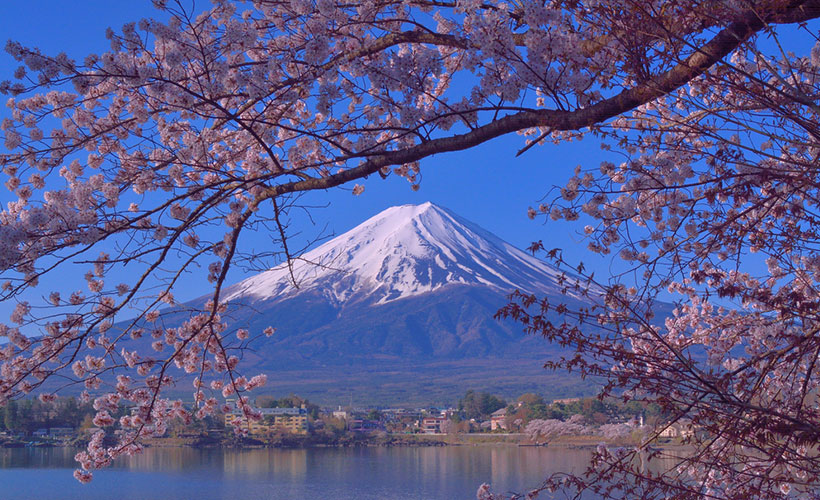 For another great view that combines Lake Kawaguchi, Mount Fuji and a profusion of sakura trees, head to Ubuyagasaki Peninsula, located next to the Kawaguchiko Ohashi Bridge.
KYOTO
Maruyama Park
Maruyama Park, situated next to Yasaka Shrine, is the top hanami spot for Kyoto's cherry blossom enthusiasts. The star of the show is a giant, elegant weeping cherry tree with its low-hanging branches, which are awash in pretty lights at night. During sakura season, several restaurants and food stalls set up shop, where visitors can dine in the picturesque setting.
Arashiyama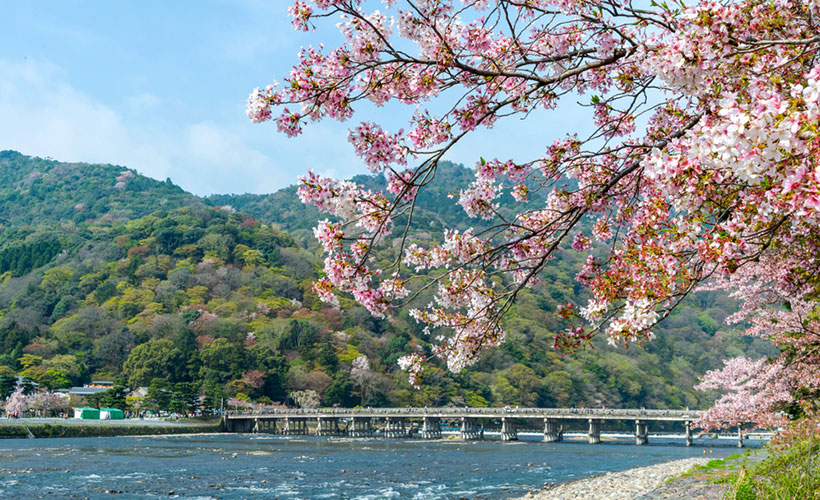 When you're in Kyoto, of course you've got to visit the famous Arashiyama Bamboo Forest in the outskirts. While you're in the area, you should also take a walk alongside Katsura River, where the sakura trees lining the river offer a wondrous sight, complemented by the mountains in the distance.
Heian Shrine
Can't get enough of weeping cherry trees? Heian Shrine's garden is home to a large swath of them, where you can view cascades of cherry blossom-laden branches. Entry to the shrine's gardens cost ¥600 (approximately USD5.60), and is open from 8.30am to 5.30pm.
OSAKA
Kema Sakuranomiya Park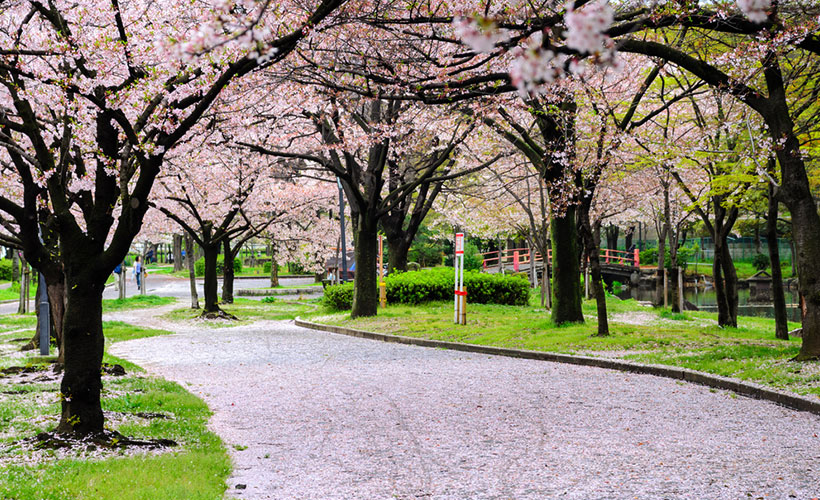 With thousands of cherry trees lining the riverbank of Okawa River, it's easy to find a great spot for your hanami. You can even take a walk along the riverside promenade or hop on a boat that cruises down the river.
Osaka Castle Park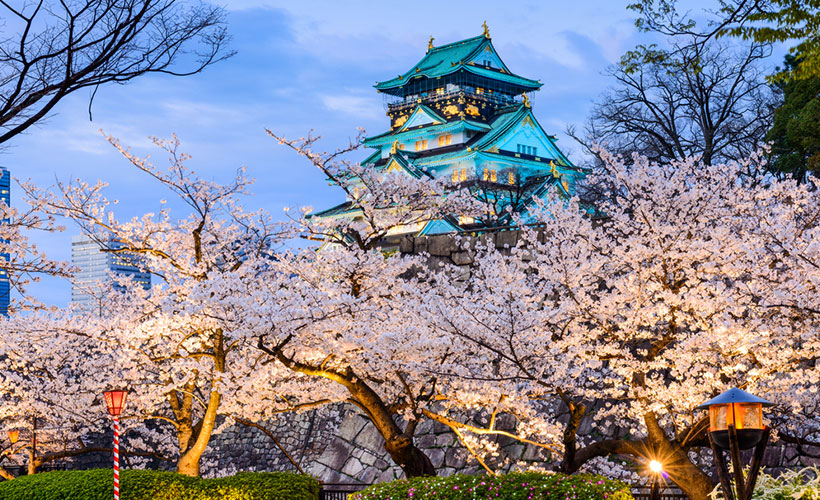 For an impressive view of Osaka Castle, head to Osaka Castle Park for your hanami. It's one of the most popular cherry blossom viewing spots in Osaka. For one week during the peak of the season, the castle and trees are illuminated at night. However, while the rest of the park is free entry, to catch the night hanami which takes place from 6pm to 9pm in Nishinomaru Garden on the castle grounds, you'll have to pay an admission fee of ¥350 (approximately USD3.30).
Expo 70 Commemorative Park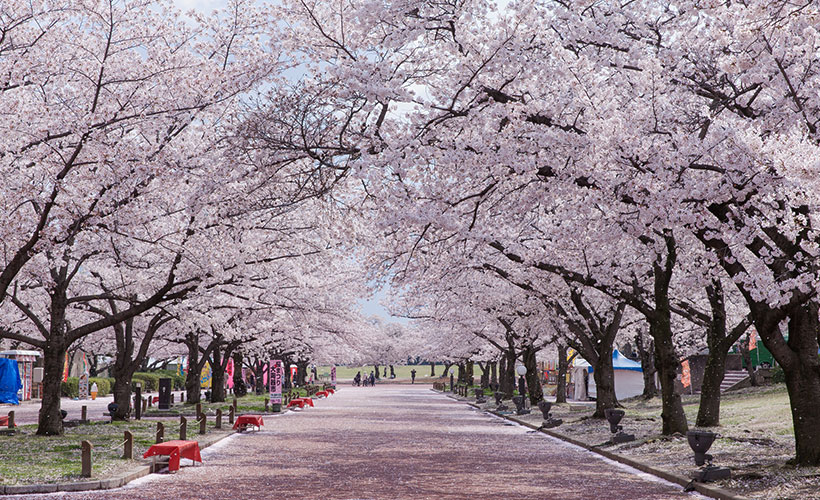 Located near Banpaku Kinen Koen Station, the former site of the 1970 World Exhibition in Osaka has since been transformed into a huge public park with thousands upon thousands of cherry trees scattered along its paths and parkland area. Typically open from 9.30am to 5pm, opening hours are usually extended during sakura season. It costs ¥250 (approximately USD2.35) to enter.
All photos courtesy of Traveloka unless otherwise stated.

This story was originally published on Traveloka.
Zafigo republished this story in full with permission from the author to hopefully bring the story and the author to a larger audience, simply because good authors and stories should be read by as many people as possible! If you are keen on Zafigo republishing your stories that will be of interest and useful to women travellers especially in Asia and the Middle East, please get in touch with us at [email protected].