With Ramadhan month almost over, some members of team Zafigo are preparing to 'balik kampung' (return to the village/hometown) for the Eid al-Fitr celebrations. Known in Malaysia as Hari Raya Aidilfitri, the Muslim holiday is spread over two days, but many locals extend their break to spend more time with family and loved ones at their hometowns.
Hari Raya celebrations usually last the entire month of Syawal (the first month of the Muslim calendar. So Eid al-Fitr is quite like celebrating New Year's), and Malaysians of all races and religions celebrate together with open houses as a sign of solidarity, friendship and unity. However, for the first week or so, locals will be on the exodus back to their home towns either by bus, car, plane or train.
Here, three Zafigo team members share what their travel essentials are for surviving their yearly trip out of the big city.
Deda Rizwani, Personal Assistant to Marina Mahathir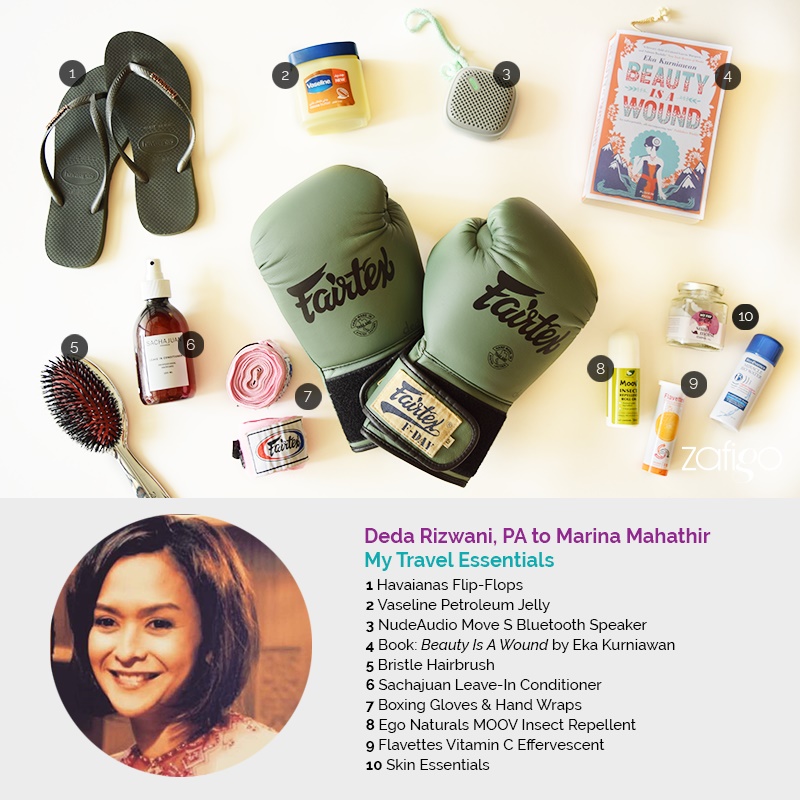 A true blue Johorian, Deda grew up in Malaysia's southernmost state, so she and her family make the yearly trek by car to her home town of Muar, Johor, where her grandfather still resides.
1. Havaianas flip-flops: These are a must when running around! We receive guests during the first half of the first day or Raya, then spend the second night doing the Marhaban (Originally an Arabic greeting, in Malay culture, Marhaban is an event in itself. A homecoming of sorts where others from the kampung come over to either sing or recite prayers).
2. Vaseline Petoleum Jelly: This do-it-all product works wonders for the whole family; even the kids. You can use it to remove makeup, on scrapes, nicks or dry skin, anything.
3. NudeAudio Move S: This was a really good gift from a friend. It's a portable Bluetooth speaker that I use to listen to music while at the kampung or whenever I'm on-the-go.
4. Book: Beauty Is A Wound by Eka Kurniawan: This is my current read for Raya. It's a habit of mine to carry a book everywhere I go because I want something that I can read with me at all times instead of being on my hand phone and getting lost on the internet.
5. Bristle hairbrush: A bristle brush such as this helps to fight frizz and makes it easy for me to blow-dry my own hair.
6. Sachajuan Leave-In Conditioner: This oil-free leave-in conditioner also makes it easier for me to style my hair on Raya morning. I don't have time to go to the salon so early in the day, and I'm in a kampung after all.
7. Boxing gloves and hand wraps: To keep up with my regimen and to (try) work off all that ketupat and rendang I'm feasting on; I do a little shadow boxing at my grandfather's house. He's got a large compound and all I need to do is find a little space. It makes me feel less guilty about all the food.
8. Ego Naturals MOOV Insect Repellent: My grandfather's house in Johor is in a kampung and surrounded by jungle. While I do love the lush green, there are a lot of mosquitoes, but this repellent helps keep them at bay with natural key ingredients.
9. Flavettes Vitamin C Effervescent: For me, it's important to have supplements when on the road. In particular, this holiday period, what with all the spicy food we'll be eating, I need to make sure my body doesn't get 'heaty'.
10. Skin essentials: I need to make sure my skin stays hydrated with all the travel and late nights of socialising. To keep my complexion in tip-top shape, I use this face mist on the road and indulge in the occasional face mask while settled in at home.
---
If you are travelling to and within Southeast Asia, prepare for mozzies.
9 Tricks Asians Use To Stop Mosquitoes From Biting
---
Tengku Zai, Content Manager and Sub-Editor of Zafigo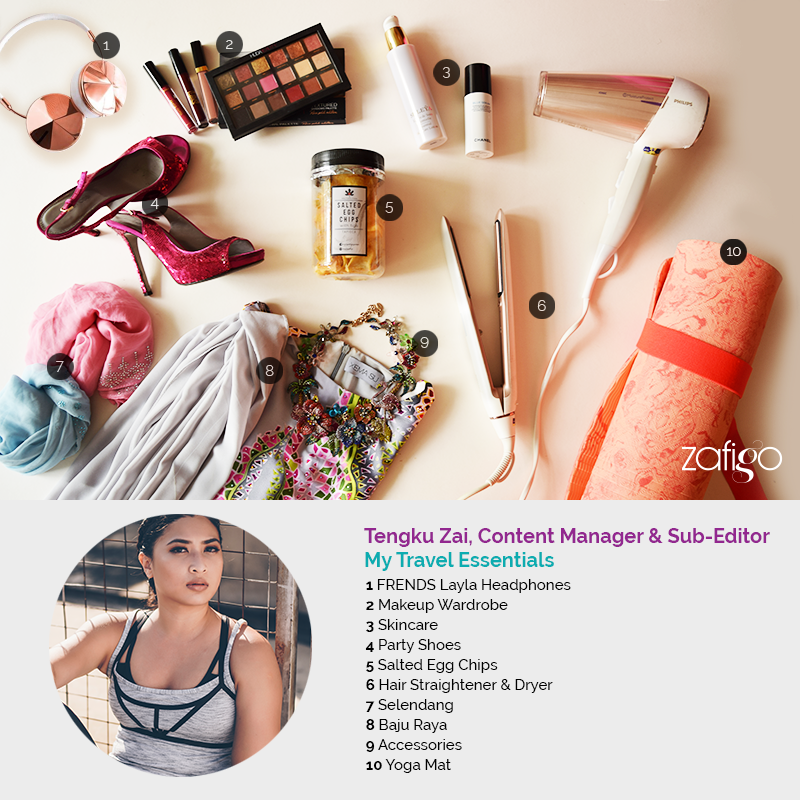 You can take the girl out of Kelantan (a northern Malaysian state), but you can't take the Kelantan out of the girl. Although Zai grew up in Kuala Lumpur, she still has a close affinity to her home state where she was born. Every Raya, she flies back to Kota Bharu, Kelantan, to spend time with her family who gathers there.
1. FRENDS Layla headphones: I almost always fly back solo, so I keep myself entertained at the airport and in-flight with the tunes I've downloaded on Spotify. These noise-cancelling headphones from Frends are made with ultra-soft leather, making them really comfortable to wear. Of course, I love how they're pretty stylish too.
2. Makeup wardrobe: Since I can't bring everything with me, I'll bring one palette that can create multiple looks and an array of lip liquids or lipsticks so I'll always be ready to put my best face forward.
3. Skincare: I'm a total skincare junkie. My skin's also pretty sensitive to change, so I need to make sure my complexion's always well-hydrated with serums and lotions.
4. Party shoes: They're not new, but these sequined Sergio Rossi stilettos go with just about everything! And since we're celebrating, the more sparkle, the better.
5. Salted egg chips: I can always count on my siblings to bring back the cookies and desserts, so this year I figured I'd bring back something different. These salted egg tapioca chips with fig are extremely addictive. I'd advise caution when popping one open.
6. Hair essentials: I struggle to find a hair-dryer that's strong enough to dry my mane quickly. This one does the job fast, and also tames frizz. This matching hair straightener is what I actually use to curl my hair. I find that I save loads of time and money being able to style my own locks.
7. Selendang: My family and I usually go to the Makam Diraja Langgar (royal mausoleum) where my father and relatives are laid to rest to recite prayers and visit. Covering up is mandatory and I usually bring back some matching selendangs (scarves) to cover my hair. These snoods are really easy to wear.
8. Baju Raya: A definite must! One of my go-to designers is Xema Su and this year she's made this custom classic baju kurung (grey) with an attached shawl for me for the first day.
9. Accessories: No Raya outfit is complete without the accoutrements to match! I'm pairing this tropical statement necklace with a yellow baju Raya I'm wearing on day two.
10. Yoga mat: After all that eating (and if I have the time), I'll do a short stretch just to get my blood flowing. I try not to be too sedentary with all the feasting going on! Operative word here being 'try'.
---
Yoga on an airplane? Zafigo Sub-Editor Tengku Zai, shows you how!
---
Azleen Ashaari, Secretary to Marina Mahathir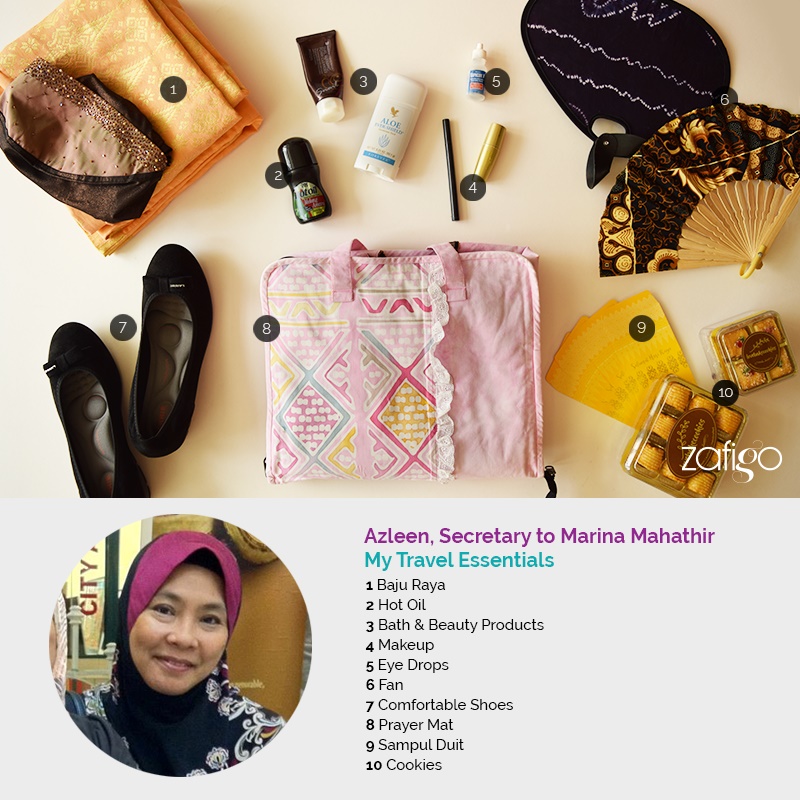 Although Azleen only makes a day trip to her hometown of Bentong, Pahang, on the first day of Raya, there are still a number of things she needs to pack. She begins the day's festivities at her parents' home in Subang, then loads the kids up in the car and joins the family convoy to Pahang. The return road trip takes four to six hours (depending on holiday traffic), making this a real labour of love.
1. Baju Raya: Every year, the whole family dresses sedondon (matching), and this year our theme is songket (a traditional Malaysian material woven with gold or silver thread).
2. Hot oil: This roll-on hot oil is a life-saver! It helps ease away any aches and pains that I have after hours of hosting, standing and cleaning up. And since it's a roll-on, it makes it easy to bring along and apply to areas like my shoulders.
3. Bath and beauty products: Even though it's just for the day, two absolute musts when headed back to my hometown are facial cleanser and deodorant. You'll need it to stay fresh as things can get pretty hot and sticky.
4. Makeup: I'm a pretty simple person. My Raya look consists of just eye liner and lip gloss.
5. Eye drops: It can get a bit dusty in the kampung and my eyes are pretty sensitive. Not only do they start to itch, but they can also get red, so I always have a tiny bottle of eye drops with me just to keep that little twinkle in my eyes.
6. Fan: This is a must for any function, really. But it gets especially warm and humid in the kampung, and this slips right into any bag, big or small.
7. Comfortable shoes: I always stick to wearing flats. Makes it easier for me to stay on my feet for longer hours when hosting friends and family. They're also great when standing for photographs! We always take loads.
8. Prayer mat: There are always a lot of people at my aunt's home in Bentong, so it's a lot easier for me to bring my own sejadah (prayer mat). This pretty pink one is foldable and meant for travel.
9. Sampul duit: This is probably what the young ones are looking forward to! Every year, I hand out an average of 30 sampul duit (envelopes containing money) to give to my young nieces and nephews who aren't working as duit Raya (Eid money). The older ones, like my parents, usually get a larger amount, while younger family members get a little less.
10. Cookies: In my family, everyone brings something when we balik kampung. It's like one giant pot luck with one cousin bringing ketupat (traditional sticky rice) and others bringing other cooked foods. I didn't cook this time around so I'll be bringing dessert.
---
Having a compact wardrobe makes packing super easy!
---