By now, most of us (if not everyone) have seen that video of a passenger being mercilessly dragged off an overbooked United Airlines flight which went viral on Monday morning. Related news, updates, and memes are still flooding Facebook feeds.
The passenger, since identified as Dr David Dao, was on his way home to Kentucky from Chicago when he and his wife were asked to leave the flight to make space for United Airlines crew members. Dr David refused to deplane, explaining that he had patients to attend to back home. On his refusal, he was dragged out by security officers in full view of the other (visibly horrified) passengers, and sustained a bloody nose during the incident.
The incident sparked outrage, with netizens expressing their anger at the airline while sympathising with the injured passenger. It also prompted travellers to start asking, what if it happened to me?
Southwest Airlines just won the internet pic.twitter.com/Kz6wPslnb6

— Break (@break) April 12, 2017
Not being given a seat on a flight due to overbooking – called bumping in the airline industry – is a common occurrence that frequent travellers might already have experienced. What should you do if you ever find yourself in the same predicament? Can this be avoided? Read on to know more.
Read Also: 5 basic passenger rights that you need to know before you fly
Why do airlines overbook flights and what happens if the flight is overbooked?
The first natural answer here is to avoid making financial losses. The travel industry is worth millions of dollars, and every business thinks about sustainability first. Another reason could be the use of a smaller sized aircraft than anticipated, leading to an overbooked flight.
Whatever the reason and as bizarre as it sounds, airlines CAN legally overbook flights. Even the US Department of Transportation says so.
So what happens next? In case of an overbooked flight, it is the duty of the airline to first ask for volunteers who are willing to disembark in return for compensation or benefits. If no volunteers are available, it is the right of the airline to deny boarding to any passenger (usually the ones who check in late).
How can you avoid getting bumped?
Here are some tips you can use to avoid being bumped off your flight:
Check-in early
Keep this as the golden rule when you are travelling, especially when you are on a business trip. From a sudden change in flight schedule to being a victim of an overbooked flight, a lot of things can go wrong when you are travelling. So do make it a point to check-in at least 30 to 45 minutes prior to the suggested time. And don't worry about getting bored, airports are built to keep you occupied (we suggest a quick massage).
Read Also: 13 Amazing Airport Feature Lounges That Take Travel To The Next Level
Board on time
Don't be a lazy traveller! Many of us have the habit of relaxing after check-in at a cool airport bar or Instagraming fancy cocktails. Instead, be at your gate a good 20 minutes before your actual boarding time and enter the flight when your row number is called out. This basically gives the cabin crew an indication that you are available for the flight and on time.
Cooperate with the cabin crew
They are there to make your journey better, and it is a courtesy on your part to be nice to them. If there are unexpected incidents and the cabin crew requires you to wait or are unable to let you board your flight, as frustrating as it may be for you, practise patience. The chances of receiving better assistance are higher when you are pleasant and not grouchy.
Buy yourself some security
Here's the harsh truth: If a flight needs to bump off passengers, they will start with those who paid the lowest fares. Sure, we all want a good bargain when we travel but everything comes with a price. If you book the cheapest flights, know that there is a high chance of being bumped should the situation call for it. One way to navigate that is to pre-select your seats, which many airlines these days charge an additional fee for. It's not a sure-fire guarantee but worth a try.
Read the terms and conditions
It is a tedious thing to do, but do familiarise yourself with the terms and conditions (usually printed on the last page of your ticket) of the airlines you are flying with. While there are many standard practices, each airline also has its own policies. At least you'll be well informed should any 'bumpy' incidents occur.
If you are bumped from your flight, what can you expect as compensation?
The Malaysian Aviation Commission (MAVCOM) states that passengers who are denied boarding should be given a choice between a full refund or a replacement flight. If you have a complaint against an airline or do not receive proper compensation, you can lodge a report with MAVCOM to further investigate the matter.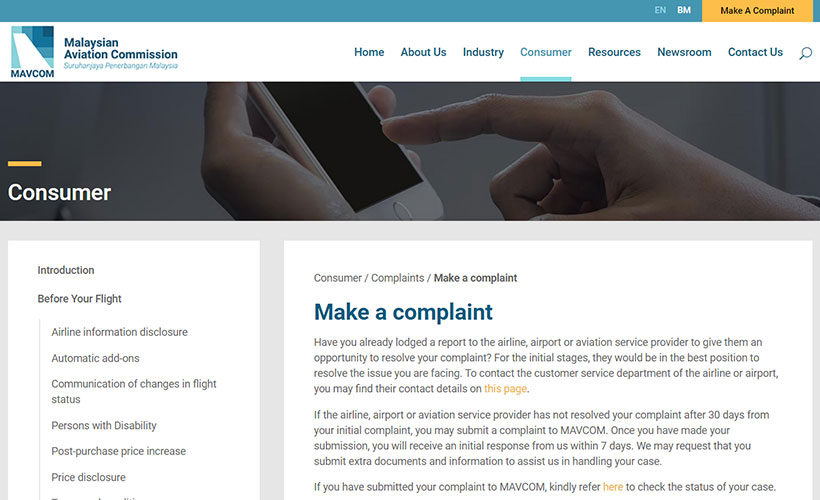 As a rule, irrespective of whether you volunteer to leave an overbooked flight or are denied boarding, the airline is expected to provide you with meals, telephone calls, Internet access, hotel accommodation, and transport to and from the hotel. The airline is also expected to either reimburse your flight cost or give you the option for re-routing.
Most airlines will provide you with vouchers and coupons for meals and spas as compensation for having to leave your original flight. However, if you do not want the vouchers, you have every right to demand for cash and the airline must oblige. In most cases, the airline will comply to avoid a massive hoopla so put forth your best bargaining skills!
[zf_post_boxes widget_hide_desc="true" num_post="3″ post_id="16465,16376,14778″]