Vivienne Lee has been practising yoga since 1999 and it shows in her glowing skin, svelte figure, and a level of flexibility that many of us can only envy. The mother of two grown-up boys have passed on her passion for yoga to her sons. "My pride and joy in life is that both of them are yogis," Vivienne says with a glimmer in her eyes.
Vivienne is a yoga instructor who specialises in Yin Yoga, a form of yoga that holds the posture for longer periods of time. It is generally less popular compared to Ashtanga yoga, but Vivienne hopes to bring it to a wider audience. She teaches at Yogshakti, a yoga centre based in Ampang, and every fortnight, she holds classes for NGO employees for a very small fee, half of which are donated to charity. 
Vivienne travels quite frequently for yoga and meditation workshops; once a year, she makes it a point to leave husband, sons, and friends behind to attend yoga retreats that can last from a week to 10 days. "My friends always ask if they can come along on my yoga retreats, but I tell them 'no, please give me my down time'. It would defeat the whole concept of a retreat if they came along. I think it's important to have your alone time. Time carries you away in its own tide… alone time allows you to assess everything that has happened in the past year, and the direction to take the next year. For me, this is when epiphanies come," Vivienne says.   
So what should one pack for a yoga retreat? Vivienne shows us her must-haves, and shares this packing tip: "My friends are often surprised at how I get crease-free clothes right out of the luggage without ironing. This is my secret: I roll all my clothes tightly in tissue paper packaging (not the Kleenex kind). It works every time."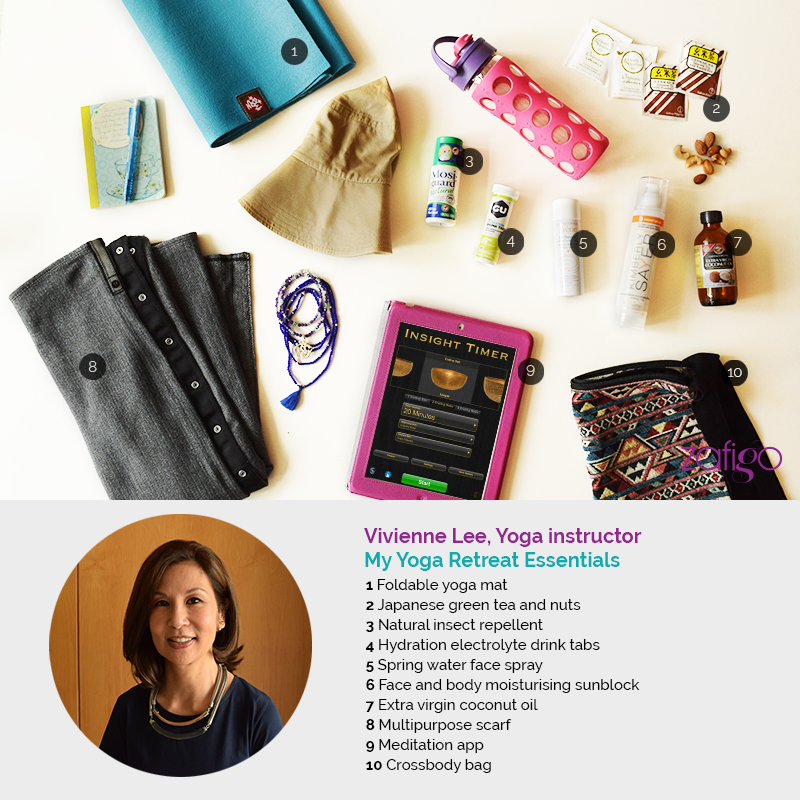 1. Manduka eKO SuperLite Travel Mat 
Most retreats provide communal yoga mats but it's not the cleanest option, so I bring my own mat to put on top of the communal ones. This foldable yoga mat is so easy to pack, I bring it along whenever I travel – I even brought it with me when I attended a wedding in Port Dickson.
2. Japanese green tea and nuts 
Most yoga retreats only provide breakfast and dinner, so I munch on nuts and crackers in between. Japanese green tea gives me a small lift before the day starts, whereas chamomile tea helps me sleep at night. Did you know that green tea was discovered by a monk in Tibet? He drank it and found that it gave him a small caffeine high.
3. Mosi-guard natural insect repellent 
I always bring insect repellent when I travel to tropical countries, especially since most retreats are out in nature. I get Mosi-guard because it says 'safe for babies'. If it's safe for babies, it must be safe for me.
4. GU Hydration Drink Tabs 
I don't sweat when I'm on the treadmill but I sweat a lot during yoga. These hydration tabs are effervescent tablets that you dissolve in water and drink to replenish electrolytes in the body.
5. Avene Thermal Spring Water Spray 
It gets very hot when you're doing yoga so this spray helps to refresh the face.
6. Kimberly Sayer Ultra Light Facial Moisturiser SPF 30
This is my favourite face and body moisturiser, it's the only sunblock I've found that doesn't leave any white streaks on the face because it is high in zinc oxide. During yoga retreats, we usually do yoga outdoors under pavilions so you'll need a good sunblock to protect your skin.
7. Country Farm Organics Extra Virgin Coconut Oil 
I practice oil pulling, or oil swirling as I like to call it, with coconut oil. You can also use coconut oil as a moisturiser on the skin or as a leave-in moisturiser for the hair.
8. Lululemon Athletica Vinyasa Scarf 
This is a shawl-cum-scarf that can be manipulated into a hoodie, a pillow, or a blanket. I also use it as a cushion to sit on during meditation.
9. Insight Timer App 
Insight Timer is the most wonderful meditation app, I recommend it to all my students. It has everything you need: A bell timer, beautiful Rumi quotes, soothing ambient music, and sayings on mindfulness. I have the app installed on both my phone and iPad. On my iPad, I also have several e-books to read when at the retreats.
10. Crossbody bag 
At yoga retreats, it's frowned upon to carry expensive or designer bags so I bring along a soft, casual bag that I can just throw into my luggage. I use a crossbody bag because it's more convenient for carrying my yoga mat and other items.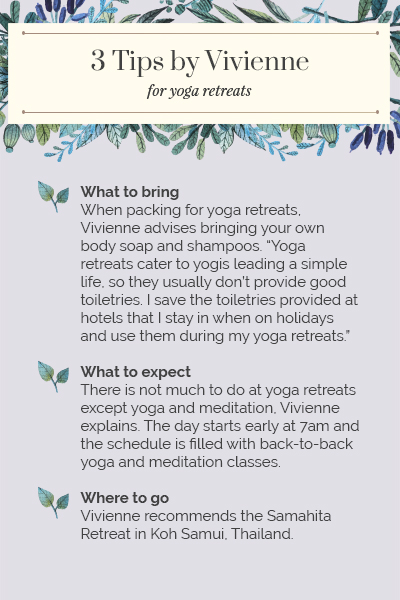 Read Next:
| | | |
| --- | --- | --- |
| | | |
| | 13 Distinctively Well-Travelled Women Show Us Their Travel Essentials  | |