Kuala Lumpur is a pretty good family destination, with fantastic attractions, a modern and air-conditioned business heart with decent shopping and behind all that glitz, corners of the city that have changed little in the past decades. The city caters well for parents with young children, with a good mix of indoor and outdoor activities to keep the whole family happy.
If your kids love: Fun urban adventures
Most visitors start off in the business heart of the city, the area surrounding the Petronas Twin Towers, also known as KLCC. The towers are impressive both day and night. Gaze at them from the KLCC Park, which your kids will love too, as there is a playground and a huge paddling area (bring a change of clothes). In the evenings, the fountains turn into a music and light show. If you want to go up to the viewing bridge, book the tickets here.
Suria KLCC is one of the swankiest malls in Kuala Lumpur, and is also home to the Petrosains science centre and Aquaria, which has some great sea life including sharks and giant turtles. Check the feeding times and try to catch a main feeding at the Aquatheatre.
Across the road, at the Avenue K mall, you'll find a few more things to do on a hot afternoon: Dinosaur galore at Discoveria and the space-themed indoor playground Star Light Kids.
If you want to admire the skyline with the twin towers, head over to KL Tower, where you can also visit the city's first upside-down museum and take a short jungle walk at the adjacent forest. Teenagers (and parents) will be super impressed with the open-air Heli Lounge Bar located on a helipad.
For a dose of nature in the city, take flight at KL Bird Park, which boasts of being the largest walk-in aviary in the world. It is also a great place to let the kids loose, very stroller friendly, and has a decent restaurant. The nearby Butterfly Park is more compact and full of fluttering butterflies.
If your kids love: Exploring culture and history
Malaysia is a melting pot of cultures and religions, and you can easily visit places of worship of all major world religions here. Within a few blocks in Chinatown you can step into a Chinese and a Hindu temple. The streets in Chinatown are worth a short wonder and you can stop for a bit in a trendy hipster café or a traditional street stall, whatever suits your mood. Especially around Chinese New Year, Thean Hou Temple is a great stop for kids and adults alike. In the impressive Federal Territory Mosque you can get a free guided tour and ask all the questions you ever wanted to ask about Islam.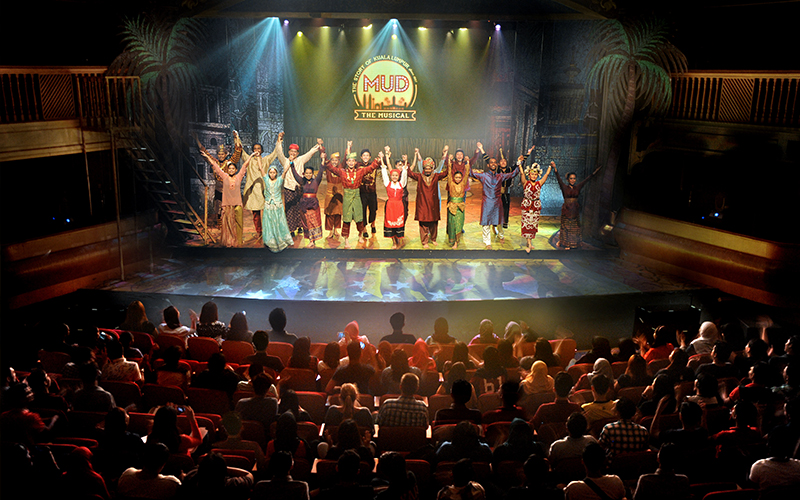 Central Market is perfect for a cooling stop, with clean toilets. The interiors are designed to showcase Malaysian culture, so there are plenty of photo opportunities with gorgeous details and features as backdrops. Parents can shop for souvenirs while kids can try out traditional batik painting.
The climb up the stairs to the temples at Batu Caves, guarded by a huge statue of Lord Muruga, is worth it. The adventurous can join the Dark Cave tour. Watch out for the bold monkeys, they'd do anything to grab that cool drink of yours!
The National Museum is a compact lesson on Malaysian history and has enough life-like displays to keep kids. To experience some of that history in much more lively way, see Mud KL, an hour-long musical about the early days of the city. It runs twice a day in a beautiful colonial building facing Dataran Merdeka.
The Islamic Arts Museum Malaysia has a compact permanent collection, and often hosts interesting exhibits. There are some things even kids can appreciate, like models of the most impressive mosques in the world, a kids' library, and craft sessions.
If your kids love: Theme parks
A whole new kind of theme park, Kidzania is like a working town where kids can try out different jobs, earn money and spend it. It is best suited for school-aged, English-speaking children but independent pre-schoolers will enjoy it as well. Adults are not allowed in the activities.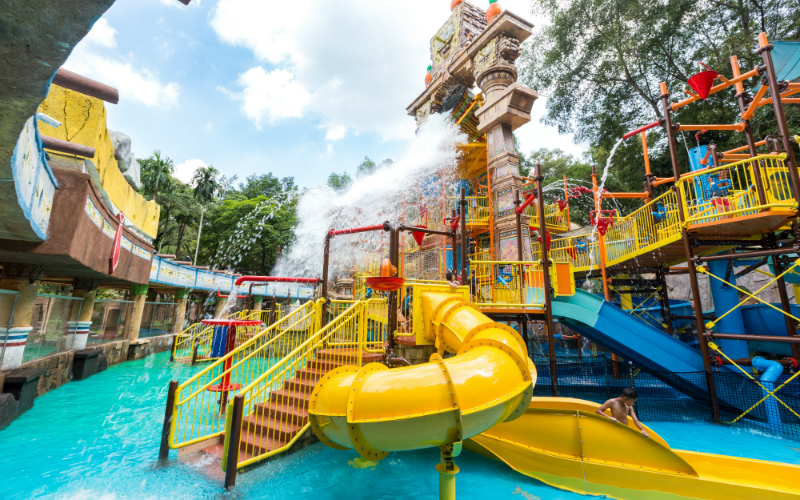 Another quite different theme park is District 21 located in Putrajaya, about 45 minutes from the city centre. All rides of this apocalypse-themed indoor park are muscle powered: Wall climbing, trampolines, mazes, tube slide, zip lines and obstacle courses.
Since you are in the tropics, you could enjoy a day out in a water park. Sunway Lagoon is a huge theme park with a water park, amusement park, zoo and adjoins the Sunway Pyramid shopping mall.
If you kids love: To eat their way around the city
Malaysians live to eat and you can choose to eat anything from street fare to five-star dinners. Staples for kids like fried rice, spring rolls or the delicious flat bread roti canai are widely available. Shopping mall food courts offer affordable lunches and trendy cafés can be found in all neighbourhoods. In addition to food Malaysians love children – they are welcome virtually everywhere. Most restaurants have baby chairs, and many have kids' menus.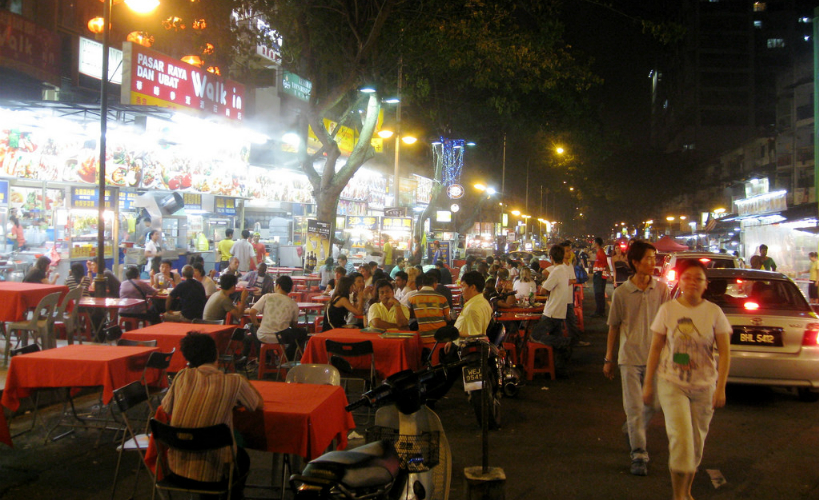 Jalan Alor is the place to go for Chinese street food and it comes alive in the evenings, with plastic tables and chairs flow onto the street. Cheap and cheerful are the key words here, and you can also find unique delicacies like frog porridge and durian.
Night markets (known as pasar malam) are great places to sample the best of street food. One of the most accessible for visitors is the one in Bangsar, right next to the Bangsar Village Shopping Centre every Sunday (starts from late afternoon).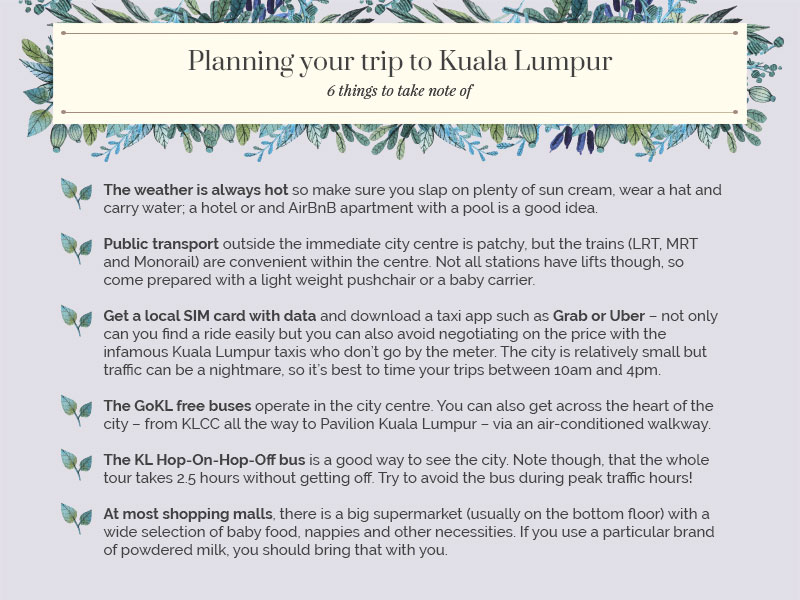 More kids' attractions can be found on HappyGoKL and on Central Market's official website.

Read Next: