Since Lonely Planet named it as one of Asia's top 10 cities to visit, Ipoh has been on the avid traveller's radar, earmarked for the heritage buildings that make up its quaint Old Town; rich, thick and creamy white coffee; and honest-to-goodness food that locals are fiercely proud of. Indeed, Ipoh has all that and more to entice visitors, including geological gems that have been around since pre-historic times.
Want to see a 280-million-year-old formation, or feast on views of scenic limestone hills? You'll find them in Tambun, a mere 20-minute drive from Ipoh. Here, at the foot of the limestone range, the air is clean and crisp, and you could wake up to an ethereal landscape on misty mornings.
If you're planning a getaway for the whole family, the Lost World of Tambun caters to all ages, whether you're looking to cool off on a scorching afternoon or warm up after a rainy evening.
Cool it off: Lost World of Tambun
Children will have a hard time leaving after rounds on the water rides and eco-adventure thrills, and there's also a Sandy Bay where you can play beach volleyball. And that's just a small part of the attractions at this 'world', which is made up of three thematic parks – Water, Amusement, Adventure – and two wildlife attractions (Petting Zoo and Tiger Valley). For most, the highlights are the Jungle Wave Pool, the biggest of its kind in Malaysia, and Tube Raiders, the country's longest inflatable tube ride. The one useful advice we can offer is this: Don't forget your sunblock.
Heat it up: Lost World Hot Springs & Spa By Night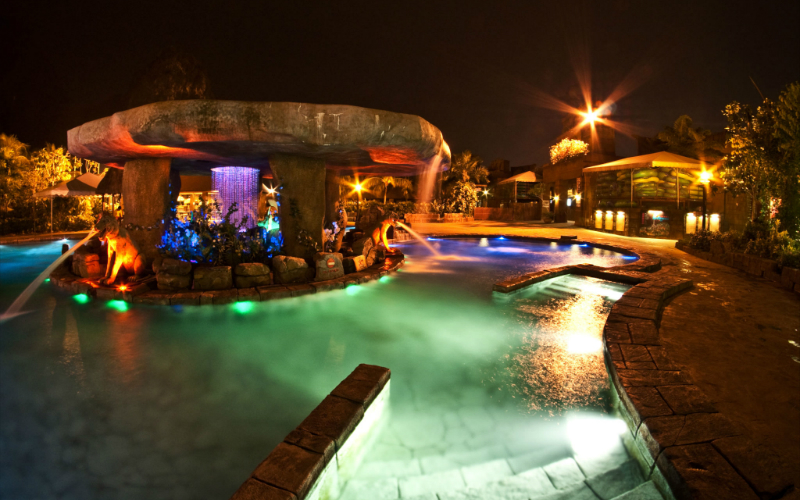 With names like Saphira's Lair, Top Of The World Pool, and The Geyser, this evening attraction certainly sounds exotic but is essentially a collection of hot springs pools. If you're expecting a relaxing experience like what you'd get at a Japanese onsen (hot spring), you'd be disappointed. This is, after all, part of the theme park so expect crowds of all ages, including young children. The waters promise to deliver healing properties, if you find a spot to soak in long enough, but most visitors tend to move from one to another. Dip in the infinity pool with its volcanic waterfall providing sound effects, get a good sweat at the Steam Cave, let the Top Of The World's Jacuzzi pummel your tired limbs into bliss, or watch the Geyser of Tambun reach heights of up to 40 feet when it erupts on the hour.
Stay and sup: Lost World Hotel
Opened in 2011 and located across from Lost World of Tambun, the hotel caters specifically to visitors of the theme park who want to extend their stay beyond a day trip. There are six room categories, varying in size and price, with the same basic amenities and plain furnishing. There are no leisure, sports or dining facilities at the hotel itself, although there is a PappaRich outlet within the same complex. Note that like the theme park, it closes on Tuesdays.
Buffet breakfast is served at Garden Terrace at the theme park, and it is a substantial spread of popular Malaysian dishes including the must-have nasi lemak. For a true Malaysian kopitiam-style breakfast, ask for half-boiled eggs, and you will be sent a tray of everything you need to make your own: Two eggs in a plastic boiler filled with hot water, a strainer ladle to scoop them out once all the water has dripped to the bottom, bowls to crack them into, and soy sauce and white pepper for seasoning.
Lost World of Tambun No. 1, Persiaran Lagun Sunway 1, Sunway City Ipoh, Ipoh, Perak | Opens 11AM – 6PM, Monday – Friday; 10AM – 6PM, weekends, school and public holidays; Closed on Tuesdays, except on Malaysian school and public holidays | Website: sunwaylostworldoftambun.com
Lost World Hot Springs & Spa By Night | Opens 6PM – 11PM daily
Getting there: From Kuala Lumpur, you can reach Ipoh by bus, train, flight, or private car hires. Lost World of Tambun is located about 20KM from Ipoh.

Read Next: