Fancy a tipple? A nightcap, maybe? Or in the mood for a cocktail? Here are five drinking holes that will not disappoint, havens for the more discerning who know that it isn't just about the drink but the experience.
Cantaloupe, Troika
A stone's throw away from KLCC, Cantaloupe is nestled within the luxury Troika condo residences. The view at night is breathtaking with all the city's twinkling lights and the twin towers lighted up. The interior is decorated in dark colours with slightly dim lights which lends a cosy feel.  Its drink menu is quite extensive with various types of liquor, liqueur and wine. Cocktails are made beautifully with great presentation as well for those who have an eye for detail. For more information and a look at their menu,look up their website.
Location: Level 23A, Tower B, The Troika,19 Persiaran KLCC
Brussels Beer Café
For the beer buff, Brussels offers a great range of draught and bottled beers. Another draw is the various fruit beer that is available here. Hoegaarden Rosée, wheat beer infused with raspberries, and Belle-Vue Kriek, made with cherries macerated in lambic (produced by exposure to wild yeasts and bacteria). This café serves food as well for the peckish after a drink or five. There are three branches of Brussels Beer Café in Kuala Lumpur and you can find them along with further information at this URL.
Tate at the Intermark
Tate is really easy to miss as there is no signboard outside indicating its presence. With just a hat seemingly placed randomly on a wall, open the door and step into the roaring 20s. This place was inspired by speakeasies in the 1920s constructed during the Prohibition. The bar is decorated tastefully in dark wood with leather chairs to sink in while enjoying some Macallan 18 on the rocks. Drinks here are made strong and merriment can usually be heard early on in the night due to those drinks.  For more information, their website is at: .
Location: Lot G-03A, Ground Floor, The Intermark, 182 Jalan Tun Razak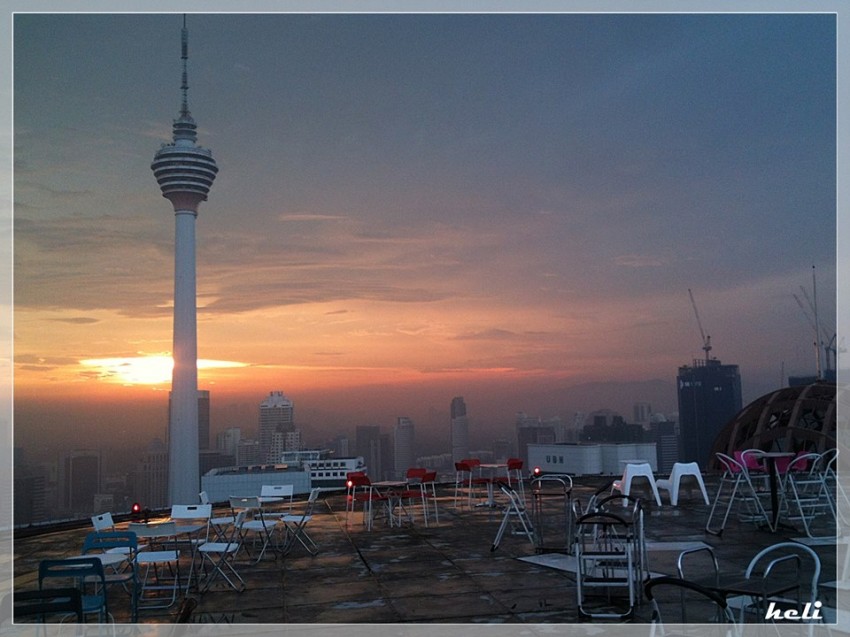 Heli Lounge Bar
Located on the 34th floor of Menara KH, this aviation themed bar is has a DJ console constructed from parts of a plane! The second part (surprise!) of this lounge is an actual helipad on the top of the building. Fun fact: The helipad is still active but only opens as a lounge after 6 pm. It offers a 360 degree view of KL city and sunsets here are picture perfect. Just so you know, the Heli Lounge Bar and the helipad has a dress code policy after 9 p.m. and they only allow in people above the age of 18. For more information, check out their Facebook.
Marini's on 57
Marini's is handily located within one of the Petronas towers of KLCC. With its floor to ceiling glass windows, this place is a great place to watch KL city transform from evening to night. Sip on any of their signature cocktails or any of the whiskies on their extensive bar menu and watch the city lights turn on. They also have a great selection of white and red wine and champagne. Take note that Wednesdays are ladies' nights so what're you waiting for? More information on Marini's on 57 and their bar menu can be found here.
Location: Level 57, Menara 3 Petronas, Persiaran KLCC