Chinatown (Petaling Street) is one of the must-visit places in Malaysia. In the 1870s, Yap Ah Loy, a Chinese headman regarded as the founding father of Kuala Lumpur, opened a tapioca mill on Petaling Street. Colloquially known as Chee Cheong Kai (Starch Factory Street) it's popular with tourists and locals alike.
Petaling Street is a five minute walk away from the Pasar Seni LRT (see Kelana Jaya Line) station. The Pasar Seni bus hub is located under the Pasar Seni LRT station so if buses are more your speed, just hop on a bus headed to Kota Raya. There are also plenty of taxis that will be able to take you to Petaling Street from anywhere in KL.
Once you get to Petaling Street, here are a few places to check out:
#1: Sri Mahamariamman Temple
This beautiful Hindu temple is situated opposite a Buddhist temple on Jalan Tun H.S. Lee. The Sri Mahamariamman Temple is one of Kuala Lumpur's oldest Hindu temples and has been at its present location since 1885. The temple is open to the public to visit but do remember to take off your shoes before entering. Stalls selling garlands and snacks are often seen outside the colourful gates.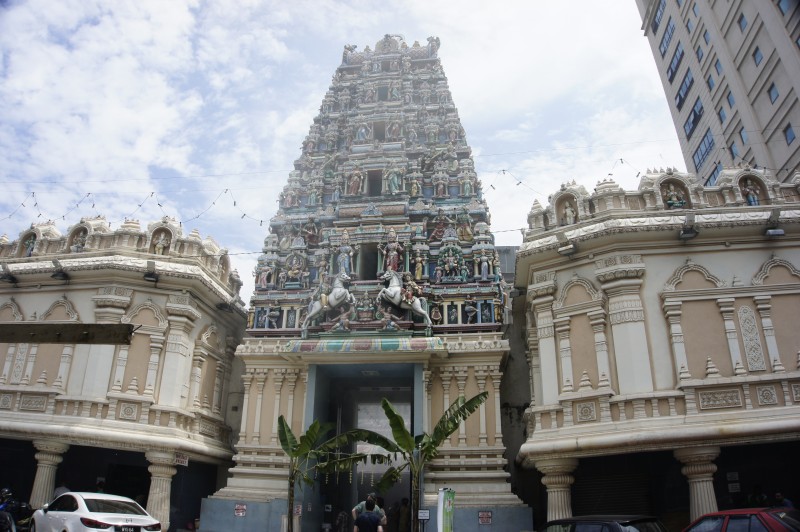 The temple is usually open at 6 a.m. to 9 p.m. but do enquire with them whether or not it might open or close early for certain festivals.
Coordinates of the temple: 3.143471, 101.696499
#2: Peter Hoe Beyond Boutique
Down the road from the Sri Mahamariamman temple, Peter Hoe Beyond Boutique is a little harder to find. Right opposite the Kuan Ti Temple is the old Lee Rubber building and the boutique is actually on the second floor. Peter Hoe Beyond offers an assortment of Asian merchandise ranging from fabrics to jewelry to silverware. There's also a café here where coffee, cakes and even wine are available for visitors who need a little respite.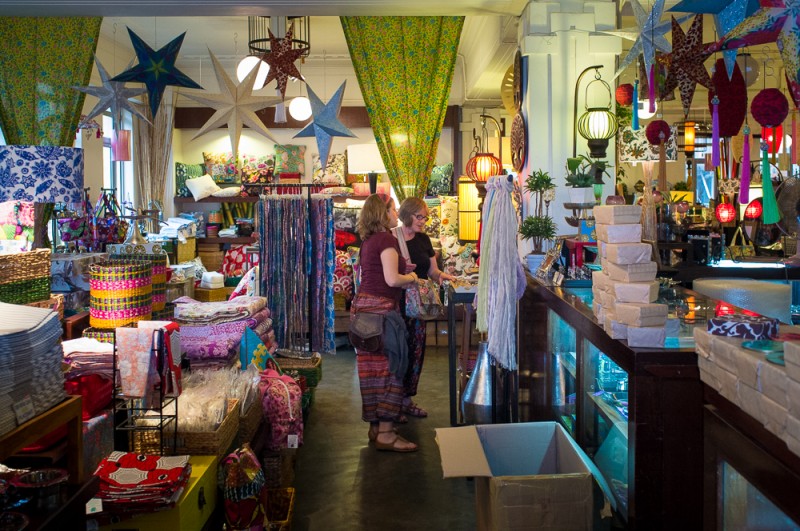 The store is open from 10 a.m. to 7 p.m.
Coordinates of the boutique: 3.144269, 101.696512
#3: Kuan Ti Temple
It is quite easy to overlook the Kuan Ti Temple located just opposite the Sri Mahamariamman Temple. This small Taoist temple is one of the oldest places of worship in Kuala Lumpur. Construction of the temple was completed in 1888 and dedicated to Kuan Ti (Guan Di), the God of War and Literature. The temple is guarded by two stone lions which stand in front of the two colourful Door Gods. Inside, the statue of Kuan Ti sits on the main altar flanked by his attendants and his face is painted gold because of his elevated status. The temple is open to the public but donations are welcome.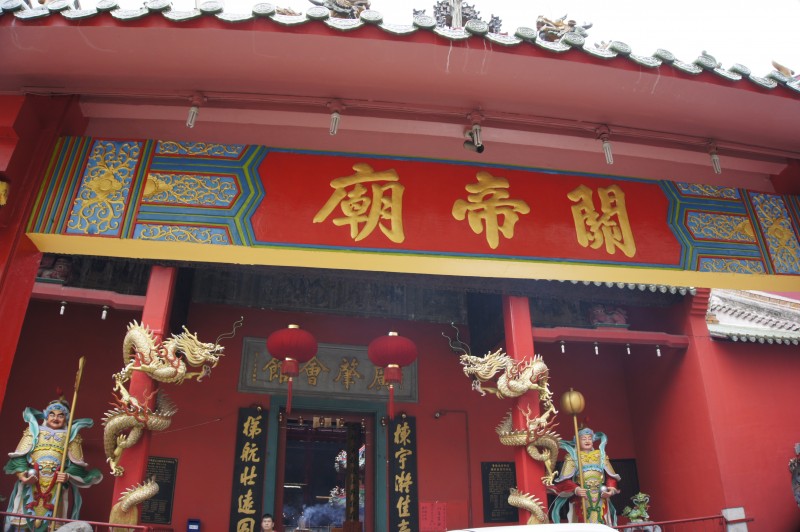 Cross the road in front of the Sri Mahamariamman Temple and it's a literal one minute walk away. The temple is open every day from 7 a.m. to 7 p.m. but it may vary so do check with the temple keeper.
The coordinates of the temple: 3.144130, 101.696768
#4: Jalan Sultan a.k.a. Madras Lane
Just a ten minute walk from the Kuan Ti Temple, local food with no frills await.
Officially, this part of Chinatown is called Jalan Sultan but most people still call it Madras Lane. This could be to remember Madras Cinema which burnt down in 1979. Popular with the crowds back then, after catching a show, the cinema-goers would then grab some supper at Madras Lane.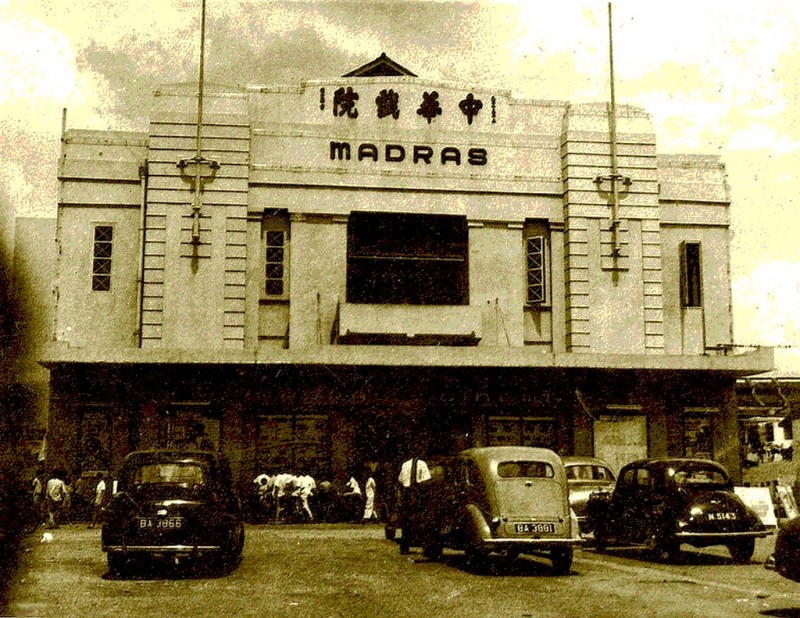 Famous for dishes such as chee cheong fun (rice noodle roll served with either a sweet sauce along with chilli sauce), yong tau foo (tofu, mushrooms and vegetables stuffed with ground pork) and curry mee (yellow noodles in spicy curry gravy), Madras Lane is a must for foodies eager to try some local fare.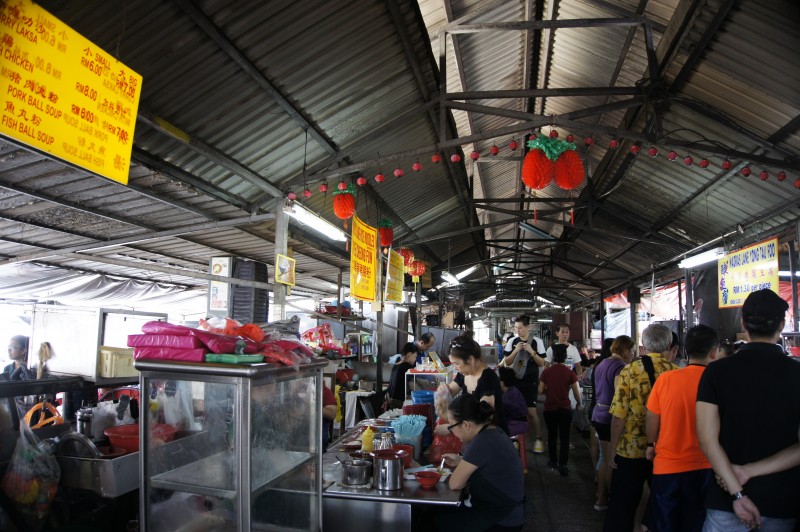 Coordinates of Madras Lane: 3.143997, 101.697513
#5: Local refreshments
Dotted along the streets of Chinatown, there's plenty of stalls selling local drinks and refreshments. On Jalan Madras, other than the usual noodles and soup dishes, there's ABC (Air Batu Campur), a Malaysian dessert made with shaved ice, evaporated milk, red beans, sweet corn, grass jelly and more; and cendol, a dessert made with coconut milk, green jelly noodles, shaved ice and palm sugar.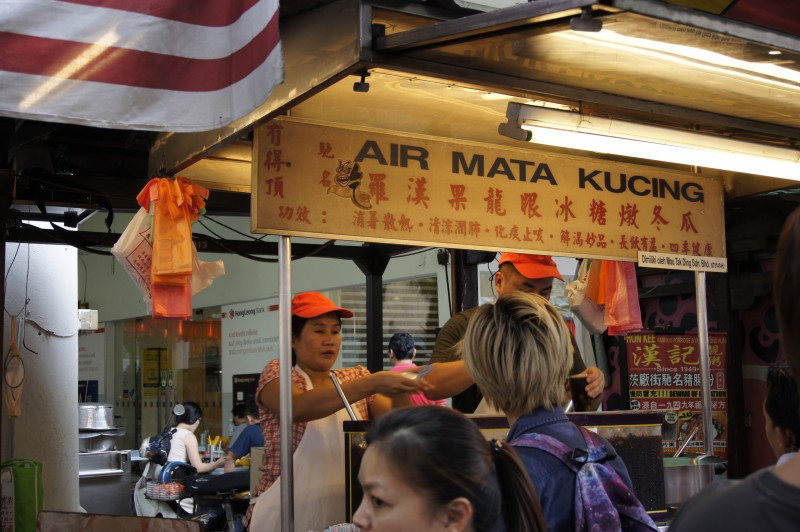 A must-try stall is the Air Mata Kucing stall that's located on the intersection of Jalan Petaling and Jalan Hang Lekir. There's usually a line and there's one thing on the menu: Air Mata Kucing (luohanguo (a cooling fruit), rock sugar, dried longan and winter melon) either served with ice or hot.
Coordinates of the stall: 3.145265 , 101.697471
Fruit stalls which sell chilled and cut fruit are also dotted along Jalan Petaling and offer a healthier alternative to having a carbonated drink to cool off.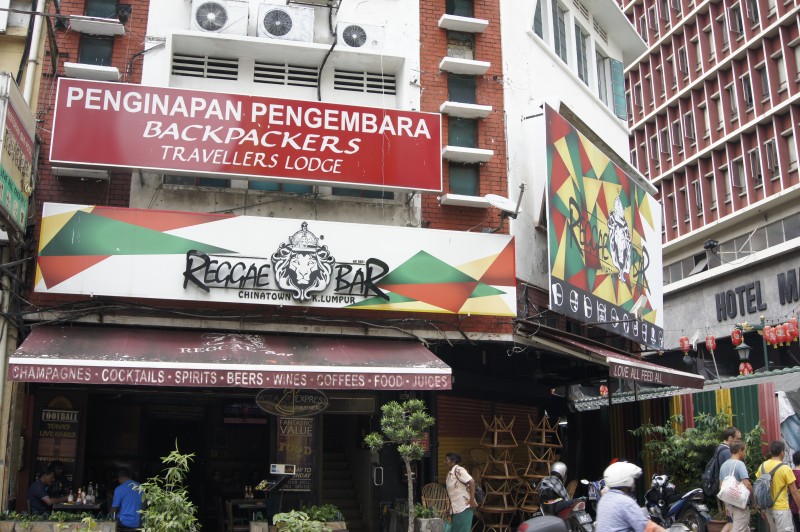 The Reggae Bar is a groovy place to have a drink at night. Decorated with pictures of Bob Marley and red, yellow and green, this place plays songs in the genre of its namesake and is a great place to wind down after you're done with Chinatown. Popular with backpackers in the area, it serves mainly Western food like pizza, fries, and pasta. Shisha (smoking tobacco mixed with fruit or molasses sugar though a bowl with hoses or tubes) is also available if you're travelling with a group of friends.
Coordinates to the bar: 3.144822, 101.696751
Malaysia is generally friendly towards tourists but do be wary when you have to travel at night. Pickpockets may operate when it gets very crowded in these places so remember to keep an eye on your belongings. When walking on the sidewalk, walk on the inside furthest from the road to prevent snatch thefts especially if you're wearing a sling bag.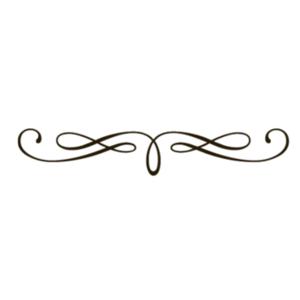 More from Zafigo:
Chinese New Year adventures in KL 
8 breakfast choices in Kuala Lumpur, Pt. 1 
Get all the latest travel updates from Zafigo. Follow us on Facebook, Twitter, and Instagram.